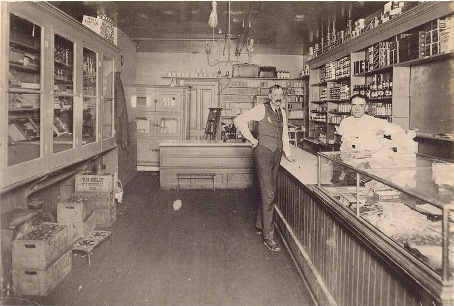 In his small grocery store in Brilliant, near Steubenville, Ohio, John Ellsworth Mayle (with mustache) stands with an employee in the early 1910s. John and his wife Rachel Minard, who married in 1888, both were of mixed race involving white and Native American bloodlines. They first lived in the small community of Claude near Philippi, Barbour County, WV. Had they stayed there, it would have been very difficult to achieve successful business ownership status, as the community was highly prejudiced against anyone considered "colored" and not fully "white."
John and Rachel moved to Brilliant in about 1912, and he operated his store for several decades until his death in 1930. The Steubenville Herald Star once said he " was prominent in the vicinity" and was an "active member" of the Oliver Methodist Episcopal church.
Rachel's siblings, aunts, uncles and scores of first cousins also faced racial discrimination in their lifetimes. While some remained in Philippi and Grafton, WV, others also moved to Ohio, a much more neutral state. Of those who went to Ohio, one of Rachel's uncles "passed" for white while two aunts married into the black community.