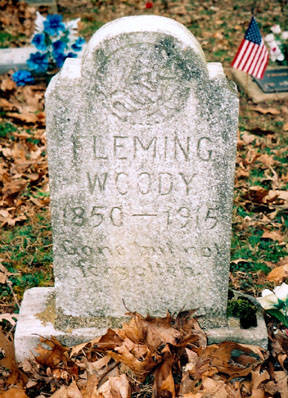 Fleming Woody -- a former slave -- stands alone among the sprawling humanity of the 40,000 to 50,000 members and spouses in the extended Minerd-Minard-Miner-Minor family. Married to Susanna Minerd, his grave marker is erect and legible today in Athens County, OH.
Fleming was born of color in Virginia in about 1850 -- 11 years before the Civil War began. He thus spent his growing up years as someone else's property. When the war ended, he was "freed from the bonds of slavery," said the Athens (OH) Messenger. He migrated to southeastern Ohio, where he spent the rest of his years as a farmer in Athens County, marrying Susanna and raising a family of children.
He died in 1915, and rests for eternity beside his wife and a son in the Stewart Cemetery in Rome Township, Athens County. We will continue researching his life, especially hoping to find details of his years in bondage in Virginia.
Copyright © 2008 Mark A. Miner