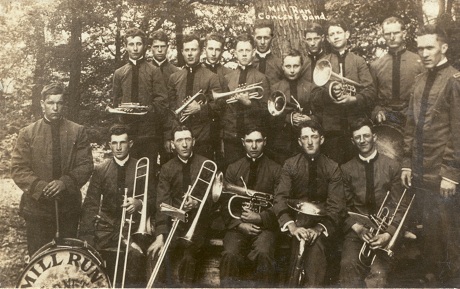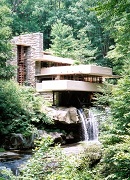 Fallingwater®
In an era when radio was still in its infancy, and live and recorded music not nearly as widespread as today, many small towns across the United States in the early 20th century enjoyed their own local bands. Franklin "Frank" Miner (far left) played a bass drum in one such group, the Mill Run Concert Band in Fayette County, PA. This vintage image was reproduced in the 1970 book, A History of Mill Run.
Frank also was a carpenter, World War I veteran and a longtime employee at Fallingwater®, the house designed by Frank Lloyd Wright over a waterfall near Mill Run, Fayette County, PA. Owned today by the Western Pennsylvania Conservancy, and open to the public, the structure is considered by experts as America's "most famous modern house."
From the 1930s until his untimely death in 1956, Frank was employed at Fallingwater by Edgar J. and Liliane Kaufmann, owners of the famed Kaufmann's Department Store in Pittsburgh. Frank's brothers Lester and Ralph, as well as more than 20 of their cousins, also have worked at Fallingwater in the ensuing decades, including some there today.
The projects Frank personally was involved with are described in detail in the Ethel Clinton Appel papers in the Fallingwater archives, researched by the founder of this website. A detailed report on the family's Fallingwater involvement was published for our 2004 national family reunion, "Fallingwater: A Long Family Affair." Be sure also to see Minerd.com's special pages devoted to "Fallingwater Today" and "Images of Bear Run ... in the Years Before Fallingwater."