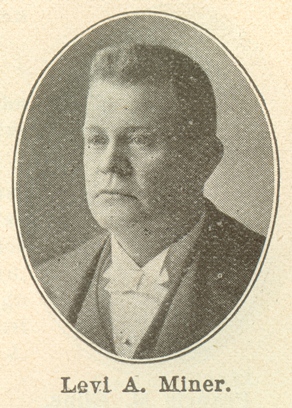 Born in Mauch Chunk (Jim Thorpe), Carbon County, PA, Levi Alfred Miner (1854-1904) parlayed a successful newspaper career in Philadelphia into a life of public service as a publisher and politician in Milwaukee, Wisconsin. At the age of 10, Levi left home and went to the City of Brotherly Love, where he secured employment as a printer in a newspaper office. In the late 1870s, he founded his own newspaper known as the White Haven Journal, and when that became a dead-end, became manager of the Bryn Mawr News in Montgomery County, PA.
The 1900 book Freemasonry in Wisconsin featured Levi in a full-page profile, and said that:
The printing office is a good school for young men, and when the instruction received therein is supplemented by a knowledge of locations and of men and events, secured by travel and through employment along the route, the result is an education of a practice nature that broadens the mind and makes men more useful than they would otherwise have been, wherever they finally locate. Many a "jour." printer who traveled through the country in early manhood settled down in after years and became a conspicuous member of the community in which he finally made his home.
Unsatisfied with his opportunities in Pennsylvania, Levi relocated to Wisconsin in 1884 to work in the mechanical department on the Evening Wisconsin and Yenowin's News newspapers in Milwaukee. With his father in law, Levi co-founded the South Milwaukee Journal in January 1893 and ran it under the company name of "Russell & Miner." The Blue Book of the State of Wisconsin said that Levi's "push and persistent efforts have made it one of the liveliest semi-weekly papers in Wisconsin. His efforts have also had much influence in making the young city solidly Republican."
As a Republican, Levi was named chairman in 1899 of the Republican City Committee of South Milwaukee. The following year, he was elected as a representative of the Third Assembly District, with the largest majority ever received for a political candidate in that jurisdiction. Said the Journal, he "served as a worthy member to the entire satisfaction of his constituents." More >>>