Rebecca (Bateson) Hupp
(1870- ? )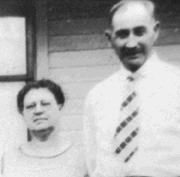 Rebecca Viola (Bateson) Hupp was born on April 27, 1870 in Fairfield County, OH, the daughter of Samuel and Emeline (Keller) Bateson.
On Oct. 16, 1887, Rebecca married William E. Hupp (1867-1934), the son of James and Catherine (Hershberger) Hupp, and a native of New Salem, Fairfield County.
They had four children -- Louise C. Hupp, Iva Hagenmeyer, Samuel J. Hupp and Ada Barnes.
The Hupps resided in Port Lawrence near Toledo, Lucas County, OH. The federal census of 1900 shows the family making its residence on Nevada Street. William was employed that year as a "fireman," a job of the era which usually meant he maintained heat-producing equipment such as boilers.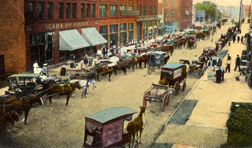 A rare old photographic postcard of Toledo is seen at right, dated 1915, and depicting "market day" on Monroe and Huron Streets.
By 1920, the family had moved into Toledo and living on Mason Street. That year, and for at least the next decade, William was employed as a foreman with a construction company. Moving again, they made their home on Kipling Drive in Toledo in 1930, when the census was taken that year.
One September day, Rebecca and William and their children attended a "Bateson and Hupp Reunion" at the home of her brother Fred Bateson and which was covered by a local newspaper. The torn and yellowed clipping reads:
On Sunday, September 6 ... the Bateson and Hupp families gathered at the home of Mr. and Mrs. Fred Bateson at Buckeye Lake.... After the dinner hour a boat was chartered and all enjoyed a boat ride to Buckeye Lake Park. At a late hour all departed to their homes saying they had enjoyed the day.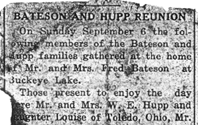 Toward the end of his life, William worked for Toledo's Air-Way Company, a sweeper manufacturer.
William was diabetic. On March 11, 1934, he died from diabetes complications, and was laid to rest at Toledo Memorial Park.
Rebecca's fate is unknown, other than that she outlived her husband.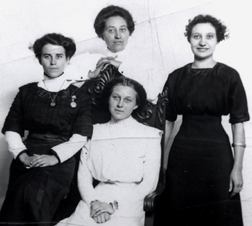 Seen at right, their three daughters posed for a studio photograph with their cousin, Bertha (Bateson) Bugh (far left). They include Louise (standing center), Eva (far right) and Ada (seated). This image was taken at Cornell Studios in Toledo.
Daughter Louise C. Hupp (1888-1949 ) never married. As a young woman, she worked as a dry goods saleslady in a store in Toledo. In 1920, at the age of 31, she lived with her parents and was a bookkeeper with a hardware company in Toledo. Circa 1934, she resided in Toledo, and that year signed her name as informant on her father's death certificate in 1934. Later, she moved to Lancaster, Fairfield County, where she made her home at 327 East Wheeling Street and was employed as a clerk in the city office. She died suddenly at the age of 60 of a stroke, caused by hypertension, on Oct. 22, 1949. She was laid to rest in the Memorial Park in Toledo. Brother Samuel J. Hupp was the informant on her death certificate.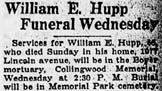 Daughter Iva Hupp (1892-1956) married William C. Hagemeyer (1889- ? ). (His name also has been spelled variantly over the years as "Hagenmeyer" or "Hagmeyer.") When the federal census was taken in 1930, they resided in Pemberville, Wood County, OH, with William working as a farmer. They had two children, Marjorie V. Carris and Orrin J. Hagenmeyer. Records of the Wood County District Public Library show that Iva passed away in December 1956, with her obituary published in the Wood County Sentinel on Dec. 7, 1956.
Son Samuel J. Hupp (1890- ? ) was a salesman in a clothing store in Toledo at the age of 19, in 1910. Later, he lived in Detroit and had four children, Bill Hupp, Virginia Hupp, Eva Louise Hupp and Ada Hupp.
Daughter Ada Hupp (1895- ? ) married Gordon Barnes and resided at Sylvina (Sylvania?), OH, and at Detroit circa 1934. Their sons were Gordon Barnes and Edgar Barnes.
Copyright © 2000, 2005, 2009 Mark A. Miner