Rebecca (Bateson) Hupp
(1870- ? )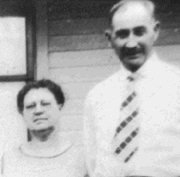 Rebecca and William Hupp

Rebecca Viola (Bateson) Hupp was born on April 27, 1870 in Fairfield County, OH, the daughter of Samuel and Emeline (Keller) Bateson.
On Oct. 16, 1887, when she was 17 years of age, Rebecca married 20-year-old William E. Hupp (1867-1934), the son of James and Catherine (Hershberger) Hupp, and a native of New Salem, Fairfield County.
Together, the Hupps produced a family of four children -- Louise C. Hupp, Iva Gladys Hagemeyer, Samuel J. Hupp and Ada Barnes.
The brood resided in Port Lawrence near Toledo, Lucas County, OH. The federal census of 1900 shows the family making its residence on Nevada Street. William was employed that year as a "fireman."
By 1920, the family had moved into Toledo and living on Mason Street. That year, and for at least the next decade, William was employed as a foreman with a construction company.
Moving again, they made their home on Kipling Drive in Toledo in 1930, when the census was taken that year.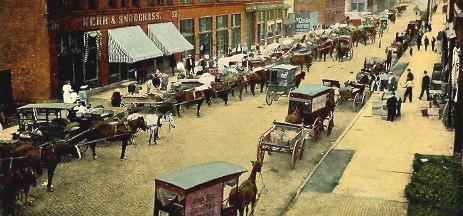 Market day in Toledo, Monroe and Huron Streets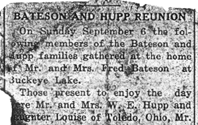 Bateson-Hupp reunion news

One September day, Rebecca and William and their children attended a "Bateson and Hupp Reunion" at the home of her brother Fred Bateson and which was covered by a local newspaper. The torn and yellowed clipping reads:

On Sunday, September 6 ... the Bateson and Hupp families gathered at the home of Mr. and Mrs. Fred Bateson at Buckeye Lake.... After the dinner hour a boat was chartered and all enjoyed a boat ride to Buckeye Lake Park. At a late hour all departed to their homes saying they had enjoyed the day.

Toward the end of his life, William worked for Toledo's Air-Way Company, a sweeper manufacturer.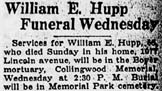 Obituary, 1934

William was diabetic. On March 11, 1934, he died from diabetes complications, and was laid to rest at Toledo Memorial Park.

The widowed Rebecca and daughter Louise were in Toledo in the summer of 1937. In February 1938, they moved into the home of Rebecca's sister Kate Hite in Thurston, OH. Then in March 1939, the pair moved to Lancaster. Their address in the mid-1940s was 327 East Wheeling Street.


Rebecca appears to have been a member of the Fifth Avenue Church of Christ. She hosted meetings of its Women's Missionary Society in her home.

She was plunged into grief on Oct. 22, 1949 when her daughter Louise, with whom she had shared a residence for many years, died of a heart attack at age 60.

Her final fate will be added here once learned.



~ Daughter Louise C. Hupp ~

Louise Hupp

Daughter Louise C. Hupp (1889-1949 ) was born in Dec. 1889. She never married.

As a young woman, she worked as a dry goods saleslady in a store in Toledo. In 1920, at the age of 31, she lived with her parents and was a bookkeeper with a hardware company in Toledo.

She is known to have posed for a studio photograph with her sisters and cousin, Bertha (Bateson) Bugh (far left). They include Louise (standing center), Eva (far right) and Ada (seated). This image was taken at Cornell Studios in Toledo.

Circa 1934, she resided in Toledo, and that year signed her name as informant on her father's death certificate in 1934.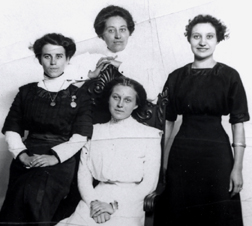 L-R: Bertha, Louise, Iva, Ada (seated)

Later, she and her mother moved in with an aunt, Kate Hite, in Thurston, OH, before relocating in March 1939 to Lancaster, Fairfield County. There, daughter and mother shared a home at 327 East Wheeling Street.

She was assigned on Oct. 14, 1944 as a deputy clerk in the sewage department of the Lancaster Water Works, with an office in city hall. She maintained that position for the rest of her life. She also served as a clerk for the city's cemeteries division. In the community, she belonged to the M.Z. Kreider Chapter of the Order of Eastern Star.

Louise suffered a heart attack at work on Oct. 18, 1943. An ambulance took her home. But three days later, she died suddenly at the age of 60, on Oct. 22, 1949, as a patient in Lancaster-Fairfield Hospital. Funeral services were held in the Fifth Avenue Church of Christ, officiated by Rev. William Norris. The remains were transported to Toledo to rest for all time in Memorial Park. Brother Samuel J. Hupp was the informant on her death certificate.



~ Daughter Iva (Hupp) Hagemeyer ~

Iva Hagemeyer

Daughter Iva Hupp (1891-1956) was born on Aug. 19, 1891 in Thurston, Fairfield County, OH.


In young womanhood, she lived in Toledo, OH and earned a living as a stenographer.

When she was 22 years of age, on Jan. 21, 1914, Iva married 26-year-old barber William Clayton Hagemeyer (March 8, 1888-1956), the son of John and Mary (Muir) Hagemeyer of Wood County (His name also has been spelled variantly over the years as "Hagenmeyer" or "Hagmeyer.")

They together produced three children, Marjorie V. Caris, Orrin J. Hagemeyer and Edgar Hagemeyer. Sadly, son Edgar passed away in infancy.

When the federal census was taken in 1930, they resided in Pemberville, Wood County, OH, with William working as a farmer. In time they migrated into the city of Toledo, OH.

Sadly, the couple died within just six months of each other in 1956. William was swept away first, on May 7, 1956, a day before what would have been his 68th birthday.

Iva passed away on Dec. 6, 1956. Her obituary was published in the Wood County Sentinel. Interment was in Webster Township Cemetery in Scotch Ridge, Wood County.

Daughter Marjorie V. Hagemeyer (1918-2009) was born the day after Christmas 1918. In a wedding held at Scotch Ridge, Wood County, OH on May 7, 1938, she was joined in marriage with Arthur C. Caris (May 17, 1914-1967). One son borne by this couple was Donald Caris. Grief cascaded over the family when Arthur died at the age of 53, in Bowling Green, on June 26, 1967. Marjorie outlived her husband by more than four decades. She earned a living as a cook for Eastwood High School. She held a membership in the Zion United Methodist Church and liked to crochet, garden and travel. Circa 1973, her home was in Luckey, OH. She also resided in Pemberville, OH at one point. As she aged, she became a resident of Bowling Green Manor. There, at the age of 90, Marjorie passed away on April 29, 2009. Funeral services were held in her church, led by Rev. Melissa Steinacker. Her remains were lowered into the sleep of ages next to her husband's in Troy Township Cemetery in Luckey. An obituary in the Toledo Blade said that Marjorie was survived by seven grandchildren and 18 great-grandchildren.
Grandson Donald Caris was joined in matrimony with Peggy Jean. Together they were the parents of seven -- Michael Caris, Robert Caris, Kim Caris, Marcy Caris, Mary Caris, Patricia Caris and David Caris. The family dwelled in Pemberville.
Son Orrin J. Hagemeyer ( ? -1973) was born in about 1920 in Pembeerville, OH. On Sept. 16, 1944, in Toledo, OH, he was united in the bonds of holy matrimony with Alice Rose Klein (Sept. 10, 1925-2014), daughter of Oscar and Clara (Bredernitz) Klein. The couple begat four children -- James Lee Hagemeyer, Robert Lee Hagemeyer, Darlene Hagemeyer and Sue Ann Hagemeyer. For years, Orrin was employed by the City of Toledo as a milk inspector. He retired in 1957. Orrin filed for divorce in 1960, charging cruelty, but the matter was never resolved. The family's residence in the early 1970s was along Route 199 in Wayne, OH. Alice was employed as assistant to the president of Bowling Green State University. Orrin suffered with an illness for the last year of his life. He was admitted to St. Vincent Hospital, Toledo, and passed away there at the age of 53 on Dec. 13, 1973. Rev. David V. Dillinger led the funeral service. Burial was in Webster Township Cemetery, with an obituary appearing in the Fremont News-Messenger. Alice outlived her husband by decades of time and relocated to Lake Fenton, MI. She endured the death of her son James in 2011. Her final home was in Highland, MI, where she moved in 2002. She surrendered to the spirit of death at age 88 on April 29, 2014. Dr. Gary Evans led the funeral service, held at her church, the Highland Congregational Church. An obituary was published in Heritage Newspapers.
Grandson James Lee Hagemeyer ( ? -2011) was born in (?). He was an alumnus of Lakota High School. James was joined in wedlock with Diane Krawetzke ( ? - ? ). Their two children were James Ashley Hagemeyer and Jodi A. Richardson. James was employed as an art teacher at Fremont Ross High School for three decades. Then in 1983 he was named associate professor of education at Heidelberg University of Tiffin, OH. Said the Fremont News-Messenger, "During his tenure at Heldelberg, he taught all of the art courses and managed the University's Art Department. In addition, he led many delegations for Heidelberg's exchange program with Tianjin Normal University in China. He also organized and taught the summer art program for local children." Their home was in Fostoria, OH. James and Diane loved to entertain and gather family and friends to enjoy a meal. James died in Florida at the age of 65 on Aug. 23, 2011. He was pictured in an obituary in the News-Messenger, which asked that any memorial donations be made to the Chinese Exchange Program at Heidelberg.
Grandson Robert Lee Hagemeyer (1948-1999) was born on Nov. 13, 1948 in Bowling Green, OH. He was a 1966 graduate of Lakota High School and went on to study fire safety at Bowling Green State University. On Sept. 30, 1972, in nuptials held in Osceolo, MI, he entered into marriage with Elaine Connell ( ? - ? ). They did not reproduce. Robert earned a living as a fire safety technician with Whirlpool Corporation. The couple dwelled in Clyde, OH along Sandusky County Road 15. He held membershiops in the Bellevue lodge of the Masons and local lodges of the Eagles and Moose. Sadly, Robert died at age 50, in Memorial Hospital, on Aug. 30, 1999. The remains were lowered under the sod of Riverview Cemetery in West Millgrove, OH, with an obituary appearing in the Fremont News-Messenger.
Granddaughter Darlene Hagemeyer grew up in Wayne, OH. She was united in matrimony with (?) Lentz. The pair was in Fenton, MI in 1999 and Brooklyn, MI in 2014.
Granddaughter Sue Ann Hagemeyer grew up in Wayne, OH. She wed (?) Houtz. They remained in Wayne and by 2014 moved to Cygnet, OH.

~ Son Samuel James Hupp ~
Son Samuel James Hupp (1890-1970) was born on May 12, 1890 in Millersport.
He worked as a salesman in a clothing store in Toledo at the age of 19, in 1910. He was of medium height and build, with blue eyes and light brown hair.
When he was 24 years of age, circa 1914, Samuel entered into marriage with 25-year-old Eva "Blanche" (?) (1890- ? ), daughter of Susie Kennel.
They were the parents of three -- William Kinney "Bill" Hupp, Virginia Fisher and Eva Louise Hupp.
The Hupps relocated to Detroit about 1917 and remained for good. When required to register for the military draft during World War I, he disclosed that he earned a living as a construction foreman for Hatch Montague Company, headquartered in the Ford Building. Their address in 1917 was 104 Whitney in Detroit, with Blanche's mother living under their roof.
He worked as a building carpenter in 1930. The federal census enumeration of 1940 shows Samuel employed as a structural steelworker for a building construction company. He was a member of the William M. Perrett lodge of the Masons.
Samuel passed into eternity on Nov. 20, 1970. His obituary was printed in the Detroit Free Press.
Daughter Virginia Hupp (1916- ? ) was born in about 1916. Unmarried at the age of 24, she lived at home in 1940 and worked as a mail clerk for an automobile manufacturing company. In time she wed Lewis F. Fisher. Their home in 1970 was at Ferndale, MI.
Son William Kinney "Bill" Hupp (1919-1984) was born in about 1919 in Michigan. William married June ( ? - ? ). One daughter born to the couple was Suzann Kennedy. The Hupps resided at Green Lake, MI in 1970. He held memberships in the Northville post of the Veterans of Foreign Wars and the Elks lodge in Farmington. The angel of death whisked him away on April 15, 1984. A short obituary was printed in the Detroit Free Press, and the remains were interred in Acacia Park.
Granddaughter Suzann Hupp ( ? - ? ) was joined in wedlock with (?) Kennedy. They were the parents of Joshua Kennedy.
Daughter Eva Louise Hupp (1928-1993) was born in about 1928 in Michigan. She never married. Over the years she dwelled in Novi and Royal Oak, MI. She succumbed to the spectre of death at age 65 in May 1993. Funeral services were conducted in the First Presbyterian Church of Royal Oak. The Detroit Free Press published a death notice.


~ Daughter Ada (Hupp) Barnes ~

Ada Barnes

Daughter Ada Hupp (1895- ? ) was born in Oct. 1895.

She married Gordon A. Barnes ( ? - ? ).

The pair resided at Sylvina (Sylvania?), OH, and at Detroit circa 1934-1949.

Their sons were Gordon Barnes Jr. and Edgar C. Barnes.

By 1970, Ada and Gordon were residing in Florida.

Ada passed away sometime before 1977.

As a widower, Gordon made his home in Deerfield Beach, MI.

Son Gordon Barnes Jr. ( ? - ? ) lived in Detroit in 1977.

Son Edgar C. Barnes ( ? -1977) was born in Toledo. During World War II, he joined the U.S. Navy and served with the Construction Battalion, otherwise known as the Seabees. After the war's end, in 1946, he migrated to Coldwater near Battle Creek, MI. He entered into marriage with Florence Becker ( ? - ? ). Four children born into this family were George Barnes, Howard Haas, Barbara Darby and Rebecca VanWhy. Edgar was named president of Coldwater Rendering Company and served until his death. He was very active in the community and profession. Among his leadership roles was as a board director of the Coldwater Country Club and National Renders Association and president of the Coldwaer Lions Club. He also belonged to the Moslem Shrine of Detroit, the Tyre lodge of the Masons, Coldwater lodge of the Elks and the United Commercial Travelers. Their address in the 1970s was 85 West Garfield Street. On Aug. 10, 1977, while at a National Retailers meeting in Parkridge, IL, he suffered a massive heart attack and died at the age of 57. His remains were returned to Michigan for funeral services held at the First Presbyterian Church. An obituary appeared in the Battle Creek Enquirer, in which the family asked that any memorial donations be made to the Shrine Crippled Children's Hospital for St. Rita's School for the Deaf.
Grandson George Barnes lived in Coldwater in 1977.
Grandson Howard Haas resided in Coldwater.
Granddaughter Barbara Haas attended the Wright Beauty Academy in Battle Creek in 1962. She wed David Darby. Circa 1977, they dwelled in Coldwater.
Granddaughter Rebecca married Vernon VanWhy. The pair put down roots in Coldwater.

Copyright © 2000, 2005, 2009, 2022 Mark A. Miner