Frederick Bateson
(1864-1948)

Frederick Bateson
Frederick Bateson was born on Feb. 8, 1864 during the Civil War near Millersport, Fairfield County, OH, the son of Samuel and Emeline (Keller) Bateson.
He was a longtime farmer in Fairfield County and developed part of the family farm as beachfront property along Buckeye Lake. Today the beach is named for the family -- "Bateson Beach." The Lancaster (OH) Eagle-Gazette newspaper once dubbed him the "duke of the south Side of Buckeye Lake."
Fred's first wife was Mary Shell (1860-1898), who was four years older than he. Mary brought to the marriage a daughter born out of wedlock, Martha Estella "Stella" Shell.
They had two daughters of their own, Bertha Bugh (born 1889) and Florence Bateson (born 1891).
A newspaper article said that Fred "was a lifelong resident of the lake vicinity and one of the early dealers in real estate for summer homes in the locality. Bateson Beach was developed from farm land which had been in the Bateson family for several generations and when the addition was plotted, it was sold to a number of Columbus residents."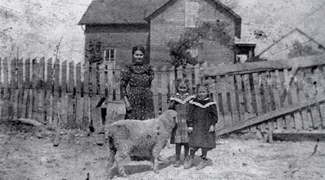 Mary Shell Bateson, left, with daughters Florence and Bertha. Florence died in 1898 at the age of six.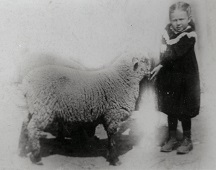 Memorial photo of Florence
Tragedy struck twice in 1898, when Fred lost both his daughter and his wife. On Jan. 27 of that year, six-year-old daughter Florence died, of unknown causes. Later that year, on Nov. 23, Mary herself passed away, at the age of 38.
The grief-stricken Fred in turn married his step-daughter, Martha Estella "Stella" Shell (1880-1952). The bride was 16 years younger than the groom.
They went on to have one son, Frederick Raymond Bateson, born in 1912. Baby "Freddie" and his proud mama Stella are seen here.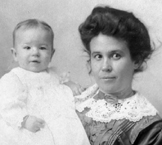 Stella and son Freddie
In the summer of 1906, Fred took formal action to subdivide the family property for development. According to an article in the Aug. 23, 1906 issue of the Newark Daily Advocate, "A plat of sixteen lots, laid out by Fred Bateson, has been filed in the auditor's office of Fairfield county. The plat is known as the Bateson Beach lots, and is situated on the south side of Buckeye Lake."
Fred also hosted the "Bateson and Hupp Reunion" one September day that was covered by a local newspaper. The torn and yellowed clipping reads:
On Sunday, September 6 ... the Bateson and Hupp families gathered at the home of Mr. and Mrs. Fred Bateson at Buckeye Lake.... After the dinner hour a boat was chartered and all enjoyed a boat ride to Buckeye Lake Park. At a late hour all departed to their homes saying they had enjoyed the day.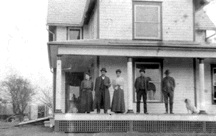 Bateson homeplace
Fred and Stella's home, where the reunion was held, is seen here. In addition to his son Fred, family members who attended included Mr. and Mrs. W.E. Hupp and daughter Louise of Toledo, OH; Mr. and Mrs. Samuel J. Hupp and son Billy from Detroit; Mr. and Mrs. William Hagenmeyer, daughter Marjorie and son Owen James of Pemberton, OH; Mr. and Mrs. Gordon A. Barnes and sons Gordon and Edgar of Sylvina, OH; Mr. and Mrs. Eli Hite, Mr. and Mrs. Glen Davis and sons Lawrence and Billy of Thurston, OH; Mr. and Mrs. Murray Lidey and daughters Bertha and Rachel, son Murray, and Mrs. Rachel Lidey of Millersport; Mr. and Mrs. James Bateson and daughters Dorothy, Anna K., Rose Mary and Jane of Columbus; and Miss Jennie and Ella Hupp, Mr. Charley Hupp, Mr. and Mrs. Harry Bugh and daughter Mildred and sons Fred and Robert, of Salem, OH.
Fred and Stella are seen here later in life. Tragically, they suffered yet another death, of married daughter Bertha Bugh on July 12, 1927.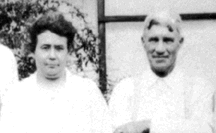 Stella and Fred
Fred was widely known in the region for his knowledge of Buckeye Lake. In the dead of January in 1920, he visited Lancaster, the county seat of Fairfield County, and told a newspaper reporter that the lake was covered with 10 inches of ice. "He started in with a gang that morning to fill his ice house which held about 150 tons," said the Eagle-Gazette. The following month, he reported that the ice on the lake now measured 20 inches in depth. "Most of the houses along the banks of the lake were filled with 12 and 14-inch ice," said the Eagle Gazette.
In the early 1930s, during the Depression, Fred and others helped haul stones and construct a masonry wall at the Union Cemetery, formerly the Shale Hill Cemetery, where his grandparents and great-grandparents are buried.
In the summer of 1932, Fred traveled to Arcola, Illinois, to visit his elderly great-aunt, Nancy (Bateson) Warner, who had settled there in 1869. A local newspaper, the Arcola Record-Herald, noted that he still lived on the farm where she had been born.
Fred died on Oct. 9, 1948, at the age of 84. The cause of death was pneumonia.

Typical cottage at Buckeye Lake
Stella outlived him by four years, and suffered a stroke in the fall of 1951. After lingering for several months, she died on March 26, 1952, at the age of 71. An obituary in the Newark Advocate misspelled her last name as "Bateman" and said she had been a "lifelong resident of the vicinity where she died."
They are buried in the Millersport (OH) Cemetery.
Bateson Beach and Buckeye Lake today are thriving tourist and residential areas providing entertainment, relaxation and recreation for thousands of Americans each year.


Bertha Bugh
~ Daughter Bertha (Bateson) Bugh ~
Daughter Bertha Bateson (1888-1927) was born on Aug. 9, 1888 at Bateson Beach near Millersport.
The photograph image of her seen here was taken at the W.A. Syx photography studio in Newark, OH.
She married Harry Bugh (1887-1943) on March 15, 1913. He was the son of Martin and Mariah Bugh, "born in the Bugh homestead south of Thornville," said the Newark Advocate and American Tribune.
They had three children -- Mildred Elizabeth McNaghten, Fred Martin "Cocky" Bugh and Robert Stratton Bugh.
When the federal census was taken in 1920, the Bughs and their three children lived under the roof of Bertha's parents. Harry made a living that year as a farmer, likely working on the Bateson farm.
After just 14 years of marriage, Bertha succumbed to acute kidney disease, and passed away at Grant Hospital in Columbus on July 12, 1927, at the age of 38. She was laid to rest in the cemetery of New Salem Methodist Episcopal Church in Thornville. She left behind her husband and three children ages 13 to three. An obituary was printed in the Lancaster Daily Eagle.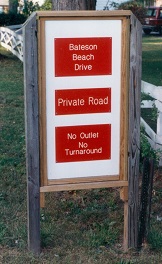 Signage, 1993
Harry lived for another 16 years. He died on Oct. 25, 1943, at the age of 57, with burial in New Salem. His obituary was published in the Advocate and American Tribune.
Daughter Mildred Elizabeth Bateson (1914-1997) was born in 1914. She married Howard McNaghten Sr. ( ? - ? ). They had two sons -- Howard "Sonny" McNaghten Jr. and Fred McNaghten. In 1994, she was a gracious host during an unexpected visit from cousin-researchers Eugene Podraza and the founder of this website. Sadly, Mildred died on May 11, 1997, at the age of 83. At the time of her passing, a newspaper reported that she was survived by 10 grandchildren and 10 great-grandchildren.
Son Fred Martin "Cocky" Bugh (1916- ? ) was born in about 1916. He married Nellie. They had a daughter, Linda Bugh. The family resided in Baltimore, OH. In 1993-1994, Nellie also kindly provided family history material for the Miner family researchers.
Son Robert Stratton Bugh (1925- ? ) was born in about 1925. He was only two years old when his mother died. He was taken in by his grandfather Frederick Bateson and raised there to adulthood. Robert served as a sergeant in the U.S. Army at Fort Campbell, KY during the Korean War circa 1952.


~ Son Frederick Raymond Bateson ~
Son Frederick Raymond Bateson (1912-1967) was born in 1912 in or near Bateson Beach.
He was united in matrimony with Jean Sandbrink (Aug. 24, 1923-1993), daughter of Joseph and Wanda (Holtzberry) Sandbrink of Buckeye Lake.
The couple's only daughter was Virginia Simonin.
Frederick earned a living as owner of the boat landing and neighborhood subdivision of Bateson Beach. Jean managed the Blue Goose Resort at Buckeye Lake and specialized as an electrician.
The Batesons resided in Thornville/Crooksville, OH in the mid-1960s.
Sadly, while in Bokeelia, FL, Frederick surrendered to death at age 55 on Feb. 9, 1967. His obituary was published in the Lancaster Eagle-Gazette.
The widowed Jean survived her husband by 26 years. She retired from Blue Goose Resort in 1980.
Her final residence was in Seminole, FL. She belonged to Blessed Sacrament Catholic Church.
Jean was carried away by the angel of death at the age of 69, as a patient in Pasadena Manor Nursing Home in South Pasadena, FL on April 24, 1993. The Eagle-Gazette printed an obituary. The remains were returned to Ohio for funeral services at Our Lady of Mount Carmel Church, Buckeye Lake, led by Rev. Fr. Ronnie Boccali. Burial of the remains was in Millersport Cemetery.
Daughter Virginia Bateson wed William T. Simonin. Two children borne of this union were Shari Sharkey and William "Bill" Simonin. They established their dwelling in Columbus and were there in 1967. By 1993, she had relocated to Seminole, FL.
Granddaughter Shari Simonin wed (?) Sharkey. She was in Seminole, FL in 1993.
Grandson William "Bill" Simonin made his home in 1993 in Pinellas Park, FL.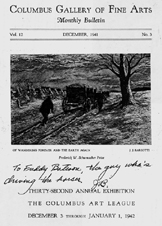 Painting of the Bateson farm, inscribed by the artist
~ Family Friend, Painter John J. Barsotti ~
A longtime friend of the family, who grew up in and around Bateson Beach, and who loved the Batesons, was famed Ohio artist John Joseph Barsotti (1914- ? ).
A painting by Barsotti, named "Of Wandering Forever and the Earth Again," is said to be based on a view of the Bateson farm. In 1942, the painting won the "Most Meritorious Work" award in the 32nd Annual Exhibition by the Columbus Art League. It was reproduced in the Columbus Gallery of Fine Arts' Monthly Bulletin in December 1941. Barsotti sent a copy to Freddy Bateson, inscribing it: "To Freddy Bateson, the guy who's driving the horses."
The "Wandering Forever" is a work of oil on canvas, measuring 12¼ by 18¼ inches. It was acquired by Orlando A. Miller in 1941 and donated that year to the Columbus Museum of Fine Arts. The painting is named in a checklist in the museum's 1988 publication, The American Collections.
Another of Barsotti's paintings, a watercolor entitled "Bateson's Farm" or simply "The Farm," was done in 1950-1951. It measures 11 1/8 inches by 17 1/8 inches and was purchased by the Columbus Museum in 1954, underwritten by the Howard Fund. It was pictured and listed in The American Collections. In July 2013, the museum sold the painting to benefit its Acquisition Fund.
The founder of this website interviewed Barsotti at length circa 1994 and the conversation has helped shape this page.


Copyright © 2000, 2007, 2009, 2014, 2022 Mark A. Miner