William Henry Birch
(1873-1926)
William Henry Birch was born on Dec. 5, 1873 or in May 1873, in Washington County, PA, the son of Samuel and Susan (Miner) Birch.
The federal census of 1900 shows the unmarried 27-year-old William boarding in the household of William G. and Lydia Crumrine in Morris Township, Washington County, PA, where he was a farm laborer and servant. By 1904, he was working as a teamster and living in Waynesburg, county seat of Greene County.
On May 4, 1904, at Morrisville, Greene County, the 31-year-old William was united in the bonds of matrimony with 21-year-old Minnie M. Greene (Nov. 22, 1882-1960), daughter of Hute and Cerilda (Batt) Greene of Prosperity, Washington County. Rev. Thomas C. Colhour officiated.
Interestingly, Minnie did not know the names of her parents when asked for her marriage license, and William is believed to have fibbed about his age, likely to appear being younger as he was marrying a much younger woman. Apparently unable to read or write, he signed his name with an "X" on the license application.
They resided for a time in Greene County, and together produced at least three children -- Charles W. Birch, Hazel Kinzey and Madalyn Longnecker.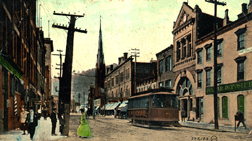 Franklin Street, Johnstown, PA

In 1910, the Birches lived on Jeannette Street in Washington, Washington County, PA. That year, he labored as an independent teamster.

They relocated by 1920 to Lower Yoder Township near Johnstown, Cambria County, PA, and also living there was William's older half-brother Samuel. He earned a living in 1920 as a helper in a steel mill and then in 1926 in the general draying business.

William was burdened by heart disease in his later years. Just six days after his 54th birthday, he was stricken by acute indigestion and died within four hours on Dec. 12, 1926. Interment of the remains was in Benshoff Cemetery. On his death certificate, wife Minnie correctly named William's father as "Samuel" but was unable to provide a name for William's mother, writing "don't know."

As a widow, Minnie and her daughter Madalyn moved to Buffington, Indiana County, PA, where they boarded with the family of widower Henry Misner and his three sons. The federal census of 1930 shows Minnie as a servant in the household, and 11-year-old Madalyn as a "boarder." The home was on Strongstown Road.

She spent her final years in Vintondale, Cambria County and endured hardening of the arteries. After suffering an acute heart attack, she was admitted to Johnstown's Lee Hospital, where she passed away two days later at age 77 on Feb. 3, 1960.



~ Son Charles W. Birch ~

Son Charles W. Birch (1906-1974) was born in about 1906.

He was united in matrimony with Catherine J. (1909-1986).

Two offspring born to the couple were Sarah J. Birch and Charles W. Birch Jr.

At one time they lived on Fairfield Avenue in Johnstown, near Charles' half-first cousins. Circa 1940, he was employed as a laborer by the local water company.

In 1960, Charles' address was 20 Johnson Street, Johnstown. He signed his mother's death certificate that year.

Charles died in May 1974. His remains were interred in Grandview Cemetery in Southmont, Cambria County.

Catherine followed him to the grave on June 2, 1986.

Daughter Sarah J. Birch (1931- ? ) was born in about 1931.

Son Charles W. Birch Jr. (1933- ? ) was born in about 1933.



~ Daughter Hazel (Birch) Kinzey ~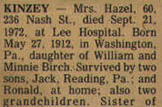 Obituary, 1972

Daughter Hazel Birch (1913-1972) was born in about 1913.

She was joined in wedlock with Lester Kinzey ( ? - ? ).

The couple resided in the Johnstown area, where she worked at the Glosser Brothers Store.

They produced two sons, Jack Kinzey and Ronald Kinzey.

Later, Hazel's home in the 1970s was in York, PA at 236 Nash Street.

She died at the age of 60 on Sept. 21, 1972, and is buried in Benshoff Hill Cemetery.

Son Jack Kinzey lived in Reading, PA in the early 1970s.

Son Ronald Kinzey made his home in York, PA Circa 1972.

~ Daughter Madalyn (Birch) Longnecker ~

Daughter Madalyn Birch (1918-1988) - also spelled "Madlyn" -- was born in about 1918.

She wed Alton L. Longnecker (May 27, 1915-1981), a native of Johnstown and the son of William L. and Minnie P. (Young) Longnecker.

Four offspring in this family were Shirley Fairman, Robert Alton "Bob" Longnecker, Donna Zimmer and Richard Longnecker.

The family relocated to York, PA.

During World War II, Alton served in the U.S. Armed Forces. Later, he worked for Mardis Tool and Die of Wellsville, Hanover Tool and Die of Hanover and Bethlehem Mines of Johnstown. In 1964, he took a new position as a maintenance mechanic by American Machine and Foundry Company, later renamed AMF Inc.

Alton was seriously hurt on May 10, 1966 "when a steel plate fell on him while working," reported the York Daily Record. The plant's employment relations manager said that "Longnecker was lying on the floor repairing a grinding machine, when a flat steel plate about five feet long and 18 inches wide fell on his stomach, pinning him to the floor." He underwent surgery at York Hospital. Fortuntely he recovered and continued working at AMF until retirement in June 1977.

Their addresses in York were 8 North Clinton Street and 1505 West Market Street. They held a membership in the Johnstown Nazarene Church, and he belonged to the Viking Club and Western Democratic Club.

Sadly, Alton died in Memorial Osteopathic Hospital at age 66 on June 2, 1981. At the time, Madlyn was maintaining a residence in Dallastown, PA. Burial was in Mt. Hope Cemetery in Cambria County. An obituary was published in the York Dispatch.

Madalyn lived on for another seven years and remained in Johnstown for part of the time. In 1983, she endured the heartache of the untimely death of her 20-year-old grandson Jeffrey Allen Fairman. Her final address was 100 Pleasant Acres Road in York. She passed away on Aug. 16, 1988.

Daughter Shirley Longnecker ( ? - ? ) was born in (?). She was joined in wedlock with Nelson E. Fairman ( ? - ? ), son of Twyla (Peterman) Fairman of Homer City, PA. A trio of sons born to the couple were Jeffrey Allen Fairman, Nelson L. Fairman and Bryan W. Fairman. The pair lived in Willoughby, OH circa 1962 and later moved back to Pennsylvania, establishing a residence in Honey Brook, Chester County, PA. She was deceased by 2018.
Grandson Jeffrey Allen Fairman (1962-1983) was born in about 1962 in Willoughby, OH. After graduation in 1980 from Twin Valley High School in Elverson, PA, he spent two years of service in the U.S. Army. He then moved to York, where he found a job at Miles Auto Repair Shop. Sadness cascaded over the family when, at the age of 20, Jeffrey died in York Hospital on March 28, 1983. Funeral services were led by Rev. Eugene Murphy of Wyebrook Baptist Church. An obituary appeared in the York Dispatch. The remains were lowered into the sleep of ages in Honey Brook Methodist Cemetery.
Grandson Nelson L. Fairman lived in Philadelphia in 1983.
Grandson Bryan W. Fairman dwelled with his parents in 1983.
Son Robert Alton "Bob" Longnecker (1944-2018) was born on Sept. 12, 1944 in Johnstown. He relocated to York, PA where as a young man he was employed by Caterpillar Tractor Company as a machinist. At the age of 23, on April 20, 1968, he was united in matrimony with Mary Alverta Rodrick ( ? - ? ), daughter of C. Eddie Rodrick of York. The wedding was held at St. Patrick's Roman Catholic Church, by the hand of Rev. Richard Zimmerman. In a story announcing the union, the York Daily Record published Mary's wedding portrait. Mary was a 1964 graduate of York Catholic High School and was a bank teller for York Bank and Trust Company. The couple went on to bear a son, Adam Longnecker. They apparently divorced. Robert is known to have resided in York, PA in 1981. In about 1995, he entered into marriage with Ann Mackley ( ? - ? ). Their union lasted for 23 years until separated by death. He served in the U.S. Army as a crew chief. In his free time he liked to boat, fish and hunt. His final time on earth was spent in Englewood, FL. There, at the age of 73, he died on Jan. 29, 2018.
Daughter Donna Longnecker ( ? - ? ) was born in (?). She first wed (?) Kelly ( ? - ? ). Her home in 1981 was in East Berlin, PA. Later she entered into marriage with Jerry Zimmer ( ? - ? ). The pair dwelled in Sanford, FL in 2018.
Son Richard "Dick" Longnecker ( ? - ? ) was born in (?). He married Joan. His home in 1968 was in Dallastown, PA. Circa 2018, they lived in Red Lion, PA.
Copyright © 2001-2002, 2008, 2014, 2022 Mark A. Miner