Gettysburg statue,
16th Pennsylvania
Cavalry
Susan A. (Miner) Birch was born on Feb. 28, 1841 in Hexebarger near Kingwood, Somerset County, PA, the daughter of Henry and Polly (Younkin) Minerd. She is believed to have been named for her mother's sister, Susanna (Younkin) Schrock (1804-1881), and her husband was a Civil War veteran and a survivor of the Battle of Gettysburg. The Civil War soldier's statue seen here does not depict Samuel, but is from his regiment's monument at Gettysburg, and thus will serve here as a symbol.
As a young girl, Susan moved with her parents to Beeler Station, Marshall County, WV, where she is shown as a 10-year-old in her parents' household, as enumerated in the 1860 federal census. Within a few years, they relocated again, just across the state line into Washington and Greene Counties, PA.
When Susan was age 24, she and her sister Kate were admitted to membership of the Enon Baptist Church in West Finley Township, Washington County, PA. This occurred on Sept. 1, 1865, at a meeting held by "Bro. D.G. Zook," pastor of the church. Their brother Andrew joined the church three years later. These records were published circa 1990 by the church's Historical Committee in the History & Biographical Record of the Enon Baptist Church.
On March 22, 1866, at the age of 25, Susan married 33-year-old widower Samuel Ackles Birch (April 19, 1833-1907), a native of Washington County, PA, and the son of James Birch. Squire Huston performed the ceremony, held in Greene County.
Samuel's first wife, Suretta (Wilson) Birch, had died a little more than six months earlier, on Oct. 4, 1865, at the age of 24 years, three months and four days. A record of both of Samuel's marriages is written in faded ink in the old Birch family Bible.
Samuel stood 5 feet, 5 inches tall, with blue eyes and auburn hair.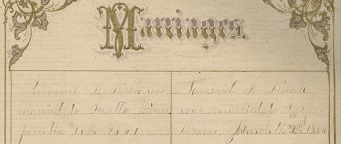 Faded handwriting, Birch Bible: "Samuel A. Birch was married to Suretta Wilson Jan. the 18th 1861" (left) -- and "Samuel A. Birch was married to Susan Minor, March the 22nd 1866." View more.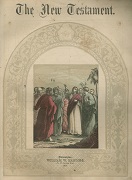 Birch Bible, printed in
1870, Philadelphia, by William W. Harding.
Samuel had two children from his previous marriage, Mary E. Birch and Samuel William Birch. Sadly, daughter Mary died at age two months, 12 days on Jan. 5, 1862.
Susan and Samuel's eight children were Mary A. Harrison, Catherine Jane "Cassie" Weir, Andrew Jackson Birch, William H. Birch, Nancy Elizabeth Mattox, Ulysses Grant Birch, John Wiley Birch and Rebecca McElfish Miller.
Samuel and Susan had a son named Artie Birch, born in 1875, but there are only a few known references to this individual. One is in in the family Bible, and the other is the 1900 U.S. Census when the boy lived under the roof of his married sister Mary Harrison in Washington, PA. In 1898, when Samuel listed all of his children for the benefit of obtaining a Civil War pension, no one named Artie was named.
~ Civil War Service ~
During the war, on Aug. 18, 1862, Samuel enlisted in the 16th Pennsylvania Cavalry, and was assigned to Company K. His primary responsibility was as a wagon driver. His wife's distant cousin by marriage, George Washington Turner, also served in the 16th Cavalry.

Sketch of Samuel's injury
In a freak accident, Samuel was injured at Falmouth Street near Bealton Station, VA, on April 15, 1863. He "was thrown from his mule by colliding with two officers that were racing their horses, the mule falling on top of the [soldier], injuring his left hip and ankle, and right arm." A sketch made by a physician is seen here, showing the injured area of the leg.
Eyewitness Theorus D. Garman later reported what he saw:
[While on duty, Samuel] was riding a mule toward or from our camp. The course took him at right angles with a piece of straight road which the officers, both Infantry and Cavalry, were using as a race track. Just as he crossed the track two officers, one of our regiment, came down the road as fast as they could go and ran over him and the mule. The mule and both horses went down and all three men were thrown violently to the ground and injured more or less. Birch was hurt quite badly...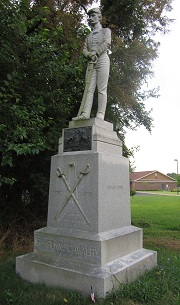 Gettysburg monument,
16th Pennsylvania Cavalry
Wagon master Andrew J. Hagerty "helped take the mull off of him." Later, when Samuel "did not want to be sent to the Hospital ... I kept him in the wagon until he could do light duty," Hagerty wrote. "He could drive when on a mule but we would have to assist him on and off." Afterward, Samuel's leg was three inches shorter than the other. Tests later showed he had fractured the top of his left femur and his right wrist.
In July 1863, Samuel was with his regiment at the Battle of Gettysburg. His wife's nephew by marriage, Cyrus Lindley, also saw action at Gettysburg, and is named on the memorial, on a separate tablet devoted to the 140th Pennsylvania Infantry.
At Gettysburg, the 16th Cavalry took part in action east of town, on what was known as the Deardorff Farm. The site of the fighting was along the eastern side of Highland Road, 0.4 miles south of Hanover Road. A monument and statue honoring the regiment later was erected at the location, which today is beside the Kingdom Hall of Jehovah's Witnesses.

Gettysburg's Pennsylvania Monument
The site also was within a mile of the famed "East Cavalry Battlefield" where Gen. George Armstrong Custer and Brig. Gen. David McM. Gregg of the Union Army squared off against Confederate leader J.E.B. Stuart on July 3, 1863. The cavalry fight claimed 300 casualties but was considered a stalemate, with nothing of strategic importance gained for either side.
Samuel's name later was inscribed in bronze on the Pennsylvania Monument, along with the other members of his and other Pennsylvania regiments who saw action at Gettysburg.
In March and April 1864, Samuel was treated in the Army hospital for measles. He was discharged at Lynchburg, VA, on June 18, 1865 and returned home.
~ Return to Quiet Farming Life ~
Though force to walk with a cane or crutches, Samuel worked in the postwar years as a day laborer, and became a "prominent farmer" and was "well respected."
Samuel is known to have labored for J.N. Minton, the captain of his former Army regiment, and a one-time candidate for Commissioner of Washington County. Samuel is thought to have admired Minton highly and taken part in his funeral. In fact, when Minton died, a parade of "91 vehicles, 228 relatives and friends and 69 old soldiers," possibly including Samuel, escorted the casket to Prosperity Cemetery for burial, according to a news clipping found in the old Birch family Bible.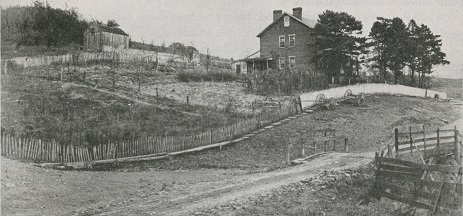 Site of Lindley's Fort, a landmark near Prosperity
Forrest's History of Washington County, 1926

Obituary, 1906
The Birches resided in Greene and Washington Counties, moving frequently. They are known to have lived in Burnsville (1881 -- today known as West Finley), Crows Mills (1883), Prosperity (1887 and 1903), Nineveh (1889), West Union (1892) and Washington, PA (1906).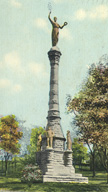 Greene County's Civil War soldier monument

W.S. Throckmorton, a physician who examined Samuel in the 1890s, said "his lameness is growing worse and he has become so much of a cripple that perhaps he could not obtain his board for all that he could do," though emphasizing that "he is industrious."

Another surgeon who examined Samuel in 1906 observed the injured area, and wrote: "There is an abnormal condition of the skin of left leg over an area extending from the ankle upward for 7 [inches] and entirely encircling the leg; the skin is scaly, brown, and smooth..." In about 1886, Samuel came down with typhoid fever, which caused his injured leg to itch.

In about 1904, Susan and Samuel relocated to a house in the Tylerdale section of Washington, PA. Then, after Susan suffered a cerebral hemorrhage, they moved into the residence of son John at 103 West Wheeling Street in Washington.

Susan was stricken several times by bleeding of the brain, including the last episode just three days prior to her death. Despite medical care from Dr. O.P. Dearth, she succumbed on Dec. 30, 1906, at the age of 65 years, 10 months and two days.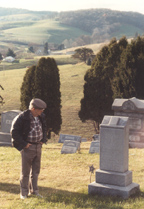 Grand nephew Edward J.
Miner at the Birch grave
Samuel outlived his wife by nearly one year. As his health declined, he was burdened with a bacterial skin infection on his right foot and leg, known as erysipelas, and also suffered from an auto infection from his intestinal tract. He passed away in Washington, at the age of 74 years, seven months and 17 days on Dec. 6, 1907.
They are buried together at Prosperity Cemetery. Son Andrew applied for and received reimbursement from the government related to costs for his father's medical treatment and burial expenses.
Today, the Birch grave marker at Prosperity stands tall, but unfortunately is somewhat illegible. In November 1988, a grand-nephew, the late Edward John Miner, accompanied by the founder of this website, paid his respects. An enlarged version of this image was our "Photo of the Month" in February 2006.
Son John Wiley Birch, a candy store owner, was profiled in Earle Forrest's 1926 book, History of Washington County, Pa.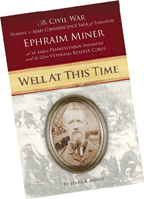 Book about Susan's brother
In 1935, when widespread research was being done by Susan's Younkin cousins coast to coast, to determine how everyone fit into the massive clan, and to organize a national home-coming reunion, Susan was mentioned in a letter authored by Charles Arthur Younkin. Click to see this letter, dated Feb. 19, 1935. Charles wrote: "I have learned the whereabouts of several of the Farabees also Burches and Bedillions but as yet have not come into contact in person but hope to do so in the near future." It's unknown if Charles was successful in meeting or interviewing any of Susan's children or grandchildren as future letters and records as late as 1940 are silent on the matter.
Susan and Samuel are mentioned in a 2011 book about one of Susan's elder brothers who served in the Civil War -- Well At This Time: the Civil War Diaries and Army Convalescence Saga of Farmboy Ephraim Miner. The book is seen here. [More]
Copyright © 1994, 2000, 2002, 2004-2006, 2008, 2011-2012, 2017, 2020 Mark A. Miner