Anna Belle (Boyd) Sears
(1861-1926)
Anna Belle (Boyd) Sears was born in 1861 and raised near Greenfield, Hancock County, IN, the adopted daughter of William E. and Maria J. (Bush) Boyd.
Anna's sister, Ellen "Nellie" (Boyd) Mundelle, also raised by the Boyds, but the fate of a brother, Michael Thompson, is unknown.

Anna married William Henry Harrison Sears (1856-1922), a lifelong resident of Hancock County. They had one daughter, Josie Beaver, and raised two granddaughters, Nelle "Marie" (Beaver) Hutton and Catherine (Beaver) Hamilton Wing.
In 1880, when William was 25 and Annie 21, they resided with the Boyds on their farm northeast of Greenfield.
The Greenfield Daily Reporter once said of William that he "lived in this county all his life, having been engaged at farming the greater part of the time." Later, they moved into town, residing at 429 Walnut Street in Greenfield.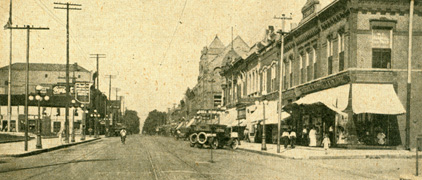 Greenfield's Main Street looking west in the early 1900s
Tragedy struck thrice in 1902, when they lost three of their young grandchildren in tragic or untimely deaths. On June 12 of that year, granddaughter Anna Beaver died of an accidental burn, when she tipped onto herself a pan full of scalding water. On July 31, grandson Charles Perry Beaver died of heart trouble, at the tender age of only five weeks and four days. Five days after that, on August 5, grandson Ralph Boyd Beaver died, when he "upset a pail of boiling water on himself." All three of the funerals are thought to have been held at the Sears home.
To mourn the loss of the Beaver children, a poem was published in the Hancock Democrat by "A Friend":
There is a voice of sovreign grace,
Sounds from the sacred Word
Which bids the little ones to come
To join the angels of the lord.
A guiltless, weak and helpless heart,
In God's kind arms they fall;
He takes their souls to heaven,
Their Savior and their all.
Oh, parent, meet the day of joy
When praises shall all tongues employ;
Your child is in heaven, there to wait
For you to surround the golden gate.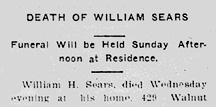 William died on April 13, 1922, at the age of 66. His obituary was published in a local newspaper.
Anna outlived her husband by four years. She passed away on Oct. 31, 1926. They are buried together in unmarked graves beside her parents at the Park Cemetery in Greenfield.
Granddaughter Catherine Beaver ( ? - ? ) married twice, first to (?) Hamilton and later to (?) Wing. She lost an 18-month-old son, Robert Wing, in 1928 and a four-year-old son, Richard Gale Hamilton, of the effects of diphtheria, in 1933.

Grandson in law Chester Scott Hutton served in World War I. Chester later had the graves of the Beaver children relocated from Cummings Cemetery at Willow Branch, Hancock County, to Park Cemetery in Greenfield.
Great-grandson Ralph S. Hutton (seen at right) was active in civic and community affairs of Greenfield. In addition to serving as a City Councilman and as a purchasing agent for the Indiana State Highway Commission, he was a World War II veteran, a commander of American Legion Post 119, a board member of the Boys Club and of the Selective Service Commission, and founded the Walter Molinder Memorial Fund for the advancement of baseball in Hancock County.
Copyright © 2000, 2009 Mark A. Miner