Maria Jane (Bush) Boyd
(1834-1923)
Maria Jane (Bush) Boyd was born in Ohio, the daughter of Christopher and Elizabeth (Miner) Bush. As a girl, she moved with her parents to Wayne County, IN.
She married William E. Boyd (March 15, 1828-1905), a local farmer of Wayne County.
They adopted two daughters -- Ellen "Nellie" (Bush) Mundelle and Annie (Bush) Sears.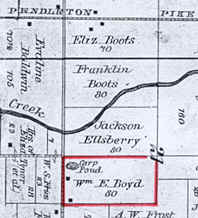 Map showing the Boyds' farm

The Boyds left Wayne County in 1860 and purchased two farms totaling 160 acres in Hancock County, in Section 21, Township 16 and Range 7 East. The Boyd farm was about 2½ miles northeast of Greenfield, and about a mile away from her parents.

A map of the farm location appears on an 1887 atlas of the county. One of its features was a large "Carp Pond," which no doubt was a local attraction. One of the boundaries of the Boyd farm is now part of Interstate 70, about three-quarters of a mile from the Greenfield Exit.

On their farm, the Boyds grew clover hay and corn. Among their customers for the corn was the "elevator at nearby Fries' Mill." Today, a plan of newly built condominiums near the Boyd farm demonstrates that 19th century farms are disappearing fast in central Indiana.

In July 1864, Maria's deathly ill brother Leroy, a Civil War soldier serving with the 9th Indiana Cavalry, was brought back from Indianapolis to their home, at his request. He died shortly afterward of typhoid fever. The same year, William was working in the harvest fields with his father in law Christopher Bush when the older man had a stroke. William later testified in his in-laws' behalf when they petitioned the federal government to receive Leroy's Civil War pension.

New condos near the old Boyd farm, circa 2000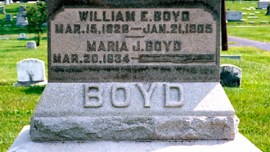 Park Cemetery, Greenfield, IN

William belonged to the county Farmers' Fire Insurance Association. As a member, he regularly was assessed funds to pay the claims of farmers who lost stock, crops, barns and dwellings due to lightning and fire.

In 1880, their' household included daughter Ellen as well as married daughter Annie, her husband William H.H. Sears and their daughter Josie.

William died presumably at home on Jan. 26, 1905.

Maria outlived her husband by 18 years. She passed away of hardening of the arteries at age 89 on June 27, 1923. They are buried together in Park Cemetery in Greenfield.

Copyright © 2000, 2008, 2022 Mark A. Miner