Home

Louisa F. (Carroll) Dunn
(1841-1900)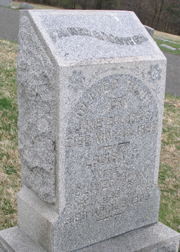 Maplewood Cemetery, Oct. 2008
Louisa F. (Carroll) Dunn was born in 1841 near Masontown, Preston County, WV, the daughter of James M. and Elizabeth (Burke) Carroll.
On Sept. 30, 1866, at the age of 25, Louisa married Oliver Dunn (1843-1890), the son of John Dunn of Monongalia County, WV. Upon marriage, they began residing in Preston County, and moved to Kingwood in about 1872.
Their grave marker, seen here in October 2008, is bathed in such strong late afternoon sunlight that the otherwise legible letting could not be made out.
The Dunns produced one daughter, Alice Ringer.
The Preston County Journal once noted that Oliver "was a member of the M.E. Church, and was an honest, upright and highly respected citizen."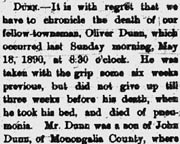 Preston County Journal, 1890
Oliver passed away at the age of 47 on May 18, 1890, and was buried at the Maplewood Cemetery in Kingwood. The Journal reported:
It is with regret that we have to chronicle the death of our fellow-townsman, Oliver Dunn... He was taken with the grip some six weeks previous, but did not give up till three weeks before his death, when he took his bed, and died of pneumonia... His mother arrived here a week before his death.
At Oliver's funeral, added the Journal, "The attendance was large. There were present from abroad Mr. and Mrs. S.W. Hartley, Mrs. Edgar M. Hartley, Miss Louna Hartley, of Masontown, Mrs. Silvester Barker, a sister of Mr. Dunn, and her husband, of Monongalia County, and other relatives of Valley District, this county."
Louisa outlived him by a decade. She died at the age of 59 on April 9, 1900, but the details of her passing are not known. She rests for eternity beside her husband (Section 3) in Maplewood Cemetery. A 2006 search for her obituary in the Preston County Journal, on microfilm in the West Virginia and Regional History Collection at West Virginia University, was unsuccessful. Their grave marker is inscribed "Father & Mother" at the top.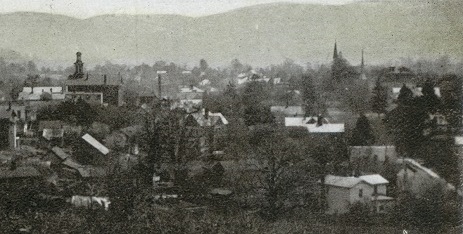 Sleepy Kingwood, looking east, 1908
~ Daughter Alice (Dunn) Ringer ~
Daughter Alice Dunn (1867-1958) was born on Aug. 1, 1867 in Preston County.
In May 1889, at the age of 21, she married Samuel "Foreman" Ringer (Feb. 1861-1939), the son of Joseph and Cynthia (Forman) Ringer. His name also has been given as "Sanford."
The Ringers were the parents of four children -- Oliver Dee Ringer, Betty Scott, Carroll Ringer and Frances Ada Copeland.
Samuel worked as a carpenter for more than half a century, including for a railroad company circa 1920. Said the Morgantown Post, Samuel was "a native of Bruceton ... [and] had resided in Morgantown for more than 40 years. He was a member of the Wesley Methodist Church."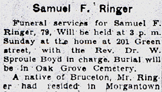 Morgantown Post, 1939
They resided at Jones Avenue and 201 Green Street in Morgantown, Monongalia County, WV. The Green Street property remained in the family for three generations.
In the early 1900s, Alice's aged grandfather, James Miner Carroll, lived under their roof, and eventually died there in 1906.
The family endured the untimely death of their teenage son Carroll, due to a cerebral hemorrhage, in July 1909. His remains were lowered under the sod of Oak Grove Cemetery in Morgantown.
In May 1939, the Ringers celebrated their golden wedding anniversary.
Samuel suffered from cardiac failure at the age of 79, and died on Nov. 9, 1939. He was laid to rest in Morgantown's Oak Grove Cemetery. "Mr. Copeland" was the informant for his death certificate.
Alice outlived her husband by almost 19 years and maintained a home at 210 Green Street in Morgantown. In later years she contracted cancer of the abdomen and became senile. At the age of 90, at home, she passed into eternity on March 12, 1958.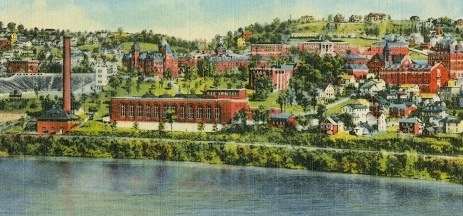 Morgantown, along the Monongahela River
Son Oliver Dee Ringer (1890-1955) was born on March 3, 1890. Oliver was united in matrimony with Grace I. (1894-1978). Together, the pair bore three known offspring -- Betty Davoli, Walter J. Ringer and Gilbert A. Ringer. They relocated during the 1910s to the Philadelphia area, where Oliver obtained employment as a postal carrier. They lived at 504 Jefferson Avenue in Cheltenham, Montgomery County. Circa 1919, he is known to have served as recording secretary of the local Curtis Country Club. The following year, he was among 100 men from Cheltenham who joined forces to organize the Cheltenham Improvement Association, "for purposes of community betterment," said the Philadelphia Evening Ledger. Oliver and his wife are known to have spent the winter of 1920-1921 in Morgantown. When the federal census enumeration was made in 1940, the Ringers were listed in Cheltenham, with Oliver continuing his postal delivery work. Suffering from tuberculosis, he was admitted to Jeanes Hospital in Philadelphia, where passed into eternity on June 22, 1955. Interment of his cremains was in Chelten Hills Cemetery in Philadelphia. Grace survived her spouse by 23 years and was in Philadelphia at the end. She died on June 2, 1978. A brief death notice was printed in the Philadelphia Inquirer, which asked that any memorial donations be made to Sacred Heart Home.
Granddaughter

Betty Ringer

(1925- ? ) was born in about 1925. She entered into marriage with Frank A. Davoli ( ? - ? ). Three offspring born into this family were Michael Davoli, Barbara Ann Davoli and Robert Davoli. The Davolis put down roots in Burholme, PA. Betty was active with the Philadelphia Women's Bowling Association, serving as secretary during the 1980s during a time when it oversaw 827 leagues and 23,090 members. Circa 1989, with the association marked its 50th anniversary, she was quoted in the

Philadelphia Inquirer

about the drain of talented, nationally known bowlers to other leagues as well as the public's decline of interest in the sport. At the age of 75, she died on March 31, 2001. Frank lived for less than a month after her passing. He surrendered to death on April 22, 2001. Their obituaries appeared in the

Inquirer

and the

Philadelphia Daily News.
Great-grandson Michael Davoli migrated to Maryland.
Great-granddaughter Barbara Ann Davoli lived in Mexico in 2001.
Great-grandson Robert Davoli was deceased by 2001.
Grandson Walter J. Ringer

(1926- ? ) was born in about 1926 in Cheltenham. Circa 1948, he was joined in matrimony with Victoria F. Candio ( ? - ? ). Their marriage endured for an extraordinary 69 years. The couple's only child was Linda Sanchack. Walter served during World War II with the U.S. Army. The couple resided in Neshaminy Falls, PA. Walter was employed for more than four decades with the Philadelphia Transportation Company and Southeastern Transporation Public Transit Authority (SEPTA), and retired from the position as head of the scheduling department. They were founding members of Mary, Mother of the Redeemer Church, and involved with various committees and ministries. The angel of death swept Walter away at the age of 89 on May 19, 2016. His funeral mass was held at the family church, followed by burial in St. John Neumann Cemetery. The

Bucks County Intelligencer

ran an obituary.
Great-granddaughter Linda Ringer ( ? -2020) was born in (?) in Philadelphia. She wedded Francis Sanchack ( ? - ? ). Their two children were Gretchen Manmiller and Kristofer Sanchack. The family resided in Neshaminy Falls, Montgomery Township. Linda was employed over the years as a legal secretary. In her free time, she rooted for the Philadelphia Eagles, Philadelphia Phillies and Penn State Nittany Lions sports teams. The family also enjoyed taking vacations in Ocean City, NJ. Linda succumbed to the spectre of death at the age of 69, as a patient in Abington Memorial Hospital, on Aug. 8, 2020. Her obituary was published in the Bucks County Intelligencer.
Grandson

Gilbert Alan Ringer

(1928-2016) was born in about 1928. Research findings suggest that he was united in wedlock with Shirley A. Niederberger ( ? - ? ). Three sons produced by this union were Glenn Alan Ringer, Scott Keith Ringer and Neil Gregory Ringer. Gilbert served in the U.S. Army during the Korean War. Following in his father's footsteps, he was employed in the U.S. Post Office in Cheltenham for 37 years. Sadly, at the age of 87, Gilbert passed into the arms of eternity on Dec. 21, 2016. An obituary in the

Philadelphia Inquirer

said that interment would be in Whitmarsh Memorial Park.
Great-grandson Glenn Alan Ringer ( ? - ? )
Great-grandson Scott Keith Ringer ( ? - ? )
Great-grandson Neil Gregory Ringer ( ? - ? )
Daughter Betty Ringer (1891-1970) was born on Oct. 21, 1891 in Preston County. She was employed circa 1920 as a pay clerk in a Morgantown glass factory. When she was age 29, on Oct. 7, 1920, she married 31-year-old Wayne Scott (April 16, 1890-1943), a veteran of World War I, and the son of Sanford and Jennie (McCauley) Scott. Methodist Episcopal Church pastor Rev. Edgar A. Lowther officiated. They were the parents of one known son, Raymond Scott. During the war, Wayne had served as a private with the 19th Spruce Squadron. In 1930, the federal census shows them on Monongalia County, WV, with Wayne working as an automobile mechanic. By 1940, with the nation still in the grip of the Great Depression, the couple resided in Norwood near Fairmont, Marion County, where Wayne was a self-employed grocery store keeper. At the age of 53, Wayne died of angina pectoris on May 21, 1943, with burial at Oak Grove Cemetery in Morgantown. Betty survived as a widow for another 27 years. Death swept her away on Feb. 24, 1970, at age 78.
Grandson Raymond Wayne Scott (1921- ? ) was born on May 4, 1921 in Monongalia County. At the age of 20, in 1941, he resided near Fairmont, Marion County, WV and worked for his father. He died at the age of 68 on Dec. 20, 1989. Burial was next to his parents in Oak Grove Cemetery.
Son Carroll Ringer (1893-1909) was born in Oct. 1893. He was named for his mother's family, the Carrolls. He was not destined for adulthood. Sadly, at the age of 15, he suffered a severe cerebral hemorrhage and was enveloped by the spectre of death in Morgantown on July 14, 1909.
Daughter Frances Ada Ringer (1894-1939) was born on Nov. 3, 1894 in Preston County. On July 24, 1915, at the age of 20, she wedded 25-year-old grocery clerk Ira Alvin Copeland (Feb. 28, 1891-1964), son of J. Milford and Mary J. Copeland. Rev. G.W. White, of the Methodist Episcopal Church, officiated at the home of Frances' parents in South Park, Morgantown. Two known sons produced by this couple were Carroll Alvin Copeland and Marcus Paul Copeland. The Copelands made a home in Morgantown, first in the household of Frances' parents in 1920. He earned a living in 1920 as a grocery store salesman. By 1930, they both were working at the grocery store and by 1936 had moved to 201 Green Street. They bore deep heartache in 1936 at the death of their son Carroll to heart disease. Grief again descended upon the family in December 1938 when Frances was diagnosed with colon cancer. An exploratory biopsy was done in January 1939. After nearly a year of suffering, she died at the age of 45 on Nov. 30, 1939. Interment of the remains was in the sacred soil of Beverly Hills Cemetery. The 1940 census shows the newly widowed Ira and son Marcus, along with mother-in-law Alice Ringer, living in the same household in Morgantown. Ira continued his work in the grocery store at that time. Ira outlived his bride by a quarter of a century and remained in their Green Street home. At the age of 73, burdened with heart disease and an acute upper respitory infection, he passed away into eternity on Oct. 14, 1964. Son "Mark" Copeland of Morgantown signed the official West Virginia certificate of death.
Grandson Carroll Alvin Copeland (1916-1936) was born on June 6, 1916 in Morgantown and named for an uncle who had died young. Sadly, he, too, was not destined for much of an adult life. For the last year or so of his life, starting about 1935, he was burdened by chronic bacterial heart disease. At the age of 20, on Sept. 11, 1936, he died at home. The remains were laid to rest in Beverly Hills Cemetery.
Grandson Marcus Paul "Mark" Copeland (1921-1974) was born on Nov. 20, 1921 in Morgantown. When both were age 25, on April 17, 1947, he was united in marriage with Julia Elizabeth Fletcher (March 29, 1922- ? ), daughter of Grover Cleveland and Gertrude Agnes (Healey) Fletcher of Morgantown. Rev. Eugene Jacobs, a priest of the Romand Catholic Church, presided over the nuptials. He dwelled in 1969 in his grandparents' home at 201 Green Street. Sadly, Marcus died in May 1974.
Copyright © 2006-2008, 2010, 2019, 2021 Mark A. Miner