James Miner Carroll
(1815-1906)
James Miner Carroll was born on Oct. 29, 1815 near Kingwood, Preston County, WV, the only child of Anthony and Sarah (Miner) Carroll.
He was a well known educator, soldier, constable and hotel-keeper in Kingwood, and his life is profiled in Morton's 1914 History of Preston County.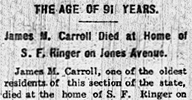 Preston County Journal, 1906
James married Elizabeth Burke (1820-1884), daughter of William and Harriet (Reed) Burke.
They are thought to have lived on his father's farm near Masontown, and to have borne nine children – Sarah Jane Everly, Louisa F. Dunn, Mary Carroll, Martha E. Carroll, Catherine Carroll, Joanna Carroll, John W. Carroll, Paul Carroll and Hardin Duvall Carroll.
The farm on which James was born was owned circa 1906 by a man named Dorsey. After his mother died, James went to live with his grandfather and namesake, James Carroll, "in a cabin in the woods near Kingwood, on a 400 acre tract of land…."
James' widowed father remarried, to Temperance Alley, and had a family of eight more children. Thus James' step-siblings included Eugene Carroll, Mary Herndon, Col. John Jackson Solomon Paul Carroll, Lucinda Carroll, Katherine Kemble, Margaret Carroll, and two who died young.
As a boy, James attended Kingwood Academy and later an academy at Morgantown, Monongalia County, WV. When he was 15, he returned home to his father and step-mother in Kingwood, and:
…there remained in active life until his death. He was public spirited and filled several positions of honor and trust, was constable over 20 years; first lieutenant of the 148th Regiment of the Virginia Militia, commission dating from May 1, 1858; was a member of the Board of Education, for which position he was well qualified by education and experience.
The federal census of 1850 shows James, Elizabeth and daughters Sarah, Louisa and Martha living in the 45th District of Preston County. James is marked as working as a farmer.
Tragically, and with heartache that cannot even be imagined, according to the Journal, "six of his children perished in the epidemic of 1863." The children who fortunately survived were Sarah, Louise and Hardin.
During the Civil War, James wrote to his younger half-brother John, who served as captain of the 9th West Virginia Infantry, Company D and later as lieutenant colonel of the 1st West Virginia Veterans Infantry (Company S). In one letter dated Aug. 3, 1863, later published in the Huntington (WV) Day Book newspaper in November 1863, James penned the following (in the usage and spellings of the day, with some punctuation added for clarity):
I set myself down this morning to drop you a few lines. This will inform you that we are al well at present and hope these few words may reach you and find you and yours al well. the people is mostly wel her.

George fel when running Squire and put his shoulder out of place. the doctor put it in and he is getting well. Ti Hartley wife has been very bad with a fever. John Rodebaugh and James Ashut is at home under the doctor hands. Sarah got a letter from Absolum las week he was quite unwell. the 3rd and 141 together they are near Cumberland and she expects to here from him today. Sis got your letter and we are glad to here from you. We want you to rite to us when this comes to hand and let us know how time is out ther. came home from Beverly. The commencement of harvest I cut our grain. I was up there just as theys had drove the rebels from there at last. They was just clearing the treas out of the road. Tak sixty gard went in. I have got our wheat and rye and part of hay in stack, have between fifteen and twenty acres of gras to cut yet and our oats to cut yet and hands is very scarce here. I hire at any price and still it seems to be getting scaser. B. McMilin, M. Bradshaw, Greenleaf and John Everly has gone with the company. he went from independence. Thecher Simpson is capt, Morgan first L and Grany Brown secnod. it is a Cavellervy Company. M. Hartiel has got hin a Moing macean and is cutting his grass and several neighbors Joana & the three boys is al round me and Jonny wants me to rite for him. So I will rite for him to come see us all one more time as he can give my best respects to al of the boys and Bil to and if they had said a few days longer at Weston wold have sen me there. I go tto Clarksburg on my wa when I herd you had left. So no more at present but remains your brother.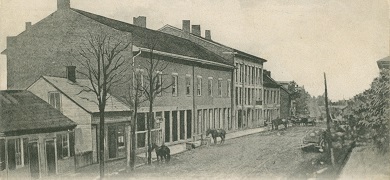 Clarksburg, WV during the Civil War era
The Morgantown Chronicle once said that James "had a wonderful memory, and almost to the day of his death could tell of the early settlements made in the two counties." The Preston County Journal added that he "was very familiar with the west half of the county."
When the federal census was taken in 1870, the 55-year-old James is shown to be employed keeping a hotel in Rowlesburg, near Kingwood. Living under his roof were wife Elizabeth, son Hardin (age 6), aunt Mary Herndon (age 72), half sister Catharine Carroll (age 35), farm laborer Michael Dunn (age 45) and domestic servant Cordelia E. McCauley (age 12). The census taker marked that neither James nor Elizabeth could read or write.
During 1878-1879, when a new house of worship was being planned and erected for the Kingwood Methodist Episcopal Church, James contributed funds for the work. The dedication service was held on May 25, 1879. Several of James' kinsmen also made financial contributions to the effort, including his uncle John S. Murdock and cousins James Eyster Murdock Sr., Marcellus Hugh Murdock, Henry Harrison Gribble and John Allen Fawcett.
Sadly, Elizabeth died at the age of 45 years on Oct. 15, 1884. Her burial place is unknown.

Masontown's skyline, early 1900s
The Preston County history states that James once purchased the Herndon Hotel in Kingwood and later sold it to Mary Herndon, widow of S.P. Herndon. Wiley's 1882 History of Preston County states that:
Mineral Paint Spring.--About a mile from James M. Carroll's, and near Cheat River, out of a cliff of rocks in a deep hollow, bursts a reddish stream of water, which leaves a heavy brown deposit where it falls. This deposit is used as a brown paint for buildings, with satisfactory results. In the same cliff, a spring makes deposits of what is asserted to be crude alum and copperas.
In later life, James resided in Morgantown, and resided with his married granddaughter, Alice Ringer and her husband Samuel.
Rare view of Morgantown, along the Monongahela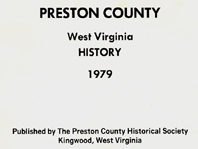 James suffered from kidney problems, and died of their effects on Jan. 26, 1906, at the age of 90. The Chronicle eulogized him as "one of the oldest residents of this section of the state." He was buried at the "old" Graham Cemetery near Masontown, Preston County.
Two years after James' death, he was mentioned in an article about the Carroll genealogy in the April 23, 1908 issue of the Preston County Journal, part of a series entitles "Pioneers of Preston," by H.S. Whetsell. In the article, the author lamented James' death, saying: "Being a close observer and having a retentive and accurate memory of early events, the lack of [James'] assistance has been keenly felt by the compiler of these articles."
In 1979, he and Elizabeth were mentioned in a profile of the Carrolls, authored by granddaughter Myra Carroll, in the book Preston County West Virginia History, published by the Preston County Historical Society.
Copyright © 2001, 2003, 2006, 2009-2010, 2017, 2022 Mark A. Miner