Mary Matilda (Coleman Weyand) Woy
(1847-1939)
Mary Matilda (Coleman Weyand) Woy was born on Dec. 15, 1847 in Somerset Township, Somerset County, PA, the daughter of Joseph and Elizabeth Weyand. It is possible that her parents actually were Jacob Coleman and Susan Miller and that she was raised by the Weyands..
Several sources state that Mary's maiden name was "Coleman," including Theodore's Civil War pension records and her obituary in an Illinois newspaper.
At the age of 2 in 1850, and again at 12 in 1860, Mary lived with her Weyand parents in the township. An examination shows that in 1850, there were no married couples named Jacob and Susan Coleman with a daughter Mary in Pennsylvania, suggesting that Mary was orphaned or perhaps had been born out of wedlock.
What is known is that she wed (?) Woy and was named as such at the time her Weyand father wrote a will in 1892.
The rest of their presumed biography follows but needs to be confirmed.
On Dec. 3, 1867, Mary at age 20 was joined in marriage with Civil War veteran Theodore Gabriel Woy (May 22, 1844-1882). Lutheran pastor Rev. John Tomlinson officiated. Among those attending the wedding were her adoptive father's first cousin Mannasses Rhoads as well as Andrew Woy and family friend Perry Umberger. (whose sister Caroline married Mary's adoptive uncle Samuel Weyand). Rhoads once said that he had become acquainted with Theodore in 1866 when the soldier and his parents had moved to the Rhoads' neighborhood.
The couple's known children were Martha "Elizabeth" Woy, Mary Grace Woy, Arthur Woy, William Joseph Woy and Charles Reuben Woy. Dr. W.A. Garman assisted in the births of their daughter Elizabeth. Sadly, daughter Mary Grace and son Arthur are thought to have died young as their names are inscribed (without dates) on their father's grave marker. Other records show that Mary Grace passed in 1879 at the age of seven.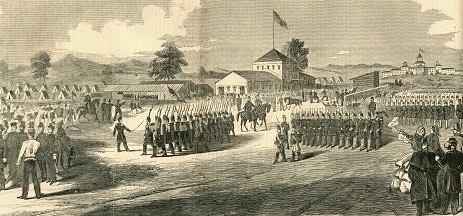 Camp Curtin, Harrisburg, where Theodore contracted typhoid fever
Theodore stood 5 feet, 7 inches tall and weighed 140 lbs., with brown hair and brown eyes. Prior to the Civil War, in 1859, he boarded in the home of Oliver Knepper in Somerset. Knepper said he "was quite intimately acquainted with him. He seemed to be a pefectly sound and healthy young man up to the time of going to the army. I knew him well and lived near him from the time of his discharge... We were members of the same church and often served together in the church council and was in contact with him a great deal." He also lived in the pre-war years in the household of Perry Umberger.
During the war, the 18-year-old Theodore joined the 54th Pennsylvania Infantry on Sept. 3, 1861. At enlistment, regimental surgeon Dr. J.H. Allen wrote that he found Theodore to be "in sound bodily health [but] soonafter his enlistment he contracted Typhoid Fever. I attended him at Camp Curtin, Harrisburg, Penna. He had a rather severe attack, and the winter was well advance before he recovered sufficiently for duty... He complained of pain in the side and chest, but never shirked duty, he was too good a soldier for that." He is known to have received medical care from Dr. Allen in the private house of the Holtzburger family in Harrisburg, seen as "very sick" by fellow soldier John J. Spangler. Among his messmates was Emanuel Custer.
At Paw Paw, VA, on Oct. 4, 1862, in what is known as the "Skirmish at Little Cacapon," he was captured as a prisoner of war. He was held in a Confederate prison in Richmond and paroled/released on Nov. 30, 1862. He returned to his regiment and, after his term of service ended, re-enlisted in the regiment on Feb. 23, 1864. He is known to have been promoted from private to corporal in mid-June 1864 and thence to sergeant on Jan. 14, 1865. He later stated that "I thought I would recover" from his illness. "I liked the service and believed in due time I would recover there as well as at home."
The 54th Pennsylvania took part in the Battle of New Market in May 1864, Battle of Piedmont on June 5, 1864 and then at the Third Battle of Winchester. It went on to participate in the Battles of Fisher's Hill and Cedar Creek and finally at Hatcher's Run, VA in March 1865. While at High Bridge, VA, in the closing weeks of the war, he and the regiment were taken prisoner on April 6, 1865 and released three days later when the Confederate army surrendered at Appomattox. He mustered out of the army at Annapolis, MD on May 31, 1865 and then somehow was promoted to captain on June 6, 1865, but by then he had already left for home.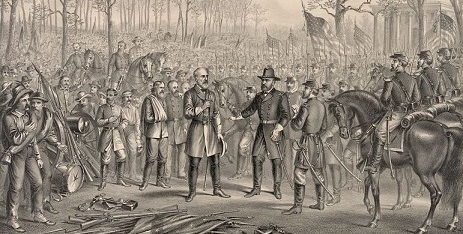 Theodore was released as a prisoner of war on the day of the Confederate surrender at Appomattox.
Kurz & Allison print, courtesy Library of Congress
After his discharge, Theodore returned to Somerset Township. His uncle Jeremiah Woy remembered that a day or two of being home, the soldier "took dinner at our house. Ate very little and complained of being unwell. He said then that he had had a hemorrhage shortly before that. Some time afterwards I learned of him having another hemorrhage. This I learned through other persons, as I was not present."
Mary later said that in 1867 and 1868 they dwelled a little nearer to the Berlin post office than the one in Somerset, and then in 1872 moved to the western part of the township.
Friend Knepper recalled that after Theodore's return from the army, "his health gave way gradually... For the first few years he was not so bad, probably disabled about 1/2 during the first five or six years. From the spring of 1876 to his death we lived on adjoining farms and during that time he was not fit to do manual labor."
In 1879, Theodore began receiving a military pension as compensation for wartime injuries. [Invalid App. #300.288 - Cert. #335.859]. Among those providing support in writing for the claim was his wife's uncle John Weyand of Berlin and tenant farmer Henry Sumpstine.
The 1880 federal census enumeration shows Theodore and Mary living in Somerset Township with Lavansville as their post office. Their dwelling was just a few residences away from Mary's parents Joseph and Elizabeth Weyand. They lived about a half-mile from Somerset. Friend and physician Dr. Ed. M. Kimmell often visited at their home and heard the soldier complain of a hacking cough, pain in the right side, nght sweats and spitting up blood, and thus presccribed mineral acids, styptic substances, Ergot fungus, quinine and cod liver oil.
Charles' decline in health continued steadily with untreatable pulmonary tuberculosis. The family physician Dr. Brubaker made house calls on Aug. 3-4, 1882 as Theodore was in the last stages of dying.
Theodore died in on Aug. 5, 1882. Burial was in Union Cemetery in Somerset. An obituary was printed in the Somerset Herald, which stated that he was "one of the most highly respected farmers of Somerset township... His remains were interred in the cemetery Sunday noon."
Reuben Woy was appointed executor of Theodore's estate.
Mary was awarded a widow's pension the following year, in 1883. [Widow App. #303.765 - Cert. #225.548]
An upright marker was erected at Theodore's grave in Union Cemetery. At the base of the stone were inscribed the names of their children who had died young -- Arthur and Mary. At Memorial Day 1896, Theodore was named in the Herald as among "Union soldiers whose remains rest in the cemeteries of Somerset... Memorial day was fittingly observed by the people of Somerset and other towns in the county. In fact we can not recall a former occasion when the beautiful custom of decorating the graves of those who fell in defense of the Union was more generally regarded."
Then in 1892, at his 16th birthday, her son Charles filed to receive the pension as he was nearly blind and needed the funds. [Minor App. #561.940] A special claim was set up in the case, with the number XC 2.662.040.
The widowed Mary resided in Berlin in 1900 with her brother-in-law and wife, Jacob and Cora Swartzendruber.
Mary and her children relocated to Illinois, where she resided in Chadwick, Carroll County. At her 90th birthday, she was featured in the Dixon Evening Telegraph, saying she was "one of Chadwick's most beloved citizens." It went on to say she had been born on Dec. 15, 1847 in Berlin to Jacob Coleman and had come to Illinois in 1900 after her husband's death. "She purchased the house where Mr. and Mrs. W.J. Quest now reside, from Henry Smith, and lived there until eight years ago when she went to make her home with her daughter, Mrs. Elizabeth Senneff." The article listed her living children as William of Chicago, Elizabeth Senneff of Chadwick and Charles of Chadwick. By 1939, William was in McAllen, TX. She died four days after Christmas 1939 with burial in Chadwick. Her Illinois certificate of death lists her parents as Jacob Coleman and Susan Miller.
Presumed daughter Martha "Elizabeth" Woy (1870-- ? ) was born on July 16, 1870. Dr. A.A. Garman was present at the birth, as were Barbara Gumbert and several other women. After a moving to Chadwick, IL, she entered into marriage with (?) Senneff.
Presumed daughter Mary G. Woy ( ? - ? )
Presumed son William Joseph Woy (1874- ? ) was born on Jun 17, 1874. Dr. Ed. M. Kimmell was present at the birth.
Presumed son Charles Reuben Woy (1876- ? ) was born on Nov. 30, 1876. Dr. Henry Brubaker assisted in the birth. The baby was baptized in 1877, with a notation made in the family Bible. By the time he was age 13, in 1890, Charles was considered nearly totally blind and permanently helpless.
Copyright © 2002, 2009, 2012, 2014-2015, 2017, 2019, 2021 Mark A. Miner