Joseph Weyand
(1825-1892)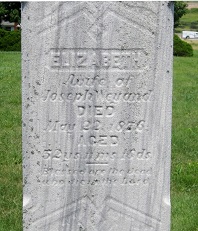 Elizabeth's grave, Wills St. Johns
Joseph Weyand was born in about 1825 in Somerset County, PA, the son of Michael and Mary Anne (Ream) Weyand Sr.
He married Elizabeth (?) (1823-1876), who was two years older than he. She could not write.
The couple produced at least one daughter, Mary Matilda Woy.
When the federal census was enumerated in 1850, the Weyands made their home in Somerset Township, Somerset County, in close proximity to the dwellings of his parents and married sister and brother in law Mary and Joseph A. Rhoads. In addition to their young daughter, also living under their roof that year was 14-year-old Casper Achison.
The Weyands were longtime farmers. They remained in the township during the 1850s and are enumerated there in the 1860 federal census.
In 1870, after his father's death, Joseph received an inheritance payment from the estate totaling $972.25.
The U.S. Census of 1870 lists the Weyands living near Lavansville, Somerset Township, with the family of Samuel and Henrietta Bittner and their children in the household.
Elizabeth died on May 22, 1876 at the age of 52. Her remains were lowered to eternal repose in Wills Church Cemetery in Somerset. Inscribed on her grave marker is the verse, "Blessed are the dead who die in the Lord."
Joseph survived his wife by 16 years. When the federal census was again taken in 1880, the widowed Joseph headed a farm household in Somerset Township that also included farmer Charles Frank and his wife Ellen, both age 26.
On Oct. 6, 1881, Joseph married a second time, to Mary Kimmel ( ? - ? ). The news was reported in the Somerset Herald, which said the wedding had been officiated by Rev. J.J. Welch at the Lutheran Church parsonage in Friedens.

Joseph's last will and testament - Will Book 7, page 221 - Estate #62 of 1892.

Courtesy Register of Wills, County of Somerset, PA.
In September 1891, with his health apparently slipping, Joseph wrote a last will and testament, witnessed by George M. Neff and J.O. Kimmel. He decreed that at his death, the widow was to receive half of the residual of the estate, and daughter Mary the other half, while Mary Ellen Frank was to receive "the Remainder." He appointed Charles Frank as executor of the estate.
He passed away on Aug. 25, 1892, at the age of 67. Burial was beside his first wife in Wills St. Johns Evangelical Lutheran Church Cemetery. [Find-a-Grave]
Now widowed, Mary exercised her right to receive an additional $300 from the estate.
Nothing more about her is known.
~ Daughter Mary Matilda (Weyand) Woy ~
Daughter Mary M. Weyand (1848- ? ) was born in about 1848 in Somerset Township. At the age of 12, in 1860, she lived with her parents in the township.
She is known to have wedded (?) Woy and used the "Woy" surname at the time her father wrote a will in 1892.
Nothing further is known with precision. Evidence suggests, however, that she could have been joined in marriage with Civil War veteran Theodore G. Woy ( ? -1882). The rest of their presumed biography follows but needs to be confirmed.
The couple's known children were Elizabeth M. Woy, Mary G. Woy, William J. Woy and Charles R. Woy.
During the war, Theodore had served as Captain of Companies H and B with the 54th Pennsylvania Infantry.
The 1880 federal census enumeration shows Theodore and Mary living in Somerset Township with Lavansville as their post office. Their dwelling was just a few residences away from Mary's presumed parents Joseph and Elizabeth Weyand.
In 1879, Theodore began receiving a military pension as compensation for wartime injuries. [Invalid App. #300.288 - Cert. #335.859].
Theodore died in on Aug. 5, 1882, of causes not yet known. An obituary was printed in the Somerset Herald, which stated that he was "one of the most highly respected farmers of Somerset township... His remains were interred in the cemetery Sunday noon."
Reuben Woy was appointed executor of Theodore's estate.
Mary was awarded a widow's pension the following year, in 1883. [Widow App. #303.765 - Cert. #225.548]
An upright marker was erected at Theodore's grave in Union Cemetery. At the base of the stone were inscribed the names of their children who had died young -- Arthur and Mary. At Memorial Day 1896, Theodore was named in the Herald as among "Union soldiers whose remains rest in the cemeteries of Somerset... Memorial day was fittingly observed by the people of Somerset and other towns in the county. In fact we can not recall a former occasion when the beautiful custom of decorating the graves of those who fell in defense of the Union was more generally regarded."
Then in 1892, one of their minor children filed to receive the pension. [Minor App. #561.940] A special claim was set up in the case, with the number XC 2.662.040. This hints that Mary, mother of the child, had either died or remarried.
Copyright © 2002, 2009, 2012, 2014-2015, 2017, 2019, 2021 Mark A. Miner