Alice (Crosby) Fehr
(1900-1930)
Alice (Crosby) Fehr was born in January 1900 near Mt. Pleasant, Westmoreland County, PA, the daughter of Lewis and Marietta (Minerd) Crosby.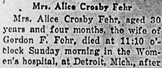 Obituary, 1930

Alice married Gordon F. Fehr ( ? - ? ).

They together produced a brood of three children -- Dorothy Fehr, Sarah Fehr and Charles "Bucky" Fehr.

Early on, they resided in Reading, Berks County, PA. Then, in about 1929, they relocated to Detroit, and made a home at 708 Milwaukee Avenue.
Detroit, MI
Gordon earned a living as a policeman.
In April 1930, Alice became serioiusly ill and was admitted to the Women's Hospital in Detroit. Her sister Mattie Bowman traveled from Connellsville, PA to visit. Staying as long as she could, Mattie left when her sister's condition was "slightly improved," reported the Courier.
Unfortunately, Alice did not recover, and died on April 24, 1930. The funeral was held in the Fehr home, and her remains were laid to rest in a Detroit cemetery.
Gordon's fate is unknown.
~ Daughter Dorothy Fehr ~
Daughter Dorothy Fehr ( ? - ? )
~ Daughter Sarah Fehr ~
Daughter Sarah Fehr ( ? - ? )
~ Son Charles "Bucky" Fehr ~
Son Charles "Bucky" Fehr ( ? - ? )
Copyright © 2001, 2008, 2022 Mark A. Miner