Maria 'Mattie' (Crosby) Bowman
(1894-1943)
Maria "Mattie" (Crosby) Bowman was born on July 10, 1894 near Mt. Pleasant, Westmoreland County, PA, the daughter of Lewis and Marietta (Minerd) Crosby.
When Mattie was age 16, and her mother was sickly, she took a job "in town," presumably Mt. Pleasant, to help provide necessary income for the family.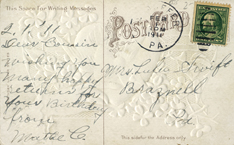 In 1910, Mattie sent a penny postcard birthday greeting to her married cousin Lula (Stairs) Swift, "wishing you many happy returns for your Birthday." The handwriting side of the card is seen at left, and today it is preserved in the Minerd-Miner-Minor Archives.
Mattie married John Henry Bowman (1883-1954).
They had no children.
The Bowmans resided in the Davidson section of Connellsville, Fayette County, PA, where John was a yard master for the Pennsylvania Railroad.
The Connellsville Daily Courier said he "was a trainman for the Baltimore & Ohio Railroad Company here for 45 years. Born at McClure, he had spent all his life, until retirement in 1947, in this area. He lived in Connellsville while with the railroad company." He joined the B&) on Jan. 13, 1905 as yard brakeman, and was promoted to conductor in 1909. For several years he worked as assistant yardmaster, and for the last eight years of his career was conductor on the Mount Pleasant branch, making daily trips between Connellsville and Mount Pleasant. During those last years, unlike all the years earlier, he did not have to work on a Sunday or holiday.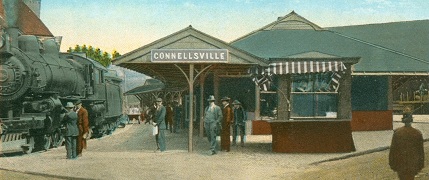 Pennsy's Connellsville depot in a rare old postcard photograph.
He was a member of Division 6 of the B&O Veterans Association, Brotherhood of Railroad Trainmen, No. 218, Fayette Lodge 239 of the Knights of Pythias, and a member of the Masonic order.
Mattie was a member of Trinity Lutheran Church and its Ladies Bible Class, Lee Etta Lodge No. 515, L.A. to B. of R.T., and Daughters of America.
In April 1930, Mattie traveled to Detroit, MI to visit her seriously ill sister, Alice Fehr. Staying as long as she could, Mattie left when her sister's condition was "slightly improved," reported the Courier.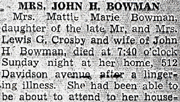 Mattie passed away in Connellsville on Jan. 17, 1943, at the age of 49. She was laid to rest in the Green Ridge Cemetery north of the city. The Daily Courier reported in her obituary that she had endured "a lingering illness. She had been able to be about to attend to her household duties and suffered a relapse at 11 o'clock in the morning while backing an automobile out of the garage.
John outlived Mattie by 11 years. He moved to St. Petersburg, FL in 1947, where he made his home for the rest of his life. He was a member of a Lutheran Church in St. Petersburg.
He suffered a stroke at the age of 71, on Dec. 2, 1954, and died the same day after being taken to Mound Park Hospital. His remains were returned to Connellsville for burial beside Mattie at Green Ridge.
Copyright © 2001-2002, 2005-2006, 2012 Mark A. Miner