Cephas Nelson Culp
(1856-1938)
Cephas Nelson Culp was born on Oct. 13, 1856 near Tarlton, Pickaway County, OH, the son of Charles and Matilda (Miner) Culp. Cephas and his parents may also have had Maryland connections, as one of his daughters claimed he was born there.
On March 29, 1888, Cephas married Susan Baker (1862-1928), daughter of Phillip and Mary Ann (Smith) Baker. Susan was born on July 21, 1862 in Hagerstown, MD, and moved to Springfield, OH as a girl.
Their children were Ethel B. Culp, J. Miner Culp, Paul M. Culp, Marie Belle Culp, William V. Culp and Susan Culp.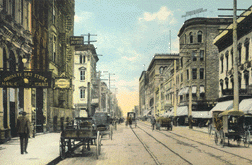 Springfield's Main Street

Cephas was a bookkeeper, and found a position in Springfield, Clark County, OH.

Relatives said Cephas and his brother Lewis looked enough alike to be twins.

The Springfield Daily News said that Susan's "extensive interests and work in club circles made her well known in Springfield and she had numerous friends…. [She] was for years an active member of the Union Mite Society and also of the Good Cheer Club. She had been a member of the Second Lutheran Church since the year of its organization."

Susan died at age 65 of chronic hepatitis on April 21, 1928, and is buried at Ferncliff Cemetery in Springfield. An obituary in the Daily News called her a "prominent club woman" and said that she and Cephas "had spent the winter in Detroit at the home of their son, William V. Culp, and had returned to Springfield little more than two weeks ago and were the guests at the home of their daughter [Ethel Worley] where Mrs. Culp died."

Cephas outlived his wife by a decade. He passed away on Feb. 12, 1938, at the age of 82.



~ Son J. Miner Culp ~

Son J. Miner Culp (1892- ? ) was born in 1892.

At the age of 19, in 1910, while living with his parents in Springfield, Miner made a living as a traveling salesman of wholesale dry goods. He also resided in a Chicago rooming house that year in connection with his employment, and actually is enumerated on the 1910 U.S. census in both locations.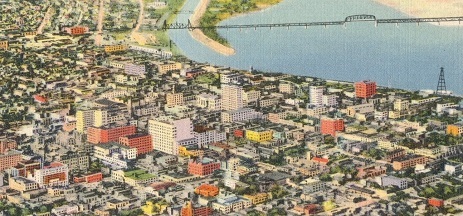 Bird's eye view of Louisville, KY
He moved to Louisville, Jefferson County, KY, sometime during the decade of the 1910s. The federal census of 1920 shows him as an automobile salesman in Louisville, and living in a rooming house on Fourth Street.
In 1926, at the age of 34, he married Lillian (?) (1902- ? ), a Kentucky native who was a decade younger than he.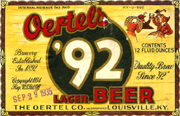 Oertel Brewing label, 1937

The 1930 census shows them making their home on Trevillian Avenue in Louisville, with Miner employed as vice president of a motor company. For reasons not yet clear, he later became president of the Oertel Brewing Co., a venerable Louisville landmark founded in 1892.

Circa 1951, Miner is known to have dealt with issues over labor disputes and picketing at the brewery involving the American Federation of Labor (AFL) craft union and a carpenter's union. The dispute eventually was heard by the National Labor Relations Board (NLRB). (See Decisions and Orders of the National Labor Relations Board, Vol. 93, 1951.)

Oertel was sold to Brown-Forman Distillers Corporation, and closed in 1967, after Miner's retirement.



~ Daughter Ethel (Culp) Worley ~

Daughter Ethel Culp (1890- ? ) was born in 1890.

She was joined in wedlock with Robert Clark Worley (1889-1957), son of John B. and Fannie (Clark) Worley.

They resided Springfield, OH. Their address in 1928 was 1 East McCreight Avenue.

They were the parents of at least three daughters, Suzanne Worley, Jane Worley and Nancy Worley.

The 1930 federal census shows the Worleys making their residence in Springfield, where Robert worked as employment manager for an automobile accessory manufacturer. Living temporarily under their roof that year were Ethel's married sister Marie Lowry and her children Nancy Lowry and Louise Lowry. Their home in 1943 was at 57 East Cecil Street.

Robert is known to have been employed by Buckeye Bumpers in Springfield in 1944. During World War II, two of their daughters served in the U.S. Navy's WAVES (Women Accepted for Volunteer Emergency Service), while another held a position with the Department of Internal Revenue. Ethel was pictured in a feature story about her daughters, printed in the Springfield Daily News, which said that she and Robert wrote to each of the girls every week.

Robert also held a job for some time as a foreman at Buckeye Incubator Company. In about 1951, Robert was hired by Gantner Screw Products and worked there for the balance of his life. By 1951, the couple had moved to 575 North Limestone Street.

At the age of of 70, Robert passed away on June 23, 1957. Co-officiating at his funeral were Rev. Lawrence T. Rugh and Rev. Dr. Frederick F. Mueller. Interment of the remains was in Ferncliff Cemetery. The Daily News carried an obituary.

Daughter Suzanne Worley ( ? - ? ) became employed with the Department of Internal Revenue. Circa 1944, she was a collector for the department, stationed in Honolulu. On May 3, 1951, she was joined in wedlock with James H. Swearingen ( ? - ? ). The nuptials were held in Denver and announced on the pages of the Springfield Daily News. The newlyweds made their first home in Denver at 1272 Gaylord Street. Then in 1957, at the death of Suzanne's mother, they had migrated to Mill Valley, CA.

Daughter Jane F. Worley ( ? - ? ) ( ? - ? ) was born in (?). She joined the WAVES in August 1943, as World War II raged, and was stationed in Corpus Christi, TX and Corona, CA. Her rank in 1944 was pharmacists mate, third class. In time she entered into marriage with T.A. Young ( ? - ? ). They lived in 1957 in Dayton, OH.

Daughter Nancy Louise Worley ( ? - ? ) was born in (?). During World War II, she enlisted in the WAVES and received aviation mechanics training at Hunter College, NY, Memphis, TN and Kingsville, TX. In all, she spent three years with the WAVES. On Jan. 12, 1946, she was united in matrimony with Lt. Sherwood Roger Barstad ( ? - ? ), son of Warren P. Barstad of Salinas, CA. The wedding was held by Rev. Dr. Ross Miller. A story in the Springfield Daily News said that she "was attired in a pale pink wool jersey dress and wore a corsage of gardenias." During the war, Sherwood had been stationed in the Philippines with the NATS. The pair established their first home in California. They went on to bear two children -- Lance Barstad and Kirsten Barstad. Circa 1952, the family was in Fresno, CA.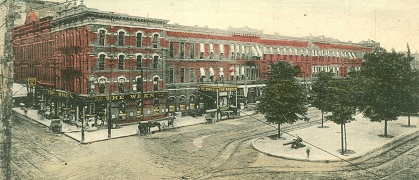 Fountain Square in Springfield, Ohio, early 1900s
~ Daughter Marie Belle (Culp) Lowry ~
Daughter Marie Belle Culp (1894- ? ) was born in 1894.
She wed H.C. Lowry ( ? - ? ).
H.C. is believed to have been a career Navy officer. In 1928 the Lowrys lived in San Diego, CA.
Two daughters born to the couple were Nancy A. Lowry and Louise Lowry.
The 1930 federal census shows Marie and daughters Nancy and Louise making their home in Springfield with Marie's married sister and brother in law, Ethel and Robert Worley. By 1934, the Lowrys had moved to Pagopago, American Samoa.
Daughter Nancy A. Lowry ( ? - ? ) was born in the late 1920s in California.
Daughter Louise Lowry ( ? - ? ) was born in the late 1920s in California.
~ Son Paul McK. Culp ~
Son Paul McK. Culp (1896- ? ) was born on Oct. 31, 1895.
During World War I, he served as a corporal in Battery D of the 324th Field Artillery.
Circa 1923, he entered into marriage with Edith M. Redding (1897-1945), a native of Mount Sterling, Madison County, OH and the daughter of Lora Redding.
The couple did not reproduce. For 18 years, the pair made a home in the Ohio state capitol city of Columbus. In 1942, they relocated to Cincinnati with an address of 126 West Cecil Street. Edith held a membership in the First Congregational Christian Church.
Sadly, having suffered for a year with serious illness, Edith died in Cincinnati's Christ Hospital on Oct. 4, 1945. Burial was in Pleasant Cemetery in Mount Sterling. An obituary appeared in the Springfield Daily News.
Paul survived his bride by more than a quarter of a century. He surrendered to death at the age of 75 on April 30, 1971. His mortal remains are in repose in Ferncliff Cemetery in Springfield.
~ Son William V. Culp ~
Son William V. Culp (1903-1934) was born on Valentine's Day 1903 in Springfield, OH.
William at age 21 was united in matrimony with 21-year-old Grace Enbow (1903- ? ), a Kentucky native.
One known daughter borne to this couple was Jane S. Culp.
Circa 1925, they relocated to Detroit, where William spent his career as an engineering clerk with Briggs Manufacturing Company, a builder of automobile bodies under contract to Ford Motor Company. Grace also was employed as a clerk with Briggs in 1930, the year of the federal census enumeration.
They made a residence at 5901 Chalmers Avenue.
Tragically, at the age of 31, he developed an acute infection of his gallbladder and pancreas. He underwent surgery on March 3, 1934 in Detroit Hospital, but did not survive the operation, and died that day. The remains were transported back to Springfield for interment in Ferncliff Cemetery.
The widowed Grace and her daughter stayed in Detroit. She supported herself as a cost accountant for a roller bearing factory. As of 1940, they housed a lodger, 30-year-old commercial artist Edlore Knaggs.
Daughter Jane S. Culp (1926- ? ) was born in about 1926 in Michigan. She and her mother remained in Detroit after her father's untimely death, and are shown there in the 1940 federal census enumeration.
Copyright © 2000, 2002, 2005, 2009, 2022 Mark A. Miner