Catherine (Emerick) Troutman
(1825-1912)
Catherine (Emerick) Troutman was born on Aug. 25, 1825 in Southampton Township, Somerset County, PA, the daughter of of Jonathan and Rachel (Sturtz) Emerick Sr.
At the age of 20, on Christmas Day 1845, she married 24-year-old Daniel Benjamin Troutman (1821-1891).
They together produced a brood of seven children -- Sylvester "Sylvatus" Troutman, Noah "Henry" Troutman, Mary E. Troutman, Harriet L. Power, Lucy Troutman, Emma Powers Whelan and Perry D. Troutman.
When the federal census was taken in 1850, the Troutmans made their residence in Londonderry Township, Bedford County, where Daniel served as justice of the peace. By 1860, still living in Londonderry, Daniel's primary source of income was as a gunsmith.
At the end of the Civil War, and after two decades of married life, the Troutmans pulled up their stakes in Pennsylvania in 1865 and migrated to Kansas, where they settled in Ottawa, Franklin County. There, Daniel continued his occupational specialty as a gunsmith, and their daughter Reny was born in 1870.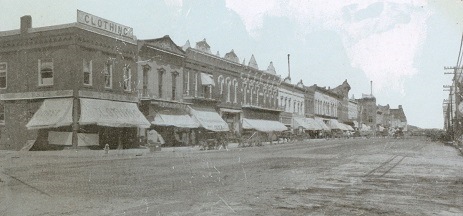 Main Street, Ottawa, Kansas, looking north from Third Street
In the spring of 1881, Daniel served as an election polling clerk in Franklin County and received $2.00 in compensation, and he remained active as a judge of elections in the county for many years. He also maintained a weapons store in Ottawa, and in mid-February 1887, burglars made off with a number of ammunition rounds and revolvers.
Daniel passed away during Christmas week in 1891, at the age of 69 years, one month and 27 days. His death terminated a marriage of almost 46 years. Rev. Scherer of St. Paul's Lutheran Church officiated at the funeral service, with burial in the Highland Cemetery. In an obituary, the Daily Republic said that Daniel "was well known to all the old citizens, who held him in high esteem for his many noble and kindly qualities."
Catherine lived for another two-plus decades as a widow and maintained her home at 126 South Oak Street in Ottawa. In October 1904 she traveled to Kansas City to visit relatives. Catherine died at the home of their married daughter Ella Tuly two miles west of Princeton, Franklin County on April 4, 1912. Burial was beside her husband. [Find-a-Grave]
Their great-grandson, George Christian Schempp, wrote extensively about the family in his 1989 book, The Schempp Family History (Gateway Press, 448 pages). There is no known connection between our Troutmans and Kansas Governor James A. Troutman (1853-1926), son of pioneer settlers William H. and Nancy (Smith) Troutman.
~ Son Sylvester Troutman ~
Son Sylvester Troutman (1849-1895), sometimes known as "Sylvatus," was born in about 1849 in Londonderry Township, Bedford County. As a teenager, he migrated to Kansas with his parents and younger siblings.
He married Helen (1856- ? ), a Virginia native who was seven years younger than he.
Their known children were Pearl Troutman, May Troutman, Arthur Troutman, Grace Cocherell and Mina Mitchell.
Early in their marriage, the Troutmans moved to Arkansas, where their eldest child was born. But by December 1879, they were back in Franklin, Ottawa County for the birth of their next child, and where they remained as shown in the 1880 federal census.
By 1895, the family migrated again, this time to Oklahoma.
Sylvester made news in February 1895 when he returned to Ottawa for a visit and became ill with influenza, known as "la grippe." Reported the Ottawa Daily Republic, he "has manifested insanity of an extremely violent character. The tendency of his ailment was noticable in a pronounced degree Friday night last, since which time the unfortunate man has been constantly under restraint. He became so violent that on Saturday it was deemed advisable to secure admission for him to one of the hospitals for the insane. Information was lodged with the Judge of Probate, and an examination was had Saturday. He was found to be insane, and committed for the hospital. He was being as tenderly cared for and guarded, as possible, but was so wild that it was found imperative to take him to the sick ward of the jail, where in addition to handcuffs and ankle-fetters, it was found necessary to strap him to the bed. Even then the services of two attendants were constantly required. The unfortunate man is less violent today, and has occasional rational moments. He has a wife and large family of children."
Within a week or so, he was transferred to an asylum at Osawatomie, Miami County, KS. Sadly, he died in the Osawatomie asylum on March 6, 1895, just a few weeks after the onset of his final illness. His remains were transported back to Ottawa for funeral services held at the English Lutheran Church at the corner of Sixth and Maple Streets. After his death, J.A. Elwell requested reimbursement in the amount of $24 from the county for providing guards for Sylvatus' confinement.
Federal census records for 1900 show Helen living alone on a farm she owned in Saline, Woods County, OK and working as a farmer.
Son Pearl Troutman (1878- ? ) was born in 1878. On March 16, 1899, at the age of 21, he was joined in wedlock with 19-year-old Alice Johnson ( ? - ? ). Rev. W.L. Morris led the wedding service in Osage City, KS. They made their home in 1905 in Mena, AR. Evidence suggests that by 1910, the family returned to Kansas and dwelled in Kansas City, Wyandotte County, and that the two children in the family were Sylvester Troutman and Beulah Troutman.
Daughter May Troutman (1879- ? ) was born in Dec. 1880 in Ottawa, Franklin County, KS.
Son Arthur Troutman ( ? - ? )
Daughter Grace Troutman ( ? - ? ) married (?) Cocherell.
Daughter Mina Troutman ( ? - ? ) wedded (?) Mitchell
~ Son Noah "Henry" Troutman ~
Son Noah "Henry" Troutman (1850-1926) was born in about 1850 in Londonderry Township.
After migrating to Kansas, he learned his father's trade in gunsmithing and, after his father's death in 1891, took over the gun shop in Ottawa, located at 111 First Street.
In April 1909, he relocated the business to 117 North Main Street. His name constantly was printed in the Ottawa Daily Republic for his business and civic activities. At Christmas 1893, he exhibited a small, hand-made iron screw said to have been taken from the desk of George Washington, and which had been exhibited at the World's Fair,. In May 1894, he offered the prize of a bicycle lamp for the third-place finisher in an Ottawa Cycling Club race.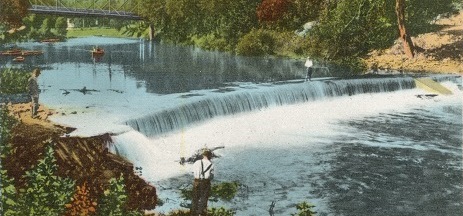 Fisherman and boaters at the picturesque Ott Dam on the Marais des Cygnes River, tributary of the Osage River, in Ottawa, Kansas
Circa June 1895, he owned a half-interest in a self-cleaning fishing boat with Charley Nolan. Said the Daily Republic, "It is doubtful if any living man has that much confidence in it." In addition to weaponry, he fixed bicycles and sold such hardware as thermometers and once introduced a scissors sharpener that had been invented by Thomas Edison. Henry also enjoyed fishing, and made it a practice to cast his lines from a local dam following floods, typically an opportune time to snag a croppie. Reported the Daily Republic, "Henry Troutman will be among the first to flit like a fat ghost around a corner of the abutment, accompanied by that dog of his whose tail is everlastingly getting tangled with somebody's line. But whether Henry comes early or late, he is pretty certain to electrify the crowd by yanking out the biggest beauty of the day."
In October 1909, when his mother made an extended visit of several months in Washington, IA, Henry traveled there to bring her home. While riding a bicycle in November 1917, he collided with a passing horse and buggy, breaking one of the buggy wheels and bruising him badly.
Henry suffered a stroke of paralysis in the fall of 1919. Henry is believed to have died in 1926 in or near Tacoma, WA. His remains were laid to rest in Tacoma Cemetery in the same plot as his nephew Joseph Don Powers, to be joined in the future by married sister Emma Powers Whelan.
More about this colorful character will be added here when learned.
~ Daughter Mary Ellen (Troutman) Tuley ~
Daughter Mary Ellen "Ella" Troutman (1853- ? ) was born in about 1853 in Londonderry Township.
After migrating to Kansas as a girl, she grew up in Franklin County and married Will Tuly/Tuley ( ? - ? ).
They made their home in Princeton, Franklin County, KS. Sadly, Emma's mother passed away in their residence in April 1912.
~ Daughter Harriet L. (Troutman) Walker ~
Daughter Harriet L. Troutman (1856- ? ) was born in about 1856 in Londonderry Township, Bedford County, PA. She made the migration to Kansas when a girl.
At the age of 23, at Christmas 1879, she traveled to Colorado Springs, CO, reported in the gossip columns of the Ottawa Daily Republic, which added that she "has many friends in Ottawa and Harrison who highly esteem her, and sincerely regret her departure."
She may have been joined in wedlock with James Walker Sr. ( ? - ? ).
Their three sons are believed to have been Lloyd Walker, Don Walker and James Walker.
Harriet is believed to have been deceased by 1899. Her boys are shown together in the 1900 United States Census as wards in the home of John and Mary McCowan of Ottawa, KS, possibly and uncle and aunt..
Son Lloyd Walker (1884- ? ) was born in about 1884 in Kansas. At age 16, in 1900, he resided as a ward with his guardians, John and Mary McCowan in Ottawa, KS. That year, he was enrolled in a training school in Kansas City. In late 1913, he dwelled in Waco, TX where he managed te Southwestern Telephone Company. Relatives in Kansas worried when Waco received heavy flooding but he appears to have been fine. Lloyd married (?). Their children were Sadie May Walker and Lloyd Walker Jr. The Walkers were in Dallas in 1916.
Son Don Walker (1886- ? ) was born in about 1886 in Kansas.
Son James Walker Jr. (1888- ? ) was born in about 1888 in Kansas. He was adopted by John and Mary McCowan although considered James Sr. as his father. He joined the U.S. Navy and served on various cruisers as an engineer, including the U.S. transport Mongolia, based in Honolulu in 1913. He was discharged and returned to Kansas to farm. Then, at the outbreak of World War I, he returned to the Navy, requesting that he be assigned as a fireman on a man of war.
~ Daughter Lucy Ann (Troutman) Schempp ~
Daughter Lucy Ann Troutman (1860-1907) was born in July 1860 or 1862 in Palo Alto, Londonderry Township, Bedford County, PA. She and her parents were pioneer settlers of Kansas.
In 1887, when she was age 27, she wed George Christian Schempp Sr. (Nov. 12, 1863-1922), a native of Ontario, Canada or Philadelphia whose parents Mr. and Mrs. J. Christian Schempp were German immigrants.
By 1889, the Schempps had relocated to the Pacific Northwest to the city of Tacoma, Pierce County, WA, where George operated a steam laundry.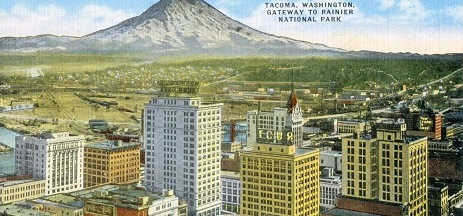 Skyline of the city of Tacoma, WA, where George and Lucy Schempp lived. Note Mt. Rainier towering in the distance.
Their children were George Christian Schempp Jr. and Aldeth Schempp, both born in Washington, plus two others who died young prior to 1900.
The Schempps occasionally returned to Ottawa to spend several months visiting with Emma's brother Henry and other relatives. In 1902, Lucy and her aged mother made a trip to Ohio and Pennsylvania.
Lucy died in Tacoma at the age of 44 on May 20, 1907. The remains were interred in Tacoma Cemetery.
The federal census for 1910 shows George and the children living on Pacific Avenue in Tacoma, where he continued to manage the laundry, and providing a home for George's brother and sister in law, Jacob and Aldisa Schempp.
George outlived his wife by 15 years. Death swept him away at the age of 58, in Tacoma, on Aug. 24, 1922.
Son George Christian Schempp Jr. (1889-1919) was born on or about May 14, 1889 in Tacoma, Pierce County, WA. He received a bachelor's degee in agriculture in 1911 from Cornell University, where he appears to have met his future wife. He married Beatrice George (1889-1980), a native of Ithaca, Tompkins County, NY and the daughter of William F. and Jennie A. (Pickert) George. Together, the couple bore four children -- George Christian Schempp III, Lucy Jacoby, Beatrice Reddick and John Schempp. For a number of years in the 1910s, he was employed in Georgia to provide agricultural services for the state. They lived in or around Camilla, Mitchell County, GA. While in Athens, Clarke County, GA, he contracted pneumonia and succumbed to the angel of death at the age of 30 on Jan. 20, 1919. Beatrice lived for another 61 years after George's death and moved back home to Ithaca. She wedded again to Alfred Haley (1895-1969). She belonged to the Cornell Women's Club, Oriana Court of Amaranth, Order of Eastern Star, White Shrine of Jerusalem, Daughters of the American Revolution, Daughters of American Colonists and St. John's Episcopal Church. Beatrice died in Lakeside Nursing Home at age 90 on Feb. 25, 1980. Her obituary in the Ithaca Journal said that her survivors included 15 grandchildren and 15 great-grandchildren.
Grandson George Christian Schempp III (1916-2011) was born on Sept. 26, 1916 in Mitchell County, GA. After the death of his father when George was five, he relocated to his mother's hometown of Ithaca, Tompkins County, NY. He was twice-married. His first bride was Katherine Marinos ( ? - ? ). His second wife was Mary Elizabeth "Libby" Finch ( ? -2008). His known children were Charlotte S. Day, George Christian Schempp IV and William Arthur Schempp. He received his education from his father's alma mater, Cornell University. During World War II, he served in the U.S. Army Air Force as a navigator on B-17 bombers, and reached the rank of second lieutenant. He spent his career in the insurance industry, first working for the Syracuse District Office of Prudential in 1939. He later joined Farmers & Traders Insurance in Syracuse. In time, he earned a chartered life underwriter degree from Syracuse University and formed his own firm in Ithaca, known as Weaver, Schempp & McNeill Insurance. George's memberships included the Ithaca CLU Association, Insurance Agents' Association of Tompkins County, Tompkins County Genealogy Association, Ithaca Lions Club, Brevard Sons of the American Revolution, Society of the Old Plymouth Colony and Founders & Patriots of America. The Ithaca Journal reported that he had written two genealogical books about his family in North America and Europe. One of his books, The Schempp Family History (1989), focused on descendants of Jerg or Georg Schempp of Bissingen, Württemberg, Germany and Christian Schempp (1838-1905) who emigrated to Ohio about 1850. George bore the heartbreak of the death of his wife in 2008 and his sons George in 1993 and William in 2011. Upon retirement, George lived in Melbourne and Lantana, FL. He died a day before his 95th birthday on Sept. 25, 2011. Burial was in East Lawn Cemetery in Ithaca.
Granddaughter Lucy Schempp wedded Ernest Jacoby. She resided in Hastings, MI in 1980 and Middleville, MI in 2011. The couple were featured in a Tampa Bay Times article on Oct. 12, 2005, headlined "Couple Tracks Family History." The story highlighted their respective genealogical searches and mentioned Lucy's Revolutionary War ancestors Peter Troutman and Andrew Emerick.
Granddaughter Beatrice Schempp was joined in matrimony with (?) Reddick. She lived in 1980 in Guilford, CT.
Grandson John Schempp dwelled in Albany, NY in 1980.
Daughter Aldeth/Aldythe Schempp ( ? - ? ) was unmarried and in Tacoma in 1919.
~ Daughter Emma (Troutman) Powers Whelan ~
Daughter Emma Troutman (1864-1939) was born in about May 1864 in Londonderry Township, Bedford County, PA.
She was wedded twice in her lifetime. Emma at age 21 was united in holy matrimony on July 27, 1886 with her first spouse, Virginia native Henry C. Powers (1858-1920) of Harper, KS, with Rev. J.A. Lucas officiating at the Methodist Episcopal parsonage. The Harper (KS) Graphic reported that "The contradicting parties will make Harper their future home," a gossip item reprinted in the Daily Republic.
Their marriage endured for 34 years until the separation of death.
Eight children were produced by this couple -- Jessie Whitney, Harvey Powers, Catherine "Katie" Lackins/Learkin, Albert Powers, Aldythe Lucy Hage, Joseph Don Powers, George Powers, Arthur Powers and Mildred Jones.
The couple was in Kansas from 1887 to 1894, at the births of their eldest four children, and then relocated by 1896 to Oklahoma. When the federal census enumeration was made in 1900, the Powerses made their home as farmers in Saline, Woods County, OK. During the early years of the 1900s decade, the family pulled up stakes again and moved to the Pacific Northwest, where Emma's sister Lucy Schempp and her family had been living since about 1889.
Henry found work in Tacoma as a "stationery engineer" -- otherwise known as custodian -- for a lumber mill. The family address in 1909-1911 was 1422 South 43rd Street. Emma belonged to the Ladies' Sunshine Club and on New Year's Eve 1909 hosted a party in her home to "gather and watch the passing of the old year," said the Tacoma Times.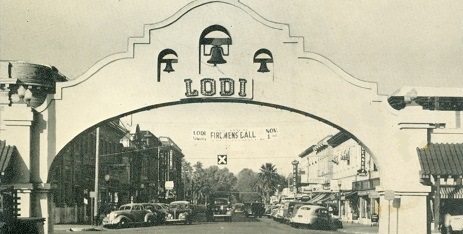 Lodi, California, home of Emma and Henry Powers in 1920
In 1912, Emma was named in her mother's newspaper obituary in Kansas. By 1920, on the move once more, the Powerses relocated south into California, settling in Lodi, Elkhorn Township, San Joaquin County. In Lodi, Henry worked as a laborer in a private garden.
Sadly, Henry died on the Fourth of July 1920 at the age of 61. A short obituary was printed in the Sacramento Bee.
Emma returned to Tacoma where she spent the balance of her life. In 1927, she was joined in marriage with John L. Whelan (March 1853-1933), widower of her cousin Josephine (Emerick) Whelan of the family of Emanuel and Elizabeth (Boderfield) Emerick. See the Whelan biography for more.
Daughter Jessie Powers (1887- ? ) was born in June 1887 in Kansas. She was joined in wedlock with (?) Whitney ( ? - ? ). Circa 1920, she lived in Tacoma.
Son Harvey Powers (1889- ? ) was born in May 1889 in Kansas. He dwelled in 1920 in Tacoma.
Daughter Katie Powers (1890- ? ) was born in about Dec. 1890 in Kansas. She moved in girlhood with the family to Oklahoma and thence to Tacoma, WA. She entered into marriage with (?) Lackins ( ? - ? ). Their home in 1920 was in Tacoma, WA.
Son Albert Powers (1894- ? ) was born in about Jan. 1894 in Kansas.
Daughter Aldythe Powers (1895- ? ) -- also spelled "Alduth" -- was born in about 1895 in Kansas. She migrated with her parents and family to Oklahoma and thence to Washington State. On Oct. 15, 1911, when she was 16 years of age, she was united in matrimony with Nils Thorn Hage ( ? - ? ). Rev. Flora B. Nevers officiated the nuptials in the Powers residence. "The wedding was simple," reported the Tacoma Times, "only a few intimate friends being present."
Son Joseph Don Powers (1896-1916) was born on June 26, 1896 in Oklahoma. At the age of 19, he labored as a farmer in Ashford, Lewis County, WA. Sadness cascaded over the family when, suffering from exhaustion and heart failure, Joseph died on Feb. 7, 1916. Burial of the remains was in Tacoma Cemetery.
Son George W. Powers (1898- ? ) was born in July 1898 in Oklahoma. He migrated to Tacoma, WA and thence to San Joaquin County, CA with his parents. A bachelor at age 21, in 1920, he worked in Lodi, CA as a gas maker in a glas plant.
Son Arthur Powers (1900- ? ) was born in about 1900 in Oklahoma. He was very young when his parents relocated to Tacoma, WA in the Pacific Northwest. When he was 11 years of age, in October 1911, he made news in the Tacoma Times after a punishing whipping by the hand of his principal, E.E. Crook of the Whitman School. Reported the Times, "the principal laid young Powers over a chair and spanked him severely." He received a hernia injury from the incident. Doctors recommended that he not undergo surgery at that time, but rather suggested that he wear a truss. Arthur's mother asked the local prosecuting attorney to pursue the matter, but he took no action. five years later, in 1916, the rupture had not healed properly. Arthur's mother took her complaint to the Tacoma Mothers' Congress in September 1916. Reported the Times, "A quiet little woman dropped this question like a bomb into the close of the meeting... 'Don't you ladies think the school board should pay for the operation'?" The Congress was sympathetic but also did not act. The outcome of the matter is not known. Single at age 19, in 1920, he earned a living in Lodi, San Joaquin County, CA as garage machinist.
Daughter Mildred "Myldia" Powers (1903- ? ) was born in about 1903 in Tacoma, WA. She was united in the bonds of matrimony with (?) Jones ( ? - ? ). She made a home in 1920 in Lodi, San Joaquin County, CA.
~ Son Perry D. Troutman ~
Son Perry D. Troutman (1870-1954) was born in about February 1870 in Ottawa, Franklin County, KS.
His first wife was Amelia Sehnert ( ? - ? ), daughter of Mary M. Sehnert.
The couple had two known children -- Harry Ernest Troutman and Katy Blackburn.
Heartache blanketed the family on May 3, 1896, when their three-year-old child died of"sparms," as reported by the Ottawa Daily Republic.
In February 1897, Perry was in Kansas City working at the Armour meat packing house, and returned home for a visit. The local gossip columns said that "his hands have become effected, by the handling of the meats in such a manner that the nails on all the fingers are dropping off." By August 1897, they were in Ottawa at the address of East Second Street.
Amelia made news in the summer of 1897 when she was arrested following a fight with Mrs. Frank Wilson, a woman of color, in which abusive language allegedly was used. A local judge heard the case and decided that no wrong had been done. Later that year, Amelia sued Perry for divorce in Franklin County and asked for custody of the children. The request was granted, and when he had returned to Kansas City by 1900, Perry told others he was "widowed."
In 1900, census records show him employed as a janitor in kansas City and renting his dwelling on Main Street. In 1912, when named in the Ottawa Daily Republic newspaper obituary of his mother, he was back in Ottawa. Perry returned to Kansas City and was there in the fall of 1918.
Perry returned to Ottawa for the funeral and shortly thereafter obtained a marriage license to wed Louise M. Mudd ( ? - ? ) of Kansas City. Perry passed into eternity in 1954 at age 84. Interment was in Ottawa's Highland Cemetery. [Find-a-Grave]
Son Harry Ernest Troutman ( ? - ? ) was married and farmed in Oklahoma. During World War I, the 28-year-old Harry was drafted into the American Expeditionary Force and underwent training at Camp Logan in Texas. Tragically, the young soldier contracted pneumonia and died in camp in early October 1918. News of his death was telegraphed to his aunt Mrs. C.F. Dale of North Cedar Street in Ottawa. His remains were brought back to Ottawa for interment in Highland Cemetery, accompanied by his married sister and brother in law. Today his name adorns a World War I memorial in the cemetery with names of all local soldiers who served from Ottawa.
Copyright © 2000, 2011, 2015-2017, 2021 Mark A. Miner
Minerd.com thanks the late Gilbert R. Gaumer for his contributions to this biography.