Edward Eschwas born on Nov. 28, 1838 in Brush Valley, Indiana County, PA, the son of Joseph and Sarah (Younkin) Esch.
He grew up on the family farm in Brush Valley and attended school with neighbor boy and future brother-in-law Michael A. Overdorff. As a bachelor of age 22 in 1860, Edward lived at home and furnished farm labor. He stood 5 feet, 9 inches tall and weighed 134 lbs.
On Nov. 28, 1862, he entered into marriage with Angeline Comfort (1845-1929), daughter of David and Eliza (Overdorff) Comfort. The ceremony was conducted by the hand of justice of the peace James Coulter in his office in Indiana, PA. Coulter later recalled that it was "the only couple I ever married in my office" and that "it was rather an elopement, and the parties wanted the marriage kept secret for a time, alleging some opposition of friends..."
With the Civil War aflame, Edward on Sept. 5, 1864 joined the Union Army. He was assigned to the 211th Pennsylvania Infantry, Company I.
Little is known of his army service except that he was treated for fever in September 1864 and pneumonia and excessive nasal mucus in December 1864. He was honorably discharged at Alexandria, VA on June 2, 1865 and returned home.
Their large brood of offspring included Eliza Esch, Wilson "Graham" Esch, Miles M. Esch, Frances Esch, Clark Esch, Walter Esch, Leonard Esch, Lavina Esch, Carlisle Esch, Earl C. Esch and Pearl Esch. Midwife Sarah E. McKee attended the birth of daughter Lavina in 1880 and Arabella Work was present at the births of Lavina, Earl and Pearl circa 1880-1886.
Sadness blanketed the family at the loss of three of the children over the years -- daughter Eliza died at age one in 1864 -- daughter/son Frances Esch at age two in 1871 -- and son Carlisle at age one in 1885.
The 1870 and 1880 U.S. Censuses show the family as farmers in East Mahoning Township, Indiana County. They were in the Marchand community at the birth of daughter Alice in 1876.
Just two years before his death, on July 15, 1890, Edward was awarded a military pension as compensation for wartime service. [Invalid App. #876.354 - Cert. #780.750].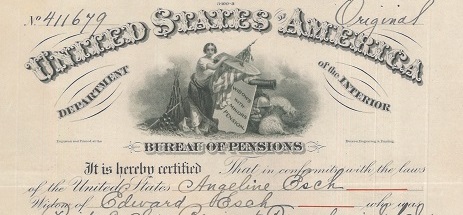 Angeline's Civil War widow pension certificate.

National Archives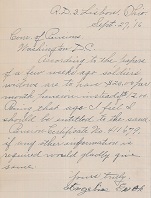 One of Angeline's letters to
the pension commissioner


National Archives

Sadly, Edward's mental health seriously declined in the last year or two of his life. At an inquest held in Indiana County Court of Common Pleas in December 1891, he was adjusted to be a "lunatic." He died at age 53 on Aug. 7, 1892.

Angeline survived him by 37 years. She successfully applied to the government to receive her late husband's pension. [Widow App. #557.883 - Cert. #411.679] Among those providing affidavits of support of her claim were her brother-in-law Michael A. Overdorff and relative David Comfort. She wrote in one statement that she owned a six-room house and two small lots in North Blairsville but had no other sources of income.

Circa 1916, Angeline dwelled in Lisbon, OH. Her final years were spent in Blairsville, at an address of Burrell Street, and she held a membership in the First Methodist Episcopal Church.

Just two days before Christmas 1929, suffering from an enlarged heart and congestive heart failure, Angeline passed away at the age of 84. Burial of the remains was in Blairsville Cemetery, with Rev. H.E. Lloyd, of the First Methodist Church, officiating. Daughter Lavina, residing in Blairsville, was the informant for the Pennsylvania certificate of death. An obituary was published in the Indiana Gazette.

~ Son Wilson "Graham" Esch ~

Son Wilson "Graham" Esch (1864-1940) was born in 1864 in Indiana County.

Graham wed Cora Ellis Bowler ( ? - ? ).

Their only daughter was Florence Varretto.

Circa January 1887, Graham was employed as a school teacher in North Mahoning Township, Indiana County, PA, and he remained in the educational field for a dozen years. When his father was adjudged to be a "lunatic" in 1891, Graham was appointed to serve as the man's trustee.

Then in 1915, at the birth of their daughter, they were in Chicago.

They eventually returned to Blairsville and belonged to the local Methodist Church congregation. Their final address in Blairsville was at 137 West Campbell Street.

Sadly, at age 75, he died in a local hospital on Nov. 16, 1940. The Latrobe (PA) Bulletin printed an obituary, and interment was in Blairsville Cemetery.

Daughter Florence Esch (1915-1996) was born on March 25, 1915 in Chicago. She married James D. Varrato ( ? - ? ). They became the parents of three -- James D. Varrago Jr., David Varrato and Karen Kissock. For decades, they lived in Blairsville. Florence held a membership in the Saints Simon and Jude Catholic Church in Blairsville, Italian Mutual Aid Society Ladies Auxiliary and Chestnut Ridge Ladies Golf Association. She earned a living as a ward supervisor at Torrance State Hospital. Florence died at the age of 81, in Indiana Hospital, on Dec. 20, 1996. Her obituary was printed in the Indiana Gazette. Rev. Fr. Chester J. Raimer and Rev. Bruce J. Theakston jointly conducted the funeral service, with burial in the church cemetery.
Grandson James D. Varrago Jr. wed Sherry and moved to Naperville, IL.
Grandson David Varrato entered into marriage with Jackie. They relocated to Las Vegas.
Granddaughter Karen Varrato was joined in wedlock with James Kissock. They dwelled in Blairsville in 1996.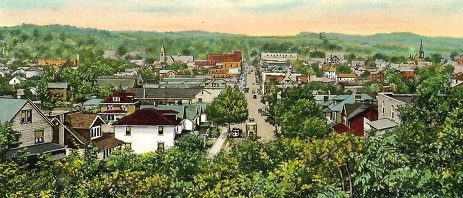 Bird's-eye view of Blairsville, PA, looking west
~ Son Miles M. Esch ~
Son Miles M. Esch (1867-1938).was born on March 15, 1867. His name and birthdate were inscribed in the family Bible.
At the age of 22, in August 1889, he was selected to teach in the Marchand School in North Mahoning Township, Indiana County. He shared a home with his widowed mother on Burrell Street in Blairsville in 1929.
Circa 1937, he applied for old age assistance with the Pennsylvania Department of Welfare's Mothers' Assistance Fund of Westmoreland County, PA.
~ Son Clark Esch ~
Son Clark Esch (1872-1891) was born in 1872.
In December 1889, he was named to teach school in Blacklick Township, Indiana County.
~ Son R. Walter Esch ~
Son R. Walter Esch (1874-1971) was born on Jan. 16, 1874 in Indiana County.
On March 26, 1898, he first was united in matrimony with Ida Belle Kinzie/Kinsey ( ? -1903), a resident of Johnstown and the daughter of Peter and Lavina Kinsey. The wedding was held in the parsonage of the Methodist Episcopal Church in Johnstown, by the hand of Rev. James Mechem. News of the wedding was announced in the Indiana (PA) Progress.
The pair lived in New Castle, where he managed McCrory's Big 5 & 10 Cent Store. Then in about 1900 they relocated to Blairsville, where he was a McCrory's manager for stores in Blairsville, Scottdale and Vandergrift.
The family was plunged into mourning when Ida Belle died on July 20, 1903, after less than five years of married life.
Walter earned a living as a merchant during his widowed years.
Then on April 19, 1906, he married a second time to Daisy Perdue ( ? - ? ), with the nuptials taking place in her parents' residence in New Castle. Rev. W.L. Fisher officiated. In announcing the wedding, the New Castle Herald called it the "most important event on Thursday's calendar" with 30 friends and relatives attending. "Standing under a floral arch of greenery and pink and white spring blossoms the couple plighted their troth. The bride's gown was white persian lawn with lace trimming and her bouquet was white roses... The bride is a young woman popular in a wide circle of associates..." At the time of marriiage, Daisy was employed as cashier by Rosenblum & Company and an active volunteer and Sunday School teacher at the Park Christian Church.
Walter is known to have been in Beaver Falls, PA in 1929-1940.
~ Son Leonard Esch ~
Son Leonard Esch (1875-1938) was born on Dec. 28, 1875 in Blairsville.
On Jan. 14, 1892, in the parsonage of the Presbyterian Church in Blairsville, Leonard entered into marriage with Nettie Reed ( ? -1966) of South Liberty Street, Blairsville. Rev. J.W. Criswell officiated, with the news announced in the Indiana Democrat.
Offspring born to the couple were Evelyn Ford, Catherine Black, Elizabeth Lindsay, Melba Scovel, Leonard R. Esch and William Esch.
Their home in 1929 was in Pittsburgh and in Wilkinsburg in 1938 at 1617 Maplewood. Leonard was a self-employed wallpaper hanger for 40 years.
Burdened with diabetes, he also was diagnosed with cancer of the rectum. A biopsy confirmed the finding. He passed away at age 62 on June 11, 1938. Burial was in Woodlawn Cemetery. A brief death notice was published in the Pittsburgh Press.
Nettie survived by 28 years and moved to 1062 Blackridge Road, Wilkinsburg. She died on March 27, 1966.
~ Daughter Alice Theodora (Esch) Weimer ~
Daughter Alice Theodora Esch (1878- ? ) was born on Jan. 13, 1878 in Marchand, Indiana County. She was employed as a printer in 1900.
On Oct, 21, 1900, when she was 22 years of age, she was joined in wedlock with 31-year-old laborer Benton Harvey Weimer ( ? - ? ). He was the son of A.L. and Mary J. Weimer. Local Baptist minister Rev. A.B. Runyan officiated the nuptials, held in Blairsville on the Sabbath, and announced in the Indiana Progress.
The couple settled in Leechburg, PA.
Together, they produced a family of six -- Wayne Benton Weimer, Carl Weimer, Eugene S. Weimer, William Roy Weimer, Lloyd Weimer and Ruth Shaffer.
~ Daughter Lavina Esch ~
Daughter Lavina Esch (1880-1941) was born on April 11, 1880. Friend Jane Stewart was called to come and attend the mother and baby but could not be there until a few days afterward.
Unmarried in 1930, at the age of 49, she took care of her dying mother in Blairsville during her final illness.
~ Son Earl C. Esch ~
Son Earl C. Esch (1886-1967) was born on Oct. 1, 1886 in Marion Center, PA, a twin with his sister Pearl.
He wed Lula Grace ( ? - ? ).
He made his residence circa 1929 in Beaver Falls, PA and in 1940-1967 in Leechburg, PA. He was owner of a grocery store.
Suffering from pneumonia and Parkinson's Disease, Earl died in Pittsburgh's Presbyterian University Hospital on Aug. 7, 1967. Earl H. Esch of Mechanicsburg signed the official Pennsylvania certificate of death. The remains were interred in Forks Church Cemetery in Gilpin Township near Leechburg.
~ Daughter Pearl (Esch) Maynard ~
Daughter Pearl Esch (1886-1978) was born on Oct. 1, 1886 in Marion Center, PA, a twin with her brother Earl.
She married James L. Maynard ( ? - ? ).
The pair was in Pittsburgh's West View neighborhood for decades.
Their two children were James L. Maynard Jr. and Alice Van Vlack.
Pearl is known to have been employed by H.J. Heinz Company.
She died on Feb. 8, 1978. An obituary appeared in the Pittsburgh Press.
Copyright © 2021-2022 Mark A. Miner
Minerd.com extends its gratitude to the late Donna (Younkin) Logan for her research contributions to this biography.