Sarah (Younkin) Esch
(1808-1892)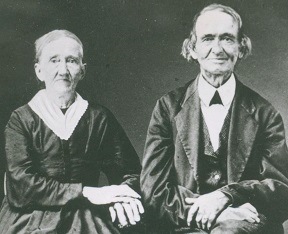 Sarah and Joseph Esch
Sarah (Younkin) Esch was born in 1808, the daughter of Henry and Anna Mariah (Overpeck) Younkin Jr.
On Aug. 13, 1826, when both were age 18, she was joined in the bonds of holy wedlock with Joseph Esch (1808-1898). The ceremony was held in Easton, Northampton County, PA.
Their union endured for an extraordinary 66 years until cleaved apart by death.
The couple produced 10 children together who are known to have reached adulthood – Salina Klinesman, Adam Esch, Rebecca Campbell, Levi Esch, Joseph Esch, Edward Esch, Henrietta Overdorff, Rev. John Esch, Maria Overdorff and William Esch.
Evidence suggests that they also bore two children who died young, for a total of a dozen in the family.
Joseph was trained in the manufacture of guns. Circa 1850, when the federal census enumeration was made, the family lived in Brush Valley, Indiana County, PA, and his occupation was recorded as "gunsmith."
Heartbreak overwhelmed the family in about 1854 when their married daughter Rebecca Campbell died at the age of only 22, leaving behind a widower and newborn daughter Sarah. The baby was brought into the Esch's residence and raised there to adulthood.
The 1860 census shows the family continuing to dwell in Brush Valley, with Joseph principally earning a living as a farmer. In both 1850 and 1860, the census-takers spelled the family name "Ash."
The Civil War years were anxiety-filled as five sons and sons-in-law were members of the Union Army -- Levi, Edward , John and Joseph Esch as well as Michael A. Overdorff. They may have taken comfort in knowing that two of the sons, John and Joseph, were in the same heavy artillery regiment and would be looking out for each other. Fortunately, each of the five survived the ordeal and returned home afterward.
By 1870, all of their children had left home with the exception of 16-year-old granddaughter Sarah Campbell.
For decades, the Esches were members of the United Evangelical Church of Indiana.
When the federal census again was made in 1880, Joseph and Sarah were empty-nesters in Brush Valley, but lived next door to their widowed daughter Salina Klinesman and married daughter Henrietta Overdorff and their families. The census-taker marked that Sarah was suffering from "cramp in stomach."
Sadly, Sarah died in 1892 in Brush Valley. Burial was in the community's Dutch Bethel Cemetery.
Joseph outlived his bride by six years. He surrendered to the angel of death on May 28, 1898. A newspaper obituary said he "was a good man and highly esteemed by all who knew him." Funeral services were held in the family church, led by the hand of Rev. D.R. Miller.
Copyright © 2021-2022 Mark A. Miner
Minerd.com extends its gratitude to the late Donna (Younkin) Logan for her research contributions to this biography.