Rev. John Esch
(1844-1930)
Rev. John Esch was born on July 22, 1844 in Brush Valley, Indiana County, PA, the son of Joseph and Sarah (Younkin) Esch.
He stood 5 feet, 9½ inches tall in manhood, with grey eyes and brown hair, and weighed 185 lbs.
During the Civil War, on March 3, 1864, he married Maria Pittman (Dec. 6, 1845-1928), a native of of Indiana County and one of 15 children of Joseph and Eva (Eberhart) Pitman. Officiating was Rev. A.B. Runion. Their marriage certificate later was burned in a fire of some type.
The couple bore four children -- Eva S. Ann Mark, Henrietta Jane "Etta" Weber, Dr. Jospeh I. "J.I." Esch and John W. Esch -- and adopted a fifth, Martha E. Wygant.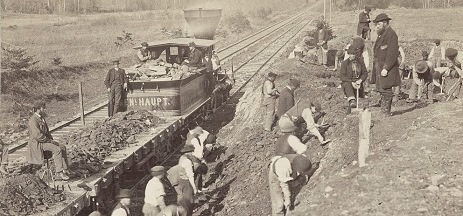 Civil War earthworks at the Devereux Station of the Orange and Alexandria Railroad, where the 6th Pennsylvania Heavy Artillery provided guard duty.

Library of Congress
As the war raged, John on Sept. 3, 1864 enlisted in the Union Army at Greensburg, PA. He was assigned to the 6th Pennsylvania Heavy Artillery, Battery I or L, also known as the 212th Pennsylvania Volunteers. His brother-in-law Michael A. Overdorff and first cousins Francis "Frank" Herlinger and Uriah Younkin also were members of the same regiment. The 6th Artillery primarily performed guard duty in the District of Columbia and northern Virginia.
In September 1864, the men were posted in protection of the capital, and later in the month transferred to guard the Orange and Alexandria Railroad line between Alexandria and Manassas. Their base of operations at that time was at the Fairfax County Court House. During that period of time, John began to suffer from hemorrhoids. He was honorably discharged at Camp Reynolds on June 22, 1865.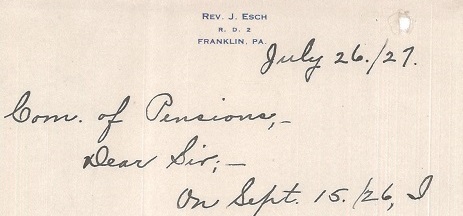 John's personal stationery, 1927.

National Archives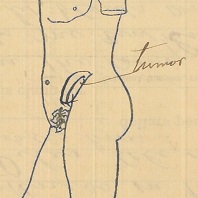 Actual surgeon's sketch of
John's tumor of the groin

After the war's end, John returned home. He earned a living as a farmer and as a labor. But feeling a higher call, he went on to obtain his license to preach in 1869 and thence to a long career as a pastor of the Evangelical Church denomination in Western Pennsylvania. During his career, he "filled pulpits at Somerset, Indiana, Fairview, Cambria, Stoyestown, Cherrytree, Indiana county, Clearfield, Dempseytown, Oil City, Lickingville and Venango," said the Franklin (PA) News-Herald.

They transferred to the Venango charge in April 1891 and put down permanent roots in Dempseytown, where they spent the remaining 47 years of their lives together. The News-Herald once said of Maria that she was "a member of the Evangelical church since girlhood. She was a kind and loving mother and held in high esteem by all who knew her."

In 1890, a quarter century after the close of the war, he applied for and was awarded a military veterans' pension. [Invalid App. #978.824 - Cert. #884.412]. He claimed disability for problems in his abdomen, which one doctor believed to be a result of an enlarged gall bladder, and another due to a tumor blocking his bowels, either way preventing him from performing all types of manual labor.

Among the friends and neighbors providing testimony in support of his application were Hezekiah Berlin, Samuel H. Linn, James K. Pierce, David E. Thomas and George K. Weber.

Writing in the 1890s. Dr. J.H. Hazel of Dempseytown said the old soldier "has not been able to ride in a buggy for the past 3 or 4 years and in fact for years has been obliged to take [to] his bed for several days at a time." Also circa 1890, one of his physicians encouraged him to retire from preaching on account of his bowel problems. Writing in the 1890s. Dr. J.H. Hazel of Dempseytown said the soldier "has not been able to ride in a buggy for the past 3 or 4 years and in fact for years has been obliged to take [to] his bed for several days at a time." Also circa 1890, one of his physicians encouraged him to retire from preaching on account of his bowel problems.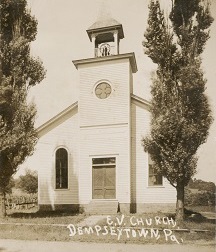 John's church in Dempseytown, PA

John's monthly pension payment circa 1927 was $72.

Sadly, in mid-August 1928, Maria was stricken by a cerebral hemorrhage and then on Sept. 10 a paralyzing stroke. She lingered for another month, with her daughter Etta and son J.I. traveling to be at her bedside. The angel of death spirited her away, at age 82, on Oct. 5, 1928. Burial of the remains was in the Lutheran Cemetery in Dempseytown. Mrs. Andrew Wygant, of rural Franklin, PA was the informant for the official Pennsylvania certificate of death. An obituary in the News-Herald reported that she was survived by 14 grandchikldren and 16 great-grandchildren.

John only outlived his wife by two years. During that time he lived in Franklin, PA and joined the Hayes Post of the Grand Army of the Republic of Oil City, a veterans organization. In doing so, the News-Herald said he was "the last surviving Civil War veteran of Oakland township." During that time, Dr. E.P. Spencer wrote that the soldier had impaired eyesight, "he is unable to put on or off his garments, at times he is unable to get up off the bed or a chair, or walk across the floor without help. He is in need of and must have constant attention." He was burdened with hardening of the arteries, high blood pressure and an enlarged prostate.

He died at age 85 in Dempseytown on June 23, 1930. A brief obituary in the Somerset Daily American said that "Rev. Esch at one time in his active career served the Somerset charge." The funeral service, held in the Esch home, was "impressive and largely attended," said the News-Herald, led by the Oil City Post of the Sons of Veterans. Among the hymns sung by friends in the ministry were "Asleep in Jesus" and "How Precious Is the Song."

His honorary pallbearers were fellow GAR members J.C. Weaver, A.M. Breckenridge, John R. Steele and S.A. Delo as well as fellow pastors Rev. Paul R. Servey of Rocky Grove, Rev. C.E. Servey of Franklin, Rev. S.V. Carmany of Oil City, Rev. C.F. Miller of Dempseytown and Rev. F.N. Boyer of Venus. Active pallbearers were six grandsons -- Olin E. Mark, Frank L. Mark. Harold M. Mark, Marshall V. Mark, LeVern Weber and Morton J. Carter. A Sons of Veterans squad fired a salute, involving W.H. Shaner, Richard Moyer, Grand Hobaugh, Elmer Duncan and H.K. Mohr. Color bearer was James Borland, the color guads were John J. Duffy and H.J. Miller, and bugler, who played "Taps," was F.W. Collins.

~ Daughter Eva S. Ann (Esch) Mark ~

Daughter Eva S. Ann Esch (1865-1954) was born on Feb. 8, 1865 in Indiana County, PA.

On Sept. 30, 1885, when she was 20 years of age, she married William "Alfred" Mark (Oct. 25, 1859-1933), with the nuptials held in Dempseytown, Venango County. He was the son of S.T. and Isabel (Ketner) Mark of Cherry Tree, PA.

The Marks resided for many years on a farm in Dempseytown, along the Gresham-Dempseytown Road, one mile south of Hamilton Corners.

The children they bore together were Olin E. Mark, Frank Leo Mark, Harold M. Mark, Marshall Mark and Olive Carter.

Then in 1929, they relocated to Oakland Township near Titusville, PA. Their address in the early 1930s was 512 West Elm Street. They held a membership in tht Titusville Methodist Church.

Grief cascaded over the family when 74-year-old Alfred, already burdened with chronic heart valve disease, died instantly following a coronary embolism on Dec. 2, 1933. Burial was in Woodlawn Cemetery.

She endured the untimely death of her son Frank in 1947 following a series of strokes. As her health ebbed, she was admitted in December 1953 as a resident of the Fieldmore Springs Rest Home in Titusville.

She died there at age 89 on Feb. 12, 1954. An obituary appeared in the Franklin News-Herald. Her pastor Rev. Ralph Findlay officiated the funeral service.

Son Olin E. Mark ( ? - ? ) made his residence in the mid-1950s in Titusville.

Son Frank Leo Mark (1886-1947) was born on Sept. 19, 1886 in a homeplace along the Gresham-Dempseytown Road in Oakland Township, Venango County, about one mile south of Hamilton Corners. Upon completion of his public school education, he studied at Welch's Business College in Oil City. From there he obtained work with Adams Express Company in Oil City, later moving to Titisville. On June 11, 1913, at the age of 26, he married Millie Miles, ( ? - ? ), daughter of Hutchinson Miles. The wedding was held in the home of Millie's father, by the hand of Frank's grandfather, Rev. John Esch. They became the parents of three -- Marguerite Mark, Miles Mark and Virginia Mark. For 31 years, Frank and Millie dwelled along McKinney Road, one mile south of Titusville, Venango County, PA. They belonged to the Cherry Tree Grange and attended Breedtown Baptist Church. Sadness blanketed the family at the death of daughter Virginia in infancy in about 1922. Frank was employed over the years with Kerr Hill Mill, City Feed Store and Frank P. Allen's hardware store. His final employment was with S.S. Bryan Store as a delivery truck driver. He endured a stroke in the summer of 1946 and never fully recovered. Then, in the summer of 1947, while in Titusville one day, he was hit by an automobile and suffered a broken arm. He was felled by a second stroke on Aug. 2, 1947, and within four hours was dead. An obituary in the Frankln News-Herald said that Frank "was a helpful and generous neighbor, being especially liked by the children." Interment was in Fairview Cemetery.

Son Harold M. Mark ( ? - ? ) established a home in New Castle, PA and was there in 1954. He was deceased by 1965.

Son Marshall Mark ( ? - ? ) dwelled in East Titusville in 1954.

Daughter Olive Bell Mark (1894-1965) was born on Nov. 21, 1894 in Oakland Township, Venango County. On Nov. 26, 1914, at age 20, she was united in wedlock with Morton J. Carter ( ? - ? ), with the wedding held in her parents' home. Together, the couple produced a son, Gerald Carter. The family were members of the Titusville Free Methodist Church. In the 1960s, the Carters lived along Petroleum Center Road in Titusville. Sadly, the 70-year-old Olive died without warning at home on May 4, 1965. The funeral was led by her pastor, J.W. Grant, followed by interment of the remains in Jameson Corners Cemetery. Her obituary was printed in the Franklin News-Herald.

~ Daughter Henrietta Jane (Esch) Weber ~

Daughter Henrietta Jane "Etta" Esch (1867-1956) was born in July 1867 in Dempseytown, Venango County, PA.

She wed Judson "Judd" Weber (Sept. 26, 1864-1941).

Together, the couple produced a brood of eight, including Opal Fern Wood, George Esch Weber, Lenora Smith and Paul Richard Weber.

Judd joined the employ of Pure Oil Company in about 1903 and in the 1910s was assigned to its Marcus Hook facility near Philadelphia. Then in about 1919, they relocated to Oklahoma, where he was named general superintendent of Pure Oil's pipeline department comprised of the Ohio Cities Gas Company's Oklahoma District. The extent of his physical plant responsibilities at the time were spelled out by the Drumright (OK) Weekly Derrick:
The lines taken over by the Pure Oil company are the C. and A. pipe line, which runs from Wirt to Oil City, in the Ardmore Healdton district; and the Drumright Pipe line running from the Drumright field to the International refinery at Cushing. The C. and A. pipe line is twenty miles long and with it was taken over the entire gathering system together with a 55,000-barrel tank and two 15,000-barrel tanks. The Drumright pipe line is twenty-five miles long and with it was taken over the gathering system, one pumping station, and the stock tanks.
The Webers settled in Tulsa and remained as of 1940.
Sadly, during a visit to their daughter Lenora Smith's home in Martinsville, IL, on May 31, 1941, Judson died in his sleep at the age of 76. A brief obituary in the Mattoon (IL) Journal Gazette reported that he was survived by his wife, four daughters, four sons and a brother. The remains were lowered into eternal repose in Ridgelawn Cemetery in Martinsville.
By 1948, the widowed Etta was living in Norman, OK and by 1954 relocated to Martinsville.
She died in Martinsville at the age of 88 on Jan. 23, 1956.
Daughter Opal Fern Wood (1887-1959)
Son George Esch Weber (1894-1978)
Daughter Lenora Smith (1897-1992)
Son Paul Richard Weber (1901-1958)
~ Son Dr. Joseph I. Esch ~
Son Dr. Joseph I. "J.I." Esch (1869- ? ) was born on May 21, 1869.
He received his medical degree and by 1895 relocated to Wisconsin, settling in Rockton. He moved in 1900 to La Farge, WI but also had a practice in South Dakota in Lead City, Lawrence County. He lodged in 1900 with two other men in the residence of E. Bugbee.
Then during the decade between 1900-1910, he moved his practice to Wisconsin, settling in the town of La Farge, Vernon County. By 1906, he advertised in the LaFarge Enterprise that his office was located above the E.E. Potts hardware store and that night calls were taken at the Hotel Ward.
The federal census enumeration of 1910 shows him a 40-year-old bachelor in La Farge, boarding in the home of Charles and Josephine Edwards.
On May 8, 1910, as he neared his 41st birthday, he wed Sarah (Harris) Sanders (1866-1953).
They bore one son, Leon Esch.
In addition to his medical career, Joseph placed advertisements in 1916 that he was an authorized dealer for the "Overland" automobile brand produced by the Willys-Overland Company of Toledo, OH. Circa 1919, he accidentally ran over his five-year-old son Leon and did not recognize him until wiping the blood frm his face. The Marshfield News said that the injuries were painful but were not serious.
Despite his foray into motor vehicle sales, his primary source of income was his medical practice. The family's home in 1940 remained in La Farge, at a time when newspapers reported that he was suffering from a heart ailment.
Joseph surrendered to death on May 17, 1940. The La Crosse Tribune published an obituary, saying that "The 'horse and buggy' days of the medical profession were relieved by old friends ... who attended his funeral at the Methodist church here Sunday afternoon... He was a faithful friend and physician, his acquaintances day, traveling roads day and night, through all kinds of weather, with his horse and buggy to call on his patients." Services were conducted by Rev. Lee Holmes, with interment following in Rockton Cemetery. His honorary pallbearers included Dr. E.e. Haggerty, Dr. F. Gollen, Dr. George E. Chambers. P.T. Andrews, Ham Cowan and John Creeden. The active pallbearers were Arch Davidson, Henry Cathers, Fred Jantz, Orval Sanford, Lester Fulmer and Lester Krigle.
Sarah survived for another baker's dozen years. She passed away in December 1953 at the age of 79, with a brief obituary appearing in the Wisconsin State Journal of Madison.
Son Leon Esch (1913- ? ) was born in about 1913 in Wisconsin. A bachelor at age 27, in 1940, he lived with his parents and had no occupation. He died in La Farge at the age of 43 in December 1955.
~ Son John W. Esch ~
Son John W. Esch (1979- ? ) was born on Sept. 26, 1879. He is believed to have died young.
~ Daughter Martha (Esch) Wygant ~
Adopted daughter Martha Esch (1876-1967) was born on Jan. 9, 1876.
In 1916, at the age of about 40, she was joined in wedlock with Andrew Washington Wygant (1868-1942), son of Jonathan and Abigail Wygant of Cooperstown.
Two daughters born of this union were Mrs. Harold Fisher and Mrs. Robert Nichols.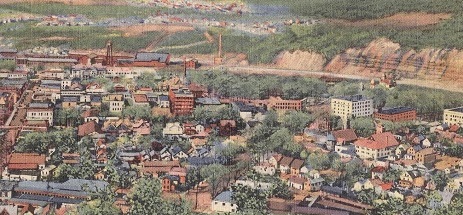 Franklin, Pennsylvania
The Wygants lived for decades on a farm in Dempseytown near Franklin, PA. At the death of her mother in 1928, Martha brought her widowed father into her home, staying until his passing in 1930. Martha was employed as a school teacher for many years in Venango County. They belonged to the Dempseytown Evangelical United Brethren Church, and Andrew held a membership in the local lodge of the Odd Fellows.
Sadly, Andrew contracted heart disease and was ill the last two years of his life. On the fateful day of July 22, 1942, although up and about in their home, he suffered a heart attack and died at the age of 74.
Martha survived him by a quarter of a century. Her final years were spent residing in the Evans Highfield Convalescent Home. Death swept her away at age 91, in Franklin, on May 10, 1967. Her obituary was printed in the Franklin News-Herald. Rev. Kenneth Rippen, her pastor, officiated the funeral service, with burial in Dempseytown in the Lutheran cemetery.
Daughter (?) Wygant married Harold J. Fisher. She was in Oil City in 1967.
Daughter (?) Wygant wed Robert M. Nichols. They put down roots in Chappaqua, NY as of 1942 and then by 1967 had moved to Bethel, Maine.
Copyright © 2021-2022 Mark A. Miner
Minerd.com extends its gratitude to the late Donna (Younkin) Logan for her research contributions to this biography.