Levi Esch was born in 1834 in Brush Valley, Indiana County, PA, the son of Joseph and Sarah (Younkin) Esch.
He stood 6 feet tall in adulthood and weighed 165 lbs.
On March 14, 1861, he was united in wedlock with Elizabeth Lowman ( ? - ? ). Their wedding ceremony was held at the home of David and Margaret Lowman in Brush Valley, by the hand of Rev. I.L. Kephart, a pastor of the United Brethren of Christ Church. The marriage was reported in the Indiana Weekly Messenger.
Together, the Esches produced seven known children -- Ida May Steele, Agnes Elizabeth "Aggie" Rager, Margaret Lewelda "Luelda" Berkey, Mary Alice Wisegarber/Wisegarver, John W.A. Esch, Anna Armenta Ruffner and Clara Inez Griffith.
During the Civil War, Levi joined the Union Army on Feb. 28, 1862. He was placed in the ranks of the 67th Pennsylvania Infantry, Company B. The Indiana (PA) Gazette once reported that he "served three enlistments ... and was held a prisoner at the famous Libby Prison for some time." But in fact, there is no evidence that Levi was ever captured or held at Libby. He is known to have been absent without official leave from June 15 to Aug. 16, 1862 and then again from Sept. 10 to Oct. 1, 1863.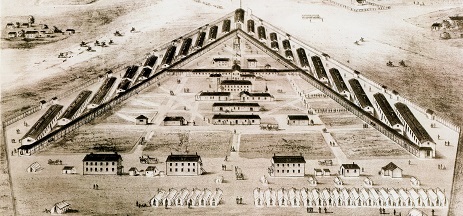 Lincoln Hospital, District of Columbia, where Levi Esch was treated in 1864
Levi recalled that in May and June 1864, while on a march to City Point, VA, he became ill at Belle Plains, a steamboat landing on Potomac Creek:
I was taken to the field hospital for a few days and then I was sent to Mount Pleasant hospital near Washington and I was there till some time in June and I was sent to Portmuth Grove Rhode Island General hospital. I was there until the last of June or the last week of June. I was sent to Camp distribution near Alexandria and from there to my regiment. I got there on the first day of July and on the second I was sunstruck. during May and June I was treated for lung fever and I was weak when I got to my regiment and could not stand the heat.
Among the other places he received medical care was at Lincoln General Hospital in the District of Columbia (on Aug. 14, 1864) and Turners Lane General Hospital in Philadelphia (Aug. 27, 1864). He returned to his regiment but again took sick at Harpers Ferry, WV in about October 1864 and was sent to Sandy Hook Field Hospital in Maryland followed by transfers to general hospitals in Frederick, MD, Pittsburgh and Chester, PA. Doctors at Lovell General Hospital in Portsmouth Grove treated him for hemorrhaging of the lungs.
He received his honorable discharge in Chester on July 14, 1865, having spent the bulk of his military service in hospitals. Three years after the war's end, he applied for and was awarded a military pension as compensation for his injuries. [Invalid App. #137.264 - Cert. 142.789] Fellow soldier James Michael and regimental surgeon Dr. Robert Barr provided affidavits of support in Levi's case. He is known to have been treated for heart palpitations during the late 1860s by Dr. James McMullen.
When Levi was examined in 1874, military physician James F. McCormick wrote that "the only trouble I find is a labored and unsteady but rather slow pulse and cardiac impulse. It amounts however to rather ugly functional disease of the heart. He claims that he has frequent attacks of vertigo & 'delirium' (by which latter word he means 'blind staggers' as it is called in horses) and constant pain in the head."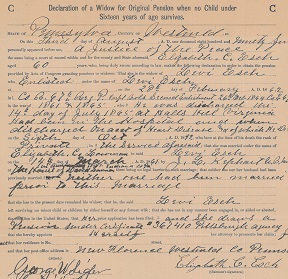 One of the forms Elizabeth had to complete to
obtain her late husband's pension.

National Archives

McCormick again conducted a physical examination in 1876, writing that Elizabeth, "his wife, who is along with him & who always accompanies, him, says she is afraid to let him go alone, because he often suddenly 'gets blind' & tumbles over." These doctor visits took place in Irwin and Greensburg, Westmoreland County.

The federal census enumeration of 1870 shows the family living on a farm in Brush Valley. Then in 1880, when the census count again was made, the Esches were in Centerville, Indiana County, where he had been hired as a railroad laborer. Circa 1892, they lived in West Wheatfield Township, Indiana County, with their post office in nearby New Florence, Westmoreland County.

Family friend George W. Sigler once wrote that the Esches "are verry poor. They worked hard and Levi Esch drew a Small Pension but they had a verry large Family and it took all they could make to keep them." They are known to have purchased goods for 20 years at the store of R.S. Elliott of New Florence, Westmoreland County.

Sadly, at the age of 58, Levi's health began to plummet seriously. The Indiana County Gazette issue of Sept. 14, 1892 reported that he was "seriously ill" and that his "mind is troubled and it is feared that he may lose it." Son John often came from his home in New Florence and saw his father looking flushed in appearance. The son would place his hand on the father's breast over the heart "and it would flutter very strong and then in a short time it would be gone entirely," he remembered. "I would have to set him up to get his breath, he would get dizzie betimes and could not walk by himself and towards the last he had to have some one with him all the time."

Samuel P. Mack came to see Levi frequently and said that "His heart was verry irregular fluttering betimes and then weak again." The night that Levi died, friend William Boring attempted to secure morphine from Dr. James A. Fulton but was turned down due to the weakness of the patient's heart.

Levi surrendered to death on Oct. 6, 1892. Neighbors Margaret Lowman and John C. Stevens came to the house and viewed the dead man. Frank Kays arrived as well to wash, dress and lay out the body.

The widowed Elizabeth was granted her husband's pension and received monthly payments for the balance of her life. [Widow App. #563.653 - Cert. #367.410] Family friend Sigler noted in 1893 that Elizabeth owned no personal property except her household goods. Her income, he wrote, "is what she earns at the washtub and she is not abel to earn much there anymore as she is getting sick and less abel to work each year."

She died in about 1901.

~ Daughter Ida May (Esch) Steele ~

Daughter Ida May Esch (1857-1944) was born on March 15, 1857/1858 in Brush Valley.

She wed William Richard Steele ( ? - ? ).

Together they produced a family of eight offspring, among the known names Lillian Auld, Elsie Loutsenhizer, Charlotte Clark, William Earl Steele, Joseph Clifford Steele, Sarah Cornelia Gill, Ida Mae Ankney, Anna Gorden and Marie Margaret Naeger.

The couple made a home in the late 1890s in Huff, Indiana County. Circa 1937, they were in West Wheatfield Township, Indiana County, PA, with a post office of nearby New Florence, PA.

Toward the end of her life, Ida May became senile. At the age of 86, she was felled by a heart attack and succumbed to the spectre of death on May 7, 1944. Burial was in West Wheatfield. Mrs. A.P. Clark of Blairsville, who was the informant for the official Pennsylvania death certificate, stated erroneously that the deceased's father Levi had been born in Illinois.

Daughter Lillian Steele (1878-1956) married Auld

Daughter Elsie Steele (1879-1927 wed Loutsenhizer

Daughter Charlotte Steele (1881-1965) was joined in wedlock with Clark

Son William Earl Steele (1883-1946) was born in 1883.

Son Joseph Clifford Steele (1886-1949) was born in 1886.

Daughter Sarah Cornelia Steele (1889-1943) was united in matrimony with Gill.

Daughter Ida Mae Steele (1891-1974) entered into marriage with Ankney

Daughter Anna Steele Steele (1894-1965) wed Gorden.

Daughter Marie Margaret Steele (1897-1984) married Naeger.

~ Daughter Agnes Elizabeth (Esch) Rager ~

Daughter Agnes Elizabeth "Aggie" Esch (1862-1897) was born in July 1862.

In about 1879, she wed Hugh W. Rager (1853-1938) of Huff, Indiana County.

The Ragers lived near Johnstown and bore a family of eight -- Vinneta "Nettie" Ali, Walter S. Rager, Alfred L. Rager, Anna A. Collins, Flora M. Rager and Ida D. Kissel. They mourned at the death of son Walter at about age 15 in 1886.

The U.S. Census of 1880 lists the family in Lower Yoder, Cambria County, PA, with Hugh working as a laborer.

Sadly, Agnes died in Johnstown in late April or early May 1897. Burial was in a German graveyard near New Florence.

In 1900, Hugh was employed as a railroad laborer and made his home in West Wheatfield, Indiana County. That same year, Hugh married a second time to Elizabeth M. (1843- ? ) who was a decade older than he. His occupation in 1910, in Wheatfield, was as a laborer performing odd jobs.

He spent his final years living with his daughter Nettie Ali at Westley Chapel, Indiana County. His obituary was printed in the Indiana Weekly Messenger.

Daughter Vinneta "Nettie" Rager (1879-1964) was born on Dec. 27, 1879 in Indiana County. She married Albanian immigrant Thomas James "Sali" Ali (March 2, 1897-1961). The groom was nearly 20 years younger than the bride. Sali earned a living as a laborer with the Pennsylvania Railroad. Their address in 1961 was West Wheatfield near New Florence. Sali was diagnosed with cancer of the pancreas which spread to his liveer and lungs. He died in Johnstown's Lee Hospital at age 64 on Dec. 20, 1961. The widowed Nettie relocated to 17 Harmony Drive in Conemaugh, PA. As her health failed, with hardening of the arteries, she too was admitted to Lee Hospital. She died there of a heart attack at the age of 84 on July 3, 1964. Her remains sleep for all time in Headrick Union Cemetery.

Son Alfred L. Rager (1884- ? ) was born in Oct. 1884. A bachelor at age 25, in 1910, he shared a home in Wheatfield with his father and stepmother. His home in 1938 was near Huff.

Daughter Anna A. Rager (1886-1960) was born in Sept. 1886. She married (?) Collins ( ? - ? ). She dwelled near Huff, Indiana County in 1938. Death enveloped her in Steubenville, OH on July 13, 1960. Burial was in Toronto Union Cemetery in Toronto, OH.

Daughter Flora Mae Rager (1888-1949) was born on Sept. 18, 1888 in Indiana County. She married Edgar F. Deckert ( ? - ? ). The Deckerts made their residence in Johnstown at 708 Messenger Street. Suffering from cerebral meningitis and a severe ear infection, she passed away in Johnstown's Memorial Hospital on April 23, 1949. Burial was in Headrick Union Cemetery. Lillian Dietz, of the home address, was unable to furnish the maiden name of the deceased's mother on the death certificate.

Daughter Ida D. Rager (1891- ? ) was born in Jan. 1891. In about 1909, she entered into marriage with railroad laborer August "Earl" Kissell/Kisell (1886-1965). Their known children were Clair L. Kissell, Freda L. Kissell, Esther L. Kissell and Roy J. Kissell. The 1910 federal census enumeration shows the Kissels living with Ida's father and stepmother in Wheatfield Township, Indiana County. By 1920, the couple resided near New Florence, with Earl working as a signal repairman for the railroad. She is known to have resided at Southmont, PA in 1938. Death spirited her away in 1974. Burial was in Richland Cemetery, Cambria County.

~ Daughter Margaret Lewelda "Luelda" (Esch) Berkey ~

Daughter Margaret Lewelda "Luelda" Esch (1865-1924) was born on Jan. 6, 1865.

She was united in matrimony with John W. Berkey ( ? - ? ).

The couple lived in Pittsburgh's East End at 7439 Idlewild Street.

Sadly, at the age of about 58, Luelda was diagnosed with cancer of the cervix and uterus. She suffered for a year and, exhausted, died at home on March 8, 1924, at the age of 59 years, two months and two days. After funeral services in the family home, the remains were transported to Johnstown for interment. A death notice was published in the Pittsburgh Daily Post.



~ Son John W.A. Esch ~

John W.A. Esch's workplace, Cambria Steel in Johnstown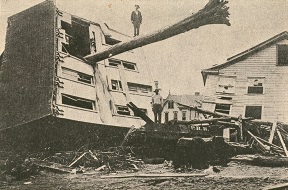 Johnstown Flood damage, 1889
Son John W.A. Esch (1866-1937) was born on Dec. 23, 1866 in Centerville, Indiana County.
As a 12-year-old, he was put to work as a laborer for local farmers in the area of Centerville. For a number of years, reported the Indiana (PA) Gazette, he "was foreman of the wrecking crew on the Gallitzin Division of the Pennsylvania Railroad between Gallitzin and Derry. After the flood of 1889 he took his crew to Johnstown to help rehabilitate the city and it was then that he met Mary Haggerty" ( ? -1936).
Seven months after the flood, on Dec. 21, 1889, he and Mary were joined in wedlock. Their wedding ceremony was held in the parish of St. Columbua's Church, with Rev. Fr. Farron as officiant.
Four children were born into this union, including Eugene W. Esch, Frank Esch, John Esch and a daughter who died as a baby.
For the first 11 years of their marriage, the couple lived in New Florence, PA, where he was elected as burgess (mayor) of the town. Then in 1900, they relocated to Johnstown, PA, where he became employed by Cambria Steel Company as yardmaster for the Ten Acre Bridge. Cambria Steel was acquired in 1923 by Bethlehem Steel Corporation.
John was promoted n Jan. 11, 1902 as foreman of all motive power of the company's entire transportation department and continued in this position until retirement in 1934. Their final address was 240 Barrow Avenue in the Morrellville section of Johnstown.
Mary contracted pneumonia and passed away in a Johnstown hospital on Dec. 15, 1937.
John only outlived her by less than a month. Stricken with cancer of the larynx, diabetes and urinary tract problems, he traveled to Philadelphia to undergo throat surgery at Jefferson Hospital. Sadly, he died there at the age of 70 on Jan. 10, 1937. John Esch, of the McAlpin Hotel in Philadelphia, signed the death certificate. Funeral services were conducted by Rev. Paul Lindbereg of the Calvary Methodist Episcopal Church. Burial was in West Fairfield Cemetery near New Florence.
Son Eugene W. Esch dwelled in 1937 in Johnstown.
Son Frank Esch established his home in Johnstown.
Son John Esch was in Norfolk, VA in 1937.
~ Daughter Mary "Alice" (Esch) Wisegarber ~
Daughter Mary "Alice" Esch (1867-1948) was born two days before Christmas 1867 in New Florence.
She lived in New Florence in 1890. When both were age 32, on Oct. 21, 1900, she married mechanic Alfred L. Wisegarver/Wisegarber (Nov. 5, 1895-1915), son of John and Mary (Slick) Wisegarber of Johnstown. Officiating was H.A. Buffington at New Florence.
The family relocated to Ohio between 1894-1897 and in 1910-1944 was in Lorain, Cuyahoga County, OH. Alfred was employed in Lorain in 1910 as an engineer in a steel plant.
Five children were born to the couple, among them A. Lou Wisegarber, William A. Wisegarber, Florence M. Sanders, Charles E. Wisegarver and Helen Grace Rook. Sadly, son Charles died at about age six months on March 13, 1896.
Their address in the mid-1910s was 1240 Fifth Street.
Grief cascaded over the family when, burdened with diabetes, the 55-year-old Alfred died in Lorain on Aug. 17, 1915. Burial of his remains was in Elmwood Cemetery in Lorain. Son William signed the Ohio death certificate.
Alice survived for several more decades. She passed away in Lorain at age 80 on June 22, 1948.
Daughter A. Lou Wisegarber (1891- ? ) was born in about 1891. Circa 1910, at age 19, she was a public school teacher in Lorain, OH.
Son William A. Wisegarber (1893- ? ) was born in about 1893. He clerked in a grocery store in Lorain in 1910. In 1915, when signing his father's Ohio death certificate, William made his home at 1240 East Fifth Street, Lorain.
Daughter Florence M. Wisegarber (1894-1945) was born on Dec. 8, 1894. She relocated to Lorain, OH as a young girl. She was united in the bonds of holy matrimony with Clifford Sanders (Feb. 2, 1893-1981). Florence died at the age of 50 on Aug. 28, 1945. Her remains were interred in Elmwood Cemetery, Lorain. Clifford survived another 36 years. He passed away on April 16, 1981.
Daughter Helen Grace Wisegarber (1897- ? ) was born in about 1897 in Ohio. She was joined in wedlock with (?) Rook ( ? - ? ). They were the parents of Charles Rook. At the birth of their son in 1929, they were in Alabama. By 1935, Helen and their son had moved back to Lorain and shared a home with her widowed mother.
~ Daughter Anna Armenta (Esch) Ruffner ~
Daughter Anna Armenta Esch (1869- ? ) was born on Nov. 24, 1869 in Indiana County.
In about 1890, she was joined in wedlock with Hugh M. Ruffner (June 9, 1865-1928), son of Cornelius and Dorcas (Brady) Ruffner of New Florence.
Over the course of their marriage, the pair bore two offspring -- Hugh T. Ruffner and Anna E. Hysong.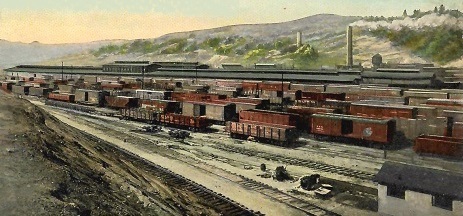 Pitcairn railroad transfer yards
Hugh was a longtime railroad conductor for the Pennsylvania Railroad and Anna worked at home as a seamstress.
The Ruffners' address in the mid-1910s was at 534 Fourth Street, Pitcairn, Allegheny County, PA.
Sadly, in early December 1914, Anna began to experience inflammation in her digestive tract, known as "enterocolitis." She suffered for 20 days and, after further developign bronchial pneumonia, died on New Year's Day 1915 in Pitcairn at the age of 45. On her official Pennsylvania certificate of death, her father's name was spelled "Levi Ash." Burial was in Grandview Cemetery, Pitcairn.
The widowed Hugh moved back to New Florence and wed again to Mary E. ( ? - ? ). When the federal census enumeration was made in 1920, the couple was in New Florence, with him continuing his work as a railroad freight conductor. He was assigned to the Pennsy's South Fork Branch.
On the fateful morning of Feb. 9, 1928, Hugh at age 62 decided to end his life. In a second floor room of their home, he pointed a shotgun at his chest and pulled the trigger. Reported the Latrobe (PA) Bulletin, "Death was instantaneous. Despondency brought about by protracted illness and inability to work, is given as the only reason for the act... Mr. Ruffner's illness dates back 18 months, at which time he suffered a stroke of paralysis." Funeral services were held in the residence, and burial of the remains was in East McKeesport.
Son Hugh T. Ruffner (1891-1967) was born on June 22, 1891. At the age of 18, in 1910, he earned a living as a stenographer in the railroad office in Pitcairn. He was united in matrimony with Margaret Lewis ( ? -1975). Together they produced a son, Hugh L. Ruffner. For many decades, they lived in Irwin, Westmoreland County, PA. His longtime occupation was as an iron and steel broker. Circa 1942, during World War II, he was employed by the Jay Stephens Company and served as executive committee chairman of the Pittsburgh Chapter of the Institute of Scrap Iron and Steel. Later, he went to work for Columbia Iron and Metal. Their home was at 502 Walnut Street, Irwin, in 1967, and they belonged to the First Methodist Church. At one point Hugh served on borough council in Irwin and the Irwin Parking Authority. He also belonged to the local lodges of the Masons and Elks as well as the Syria Temple. Burdened for years with hardening of the arteries and heart disease, as well as severe weakness of the bones ("osteoporosis") and acute kidney failure, Hugh passed away at age 75 on June 11, 1967. Burial of the remains was in Irwin Union Cemetery. Margaret remained in Irwin for the balance of her life. She died on June 15, 1975, with an obituary appearing in the Pittsburgh Press.
Son Hugh Lewis Ruffner Sr. ( ? - ? ) was born in (?). In 1934, he wed Eleanore Burchinal (April 22, 1913-1996), a native of Washington, PA and the daughter of Gen. Warren Sturgis and Florence (Iseman) Burchinal and stepdaughter of Sarah (Garrison) Burchinal. They became the parents of Thomas Warren Ruffner, Hugh Lewis Ruffner Jr., Jay Sturgis Ruffner and David Burchinal Ruffner. The couple made a home in Bridgeville, PA in the 1940s and by 1975 had moved to Wexford, PA, where they owned the Pomona Farm and raised race horses. Eleanor passed away on Nov. 2, 1996. Her obituary was published in the Pittsburgh Post-Gazette. This family is outlined in the 1942 book Burchinal Genealogy, Jeremiah Burchinal of Mt. Harmon, Kent County, Maryland and His Descendants.
Grandson Thomas Warren Ruffner (1935- ? ) was born in 1935 in Washington, PA.
Grandson Hugh Lewis Ruffner Jr. (1938- ? ) was born in 1938 in Washington, PA. He was elected as treasurer in 1968 of the Institute of Scrap Iron and Steel in Pittsburgh. In 1970, he was named vice president of Grant Steel Corporation in Pittsburgh.
Grandson Jay Sturgis Ruffner Sr. (1941-2007) was born on June 22, 1941 in Washington, PA. Circa 1966, he entered into marriage with Mary Ell ( ? - ? ). Despite the fact that just prior to marriage, she was diagnosed with multiple sclerosis, their union endured for 41 years. The pair bore three children, among them Jay Ruffner Jr., Megan Ruffentine and Stephanie O'Donovan. He joined the U.S. Air Force and held the rank of captain. TJay and Mary spent the first four-and-a-half years together in the military, residing much of that time in Germany, where he was a judge advocate at Ramstein Air Base. Upon their return to the United States, they lived in Greenwich, NY before relocating in 1972 to Phoenix. Later, Jay received his bachelor of arts from Hobart College, a law degree from the University of Pittsburgh and a master of laws in taxation from New York University. As a lawyer, Jay focused his practice on sports, law and health care matters. One of his more prominent clients in the development of sports facilities was Jerry Colangelo, in his acquistion of the Phoenix Suns of the National Basketball Association. Jay later wrote about this experience in the Vanderbilt Journal of Entertainment & Techology Law, Vol. 1, Issue 1. The firms where Jay practiced were Lewis and Roca, Meyer Hendricks Victor Osborn & Maledon, Meyer Hendricks Victor Ruffner & Bivens, Fennemore Craig PC and the giant Steptoe & Johnson. Among his community activities were as board director of the Flinn Foundation, Blood Systems, Phoenix Art Museum and the advisory council of the Arizona Corporation Commission. He also was chairman and executive committee member of the Greater Phoenix Chamber of Commerce, chairman of the Arizona Central Chapter of the Natinoal Multiple Sclerosis Society and the Arizona Bar ASsociation's Tax Section. Mary studied political science at the University of Pittsburgh before transferring to Southern Methodist University. In Arizona, Mary was active in state politics, the Women's League of the Phoenix Art Museum, March of Dimes and Golden Gate Settlement Guild. Mary served on the National Sclerosis Advisory Commission and was named MS Mother of the Year in 1973. In June 1973, she was a guest at the White House and had lunch with First Lady Patricia Nixon. She was pictured and featured in a June 23, 1973 article in the Pittsburgh Post-Gazette. Jay died in Phoenix on Sept. 11. 2007. His obituary was printed in the Arizona Republic.
Grandson David Burchinal Ruffner ( ? - ? ) may be the same man who, in 1977, was named manager of the eastern region for Federal Barge Lines Inc., a barge company based in St. Louis.

Daughter Anna E. Ruffner (1893-1938) was born on Sept. 29, 1893 in Pittsburgh. She entered into marriage with Walter M. Hysong ( ? -1947), son of Mary Hysong. One daughter born to this union was Madge E. Palmer. Walter served in the U.S. Army during World War I and held the rank of sergeant. He is known to have been severely wounded. They dwelled in Pitcairn in 1928-1938. Walter owned his own automobile dealership and garage in Pitcairn and was commander of the local post of the American Legion. Their address in 1938 was 661 Wall Avenue. Grief blanketed the family when Anna was diagnosed with a malignant brain tumor and a few weeks later, following surgery at West Penn Hospital, died at the age of 45 on Nov. 5, 1938. Her remains were laid to rest in Grandview Cemetery, Pitcairn. The widowed Walter outlived his first wife by nine years and continued to operate his own Ford dealership, Hysong Motor Company. He was pictured in a Pittsburgh Sun-Telegraph advertisement with other local Ford dealers in October 1941. Walter married again to Ellen Kohler ( ? - ? ). Sadly, while on vacation, he died in Atlantic City, NJ on Sept. 12, 1947. The body was transported back to Pitcairn for services at McGinnis Presbyterian Church. His obituary was printed in the Pittsburgh Press. His cousin Mrs. Clay Shope is known to have traveled from Lock Haven, PA to attend the funeral.
Granddaughter Madge E. Hysong married (?) Palmer. She lived in New York in 1947.
~ Daughter Clara Inez (Esch) Griffith ~
Daughter Clara Inez Esch (1871-1944) was born on Aug. 14, 1871 near New Florence in Indiana County, PA.
On Sept. 24, 1892, she entered into marriage with railroader Andrew Curtin Griffith (Feb. 4, 1864-1932), son of Isaac and Hanna (Bonner) Griffith. Her parents signed their consent to the union. Andrew was named for Andrew Curtin, who was the popular Governor of Pennsylvania during the Civil War years.
The couple's four offspring were Mrs. A.C. Brannan, Mrs. R.M. Rockham, William C. Griffith and Roy B. Griffith.
Sadly, Andrew died in the Richland District near Wheeling, WV on March 6, 1932.
The widowed Clara made her residence in 1936-1937 in Wheeling but by 1944 had pulled up stakes and moved to Pittsburgh, with an address of 1244 Brushton Avenue. Sadly, burdened with hardening of the arteries, the 73-year-old Clara was stricken by a cerebral hemorrhage and passed away in Pittsburgh on Oct. 25, 1944. Burial of the remains was in Short Creek Cemetery, Ohio County, WV. Mrs. A.C. Brannan signed the death certificate, and an obituary was printed in the Pittsburgh Press, inviting members of the George B. McClelland Circle of the Ladies of the Grand Army of the Republic to attend. She was survived by nine grandchildren and four great-grandchildren.
Daughter (?) Griffith married A.C. Brannan.
Daughter (?) Griffith wed R.M. Rockham.
Son William C. Griffith ( ? - ? )
Son Roy B. Griffith ( ? - ? ).
Copyright © 2021-2022 Mark A. Miner
Minerd.com extends its gratitude to the late Donna (Younkin) Logan for her research contributions to this biography.