William Esch was born in 1850 in Brush Valley, Indiana County, PA, the son of Joseph and Sarah (Younkin) Esch.
He was married twice. He first was wed to Josephine Martin (1853- ? ) on April 24, 1869 in Brush Valley.
The couple bore one known daughter, Jane "Jennie" Wadsworth.
Their residence in 1870 was on a farm in Brush Valley near Blairsville. Just four years into the marriage, Josephine filed for a divorce on the grounds of desertion and lack of support. Her petition was granted on June 11, 1873.
William entered into marriage a second time in July 1874 with Catherine J. McCormick (May 1846- ? ).
They begat four known children -- Mollie Wilson, Laura Esch, Clara Esch and Sarah Esch.
When the United States Census was made in 1880, the Esch family lived in Blacklick, Cambria County, PA. There, William earned a living as a farmer. The family relocated to Somerset County, PA, where they resided in 1899-1900 in the community of Dull.
William for the last several years of his life suffered from asthma and tuberculosis, and died from their effects in their home at age 49 on Jan. 31, 1900. His remains were returned to Brush Valley to rest in eternal repose in Dutch Bethel Cemetery. An obituary was published in the Indiana (PA) Weekly Messenger.
~ Daughter Jane "Jennie" (Esch) Wadsworth ~
Daughter Jane "Jennie" Esch (1870- ? ) was born in April 1870. After her parents' divorce in 1873, she was brought into the household of her grandmother Jane DeArmie/DeArmy in St. Clair, Westmoreland County, PA.
In young adulthood she dwelled in Morrellville, PA and earned a living as a dressmaker.
When she was 21 years of age, on May 7, 1891, she was joined in wedlock with 26-year-old engineer Lemon H. Wadsworth ( ? - ? ). He was a resident of Johnstown and the son of Samuel and Margaret Wadsworth. Officiating their wedding was Rev. O.P. Hargrave of the Greensburg Baptist Church.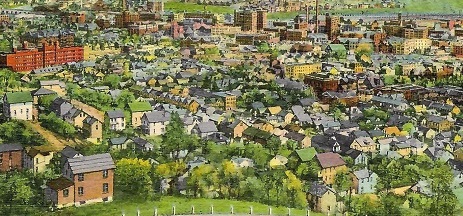 Bird'e-eye view of Johnstown, PA, looking west from Grandview Cemetery
Lemon appears to have been married before and brought three stepchildren into the union -- Gilbert Wadsworth, Goldie Uplinger and Verna Wadsworth.
Jennie and Lemon went on to bear a daughter of their own, Myrtle Sauer.
The family made a home in Johnstown.
Lemon later wed a second time to Amanda ( ? - ? ).
Stepson Gilbert Wadsworth ( ? - ? )
Stepdaughter Goldie Wadsworth was united in matrimony with (?) Uplinger.
Stepdaughter Verna Wadsworth was unmarried circa 1936.
Daughter Myrtle Wadsworth ( ? -1936) was born in (?). She wed William C. Sauer ( ? - ? ). The family made its home in Homer City, PA. Five children born to this union were Jennie C. Sauer, Edward E. Sauer, Geraldine Fay Sauer, Marion Sauer and Edna Mae Sauer. Burdened with several illnesses, Myrtle died at home at the age of 44 on Oct. 31, 1936. Her obituary was printed in the Indiana Gazette, saying that Rev. Brosius, of the Grace Lutheran Church, would officiate the funeral service. Interment of the remains was in Grandview Cemetery in Johnstown.
~ Daughter Mollie (Esch) Wilson ~
Daughter Mollie Esch ( ? - ? )
She was united in holy matrimony with George Wilson.
~ Daughter Laura Esch ~
Daughter Laura Esch ( ? - ? )
She lived in Pittsburgh in 1900.
~ Daughter Clara I. Esch ~
Daughter Clara I. Esch ( ? - ? )
She dwelled in Pittsburgh circa 1900.
~ Daughter Sarah Esch ~
Daughter Sarah Esch ( ? - ? )
Laura relocated by 1900 to Philadelphia.
Copyright © 2021-2022 Mark A. Miner
Minerd.com extends its gratitude to the late Donna (Younkin) Logan for her research contributions to this biography.