Ida Catherine
(Firestone) Langenheim
(1871-1945)
Ida Catherine (Firestone) Langenheim was born on March 7, 1871 in Connellsville, Fayette County, PA, the daughter of Lewis and Sarah Ann (Rose) Firestone.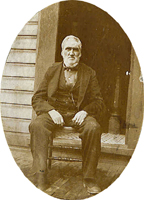 John's father Charles
On April 30, 1902, at the age of 30, Ida married 33-year-old John Randolph Langenheim (Sept. 16, 1869-1936), a native of Cherry Valley in Washington County, PA. They united themselves in marriage. He was the son of Charles M. and Mary Magdalena (Andrews) Langenheim, both of whom were immigrants, he from Germany, and she from Switzerland.
John's father Charles is seen here in an old family portrait.
They produced a family of five children -- among them Eleanor Langfitt, Leroy Earl Langenheim, Howard C. Langenheim, Robert Randolph Langenheim and one who died in childhood.
John was a laborer, working in 1902 in Connellsville. In about 1904, the family resided in Sheriden, near Pittsburgh, Allegheny County.
The federal census enumeration of 1910 shows the family in Jefferson Township, Washington County, where John was listed as a "farmer - general farm." That year, 42-year-old William Langenheim lived under their roof, unmarried, and apparently was John's brother.
Circa 1930, the family resided in Cherry Valley. After the death of her father, in 1930, Ida received a payment of $115.09 as a bequest from the estate.

Bird's-eye view of Burgettstown, 1915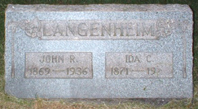 Mt. Pleasant Cemetery, Hickory PA
John was self-employed in the mid-1930s as the operator of a stone quarry near Burgettstown, where he was his own stone cutter.
On the fateful day of May 28, 1936, while at work, he was struck on the head by a heavy boom. The impact caused a compound fracture of the skull. He was rushed to Washington Hospital, where he died a day later at the age of 66.
His remains were lowered into eternal repose in the Mount Pleasant Presbyterian Church cemetery in Hickory, Washington County. An obituary in the Canonsburg Daily Notes reported that he "was a well known farmer" in addition to his work at the quarry.
Ida outlived her husband by nine years and made her home in rural Smith Township near Burgettstown
Burdened with hardening of the arteries, she suffered a cerebral hemorrhage and passed away at home just 20 days before her 75th birthday on Feb. 17, 1945. An obituary was published in the Connellsville Daily Courier. Funeral services were led by Rev. C.S. Thomas, of the family church, and burial was in the Mount Pleasant cemetery beside her husband.
~ Son Leroy Langenheim ~
Son Leroy Langenheim (1903-1981) was born in 1903. As a young man, he labored in a steel mill, and resided in Burgettstown.
At the age of 40, on July 10, 1943, Leroy married 39-year-old Nettie (Cain) Plymire (1904-1989). She was the daughter of John M. and Celia Mae (Johnson) Cain of Burgettstown, and had been married once before, divorcing in October 1932.
He "resided in Burgettstown for 50 years and in Carmichaels for two years," said the Waynesburg (PA) Republican. "He was a member of the United Presbyterian Church at Hickory. Prior to his retirement in 1968, he had been a truck driver for the Cowden Trucking Co. at Hickory."
He passed away in April 1981 in Carmichaels, Greene County.
Nettie died in Carmichaels on May 31, 1989.
~ Son Howard Langenheim ~
Son Howard Langenheim (1907- ? ) was born in 1907.
He resided in Wellsburg, WV circa 1945.
~ Daughter Eleanor (Langenheim) Langfitt ~
Daughter Eleanor Firestone (1909-1935) was born on Jan. 9, 1909, in Corliss, Allegheny County, PA.
She married Kenneth C. Langfitt (1908- ? ), believed to be the son of A. Pearl Langfitt of Hancock County, WV. They had one or more children, and made their home in New Cumberland, Hancock County.
Sadly, Eleanor contracted a deadly case of the measles, followed acute pneumonia, in the spring of 1935. She could not recover, and died at a hospital in East Liverpool, Columbiana County, OH, at the age of 26, on May 29, 1935. She was laid to eternal rest in the Union Cemetery in Pughtown, WV.
~ Son Robert R. Langenheim ~
Son Robert R. Langenheim (1911-1978) was born on April 12, 1911. He was employed as a young man as a laborer, and resided in Burgettstown circa 1937.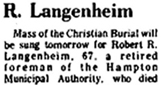 Obituary, 1978
At the age of 30, Robert married 20-year-old Margaret F. Balkovec (1921-1994), daughter of Austrian immigrants Matthew and Mary (Mihelcic) Balkovec. At the time of marriage, she resided at 5641 Carnegie Avenue in Pittsburgh, and worked as a "salad girl." The wedding took place on Jan. 10, 1942.
They later moved to Allison Park, a northern suburb of Pittsburgh, where they lived on Grandview Drive. Robert was a foreman of the Hampton Municipal Authority and was employed there for 19 years. They were members of St. Catherine Roman Catholic Church. Margaret was a waitress for various restaurants in the Hampton area.
Robert passed away April 19, 1978.
Margaret outlived her husband by 16 years. She died May 22, 1994. They are buried at St. Augustine Cemetery in Wildwood, near Allison Park.
The Langenheim photographs are provided courtesy of Dihann Walters.
Copyright © 2004-2007, 2013, 2020 Mark A. Miner