Home

Sarah Ann (Rose) Firestone
(1847-1929)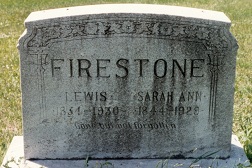 Rich Hill Cemetery
Sarah Ann (Rose) Firestone was born on Sept. 19, 1847 in Kingwood, Somerset County, PA, the eldest daughter of Charles and Catherine (Minerd) Rose.
In about 1864, when she was age 17, Sarah wed 30-year-old Lewis R. Firestone Sr. (1834-1930), 13 years her senior, the son of Michael and Elizabeth Mae Firestone. Their marriage lasted for a remarkable 62 years.
They notr 11 children, born over a 20-year span between 1865 and 1885 -- Austin J. Firestone Sr., Grant Louis Firestone Sr., Susan "Anna" Firestone, Ida C. Langenheim, Emma Nicholson, Lewis R. Firestone Jr., Mary Jane Sidebottom, Cora Firestone, Sarah Pearl "Sadie" Calhoun, Myrtle Firestone and John Firestone.
They also raised a granddaughter Flora Firestone.
Sadly, their children Cora (1882, age two) and John (1889) died young, while adult children Anna passed away at age 27 and Lewis Jr. at 31. The four offspring are buried together at the Rich Hill Cemetery, and their gravestone inscriptions are ethced on opposite sides of a single shaft.
The Firestones lived at Normalville (1870), Bullskin Township (circa 1875-1880), Murphy Siding (1883), Rich Hill and Breakneck, all near Connellsville in Fayette County, PA.
In early December 1879, after the death of Sarah's aged grandfather John Minerd, Lewis attended an estate sale held at the Minerd farm near Normalville, Fayette County. Lewis purchased a "scythe and snath" (for $1.50) and a "set of cup and saucers" (18 cents).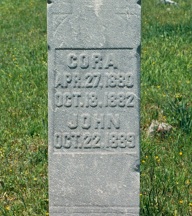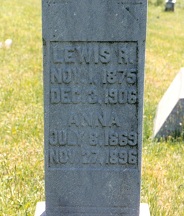 The Firestone children's graves at Rich Hill Cemetery
The Connellsville Daily Courier said that Lewis "for more than 50 years [was] a resident of Bullskin township, where he followed the occupation of a farmer and lumberman."
When the federal census was enumerated in 1900, the Firestones were marked as residents of Bullskin, with unmarried children Lewis, Myrtle and Sadie. Heartache shook the family on Dec. 3, 1906, when 31-year-old son Lewis Jr., a flagman for the Baltimore and Ohio Railroad, contracted typhoid fever and died.
In 1910, when Lewis and Sarah were in their 60s, they and granddaughter Flora Firestone lived under one roof in Bullskin. At that time, they had been married for 46 years, and seven of their 11 children were living.
Their farm contained a house and four acres of land on Danderson Hill Road. The census of 1920 shows Lewis, age 80, and Sarah, 75, as the only ones in their household, with Lewis continuing to work on his farm even at his advanced age.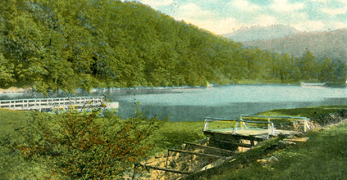 Breakneck Reservoir, a landmark near the Firestone home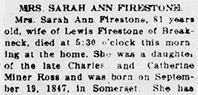 Daily Courier, 1929
Sarah, afflicted with tuberculosis, died on March 14, 1929 at home at Breakneck, at the age of 81. She was laid to rest in the Firestone family plot at Rich Hill Cemetery. Her obituary was printed in the Courier, and it noted that her mother's maiden name was "Miner."
Lewis outlived Sarah by about 10 months. Left alone in his home, he allegedly asked his son-in-law Andrew Calhoun, of Pittsburgh's North Side, to provide for his well-being. At that time, Calhoun wrote, Lewis was "physically incapacitated and receiving little or no attention." Assured verbally that he would receive "ample compensation," Calhoun quit his job building fences on a nearby farm, and with his wife Sadie spent a significant amount of time at the Firestone home handling the elderly man's "physical requirements." They remained for two months, from May 10, 1929 to July 10, 1929. But Calhoun frequently was drunk, and Lewis did not want him there, and at one point instructed a grandchild to take him away.
To fill the void, Lewis' three daughters from Pittsburgh frequently came to visit, wash clothes and clean the house. During that time, Lewis was able to work a little around the house, including spading his garden.
In September 1929, suffering from hardening of the arteries at the age of 95, Lewis fell from his chair at home and broke his hip. He was admitted to Connellsville State Hospital, under the care of Dr. Edgar A. McCombs, but his decline accelerated. He was brought home a few days after Christmas 1929, bur returned again to the hospital13 days later. He died there on Jan. 18, 1930, at age 96.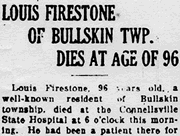 Daily Courier, 1930
He was buried beside his wife at Rich Hill Cemetery, following a funeral service officiated by Rev. Jacob Garletts. Among the pallbearers were his grandsons David, Norman, John and Leroy Firestone. Their grave marker reads: "Gone but not forgotten." Great-grandson David Laurence Firestone Jr. later was a trustee of this cemetery, where at least four generations of the Firestone family rest for eternity.
Assigned to manage the administration of Lewis' estate were his sons Grant and Austin. In February 1930, attorney H. George May of Connellsville wrote to Austin, saying "As soon as you and Grant are ready to come in, we can arrange to pay the bills and inheritance tax and close things up. Of course, this does not need to be done for a matter of 40 to 50 days from now, but any time that you are ready for it, we might as well get it out of the way."
Among other challenges, the brothers were presented with a bill for $200 by their brother in law Andrew Calhoun, as "wages for work and nursing" Lewis the year before. They objected, and the matter went to court. The case was settled on April 30, 1931, when the Orphans Court rejected the claim. As well, because Lewis had not paid his real estate taxes in his final year of life, the brothers had to settle that account with the County of Fayette.
The brothers also needed to notify their siblings that their accounting of the estate's value had been filed with the court, and since their sister Mary Jane Sidebottom had just died, had to advise her children. In fact, the name of Mary Jane's daughter Jessie Kennedy, of Coolspring, near Uniontown, is hand-written on the back of the envelope of one of the letters from their lawyer.
The funeral director, Sims Funeral Home, charged the estate $231 for embalming, a casket and vault, a hearse and two automobiles for the funeral procession to the cemetery, and four pairs of gloves for the pallbearers. Connellsville State Hospital submitted a bill for an seven-day's stay of $21, or $3 per day.
~ Granddaughter Flora Firestone ~
Granddaughter Flora Firestone (1893- ? ) was born in April 1893. The identity of her parents is unknown.
She was raised by her grandparents Sarah and Lewis Firestone in Bullskin Township, Fayette County.
Firestone-Minerd Family Marriages
Copyright © 2000, 2004, 2008, 2012, 2022 Mark A. Miner