Mary Jane (Firestone)
Sidebottom
(1878-1930)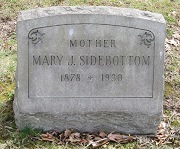 Allegheny Cemetery, Pittsburgh
Mary Jane (Firestone) Sidebottom was born in 1878 in Fayette County, PA, the daughter of Lewis and Sarah Ann (Rose) Firestone.
On Nov. 5, 1896, 19-year-old Mary Jane married 26-year-old John B. Sidebottom (1871-1920), the son of Samuel and Eliza (Duvall) Sidebottom of West Newton, PA. John's father was a Civil War veteran, having served with the 14th Pennsylvania Cavalry, Company F.
Mary Jane and John united themselves in marriage, a ceremony which was witnessed by W.W. Greene and Win S. Howard.
The Sidebottoms had seven children, of whom four lived to adulthood – Jessie Kennedy, Irene M. Love Grimes, Alice Hayes Ullery and Samuel Sidebottom.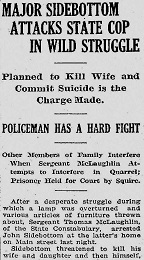 Connellsville Courier
John was a laborer, and circa 1896 they resided in Connellsville. His nickname in and around town was "Major."
As evidenced by a wide variety of news coverage over the years, John drank heavily and was unable to control his temper, and it often got him into scrapes with the law.
In June 1906, John got into a fight in a Greensburg hotel with a man named "Hutch." Said the Connellsville Courier, Hutch "and two friends laid for Sidebottom and attacked him with knuckles. Sidebottom was badly used up. His assailants were arrested." A few years later, in August 1909, he was arrested in Connellsville, charged with public intoxication and reckless horse riding. Said the Courier: "According to the police, Sidebottom has a penchant for playing 'rough rider' when he accumulates a jag and yesterday was no exception to the equestrian habit. He had hired the horse from Mervis' livery stable, claiming he was on his way to a Squire to prosecute a main for 'arceny,' whatever that is." Allowed one telephone call, he reached Dr. Hugh Baker, and said: "This you, Doc? You know who this is, don't you? Why this is Major Sidebottom. Sure you know me. Say, Doc, I want you to come down to the police station and examine me. They have sentenced me to 72 hours and I want you to see whether my physical condition can stand it that long." When the doctor demurred, John said, "You say you are busy? What? Can't come down just now? Well, all right then." And he hung up.
When the federal census was enumerated in 1910, the Sidebottoms made their home on Fairview Avenue in Connellsville. John's occupation that year was as a self-employed team driver.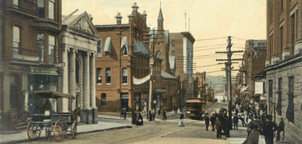 Connellsville, early 1900s
At the age of 36, John faced what he believed to be financial ruin. He left home in December 1911 and, said the Pittsburgh Press, "has been wondering about since." He then tried to hang himself in a Baltimore and Ohio Railroad boxcar at Demmler Station, and when found and rescued, he "became violently insane," and was taken to McKeesport Hospital.
In March 1912, John was charged with "inhumane conduct to a horse" and could not raise funds to pay for his court costs. The following February 1913, he became dangerously violent one evening at home. Reported the Courier:
After a desperate struggle during which a lamp was overturned and various articles of furniture thrown about, Sergeant Thomas McLaughlin, of the State Constabulary, arrested John Sidebottom at the latter's home on Main street last night. Sidebottom threatened to kill his wife and daughter and then himself, and when arrested he had a loaded revolver. The man attempted to hang himself about a year ago, it is said, and his actions lead police to believe that he was temporarily insane last night. According to the story told by one of the Sidebottom children, Sidebottom became angry because the mother and daughter were not home when he entered. He flew into a fit of rage and threatened to kill both upon their return, they said. Ascending to one of the upstairs rooms he secured a revolver and prepared to carry out his threat. A new black suit of clothes which had been recently purchased, he laid out in the parlor, declaring "they can bury me in them."
John continued to court trouble. In October 1916, living at Edenborn, Fayette County, he was arrested for drunkenness in Connellsville. Writing tongue in cheek, a reporter with the Daily Courier noted that John, a.k.a. "Major," "renewed old acquaintances at police court this morning when he was before Mayor Marietta long enough to be sentenced to one day of street work. the major has been absent from police circles for some time, but he received a warm welcome back."
Mary herself was not without self-made troubles. In March 1916, she was found guilty in Fayette County court of furnishing liquor to minors.

Uniontown Morning Herald
John relocated in the late 1910s or 1920 to Lowesville, Monongalia County, WV, where he secured employment as a coal miner with the New England Fuel Company. Mary continued to maintain a home on Baldwin Avenue in Connellsville, with daughters Alice and Irene. She had no occupation that year.
Tragically, John died in Lowesville of no known cause, at the age of 49, on Dec. 7, 1920. His remains were returned to Connellsville for burial. A one-paragraph obituary in the Weekly Courier did not name his wife or children, but instead his adult siblings Mrs. Frank Jeffries of Braddock, Lucy Layton and Mamie Moore of Connellsville and Mrs. Thomas Filburn of Rock Ridge.
Mary made her home in Pittsburgh in the late 1920s at 506 Shawano Street on the North Side. Her sisters Emma Nicholson, Myrtle Firestone and Sadie Calhoun also lived in the city at that time.
During a visit to her daughter Jessie Kennedy's home in Uniontown, around Christmas 1929, she became ill with "aortic insufficiency" added to chronic kidney disease. She could not shake the debility and was admitted to Uniontown Hospital in February. She did not recover.
She passed away at age 52 in Uniontown Hospital on March 4, 1930. Her remains were transported to her home in Pittsburgh for the funeral. An obituary was printed in the Uniontown Morning Herald. She was laid to rest in Allegheny Cemetery, and is believed to be in repose in Section 38, Lot 79. Her son Samuel joined her there in death three years later, in 1933.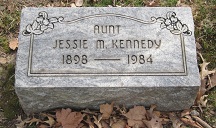 Allegheny Cemetery, Pittsburgh
~ Daughter Jessie M. (Sidebottom) Kennedy ~
Daughter Jessie M. Sidebottom (1898-1994) was born in 1898 in or near Connellsville, Fayette County. She lived to be 86 years of age.
At the age of 19, in December 1917, Jessie married William Kennedy (1885- ? ) of North Union Township, Fayette County. News of their marriage license was published in the Connellsville Daily Courier.
They lived in the Coolspring section of Uniontown, Fayette County and had one known daughter, Marian Love Kennedy.
In August 1927, Jessie entered their daughter Marian in the "Miss Fayette Contest." The girl, age 11, weighed 19 lbs. and had eight teeth, said the Uniontown Morning Herald.
Jessie and her sister Alice received a payment of about $57.54 each in January 1931 as a bequest from the estate of their late grandfather, Lewis Firestone.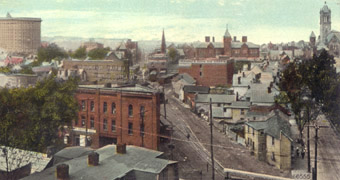 Bird's-eye view of Uniontown
Jessie and William faced significant public humiliation and serious legal charges in April 1940, while they were residing in Lemont Furnace near Uniontown. Authorities arrested them after it was alleged that Jessie was in her vehicle with their 25-year-old nephew, Harold "Zeke" Kennedy, when transporting moonshine whiskey to several Fayette County politicians in an election campaign controversy. Both wife and husband were indicted on six counts of liquor control act violations and one count of conspiracy. Charges were dropped in June, when District Attorney H. Vance Cottom, quoted in the Morning Herald, said that Jessie "was only in the machine at the time the keg of moonshine was delivered and there isn't any more substantial evidence against William Kennedy."
Jessie passed away in May 1984, at the age of 86. She was laid to rest beside her mother in Allegheny Cemetery in the Lawrenceville section of Pittsburgh. The inscription at the top of her granite grave marker reads "Aunt."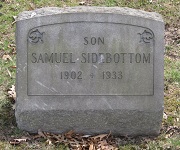 Allegheny Cemetery, Pittsburgh
~ Son Samuel Sidebottom ~
Son Samuel Sidebottom (1902-1933) was born in 1902 in or near Connellsville. He was named after his grandfather, a Civil War veteran.
He grew up in a troubled household, and the sins of the father seem to have been visited upon the son. In September 1926, at the age of 24, he lived on the North Side of Pittsburgh. He returned to Connellsville to visit a sick sister in the Connellsville State Hospital, then went on to his sister Jessie Kennedy's home in the Coolspring section of Uniontown.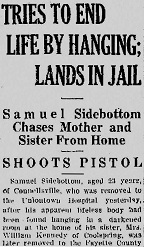 Uniontown Morning Herald
Said the Uniontown Morning Herald, he "started a reign of terror ... when he chased his sister and his mother, Mrs. Mary Sidebottom, out of their home while brandishing a pistol. The apparently crazed man is then said to have gone into a n upstairs room where after firing a shot out of an upstairs window, he attempted to end his life by hanging himself in an electric fixture, using a cowhide strap"
His "apparently lifeless body" was rushed to Uniontown Hospital, said the Morning Herald, and "later in the day he completely recovered consciousness, not any the worse for his close call." Authorities found a suicide note among his things, blaming "his mother for his troubles." He was sent to Fayette County jail for his own protection.
Samuel eventually was institutionalized after the near-suicide. In May 1930, when the federal census was taken, he was listed as a patient in the male asylum at Mayview State Hospital in the South Fayette Township section of Pittsburgh. At age 28, the census-taker recorded that Samuel was a "ward worker" at Mayview.
He is believed to have died in 1933, at age 31, and to rest beside his mother in Allegheny Cemetery in Pittsburgh (Section 38, Lot 79).
~ Daughter Alice J. (Sidebottom) Hayes Ullery ~
Daughter Alice J. Sidebottom (1906- ? ) was born in Fayette County on March 20, 1906. She was twice married.
Her first husband was Lloyd Ellsworth Hayes (1894-1941) of Greensburg, Westmoreland County, PA, and the son of Henry and Mary (Myers) Hays. The couple was wed in nuptials taking place on Nov. 13, 1922, in Uniontown, when she was age 16 and he 28.
They had two known daughters -- Helen Martoni and Beatrice Hayes.
They lived in Greensburg in 1924 and in Pittsburgh in 1929-1934. She is known to have traveled to visit at her sister Jessie Kennedy's residence in Uniontown in late December 1929 and early January 1930, as reported in the gossip columns of local newspapers. Alice and her sister Jessie Kennedy received a payment of about $57.54 each in January 1931 as a bequest from the estate of their late grandfather, Lewis Firestone.
By the early 1940s, Lloyd had obtained employment as a machinist with the Pennsylvania Railroad, and they relocated to a dwelling at 621 Stone Street in Greensburg.
Alice was involved in a serious automobile accident while driving in Uniontown in September 1934. Said the Morning Herald, he "was thrown violently into the windshield and against the steering wheel which was splintered. At the Uniontown Hospital she was booked as having lacerated forehead, badly injured ankle, chest and probably internal injuries.... William Kennedy, 22, of Coolspring, brother-in-law of Mrs. Hays [sic], suffered the loss of several teeth and severely lacerated face."
Tragedy rocked the family in the wee hours of Aug. 24, 1941. While standing next to Route 3 west of Greensburg, at 2:25 a.m., the 47-year-old Lloyd was struck by a moving automobile, and died of shock and internal injuries. His broken remains were placed into repose in Westmoreland Memorial Park.
His untimely death left Alice a widow at age 35. She made a living as a beautician, and lived in the North Side of Pittsburgh at 506 Shawano Street.
She married again, in March 1943, to 34-year-old mill worker Robert L. Ullery (1908- ? ), son of John and Isey (Johnson) Ullery of Greene County, PA. At the time of marriage, Robert resided at 1011 James Street in Pittsburgh.
Nothing more about them is known.
Granddaughter Helen Hayes (1924- ? ) was born on July 8, 1928 in Greensburg, Westmoreland County. At age 21, in 1946, she lived with her mother at 506 Shawano Street on Pittsburgh's North Side. That year, on Feb. 5, 1946, she married Charles Martoni (1922- ? ), son of Italian immigrants Patsy and Marie (Miele) Martoni. Charles was employed as a selector in Pittsburgh, and lived at the time of marriage at 5024 Dearborn Street.
~ Daughter Irene M. (Sidebottom) Love Grimes ~
Daughter Irene M. Sidebottom (1908- ? ) was born in 1908 in or near Connellsville, Fayette County.
She married James Love (1904- ? ), a truck driver of Scottdale, Fayette County. The marriage took place in Uniontown on Sept. 8, 1925.
They lived in Connellsville in the mid-1920s and later in Pittsburgh and by 1934 in the Coolspring section of Uniontown.
They had two known daughters, Irene M. Turowski and Jessie Ruth Love.
In March 1934, daughter Jessie celebrated her sixth birthday with a party at home. Her mother, said the Uniontown Morning Herald, "entertained with music, both piano and radio, and a luncheon of sandwiches, lemonade, fruit, nuts, candy and ice cream."
By the early 1940s, Irene and James separated, with James moving to Chicago. By 1946, Irene had remarried to (?) Grimes and worked with power machinery.
Granddaughter Irene M. Love (1926- ? ) was born on Aug. 30, 1926 in Connellsville. At age 16, in 1943, she resided with her mother in Pittsburgh. That year, in February 1943, she married 19-year-old Pittsburgh mill worker Harry J. Turowski, son of Frank and Wanda (Haas) Turowski. At the time of marriage, Harry lived at 501 Warfield Street.
Granddaughter Jessie Ruth Love (1927- ? ) was born on March 5, 1927 in Connellsville. She moved to Pittsburgh with her mother and in 1946 was employed as a telephone operator. At the age of 19, in September 1946, she married Robert A. Prosco (1924- ? ), a 22-year-old truck driver. Robert was the son of Stanley and Elsie A. (Blavis) Prosco of Pittsburgh, and at the time of marriage lived at 1014 Galveston Avenue.
Copyright © 2004, 2012-2013, 2015 Mark A. Miner
Connellsville Courier articles courtesy of Ancestry.com. Grave photographs taken April 2013.