Elizabeth (Gaumer) Welker
(1783-1865)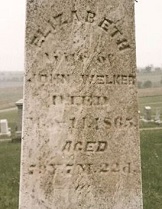 Elizabeth's grave

Courtesy "Marilee"
Elizabeth (Gaumer) Welker was born in about 1783 in Oldtown, Allegany County, MD, or on Sept. 22, 1787 in nearby Londonderry Township, Bedford County, PA, the daughter of Johann "Jacob" and Maria Catherine (Sowash) Gaumer. Her maiden name also has been spelled as "Gomer."
Elizabeth married John Welker Sr. (1777?-1869), of German descent and a native of Maryland. By the early 1800s, they migrated to Southampton Township, Somerset County, PA, where several of their children were born in 1804 and 1805.
In about 1808, when Elizabeth was age 25, and John 31, they traveled to Ohio with John's brother David and secured farm property in Knox County. As such, they were considered "among the first settlers of the county." The location of their settlement was in Section 15.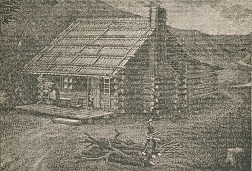 Typical Ohio log cabin, from their son's book
Other Welkers who migrated to Knox County include Abraham Welker and Paul Welker in about 1806 or 1807.
When the War of 1812 broke out, it's reputed that John took up arms with the United States Army. He is said to have held the rank of "high private." As compensation for his services, he allegedly was given a grant of land. This needs to be researched more fully.
The Welkers produced a large family of 14 children. Among the known names are Esther Simon, Samuel Welker, Rev. John Welker Jr., Delilah Meredith, Catherine Tucker, David Welker, Daniel Welker, Nelson Welker, Judge Martin Welker, Drusilla Moffitt, Edith Dillon, Edwin Welker, Dillon Welker and Jacob Welker.
In the book History of Wayne County, authored by Ben Douglass, John is mentioned as "an early settler in Ohio, and having but little means to educate a large family, [his children] were obliged to rely almost exclusively upon [their] own resources, which did not consist of money, influence or friends."
John is said to have built the first brick house in Union Township, Knox County, and to have been the first merchant and first postmaster in the town of Millwood, Knox County.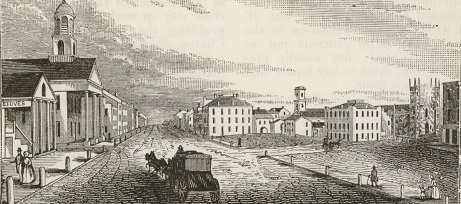 Mt. Vernon, Knox County, Ohio, 1846
John also is profiled in Albert Adams Graham's 1881 book History of Knox County, Ohio: Its Past and Present [link]. A profile of John reads as follows: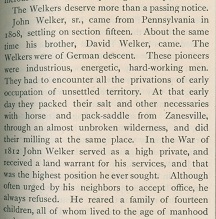 1881 History of Knox County
These pioneers were industrious, energetic, hard-working. men. They had to encounter all the privations of early occupation of unsettled territory. At that early day they packed their salt and other necessaries with horse and pack saddle from Zanesville, through an almost unbroken wilderness, and did their milling at the same place. In the War of 1812 John Welker served as a high private, and received a land warrant for his services, and that was the highest position he ever sought. Although often urged by his neighbors to accept office, he always refused. He reared a family of fourteen children, all of whom lived to the age of manhood and womanhood.... John Welker, sr, lived many years in the enjoyment of the fruits of his pioneer labors.
Elizabeth died in Knox County on May 14, 1865, at the age of 79 years, seven months and 22 days. She was placed into eternal repose in Workman Cemetery, Danville, Knox County.
John survived his wife by almost four years. By 1862, all of the children had migrated away from Knox County except for their son Daniel.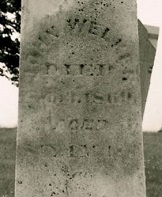 John Welker's fading grave
Courtesy "Marilee"
During the American Civil War, at least seven known Welker descendants, including spouses, took up arms in the Union Army cause -- Matthew " Stewart" Welker ( 115th Illinois Infantry), Col. Martin Welker (aide-de-camp to Gov. William Dennison and assistant adjutant general with Gov. David Tod), Dillon W. Moffitt (54th Illinois Volunteer Infantry), David C. Parish (59th Illinois Volunteer Infantry), James Tucker (Illinois regiment), Claborne Welker (65th Ohio Infantry and Jones Tucker (Illinois regiment). Sadly, two of them gave their lives -- Moffitt and Parish. Details are below.
He was swept away by the Grim Reaper on Feb. 3, 1869 in Union Township, Knox County. His remains were laid to rest with his wife in the Workman Cemetery. [Find-a-Grave]
The Welker family is outlined in part in the 702-page book A Givens-Hall Family History from Pre-Revolutionary Times to 1970 (Commonwealth Press, 1971).
~ Daughter Esther (Welker) Simon ~
Daughter Esther Welker (1804- ? ) was born in about 1804 in Southampton Township, Somerset County, PA. As a girl, she migrated with her parents to Knox County, OH.
On March 6, 1828, when she was 24 years of age, she was united in holy matrimony with William Simon ( ? - ? ). The ceremony took place in Knox County.
The couple may be the same as "Wm. and Esther Simmons" who, in 1850, lived in Harlem, Delaware County, OH. If so, William was a stone cutter, and they had two daughters, Elizabeth Simmons and Louisa Simmons. But this all needs confirmation.
~ Son Nelson Welker ~
Son Nelson Welker (1815- ? ) was born in about 1815 in Union Township, Knox County.
On June 21, 1835, in Knox County, the 20-year-old Nelson was wedded to Elizabeth Wolford ( ? - ? ). Nothing more is known, other than that he was still alive in 1841.
They may be the same Nelson and Elizabeth "Walker" of Ohio, ages 32 and 30 respectively, who migrated to Missouri and in 1850 dwelled in District 51 of Livingston County. But this needs to be confirmed and sorted out.
Copyright © 2000, 2015-2017 Mark A. Miner
Many thanks to Ken Moffitt for sharing his family's history compilations. John and Elizabeth (Gaumer) Welker grave marker photos courtesy "Marilee." Edith (Welker) Dillin grave marker photo courtesy Leonard Sapone. Obadiah Dillon image courtesy "Svandee."