Home

Johann 'Jacob' Gaumer Sr.
(1756-1820)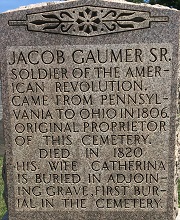 Jacob's grave marker
Johann "Jacob" Gaumer Sr. was born on April 15, 1756 in Macungie Township, Northampton (now Lehigh) County, PA, a son of Johann Dietrich and Maria "Elizabeth" (Meinert) Gaumer Sr.
One source -- J. Hope Sutor's 1905 book Past and Present of the City of Zanesville and Muskingum County, Ohio -- states that Jacob was born in Germany. But other evidence places his birth in Pennsylvania. The family's tradition of primarily speaking German in America likely could have resulted in the misunderstanding.
He was baptized on July 30, 1756. His sponsors were (?) Eigner and his wife Elizabeth. Records naming the Gaumers were kept in the German Evangelical Lutheran Protestant Church of near Allentown, PA, sometimes known as the Zion Union Church.
During the American Revolution, Jacob served as a drum major serving under General George Washington. The Past and Present of Zanesville book says in flowery language that "When this country was still a part of the colonial possessions of Great Britain, he became a resident of the new world, establishing his home in Virginia and when the colonies could no longer endure the yoke of British oppression and rose in arms against the mother country he joined the troops under General Washington and served as a drum major in the army."
The 1917 book History of Champaign County, Ohio, edited by Judge Evan P. Middleton, states that "sometime after the 'embattled farmers stood and fired the shot heard round the world' at Concord bridge, Jacob Gaumer left his farm and those dear to him to follow the martial fortunes of Washington, from Ft. Du Quesne to Yorktown, as drum major."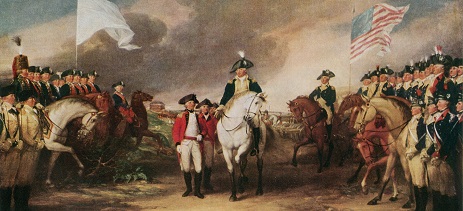 John Trumbull's famous painting of Cornwallis' surrender to Washington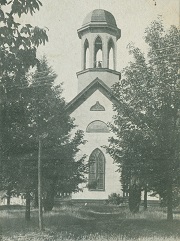 New Hope Lutheran Church
Jacob was "an officer in the Revolutionary war and was present at the surrender of Cornwallis at Yorktown," said the Abraham J. Baughman book History of Richland County, Ohio, from 1808 to 1908.
He was included in a general return of soldiers' names as a member of Captain Cas. Grienlmyer's Company in the First Battalion, County of Northampton, Nov. 1, 1781 to Jan. 1, 1782, published in the Pennsylvania Archives, Series 5, Volume 8, page 60. His name also was printed in a muster roll of Captain George Knapingberger's Company in the Second Battalion of Northampton County Militia, May 15, 1878, Second Company, Eighth Class.
On March 10, 1780, when he would have been the age of 23 or 24, Jacob married 21-year-old Maria "Catharina" Sowash (or Showash) (1759-1814), daughter of Johannes "Heinrich" and Maria Anna Esther (Schneider) Sowash. Catharina's father also was a veteran of the American Revolution, having been a member of Capt. Eyster's Company.
The Gaumers produced a family of eight children – Daniel Gaumer Sr., Elizabeth Welker, Maria "Catherine" Sturtz, Sarah "Sally" Fox Sturtz, Jacob Gaumer Jr., Susanna Sturtz Baughman, John Gaumer and Mary Welker.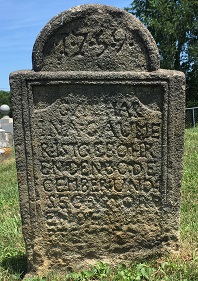 Catharine's grave marker

They resided in Southampton Township, Somerset County, PA before moving west to Ohio in 1806. The Zanesville Signal once said that in their move, they arrived first to Zanesville, "thence cutting a road through the primeval forest to near the site of Gilbert, Washington township, this county. Some years later he removed to Salem township, near Adamsville...." The original farm was about eight miles north of Zanesville.
Research by Lorle Porter and Beatrice Sprague Fisk shows that "a small pocket" of German Lutherans migrated into the Adamsville area, some originating in Loudoun County, VA. A circuit preacher, Rev. Samuel Kaemmerere occasionally stopped in the community to lead hymn-singing at the residence of George Border.
Their son Daniel followed to Ohio three years later, in 1809, said the History of Champaign County, having "found the lure of the West irresistible." At the time of their arrival, they established a "home in the then unbroken forest, a few miles north of Zanesville," said the History of Richland County.
Among those who were pioneers of Salem Township circa 1810-1812 were William Denison, who erected the first cabin and planted the first orchard; Jess Williams, whose marriage to Lucy Denison was the first wedding; Gordon Williams, the first white birth; and Jacob Swigert, Peter Shroyer, Peter Worts and Adam Wade. Additional newcomers in 1814-1815 were Lawrence Wisecarver, George Stoner, George Sturtz, Samuel Sturtz, Jacob Sturtz, Peter Livingood and Joseph Stiers.
1759
CATHAR
INA·GAUME
R·IST GEBOHR
EN:DEN 30 DE
CEMBER UND 4
SE GESTORB
EN DEN: 1·SE
PTEMBER
1814
Epitaph on Catharina's grave
Jacob was a blacksmith and a gunsmith in Salem Township, as noted in the Past and Present book.
In about 1811, Jacob deeded a two-acre portion of his farm for a burying ground affiliated with the newly forming Lutheran congregation of which he and Catherine were charter members along with sons Jacob Jr. and Daniel and their wives. The price of the deed was $4.00. A part of the land was to be used as a cemetery, said the Zanesville Signal, "with the expressed provision that no suicides were to be interred therein. That provision was respected." The New Hope Evangelical Lutheran Church began with 31 members, and a small building of worship erected there in 1817. Jacob and Maria Catherine were considered among the congregation's founders.
Maria Catharina died on Sept. 5, 1814 at Adamsville. Hers' was the first burial in the churchyard of the New Hope Church. Her young granddaughter Hannah (Gaumer) Bell, who lived to the age of 101, attended the interment and recalled the event for the rest of her life. [Find-a-Grave] Catharina's grave marker was inscribed in the German language, with the words spelled out here.
Jacob outlived her by six years, passing away on May 5, 1820 at the age of 64. [Find-a-Grave]
They also are named in the book Portrait and Biographical Record of Guernsey County, Ohio.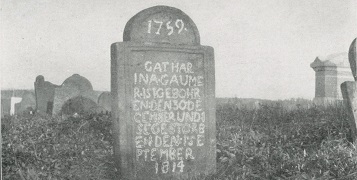 Photo of Catharina's grave marker, 1913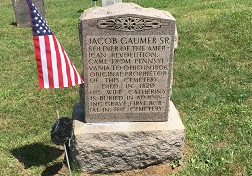 Jacob's grave, erected 1927
In 1838, the New Hope Church built a two-story brick building to replace the original one. The brick was molded by the Gaumers' son Daniel. After more than three decades, the structure was beginning to fail. On May 14, 1870, a cornerstone was placed for a new frame building on one acre donated by grandson Jonathan Gaumer. It measured 42 ft. by 70 ft., was completed at a cost of $6,000 and dedicated on May 28, 1871. Many years later, in August 1936, the Zanesville Signal said that the church "is situated among huge shade trees near the old church site on ground donated by Daniel Gaumer, son of Jacob Gaumer. The bell on the church was bought of the German Lutheran church in Zanesville for $250, having originally cost $500. Its weight, exclusive of mountings, is 1175 pounds."
The Civil War broke out some four decades after Jacob's passing. He and Maria Catharina never could have known that at least 29 of their direct descendants, including spouses, would take up arms for the Union Army cause, with several sacrificing their lives.
In 1927, a marker was placed at Jacob and Catherine's grave by their great-great-grandson Charles Newton Gaumer. The following year, Jacob and the story of their migration to Ohio was recounted in Charles' obituary in the Zanesville Signal published on Dec. 8, 1928.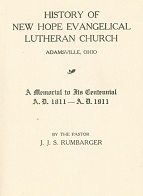 History of New Hope
The genealogy of the Gaumers was initially spelled out in an unpublished manuscript, Gaumer Family History in the United States, authored by E.S. Gaumer of 48 Kensington Road in Coshocton. Copies of this history were circulated to relatives around the country, including to such places as Topeka, KS.
On June 20, 1927, Pennsylvania State Archivist H.H. Shenk issued a letter confirming that Jacob's name appears on the muster rolls of the Northampton County Militia. Over the years, a number of descendants have been admitted to membership in the Sons of the American Revolution based upon Jacob's service.
Among the known SAR members are Chester Thomas Gaumer (National #75355) of Topeka, KS; Willard Floyd Gaumer of Indiana (National #62588); Boyd Eastlack Ryan of El Paso, TX (National #75016); Basil Edwin Ryan of El Paso, TX (National #75766); and Wymer Wyche Manning of Norfolk, VA (National #71625).
On Jan. 4, 1934, Mrs. Charles H. Sturtz of 3014 East Sixth Street in Kansas City wrote to the U.S. Veterans Administration, asking for information about Jacob and his son Jacob Jr. Her letter, preserved today in the National Archives, states the following: "Jacob Gaumer, Sr. Muskingum Co. [O]hio, d. 1820. I believe he may be the father of Jacob Gaumer, who married Betsey Sturtz, information which I would also like to have. Said Gaumer said to be a drum major in Washington's army. What was his war record & family?.... I do not know whether I am asking too much, but I need all of this information to complete the work I am doing on this family. I thank you very much."
Books Mentioning Johann "Jacob" Gaumer
Past and Present of the City of Zanesville and Muskingum County, Ohio - by J. Hope Sutor, 1905.
Biographical and Historical Memoirs of Muskingum County, Ohio (Chicago: Goodspeed Publishing, 1892).
Everhart's History of Muskingum County (Columbus: Ohio State Archaeological and Historical Society, Ohio State Museum).
The Gaumer Family and Allied Lines - by Myrtle Knepper Weniger
History of Richland County, Ohio, from 1808 to 1908 - by Abraham J. Baughman.
Portrait and Biographical Record of Guernsey County, Ohio.
85th Anniversary Membership Registry and Roster of All Members of the Kansas Society of the National Society, Sons of the American Revolution, from 1892 to 1977 - The Kansas Society, 1977.
History of Champaign County, Ohio: Its People, Industries and Institutions, Volume 2 - edited by Judge Evan P. Middleton (Indianapolis: B.F. Bowen & Company, Inc., 1917).
A People Set Apart: Scotch-Irish in Eastern Ohio: From the Forks of the Yough to the Killing Fields of Georgia - By Lorle Porter (Zanesville: New Concord Press, 1998).
History of New Hope Evangelical Lutheran Church, Adamsville, Ohio - by J.J.S. Rumbarger (Columbus: Lutheran Book Concern, 1913).
Soldiers of the American Revolution Buried in Ohio, Vol. 1 (1929).
Copyright © 2000, 2011, 2015-2016, 2020 Mark A. Mine
Minerd.com extends thanks to Jeanne Gaumer and Jeannie Beghart LaCues for graciously sharing information early in the process of compiling this biography.