Maria 'Catherine'
(Gaumer) Sturtz
(1784-1860)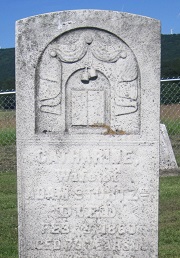 Catherine's grave
Maria "Catherine" (Gaumer) Sturtz was born in 1784 in Southampton Township, Somerset County, PA, or in Oldtown, Allegany County, MD, the daughter of Johann "Jacob" and Maria Catherine (Sowash) Gaumer. She spent her entire life in the Somerset area.
In about 1800, Catherine married John "Adam" Sturtz Sr. (1777-1860), of Bedford County, PA, the son of Christian and Catherine Sturtz Sr.
Many years after Adam's death, a history book (in Illinois, of all places) said that he had been "a farmer, a miller, a carpenter, and was a pushing and energetic character."
One source, Myrtle Knepper Weniger's work, The Gaumer Family and Allied Lines, states that Maria Catherine's birthdate was May 26, 1792 and that she was baptized on June 17, 1792 and moved to Ohio in 1809. But all other evidence points to her spending her life in Somerset County. It's possible the family went back and forth between the two places over the decades.
When the federal census was enumerated in 1850, the 66-year-old Catherine and 73-year-old Adam dwelled with their son John Adam and his wife Susanna in Southampton Township.
It's entirely likely that the Sturtzes were members of the Comp Reformed and Lutheran Church. A paragraph about the church, in Waterman Watkins & Co.'s 1884 book History of Bedford, Somerset and Fulton Counties, Pennsylvania, states that it "is an old organization. In the first church-book nothing but baptisms are recorded. The date of the first baptism is 1810. The Comp, Troutman and Leidig families were the principal early members of this congregation. Revs. Hauger, Heyer, Finkel, Meyer, Schlögel, Stuft, and John Nunner were Lutheran pastors, Revs. H.J.E. Voigt and H. Ebbekan, Reformed. The present pastor, Rev. B. Knepper, has been in charge since 1880. The first church was probably erected about 1809. The present was dedicated in November, 1880. The membership is between forty and fifty. The services are conducted in German and English, alternatively."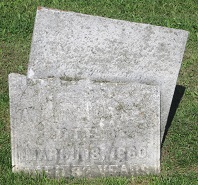 Adam's grave, Comp Cemetery
The Sturtzes had nine children -- Jacob Sturtz, Catherine (Sturtz) Sturtz, Susanna Hoyman, Elizabeth Comp, Hannah Comp, Solomon "Sollie" Sturtz, Lydia Boyer, Rachel Emerick and John Adam Sturtz Jr.
Catherine died in Southampton at the age of 76 years, 10 months and 26 days on Feb. 4, 1860.
Adam only lived for a month and a half after his wife's passing. He joined her in eternity, at the age of 82, on March 18, 1860.
They are buried side by side at the Comp Cemetery in Comps Crossroads, Southampton Township. [Find-a-Grave] Today, Catherine's marker stands erect and tall, while Adam's grave marker is broken in half, with the top half leaning against the bottom, and both somewhat legible. Epitaph inscriptions appear to be on both halves but are very difficult to ascertain.
Their respective deaths preceded the Civil War by about a year. At least seven of their grandsons or granddaughters' husbands took up arms in the conflict, all with the Union Army -- Henry Hoyman (46th Illinois Volunteer Infantry), Aaron Moss (21st Iowa Infantry), John J. Sturtz (21st Iowa Infantry), Adam Sturtz (32nd Iowa Infantry), Solomon Sturtz (32nd Iowa Infantry), Michael Sturtz (32nd Iowa Infantry) and Jacob "Adam" Burkett (171st Pennsylvania Drafted Militia).
Tragically, three Sturtz soldiers sacrificed their lives for the cause -- Adam, Michael and Solomon -- and each by disease. Details are below. More research is being done to identify additional soldiers in this family, and to uncover their stories to be told here.
The couple is named in the 1912 book by John W. Jordan and James Hadden, entitled Genealogical and Personal History of Fayette County, Pennsylvania, Vol. III. In the text, her maiden name is misspelled "Gormaer."
Researcher and photographer Richard DeVore has contributed significantly to our understanding of the Sturtz family grave markers at Comp's Church Cemetery.

Comp's Church and Cemetery in the distance
~ Daughter Catharina (Sturtz) Sturtz ~
Daughter Catharina Sturtz (1805- ? ) was born in about 1805 in Southampton Township, Somerset County.
She married a cousin, Adam Sturtz ( ? - ? ).
Evidence hints that Catharina may have died in 1864, but this is unproven.
They are named in a short reference in the 1912 book by John W. Jordan and James Hadden, entitled Genealogical and Personal History of Fayette County, Pennsylvania, Vol. III.
More research on this couple is underway.
~ More ~
We are grateful for records provided by Gilbert R. Gaumer of Glendale, MO (compiled 1973-1980), Paul K. Gaumer and Mary L. Shirer in the preparation of this biography.
The Gaumer and Hoyman clans are profiled in the 486-page book Some Notes, Quotes, and Quips of the Hoyman Clan and Related Lines, authored by David LeRoy Baldwin and published by Gateway Press in 1993.
Copyright © 2000, 2011, 2015-2017 Mark A. Miner
Contributing their knowledge to this biography have been the late Gilbert R. Gaumer, Barbara (Moss) Wardsworth and Keith Sturts.