Home

Rev. George Gaumer
(1820-1901)

Rev. George Gaumer
Rev. George Gaumer was born on March 13, 1820 in Gilbert, Washington Township, Muskingum County, the son of Daniel and Hannah (Baughman) Gaumer Sr. At the age of just under three months, on June 8, 1820, he was baptized by Rev. Lewis Schied.
His friend Adolphus LeRoy Yount wrote that he "was brought up in a Christian home" and that he "was baptized in infancy and confirmed when he was only 12 years old." The confirmation actually took place when he was age 17 in the family's New Hope Evangelical Lutheran Church in Adamsville, Muskingum County on March 26, 1837, with Rev. Samuel Kaemmerer officiating.
On Oct. 25, 1846, when George was 26 years of age, he wedded Mary Anna Kelly ( ? - ? ), a resident of Adamsville. They did not reproduce.
Pulled by a spiritual calling, George became a minister of the Evangelical Lutheran Church in Muskingum County. He attended Capital University in Columbus "with a view of studying for the ministry," wrote Yount, "but his health having failed, on account of overwork, he was compelled to discontinue his studies for several years. Having, for the time being, given up his purpose of devoting himself to the ministry, he engaged in teaching. After teaching for several years his health was restored, and he resumed his studies in Columbus, and finished his theological course" either in 1852 or 1854. (Sources differ.)
The book Biographical and Historical Memoirs of Muskingum County, Ohio, states that George "became an effective Lutheran preacher" in Adams Township. His first church was in the Adelphia parish and then for three years had a church in Carrolton, OH
Much of what we know about the rest of his career is contained in the 1925 book by Ellis Beaver Burgess, entitled Memorial History of the Pittsburgh Synod of the Evangelical Lutheran Church, 1748-1845-1924, and in the 1913 book History of the New Hope Evangelical Lutheran Church of Adamsville, Ohio.
George's profile in the 1913 history of his home church in Ohio
He was named pastor of two churches in southwestern Pennsylvania which he served from 1856 or '57 to April 1868 -- Good Hope Evangelical Lutheran Church of Indian Head, Fayette County and Mount Zion Evangelical Lutheran Church of Donegal, Westmoreland County. At Good Hope, he held his first communion service for 25 worshippers on May 30, 1859. Wrote Adolphus LeRoy Yount:
It is always a pleasure to follow the records of this dear brother, who is now gone to his reward; they are always legible and reliable. He ministered to this congregation all these years in all earnestness and fidelity. During his pastorate he baptized 28 children and added a number of adults to the membership of the congregation. The highest number present at any one communion service was 40, and the membership, when he resigned, was reported as 45. In April, 1868, he resigned this parish and accepted a call to Medina, Ohio.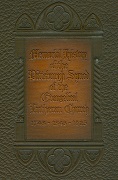 Pittsburgh Synod
history naming George
In April 1873 or '74, George was named to succeed Pastor Philip Duerr at the First Evangelical Lutheran Church of Venango, Crawford County, PA. In this role, the Memorial History describes him as:
...a man of gentle and irenic spirit, but he was not strong enough to control the synodical controversy that broke out in the community during his pastorate. It is claimed that this controversy was stirred up by a former pastor, who returned to the field for that purpose. When Pastor Gaumer proposed the erection of a new church there was an eager response from the people, so that half of the estimated cost was subscribed. Then the question was raised by Solomon Lasher as to whether it would be dedicated as a General Synod Church. When the pastor answered in the negative, Mr. Lasher and his friends objected so strenuously that it became necessary to use discipline and expel twenty-three of them from the church. These expelled members rallied their friends, held a meeting and adopted [a] resolution.
The Lasher contingent of 58 Protestants applied for and were approved for membership in the Pittsburgh Synod under the name of Zion's Lutheran Church of Venango County. Litigation ensued to control the former church building, and George "issued 'A Call in Time of Need', and sufficient funds were gathered to build a new General Council church."
George left the Venango congregation and in 1874 was named pastor of the St. Paul's Evangelical Lutheran Church of Drake's Mills, Crawford County and also the newly forming Christ's Evangelical Lutheran Church of Mosiertown, PA. That same year, Mosiertown church was admitted to membership of the Pittsburgh Synod. On Sept. 20, 1874, George conducted the first communion service there in which 24 members received the sacrament under the names Dengler, Mosier, Motter, Moyer, Oswalt and Zimmer.
In April 1882 , George was appointed to succeed Rev. J.S. Fink as pastor of St. Paul's ("Seanor's") Evangelical Lutheran Church of Hempfield Township, Westmoreland County. He apparently was affiliated also with the Hope ("Hoffman's") Evangelical Lutheran Church of South Huntingdon Township, Westmoreland County, and is named as such in the book History of the Southern Conference of the Pittsburg Synod of the Evangelical Lutheran Church by Adolphus Le Roy Yount.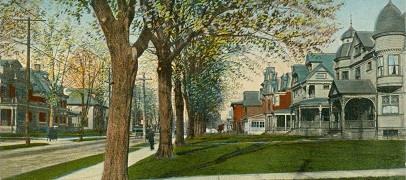 Greenville's residential neighborhood
He retired from St. Paul's in October 1884 and took up residence in Greenville, Mercer County, PA. They purchased a plot of ground near the campus of Thiel College and constructed a "comfortable home." They used the dwelling as a boarding house for a select few Thiel students. "Those who were fortunate enough to secure boarding at this place were envied, more or less, by the other students, because the Gaumer home had the reputation of being a choice boarding house," said his profile in the book History of the New Hope Evangelical Lutheran Church of Adamsville, Ohio. Thiel had been founded in the 1860s by Lutheran pastor William A. Passavant who also had launched hospitals and orphanages in southwestern Pennsylvania and other states.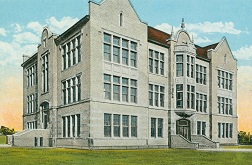 Thiel College administration building
At some point the Gaumers provided room and board for two former pastors from his home church in Adamsville. During that time, they regularly attended services of Holy Trinity Lutheran Church in Greenville.
In 1900, at the age of 80, he and Mary Anna sold their home, donated the proceeds to Passavant Hospital in Pittsburgh and then were given rooms there. "With christian resignation," Yount wrote, "he waited for the Master's call."
Said the History of the New Hope, "Loving hands ministered to his wants and smoothed his pathway to the tomb. His last sickness was brief and painless. He gently and sweetly fell asleep." He died on May 7, 1901 at Greenville and the age of 81 years, two months and four days. As requested, burial was in Greenville. Eulogized Yount: "He was a devout Christian, a humble minister, a kind pastor, and a true sympathetic friend, meek and guileless, like Nathaniel, and loving, like John."
He is named in J. Hope Sutor's 1905 book Past and Present of the City of Zanesville and Muskingum County, Ohio, which erroneously states that George was still alive in 1905 and a Lutheran minister in Mercer County, PA.
~ More ~
We are grateful for records provided by Gilbert R. Gaumer, Paul K. Gaumer, Mary L. Shirer and the National Archives in the preparation of the Daniel Gaumer Sr. family biographies.
Copyright © 2000, 2006, 2011, 2015-2017 Mark A. Miner