Home

Daniel Gaumer Sr.
(1781-1859)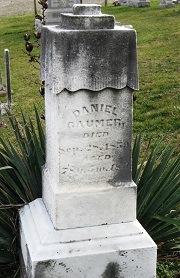 Daniel's grave, Adamsville, OH
Courtesy Susan - "SC22"
Daniel Gaumer Sr. was born on April 10, 1781 in Oldtown, Allegheny County, MD, or in Virginia, the son of Johann "Jacob" and Maria Catherine (Sowash) Gaumer. He was a farmer and an early settler of Ohio.
J. Hope Sutor's 1905 book -- Past and Present of the City of Zanesville and Muskingum County, Ohio -- states that Daniel was "born in Virginia ... but spent his boyhood days in Somerset county, Pennsylvania." Another work, The Gaumer Family and Allied Lines, by Myrtle Knepper Weniger, states that he "moved with his parents to Bedford [Somerset] Co., Pa., in 1784 and to Ohio in 1809."
On Sept. 3, 1800, or Oct. 4, 1801 (records differ), at the age of 19 or 20, Daniel married 16-year-old Hannah Baughman (1785-1874) at Wellersburg, Southampton Township, Somerset County, PA. Rev. Friedrich Long officiated at the ceremony. The 1801 date was taken from a record made in the old Gaumer family Bible, handwritten in German, which Hannah kept in her possession many decades later.
Hannah was born near Reading, Berks County, PA on March 10, 1785, the daughter of David Baughman, and had come to Somerset County at a young age.
The Gaumers went on to produce 14 children -- Lydia Shirer, Samuel Gaumer, Catherine Shirer, William Gaumer, Hester "Esther" Shirer, Jacob Gaumer, Gideon Gaumer, Rebecca Wymer, Daniel Gaumer Jr., Lebanon Gaumer, Rev. George Gaumer, Jonathan Gaumer, Charles Gaumer, Jesse Gaumer and Anthony Gaumer.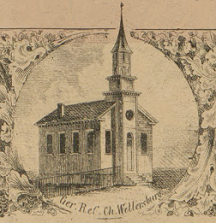 German Reformed Church, Wellersburg
Courtesy Library of Congress
The 1805 tax list of Southampton Township, Somerset County, shows Daniel among the taxable inhabitants. This list is published in the 1884 book by Waterman, Watkins & Co., entitled History of Bedford, Somerset and Fulton Counties, Pennsylvania.
The Waterman, Watkins book also states that the Gaumers were "principal early members" of the Wellersburg Reformed and Lutheran Church, which "was organized by Rev. Henry Giesy, about the year 1803."
In about 1806, Daniel's parents moved westward into Ohio, establishing a home near Zanesville, Muskingum County. The Zanesville Signal once said that in their move, they came first to Zanesville, "thence cutting a road through the primeval forest to near the site of Gilbert, Washington township, this county."
Three years later, in 1809, Daniel and family followed suit by moving to Ohio, where they planted their roots in Washington Township, Muskingum County. He was age 28 at the time, and Hannah 24. A manuscript family history, in the possession of great-great granddaughter Catherine "Alice" (Leydig) Matson, said that Daniel and Hannah and their five children "came to Ohio, they walked the entire distance, Mrs. Gaumer carrying the youngest child. All property carried on a one-horse wagon."
At the time of the Gaumers' arrival, they established a "home in the then unbroken forest, a few miles north of Zanesville," said the book History of Richland County, Ohio, from 1808 to 1908. Another book, Past and Present of Zanesville, says their home was established "upon a farm on the Muskingum river about seven miles from Zanesville."
In about 1811, Daniel and Hannah were charter members of the newly forming Lutheran congregation known as New Hope Evangelical Lutheran Church. Daniel's parents and brother Jacob Jr. and his wife also were inaugural members. They initially met in a structure made of logs.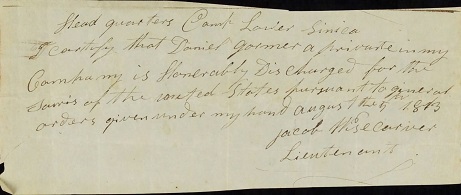 Daniel's Army discharge - National Archives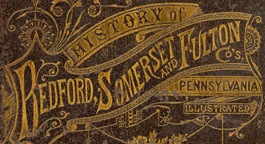 1884 Waterman & Watkins book naming Daniel
During the War of 1812, Daniel was drafted into military service. On April 5, 1813, he joined Captain William McConnell's Company of Ohio Militia as a member of the Rifle Corps, a regiment commanded by Col. Joseph Vance. The 1917 book History of Champaign County, Ohio, edited by Judge Evan P. Middleton, states in flowery language that "Daniel Gaumer, too, heard the call of his country in time of its need and went forth to do or die...."
During his time in the service, he was part of the Northwest Campaign under General William Henry Harrison and was at Upper Sandusky, OH and Detroit. After four months of duty, after hostilities ended, he received an honorable discharge at Lower Seneca, OH, on Aug. 4, 1813.
He received a land grant as bounty for his military service, and eventually drew a pension. [W.O. 8122, W.C. 5455] His name in government records also has been spelled "Ganmer" and "Gormer."

Rev. Samuel Kaemmerer
After the war, Daniel continued his labors in farming in Washington Township "for a number of years," says Past and Present of Zanesville. In about 1825, he and the family relocated away from the original farm new New Hope Church. Daniel:
...removed to Salem township, making his home near the Lutheran church. There he and his wife remained until called to their final rest, his attention being given to the development of the land which became very arable and productive. His political allegiance was given to the republican party and he was one of the earliest settlers of the New Hope Lutheran church. He donated to that church the ground that is now used for cemetery purposes. His landed possessions comprise one hundred acres and his farm was the evidence of his life of industry, perseverance and diligence.
According to the Zanesville Signal, Daniel "witnessed the construction here of the old state house built by the county for state purposes."
A clay deposit on Daniel's farm gave him resources for mining and firing the material into brick. In 1838, with the New Hope Church congregation expanding under the leadership of Rev. Samuel Kaemmerer, a decision was made to replace the log house of worship with a two-story brick structure. Daniel mined and molded the brick used in the building, which lasted for more than three decades. He also used homemade brick for his own residence, and it was still standing circa 1913.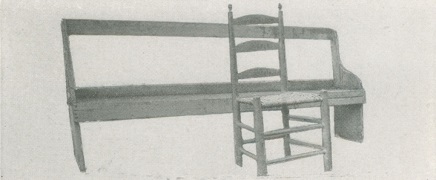 Furniture used by the Gaumers and others in the Adamsville log church

Hannah's "+" signature - National Archives
Wrote Rev. J.J.S Rumbarger, the church's pastor in 1913:
The brick building was erected on the site of the log church and in some respects, especially as to the interior arrangement, it was modeled after its predecessor. It was about thirty-six by forty-eight feet in dimensions, and was plainly constructed of straight walls without any pilasters. The gable ends were to the north and south. The pulpit occupied the west side, and to the north it it, along the wall, there were stalls partitioned off for the officers. This part was entered through a gate, and the officer sitting next to the gate would open it for the minister when he arrived to go into the pulpit. The pulpit was about six feet high, and, together with floor space it occupied, extended nearly half way through the room toward the east.... In 1855 a melodeon was purchased at a cost of $70.00. Prior to this time some one would start the tune and the rest would try to follow.... The exterior presented the appearance of a two-story building, which in a sense it was. There were windows below to give light to the main floor and also above to give light to the gallery. It was about twenty feet high.... It is not known that a photograph has ever been taken of this church...."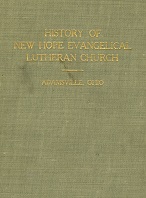 Book naming the Gaumers
Daniel died in Salem on Sept. 10, 1858 (or Sept. 28, 1859) at the age of 78 years, five months and 18 days. [Find-a-Grave]
Hannah outlived her husband by about 15 years. During that time, she petitioned the federal government to be granted a pension for her husband's military service.
During the Civil War, she worried as at least a dozen of her sons and other offspring joined the Union Army -- Lewis Shirer, Peter Shirar (172nd Indiana Infantry), Charles Shirar (46th Indiana Infantry), William Long (72nd Indiana Volunteer Infantry and 44th Indiana Volunteer Infantry), William Porter Bell (62nd Ohio Infantry), Daniel Gurley Shirer (62nd Ohio Infantry), Daniel Wymer (159th Ohio Infantry), Samuel J. Taylor (78th Ohio Volunteer Infantry), Lebanon Gaumer (69th Ohio Infantry), Jesse Gaumer (80th Ohio Volunteer Infantry), Anthony Gaumer (26th Ohio Infantry) and Solomon Werts (122nd Ohio Volunteer Infantry). Tragically, her son Anthony and grandson Lewis Shirer gave their lives for the cause. Details are below.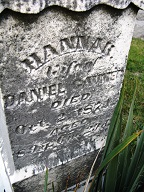 Hannah's grave
Courtesy Susan - "SC22"
On May 14, 1870, with the brick church in decay, a cornerstone was placed for a new frame building for the New Hope Church on one acre of good land donated by their son Jonathan. The building measured 42 ft. by 70 ft., was completed at a cost of $6,000 and dedicated on May 28, 1871.
Hannah died on Oct. 2, 1874 in Salem, at the age of 89 years, six months and 29 days. They are buried at New Hope Lutheran Cemetery in Adamsville. [Find-a-Grave]
Many decades later, in August 1936, the Zanesville Signal said that the church "is situated among huge shade trees near the old church site on ground donated by Daniel Gaumer, son of Jacob Gaumer. The bell on the church was bought of the German Lutheran church in Zanesville for $250, having originally cost $500. Its weight, exclusive of mountings, is 1175 pounds."
Daniel and the story of their migration to Ohio was recounted in the obituary of great-grandson Charles Newton Gaumer in the Zanesville Signal edition of Dec. 8, 1928.
When counted in 2015 for this biography, the number of their known grandchildren was 58.

Location of Daniel's farm, near Mechanicsville village, 1852. Library of Congress
~ Son Samuel Gaumer ~
Son Samuel Gaumer ( ? - ? )
~ Son Jacob Gaumer ~
Son Jacob Gaumer (1809- ? ) was born on July 15, 1809, either in Southampton Township, Somerset County or in Muskingum County, OH.
Notes in Myrtle Knepper Weniger's work, The Gaumer Family and Allied Lines, state that he lived in Ohio.
He apparently never married, and is reputed to have died in about 1833 in Salem Township, Muskingum County, at the age of 24. The cause of his early demise is not yet known.
~ Son Gideon Gaumer ~
Son Gideon Gaumer (1811- ? ) was born on July 6, 1811 in Washington Township, Muskingum County, OH.
Heartache rocked the family in 1825, when 14-year-old Gideon passed away. The reason behind his untimely death may be shrouded by the dark night of history. More will be added if and when learned.
~ More ~
We are grateful for records provided by Gilbert R. Gaumer, Paul K. Gaumer, Mary L. Shirer and the National Archives in the preparation of the biographies of the Daniel Gaumer Sr. branch of the family.
Copyright © 2000, 2006, 2011, 2015-2017 Mark A. Miner
Muskingum County maps and Wellersburg German Reformed Church sketch courtesy Library of Congress.