Home

Riley Gaumer was born on June 8, 1832 in Adams Township, Muskingum County, OH, the son of Jacob and Elizabeth (Sturtz) Gaumer Jr.
As the youngest in the family, he was the last to leave home. The 1850 federal census shows him at age 17, living with his parents in Adams Township, Muskingum County. He was a lifelong member of the New Hope Lutheran Church in Adamsville.
In about 1857, the 25-year-old Riley was joined in wedlock with Elizabeth Zimmer (June 1837-1908). Her parents both were immigrants from Germany.
Their five children were William O. Gaumer, Harvey Chalmer Gaumer, Melvin C. Gaumer, Albert Gaumer and an infant son. Sadly, the latter two boys died young, Albert at the age of 22 months on April 7, 1862 and the infant son at birth on Nov. 15, 1864. Their tender remains rest in New Hope Lutheran Cemetery in Adamsville.
When the United States Census was taken in 1860, the Gaumers dwelled in Perry Township, Muskingum County, and Riley earned a living as a carpenter. His brother Adam, also a carpenter, lived next door with his wife and children. Later, the brother and his family would migrate to Illinois.
Riley continued his carpentry work during the decade of the 1860s. The 1870 federal census enumeration shows him, Elizabeth and 13-year-old son William in their residence in Salem Township, Muskingum County. Also in 1870, five-year-old Ella Zimmer, having been born in Iowa, was living in the household as well.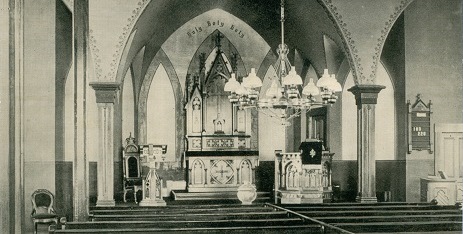 Above: sanctuary of New Hope Evangelical Lutheran Church, Adamsville. Below: the inscription "Holy, Holy, Holy" high above the altar.

During the 1870s, two more sons were born after a gap in years with older siblings. The 1880 census lists the family in Salem Township, with Riley maintaining his occupation of carpentry.
The Zanesville Times-Recorder once said that Riley was "one of this vicinity's best-known and most highly respected residents..."
The 1900 U.S. Census shows Riley at age 67 primarily making a living as a farmer. Only son Chalmer, age 27, was living in the home with his parents. Their residence was located two miles west of Adamsville.
Both Riley and Elizabeth passed into eternity in the same year. She succumbed at the age of 71 on Jan. 5, 1908, and he from heart trouble at age 76 on Feb. 25, 1908. In an obituary, the Times Recorder said that he "was born and lived all his life in this community. He was known as a successful farmer and carpenter and was held in the highest esteem by all who knew him. His wife preceded him to the great beyond only two months ago."
They rest in New Hope Lutheran Cemetery in Adamsville. [Find-a-Grave]
~ Son William O. Gaumer ~
Son William O. Gaumer (1857-1946) was born in about 1857 in or near Adamsville in Perry Township, Muskingum County, OH.
As a young man, William left Ohio to seek his fortunes in the West. At the age of 22, he is shown boarding in the home of Jacob and Elizabeth Zimmer in Buffalo Township, Barton County, KS. The Zimmers may have been relatives of William's mother.
At about the age of 25, in 1882, William married Eleanora K. (1859 - ? ), also a native of Ohio.
The couple produced three offspring, Iris "Clea" Shantz and Thomas "Marvin" Gaumer and one who died before 1910.
The Gaumers initially lived in Colorado, where their chidlren were born in the early 1880s, before relocating again. They migrated to Washington State, establishing a residence in Tacoma. Circa 1908, when he was named in the obituary of his father, William's whereabouts were cited in the Zanesville Times Recorder as "in the west."
Census records for 1910 show that William was employed as a carpenter in the Tacoma railroad car shops while daughter Cleo earned a living as a stenographer in a department store. Also in 1910, William's 54-year-old cousin Henry Gaumer, a native of Illinois, lived in the household and worked at the railroad car shops.
The Gaumers' marriage ended sometime during the decade of the 1910s, but whether to death or divorce is unknown. During those years, William married again to Mary E. (1856- ? ), and in 1920 they dwelled in Tacoma, with William continuing his work as a railroad carpenter. Mary is believed to have died sometime during the 1920s.
The 1930 and 1940 U.S. Censuses place William in the household of his married daughter Cleo Shantz in El Paso County, CO. He earned a little income as janitor for the local Methodist church.
William returned to Zanesville for the last time to visit with his brother in about 1933. He would hvae been about age 75 at the time.
At the age of 88, William died in the home of his daughter Cleo Shantz in Colorado Springs on Jan. 6, 1946. Word of his death was sent to his brother Chalmer back in Zanesville, and an obituary was printed in the Zanesville Times Recorder and Zanesville News. Burial was held in Colorado Springs.
Daughter Clea Gaumer (1891- ? ) was born in about 1891 in Colorado. She relocated with her parents to Tacoma, WA. In June 1912, she is known to have traveled with her friend Ethel Wade to Aberdeen, WA to visit with Rev. and Mrs. J.T. McQueen. When she was 21 years of age, she married 22-year-old Fred H. Shantz (1889- ? ), a Michigan native. They bore four known offspring -- Frederick L. Shantz, Helen S. Shantz, M. Byron Shantz and Wilbur M. Shantz. Fred earned a living as a commercial artist, specializing in drawing cartoons, and in 1940 owned his own business. Their home in 1930-1940 was in El Paso County, CO and circa 1946 was in Colorado Springs, CO.
Grandson

Frederick L. Shantz

(1916- ? ) was born in about 1916 in Colorado.
Granddaughter Helen S. Shantz

(1918- ? ) was born in about 1918 in Colorado. Unmarried in 1940 at the age of 22, she lived at home and was a self-employed piano teacher.
Grandson M. Byron Shantz

(1920- ? ) was born in about 1920 in Colorado.
Grandson Wilbur M. Shantz

(1922- ? ) was born in about 1922 in Colorado.
Son Thomas "Marvin" Gaumer (1894-1971) was born on Sept. 6, 1894 in Colorado. He was united in wedlock with Naomi Armida Siegried (Sept. 15, 1898-1958), a native of Michigan and of Swedish heritage. Their only known son was Marvin W. Gaumer. The Gaumers migrated to Southern California sometime by 1924 and lived in Los Angeles circa 1930-1940. The 1930 shows Martin and Naomi working as public school janitors, and with Naomi's brother and sister in law, Wendell C. and Melba C. Segerstein, boarding in their home. Marvin's employment in 1940 was as a janitor in a public school in Los Angeles, while Naomi earned additional income as a private cook and housekeeper. They made their residence in Seattle, King County, WA in 1946. Sadly, Naomi died in Los Angeles on March 29, 1958. Marvin survived his wife by a baker's dozen years. He died in Los Angeles on June 13, 1971.
Grandson Marvin W. Gaumer (1923-2013) was born on Dec. 17, 1923 in Los Angeles. After high school graduation, he joined the U.S. Navy and served during World War II. While at a United Service Organizations (USO) Dance during the war, he met his future bride, Mary Jane Bugbee (1924-1971), daughter of Edgar L. and Annie S. (Carter) Bugbee of New Hampshire. They married and relocated to Ridgefield, CT in about 1945. The Gaumers produced two children, Brian Gaumer and Nancy L. Gaumer. Marvin was employed for many years as an electrical engineer with Perkin Elmer Corporation. During his work years, he developed two inventions which received U.S. patents. Sadly, Mary Jane died in 1971 at the age of about 47. Said the Ridgefield Press, he was "an avid crossword puzzle enthusiast, he enjoyed attending social events at the Italian Club and would be considered a 'foodie' due to his frequent dining out." Marvin died at home at the age of 89 on Oct. 8, 2013. Interment was in Pine Grove Cemetery in Marlborough, Cheshire County, NH. Circa 2013, son Brian lived in Ridgefield and daughter Nancy in New Haven, CT.
~ Son Harvey "Chalmer" Gaumer ~
Son Harvey "Chalmer" Gaumer (1871-1961) was born on June 11, 1871 in or near Adamsville in Salem Township, Muskingum County, OH.
In 1900, unmarried at the age of 27, he lived at home and worked as a day laborer. He remained under his parents' roof until their respective deaths in early 1908.
Just a few months after his parents died, on June 22, 1908, Chalmer married 17-year-old Goldie Kinney (Dec. 24, 1891- ? ), who was nearly two decades younger than her husband. She was the daughter of Francis M. and Mary J. (Scott) Kinney of Dresden, Madison Township, Muskingum County.
They resided in Zanesville and produced two children, Harold Gaumer and Mary Elizabeth Moody Robinson.

Bird's eye view of Zanesville, early 1900s
The 1920 U.S. Census shows the Gaumers living in Zanesville, with Harvey earning a living as a laborer for a tube works. That year, boarders Bernard and Francis Adolph lived in their home.
The Gaumers were members of the Church of God in Christian Fellowship in Zanesville.
In 1927, their address was Ridge Avenue in or around Zanesville. They are known to have entertained a visit in February 1927 from Mrs. Adam Alexander and Mrs. Gail Alexander and her daughter June, with Gail en route to rejoin her husband in a new home in Winchester, IN. In May 1929, they attended a dinner celebrating their daughter's marriage to Floyd Moody.
By 1930, Chalmer was employed in a Zanesville pottery as a pattern maker. Their daughter and son in law dwelled under their roof that year. He continued that work throughout the decade of the 1930s as shown by the federal census of 1940. Their postal address in 1942 was on Blandy Avenue and in 1946 was at 20 South Seventh Street. His employer at one point was Mosaic Tile Company.
In December 1946, he became seriously ill and remained at home until taken to Good Samaritan Hospital after six weeks of suffering. He eventually returned home but and was mired in poor health for the remaining 15 year of his life. He died at Good Samaritan at the age of 89 on March 27, 1961. Rev. Richard McNeich of the Washington Township Baptist Church officiated at the funeral, followed by interment in Rose Hill Cemetery in Roseville, OH. An obituary was printed in the Zanesville Times Recorder.
Son Harold G. Gaumer (1911- ? ) was born in about 1911 in Zanesville. On Sept. 12, 1936, in nuptials held in Wheeling, Ohio County, WV, by the hand of Rev. Samuel Copeland, he wedded Ethel Reed (Aug. 2, 1917-1984), daughter of Willard T. and Roxanna Reed of Adamsville Road. They bore a daughter, Barbara Jean Guest. Their first home was located at 553 Brookover Avenue. By 1942, they relocated to Sonora, OH. Circa 1961, at the death of his father, they were in Canton, Stark County, OH. Their address circa 1984 was 2417 41st Street Northwest in Canton. Ethel died in Aultman Hospital in Canton on April 12, 1984 at the age of 66. Interment was at Chapel Mausoleum at North Lawn Cemetery.
Granddaughter Barbara Jean Gaumer ( ? - ? ) was born in (?) and graduated from McKinley High School in Canton. As a young woman, she was employed by East Ohio Gas Company. On oct. 13, 1962, she was wedded to James Edwin Guest ( ? - ? ), son of Norman Guest of Canton. At the time of marriage, he had attended Georgia Institute of Technology and was working for United Engineering and Foundry in Canton. She was pictured in a wedding announcement in the Zanesville Times Recorder.
Daughter Mary Elizabeth Gaumer (1912-1993) was born on Aug. 1, 1912 in Zanesville. In May 1929, she was united in matrimony with Floyd Moody (1907- ? ). He earned a living in the early years of marriage as a glass plant laborer in Zanesville. They were the parents of one son, Wendell L. Moody. Initially, the newlyweds resided with Mary's parents. They found their own home sometime between 1935 and 1940, and moved to Brush Creek, Muskingum County. Circa 1940, census records show Floyd employed as a laborer with the Works Progress Administration (WPA), a federal make-work program for unemployed Americans. They were Methodists. Her home in 1961, at the time of her father's death, was in Newark, Licking County, OH. Sadly, Floyd passed away first, leaving Mary a widow. On Aug. 14, 1984, at the age of 72, she wedded again to widower Ellis L. Robinson (April 14, 1905-1991), a retireee from McCoy Pottery, and the son of George and Mary Robinson of Roseville. He brought three adult children to the union -- Robert L. Robinson, Melva Nichols and Shelby Owens. Their address in 1991 was at 907 Virginia Street. Ellis died at home at the age of 86 on April 17, 1991. Circa 1993, her address was believed to have been at her son's home at 3795 Leisure Drive in McConnelsville, OH. She passed away at the age of 81, in the Mark Rest Center, on Sept. 19, 1993. The Zanesville Times Recorder printed an obituary, and Dr. Herbert Hicks presided at the funeral, with burial in Rose Hill Cemetery.
Grandson Wendell L. Moody (1937- ? ) was born in about 1937 in Muskingum County, OH. He lived at 1380 Ellis Dam Road in McConnellsville, OH in 1991.
~ Son Melvin C. Gaumer ~
Son Melvin C. Gaumer (1875- ? ) was born in about 1875 in or near Salem Township, Muskingum County, OH.
His fate is not known.
Copyright © 2000, 2011, 2015, 2016, 2018, 2020 Mark A. Miner