Home

What's Your Legacy?
National Family Reunion on June 22-23, 2013 to Explore What Our Legacies Could Be in Writing, in Charity/Health and in Prayer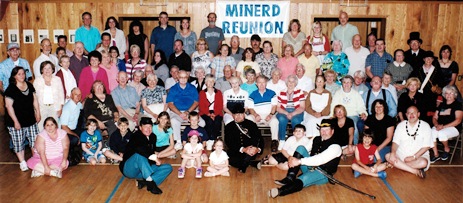 A group of 100 cousins at our 2011 reunion, honoring Civil War soldiers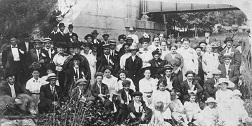 First Minerd Reunion held 100 years ago, in August 1913, at Ohiopyle, PA -- more.
Over the weekend of June 21-23, 2013, our National Minerd-Minard-Miner-Minor Reunion theme will ask the question, "What's your legacy?" We'll explore what our gifts to future generations might be in the areas of the written word, of charity and health, and of prayer.
This gathering will be the 100th anniversary of the first Minerd Reunion in Western Pennsylvania held in the summer of 1913. At that reunion, cousin Allen Edward Harbaugh -- "The Mountain Poet" -- read aloud a history of the family that he had written, giving us a window into ancient connections that otherwise would be lost to us today. A group photograph was taken of most of the 125 attendees, which may be seen super-enlarged and with faces numbered.
Please RSVP by Friday, June 14 to one of our reunion planning committee members listed below.
~ Friday Evening, June 21, 7 p.m. to 9 p.m. ~
On Friday evening, from 7 p.m. to 9 p.m., we will informally gather for a reception in the lobby and breakfast nook at the Days Inn Hotel near the Donegal Exit (Exit 91) of the Pennsylvania Turnpike.
It will be an opportunity for cousins from near and far to get acquainted and to renew old ties. Soft drinks and bottled water will be provided.
~ Saturday Picnic, June 22, 10 a.m. to 4 p.m. ~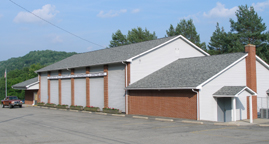 Indian Creek Valley Community Center
The traditional Saturday picnic will be held at the Indian Creek Valley Community Center at 628 Indian Creek Valley Road, Indian Head, PA. The center is just a few miles' drive from the Donegal Exit of the Pennsylvania Turnpike (Exit 91), and a two-hour drive from the Pittsburgh International Airport. It's also just a few miles from the mountainous farm where our pioneer-Revolutionary War ancestors Jacob and Maria (Nein) Minerd Sr. settled in 1791.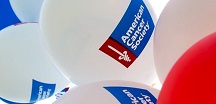 Before lunch, we will have a short presentation by reunion president Mark Miner about a national cancer prevention study research effort underway to help medical science to better understand the genetic, environmental and lifestyle factors that may cause or prevent cancer. Click for more details, and watch these YouTube videos: "Volunteer Today for a Cancer Free Tomorrow!" and "Cancer Prevention Study-3."
The afternoon will include a group photo, games, announcements, prizes and drawings, and a passing of the hat. About 2 p.m., we'll enjoy a panel discussion with our cousins Sandra (Alkula) Boda, Kathy Kern and Rick Minerd, who have written books or been active journal-keepers. Moderated by reunion president Mark Miner, our panelists will explore the importance of legacy, the power of the written word, how the writing process works, how to overcome obstacles that keep us from expressing ourselves with the written word, how to keep and preserve written material, and what the future holds for traditional books versus e-versions.
About Sandy: A resident of Tyrone, Georgia, Sandy is a veteran of the process of preserving memories and how to do that on paper and in digital form. She also is an experienced in "faithbooking" which involves journaling one's own spiritual journey and how to share that voyage of discovery. In her career, Sandy will be retiring in August 2014 as executive officer of the Home Builders Association of Mid West Georgia. She is the daughter of Margaret "Jean" Plants Alkula Vandigriff and granddaughter of the late Ollie (Miner) Plants of Ashtabula, Ohio.
About Kathy: She works for Christian Peacemaker Teams, editing the information releases that come in from its projects in Colombia, Iraqi Kurdistan, Palestine/West Bank and indigenous communities in North America for posting on CPTnet. An amazing image of Kathy, holding a white scarf of peace in front of Israeli tanks in Hebron, on the West Bank, was our "Photo of the Month" in December 2011. Her books include Because the Angels, Where Such Unmaking Reigns, In Harm's Way, We Are the Pharisees and When It Hurts to Live: Devotions for Difficult Times. She lives in Rochester, NY and is the daughter of G. Richard Kern and step-daughter of Sharon (Sheldon) Hershey Kern of the family of Dorothy (Stoner) Sheldon of Findlay, Ohio.
About Rick: Is well-known in Columbus, Ohio as retired Chief of Police in the Obetz suburb and as a former radio news, sports and talk-show broadcaster. He has been quoted in hundreds of news stories including Time Magazine and the New York Times. In 1991, he appeared on TV's America's Most Wanted with John Walsh to apprehend an escaped rapist. (See our Photo of the Month for January 2010.) He is author of Life Is A Jukebox: Real Stories of Triumphs and Tragedies, Honey, I Promise! and Deputy in Disguise and is the grandson of the late Basil A. Minerd Sr. of Athens, Ohio.
~ Saturday Picnic Agenda ~
10 a.m. - Guests begin to arrive
11:30 a.m. - Short presentation (15 minutes) about the American Cancer Society's historic cancer prevention study, and how you can participate as part of your legacy
Noon - Lunch
1 p.m. - Group photo
1:30 p.m. - Announcements, passing of the hat, Standup/Sitdown game
2 p.m. - Panel discussion
2:45 p.m. - Drawings for prizes
4 p.m. - Reunion ends
Meal Arrangements: If you live nearby, please bring a meat dish, side dish or a dessert to share. If coming from a distance, please feel no obligation to bring food. We will provide cold soft drinks, hot coffee and mid-afternoon snacks. No alcoholic beverages, please.
A freewill donation will be taken to offset costs. We will have drawings for keepsake prizes, such as small quilts, magnets and potted plants. Tables will be set up against the walls so you may display keepsake heirlooms -- old photo albums, letters, artifacts -- for all to enjoy.
If You Cannot Attend: Please consider writing a few paragraphs, essay or story about you and what you hope your legacy will be, to be published on Minerd.com. Be sure to read "My Legacy" by Paula (Scofield) Schrock of Chowchilla, CA; and "100th Anniversary Greetings" by Douglas Edwin Minerd of Charlottesville, VA.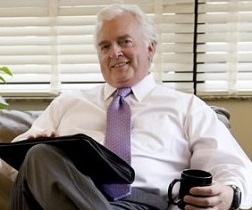 Don't let the smirk fool you. Kerry Fraas, one of mankind's truly funny people, who knows how prayer can impact families and at work, will lead our Sunday prayer time. Listen to a Preview Interview (MP3).
~ Sunday Family-Wide Prayer Gathering, 10 a.m. to noon ~
Prayer and spirituality can be a family's strongest legacy.
We will gather in a private room at the Days Inn in Donegal for a family-wide time of silent prayer. This will be non-threatening, and not be a time for preaching, and you need not be religious or a prayerful person to participate. Rather, as a group, we hope to simply offer up our worries, concerns and fears in prayer and to allow others to pray with or for you and then, if desired, to continue this voyage of prayer throughout the coming year. We also want to pray for our cousins and military members who are serving in harm's way.
Kerry Fraas, a dear friend of the family, and one of the most down-to-earth and funniest people on earth, has agreed to lead this time of prayer. Don't let the white shirt and necktie fool you. While he is a lawyer practicing in government law and politics, he also spent four years as executive director of the Pittsburgh Experiment, a prayer ministry in the workplace of the Steel City. He is a great advocate of "the power of prayer in families" and says that "you don't have to be in any place spiritually" for prayer to be meaningful.
Afterward, for those who can stay, we can tour the cemetery where the father of us all is buried, Jacob Minerd Sr., and drive into the mountains to see his old farm, which he and his wife Maria (Nein) Minerd settled in 1791.
~ Special Invitation to Cousins of Color ~
Our historical Pennsylvania German family is widely diverse among the estimated 50,000 cousins alive today. Especially for those cousins of color, who may be reluctant to attend, we want you to come, and to feel welcome and embraced. Germans have a saying -- "Wir sind ein volk" -- "We are one people." As a family, while we have grown large in numbers and different in our lifestyles, our strands of DNA and our sense of shared family history connections are unique in uniting us.