Having trouble viewing this page? Click here.

Open air picnic pavilion where we'll meet at Day's Inn Hotel, Donegal, PA
On Finding Your Roots:
You're Invited to the 2015 Family Reunion
To Be Held June 26-27, 2015 at Day's Inn Hotel, Donegal, PA


Irita Canady, left, and Rhonda Tabler
Many Americans are fascinated by the search for their origins, and this interest is at the core of our national family reunion, research and award-winning website.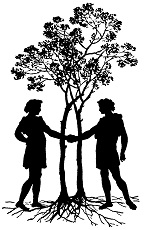 Over the weekend of June 26-27, 2015, the National Minerd-Minard-Miner-Minor Reunion will convene again in southwestern Pennsylvania for its traditional every-other-year national reunion.
Together, we'll explore the theme of "On Finding Your Roots."
Both the Friday evening meet-and-greet and Saturday morning/afternoon picnic will be held on the grounds of the Day's Inn Hotel in Donegal, PA.
Joining us for the Saturday picnic and panel discussion will be our cousins Irita (Goins) Canady -- of the family of Rebecca (Minerd) Goins -- and Rhonda (Cook) Tabler -- of the family of Ruth Ann (Minerd) Kennedy -- who last fall appeared on the popular PBS Television show Finding Your Roots with Dr. Henry Louis Gates Jr.
The episode, which explores the host's Mayle-Male family connections in West Virginia, originally aired nationwide on Nov. 25, 2014. Both Irita and Rhonda will share their experiences in preparing for and being taped on the show with Dr. Gates, a popular social critic, author and Emmy-winning TV documentary producer, who is director of the Hutchins Center for African and African American Research at Harvard University.
They'll also share their exciting finds with DNA analysis and matching in which they've taken part.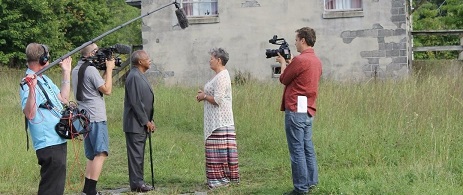 Above: Rhonda Tabler on camera with Dr. Gates. Below: Irita Canady sharing her research with the popular TV host.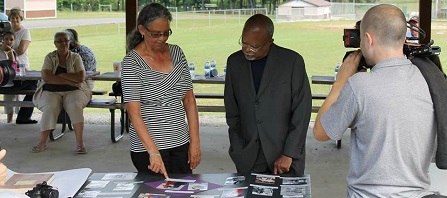 ~ Friday Evening Dinner, June 26 ~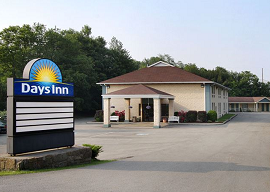 Day's Inn entrance near the PA Turnpike exit
We will gather at about 6 p.m. on Friday and carpool to dinner at a local restaurant. Afterward, we'll return to Day's Inn and enjoy socializing in the lobby and adjacent breakfast nook.
A block of 10 rooms is being held until May 26 should you wish to stay at the hotel and reserve a room in advance. When contacting the hotel, please mention "Minerd Reunion."
~ Traditional Saturday Picnic - 9 a.m.-5 p.m. - June 27 ~
The hotel is located just a few hundred yards from from the Donegal Exit of the Pennsylvania Turnpike (Exit 91), and a two-hour drive from the Pittsburgh International Airport.
It's also just a few miles from the mountainous farm near Mill Run where our pioneer-Revolutionary War ancestors Jacob and Maria (Nein) Minerd Sr. settled in 1791.
Tables, chairs and trash cans will be provided for socializing and for the noon meal. Please bring keepsake heirlooms to share -- old photo albums, letters, artifacts -- for all to enjoy. Please bring a meat dish, side dish or a dessert. We will provide cold soft drinks and water and hot coffee. A small kitchen facility is available as well.
A freewill donation will be taken afterward to offset our costs. No alcoholic beverages are permitted, nor are use of grills or open pit fires. We will have a drawing for some keepsake prizes, including small quilts, magnets, and potted plants.
Though there should be plenty of seating, please bring a comfortable lawn chair just in case.
~ Sunday Morning Tour, June 28 ~
On Sunday morning, we'll take a driving tour of the sites where Irita and Rhonda's ancestors, Jacob and Ruth (Adams) Minerd, lived in Fayette County, PA, before relocating to West Virginia before the Civil War. We'll also take a drive up to the mountaintop farm of our common ancestors, Jacob and Maria (Nein) Minerd Sr., and to the church cemetery where they are buried.
~ Why Did We Move? ~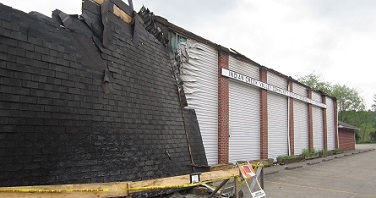 Above: the Community Center fire damage two weeks after the blaze. By August, below, the entire structure had been demolished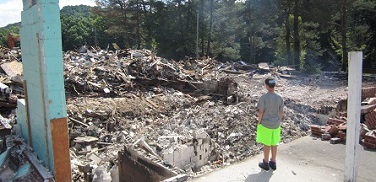 Sadly, we were forced to move this year in the wake of the May 11, 2014 fire that destroyed our usual meeting place, the Indian Creek Valley Community Center. Fire officials called it a total loss. The community center had been our home for five reunions in 2006, 2007, 2009, 2011 and 2013. See the news as reported in the Connellsville Daily Courier.
~ Why the Pittsburgh Region? ~
Southwestern Pennsylvania and Pittsburgh are the epicenter of our clan's founding in the United States of America following the American Revolution. In 1791, patriot and war veteran Jacob Minerd Sr. and his wife Maria (Nein) Minerd settled there near Maple Summit on the mountainous border of Fayette and Somerset Counties. They had a dozen children, who in turn spawned 87 grandchildren, 469 great-grandchildren and 1,344 great-great grandchildren, for a total of 1,912 lives, virtually all born before the year 1900. Today, their descendants and spouses number an estimated 50,000 or more, and are scattered all over the world -- but regardless of your homeplace today, your deep roots are here.
Your Reunion Committee:
President: Mark A. Miner, Beaver, PA
Treasurer: Doris (Sands) Hawker, Morgantown, WV
Secretary: Rosella (Resh) Miner, Grantsville, MD
At Large: Sharon (Sheldon) Hershey Kern, Findlay, OH
At Large: Jill (Channing) Aird, Williamsburg, VA
Past Reunions
See recaps of reunions in 2013 - 2011 - 2009 - 2008 - 2007 - 2006 - 2005 - 2004 - 2003 - 2002 - 2001 - 2000 - 1990s - 1980s - 1910s-1930s
Map Your Route Latest Weather in Donegal, PA
Great Things to Do and See in Nearby Pittsburgh
Great Things to Do and See in the Local Historic Laurel Highlands
250 Years of Pittsburgh Innovation

VisitPittsburgh.com is the promotional sponsor of this page
Copyright © 2015 Mark A. Miner