Lawrence Allen Hall
(1873-1955)
Lawrence Allen Hall was born on Aug. 24, 1873 in Nicolay, Fayette County, PA, the son of Winfield S. and Mary Hall. He was a boy of eight when his mother died, and his father later remarried to Josephine Minerd.
At the age of 25, Lawrence married 24-year-old Mary A. Cramer (1874-1967). The ceremony took place in Somerset, Somerset County, PA on Sept. 27, 1898. Rev. Jeru Mullendore performed the nuptials. Lawrence was of medium height and build, with grey eyes and dark hair.
Mary was a resident of New Lexington, Somerset County, and the daughter of Simon and Rosa Cramer. At the time of marriage, Lawrence was a farmer and Mary a teacher.
The Halls had three children -- Forrest L. Hall, Rosalyn W. Speicher and Miriam K. Kincaid.
He was president of the school board of directors for the Mt. Union Public School in Upper Turkeyfoot Township circa 1914-1915. Frank M. Stoner was teacher of the school, with Professor D.W. Seibert as county superintendent of schools. Also serving on the board were D.F. Shultz (secretary), P.A. Kreger, H.G. King and Lee May. (Today, he is honored for this service in a display at the historic Mt. Union Church near Casselman.)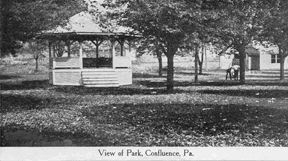 Confluence Park, site of the 1924 Minerd Reunion
The Connellsville Daily Courier reported that he was a longtime farmer and a member of the Christian Church of Somerset in addition to a local grange. When he registered for the military draft during World War I, Lawrence gave his age as 45, his next of kin as Mary, and reported that he was a self-employed farmer.
In August 1924, the Halls attended the Minerd-Miner reunion at Lincoln's grove, near the Western Maryland Railroad Station in Confluence. Their names were mentioned in an article about the reunion in the Meyersdale Republican newspaper. Lawrence also helped organize the Minerd-Miner Reunion of 1928 at Confluence, Somerset County, an event that a newspaper said "was well attended and all report a very enjoyable time." T
Lawrence passed away at the age of 83 on March 31, 1955.
Mary outlived him by 12 years, and died in 1967. They are buried beside Lawrence's parents in Kingwood.

Forrest Hall
~ Son Forrest L. Hall ~
Son Forrest L. Hall (1896-1997) was born on May 10, 1896.
He a well known school teacher and country store owner in Kingwood.
He married Olive F. Dumbauld (1900-1991), the daughter of George and Ellen (Faidley) Dumbauld, of the family of Christina (Younkin) Dull.
They had two sons -- an unnamed infant, who died at birth in 1920; and Paul B. Hall.
Olive was a "lifelong member of the Kingwood Church of God, where she taught Bible School," said the Somerset Daily American. "Her favorite love was being a wife, homemaker and mother. She also taught one year in the public school system. She worked many years in the family country store in Kingwood."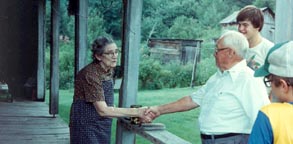 Forrest greets neighbor Minnie Gary, introducing her to long-lost cousins in August 1978 -- more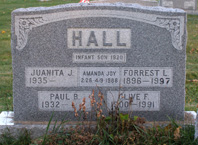 One hot summer afternoon in 1978, Forrest was relaxing at home when a family of Miner from Pittsburgh knocked at his door, asking for information about family history and local sites. He unselfishly took them to see several old nearby cemeteries -- the old Christian Church of Turkeyfoot burying ground; and the Younkin Cemetery at Paddytown, where members of the Minerd-Miner family are buried. He also took the Miners to meet a neighbor, Minnie (Miner) Gary, who invited the group into her home to talk for a spell.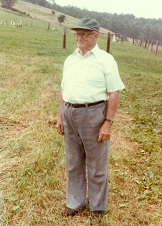 Forrest, August 1978
This remarkable show of interest and hospitality was a strong influence on one of the visitors, 17-year-old Mark Miner, who later founded this website.
Olive passed away on June 21, 1991, at the age of 90.
Forrest outlived her by six years, and spent his winters in Arizona at the home of his son. In 1992, Forrest graciously allowed Mark Miner to visit again, and to spend several hours tape-recording his conversation of memories.
He died in Scottsdale, Maricopa County, AZ on April 19, 1997 at the age of 100.
His remains were returned to Kingwood for burial beside his wife in the Kingwood Odd Fellows Cemetery, where they rest for eternity along with their infant son and great-granddaughter Amanda Joy Hall.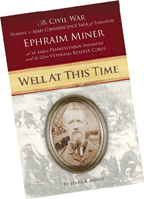 Forrest is mentioned and discussed in the 2011 book, Well At This Time: the Civil War Diaries and Army Convalescence Saga of Farmboy Ephraim Miner. The book, authored by the founder of this website, is seen here. [More]
~ Daughter Rosalyn W. (Hall) Speicher ~
Daughter Rosalyn W. Hall (1899- ? ) was born in March 1899.
From 1920-1930, she was a teacher in the public schools of Upper Turkeyfoot Township, Somerset County.
Rosalyn married Ralph Clifton Speicher, son of Jonas and Rosa (Nicholson) Speicher. At the time of marriage, she was age 30, and he was 28. Ralph was a native of Harnedsville, Somerset County, but at the time was working as an electrician in East Orange, NJ. Rev. J.F. Messenger performed the nuptials in Somerset on July 28, 1929.
Nothing more is known but will be reported here when learned.
Copyright © 2000, 2002, 2006-2008, 2011-2012 Mark A. Miner