Josephine (Minerd) Hall
(1854-1901)
Winfield S. Hall (1843-1924)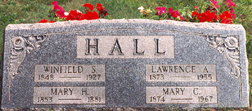 Kingwood IOOF Cemetery
Josephine (Minerd) Hall was born on Nov. 9, 1854 at Hexebarger, near Kingwood, Somerset County, PA, the daughter of Charles and Adaline (Harbaugh) Minerd. She had dark hair and brown eyes.
At about age 13, Josie and her parents moved to a farm at nearby Maple Summit, also known as Nicolay, in the mountains above Mill Run, Fayette County, PA.
When she was age 16, Josie was a servant in the household of Andrew "Jackson" and Mary Luckey of Dunbar Township, Fayette County. The Luckeys' son Joseph later married Josie's sister Sadie Minerd.
On Christmas Day 1881, at the age of 27, Josie married a double step-cousin, 33-year-old widower Winfield S. Hall (1848-1927), the son of Joseph and Elizabeth Hall and stepson of Elizabeth (Rowan) Hall of Nicolay. Winfield's first wife, Mary, had died earlier that year.
Josie thus became an instant stepmother to Winfield's three young children from his previous marriage: Lawrence Allen Hall, Estella "Stella" Kemp and Alice Collins. Their ages ranged from eight to two, and the children grew up knowing her as a mother figure, and her Minerds as their family.
The Halls lived on a farm they owned at Nicolay, in the Maple Summit region of Fayette County. As a young man in his early 20s, Winfield had been a laborer on the railroad, likely at nearby Ohiopyle, Fayette County. Later in life, he primarily made his living as a farmer.
When the federal census was taken in 1900, Winfield was marked as a farmer, with teenage nephew Ernest E. Minerd residing in their home and working on their farm. Among their near neighbors were relatives Allen Rowan, Robert B. Harbaugh, Martha Gorsuch, Lawson Minerd and Marshall Harbaugh.
On June 20, 1901, at age 46, Josie died at home of consumption, an outdated term for tuberculosis. She is buried in an unmarked grave at the Maple Summit Church of God, near the final resting place of her parents. The Connellsville Courier reported that the funeral was conducted by Rev. H.J. Means and Rev. J.C. Cunningham.
Winfield outlived Josie by more than a half-century, and resided near Mill Run. By 1910, when the federal census was taken, he was co-habitating with 50-year-old Sally Nickelson and her 20-year-old son Lloyd Nickelson.
The Angel of Death visited the family again in 1908, when Winfield's daughter Alice Collins died of tuberculosis. At age 30, she left behind four young children. Winfield was mentioned in the obituary published in the Uniontown Daily News Standard.
In 1921, Winfield sued Maple Summit neighbors Wilbur S. and Mary E. Buzard in a dispute over land. The judge ruled against the Buzards, and they signed an agreement to pay Winfield $100 over the span of a year.
In August 1924, son Lawrence and his family attended the Minerd-Miner reunion at Lincoln's grove, near the Western Maryland Railroad Station in Confluence. Their names were mentioned in an article about the reunion in the Meyersdale Republican newspaper. Lawrence also helped organize the Minerd-Miner Reunion of 1928 at Confluence, Somerset County, an event that a newspaper said "was well attended and all report a very enjoyable time."
Winfield suffered from chronic bronchitis and pulmonary gangrene and apparently moved into the home of his son Lawrence in Kingwood, Somerset County. There, he died at the age of 79 on Dec. 7, 1927. His remains were lowered into rest beside his first wife Mary at the Kingwood IOOF Cemetery. Their son Lawrence, as informant for the death certificate, provided the name of Winfield's father but did not know the name of Winfield's mother.
Josephine is mentioned in a 2011 book about one of her cousins who served in the Civil War -- entitled Well At This Time: the Civil War Diaries and Army Convalescence Saga of Farmboy Ephraim Miner. The book is authored by the founder of this website. [More]
Copyright © 2000, 2002, 2006-2008, 2011, 2017 Mark A. Miner