Elizabeth Crellen (Heilman) Mills Renshaw
(1845-1913)
Elizabeth Crellen (Heilman) Mills Renshaw was born in February 1845 in Mauch Chunk, the daughter of Nathan and Elizabeth (Miner) Heilman.
She married twice -- her first husband was Civil War veteran Alexander Mills (1839?-1863?). Elizabeth and Alexander are believed to have wed on June 28, 1863, following his discharge from the army during the Civil War. At the time, she was age 18 and he 24.
He may well be the same Alexander Mills of Mauch Chunk who was the son of Jesse and Elizabeth Mills of Lehigh County. He served in the Civil War as a member of the 132nd Pennsylvania Volunteer Infantry, enlisting for a period of nine months on Aug. 15, 1862. He was a member of the same regiment as Elizabeth's cousins William H. Miner and Franklin Charles Wintermute. They all are named in the 1904 book, War from the Inside, by Frederick L. Hitchcock.)
The supposed Civil War soldier Mills was 5 feet, 4 inches tall, and had a florid complexion, brown eyes and brown hair. During his time in the army, as a blacksmith, he came down with a serious and incurable case of smallpox. He was discharged by a surgeon's certificate, 40 days after his enlistment, in Washington, DC, on Sept. 25, 1862. He came home to Mauch Chunk, and died on July 3 (or 11), 1863, just five days after his alleged marriage to Elizabeth, which may account for the early end of this marriage.
Many years later, Alexander's sister Harriet (Mills) Pettit, who at that time was living in Jeddo, Luzerne County, wrote the following:
I nursed him for weeks but death claimed him. I buried him with my own money. I raised him from 9 years, gave him schooling, sent to learn the Boiler making business, and after completing his trade enlisted.... He always said 'Sister, I will always do for you.' I was as a mother to him.
There is nothing in the sister's writing that precludes him from having married our Elizabeth. It may be well that the two women just did not like each other. Or it could be that the sister did not want anyone else to receive pension payments. Elizabeth certainly did not make a claim for a widow's pension, as was her right.
The precise identity of Alexander Mills needs to be confirmed. A search for his newspaper obituary in the Mauch Chunk Gazette, by the founder of this website, was unsuccessful.
Elizabeth's second husband was Thomas W. Renshaw (1835-1904), an immigrant from England. They were wed in 1865, when Elizabeth was age 20 and Thomas 29. He had emigrated to the United States in 1850, and became naturalized as a citizen. He was considered a "prominent pharmacist."
The federal census of 1870 shows Thomas and Elizabeth Renshaw living in Lehighton, Carbon County, with seven children born between 1866 and 1880 -- Ulysses Renshaw, Millicent Saxon LaWall, Howard Renshaw, Burton S. Renshaw, Gabrielle H. "Gay" Renshaw and two others who died young. That year, in 1870, Thomas was a teacher, as marked in the census. Their next-door neighbors were Elizabeth's aunt and uncle, Leah (Miner) and Reuben Schall.
When her mother died in January 1890, the obituary in the Mauch Chunk Coal Gazette named Elizabeth as a survivor and and said she resided in Tamaqua, Schuylkill County, PA. A Philadelphia Inquirer story in August 1898 places the Renshaws on Front Street in Summit Hill, PA.
By 1900, when the census again was enumerated, the Renshaws made their home in Lansford, Carbon County. That year, Thomas was employed as a druggist. When his daughter Millicent was a student at the Philadelphia College of Pharmacy, in 1903, she and Thomas and a group traveled to Mackinac, where he was said to have been "the life of the party."
Thomas died in September 1904, at the age of 69, and is interred in Lehighton Cemetery. The widowed Elizabeth moved to Philadelphia.
The federal census of 1910 shows Elizabeth, age 64, living in Philadelphia's 44th Ward, on Arch Street. Her 30-year-old unmarried daughter Gay -- a public school teacher -- resided under her roof, as did boarders Cora C. Meyers and Robenia F. Glover, who also were educators in the city. In 1913, her address was 112 South 49th Street in Philadelphia.
Elizabeth endured heart disease caused by valve problems and in mid-November 1913 was stricken with a cerebral embolism. She passed away four days later in Philadelphia, at age 68, on Nov. 18, 1913. Her remains were returned to Lehighton for interment.
~ Son Ulysses Renshaw ~
Son Ulysses Renshaw (1866- ? ) was born in 1866.
In 1880, when the federal census was taken, the 12-year-old lived with his parents in Summit Hill, Carbon County.
His story is lost to us for now.

Charles H. LaWall
~ Daughter Millicent (Renshaw) LaWall ~
Daughter Millicent Saxon Renshaw (1868-1939) was born in February 1868. Having spent her childhood assisting her father in his drug store, she became an early educator in the pharmacy field who teamed with her husband to publish a wide variety of material about the industry.
As a young unmarried woman, Millicent attended the Peirce School of Business and Shorthand in Philadelphia. Her education was intended to prepare her for a future clerical position, but she achieved far more as a pharmacist and educator.
At the age of 32, in 1900, she resided in her parents' home in Lansford, Carbon County. That year, she was employed as a clerk in her father's drug store, and continued to follow his professional footsteps.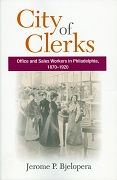 Book quoting Millicent
She was hired by Professor Joseph P. Remington as a stenographer and secretary in about 1901. Simultaneously, she studied at the Philadelphia College of Pharmacy, and received her degree in 1904. Becoming a pharmacist in her own right, she joined the American Pharmaceutical Association in 1905 and was a member for many years. She also helped to edit the publications United States Pharmacopoeia, the Practice of Pharmacy and the United States Dispensatory. Her home in 1907 was at 5527 Girard Street.
On June 5, 1907, at the age of 39, she married 36-year-old Charles Herbert LaWall (1871-1937) Ph.G., Ph.M. He was the son of John J. and Emma J. (Boas) LaWall of Allentown, PA. The wedding was held in Philadelphia's Trinity Episcopal Church, officiated by Rev. R. Marshall Harrison. Her mother announced the news in the college of pharmacy's Alumni Report.
At the time, Charles was dean of the Philadelphia College of Pharmacy and Science, having graduated from that institution in 1893. He also had been a chemist for the Pennsylvania Food and Dairy Commission.
They first lived at 507 South 42nd Street, and later made their home at 636 Franklin Square in Philadelphia. They had no children.
Despite her own achievements, Millicent held strong views about stenography as "women's work." She wrote about her point of view in her article, "Women in the Stenographic Field," published in 1899 in the Peirce School Alumni Journal. She wrote that for physical reasons, women should not work in jobs that "require arduous manual labor" but rather fields such as stenography where they could employ their "almost infinite amount of patience and capacity for endurance." The article was quoted many years after her death in City of Clerks: Office and Sales Workers in Philadelphia, 1870-1920, by Jerome P. Bjelopera.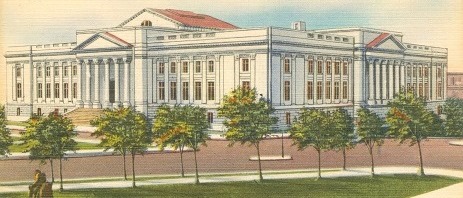 Philadelphia's Franklin Institute
An October 1920 article in the NARD Journal reported that Millicent was the "able wife of Dean LaWall" and that she had "added to her multitudinous duties by accepting an appointment on the teaching staff of the Women's Medical College of Philadelphia. Professor LaWall, 2d, will be director of the pharmacy laboratories and the Women's Medical College can well be congratulated upon selecting so able a representative of pharmacy to teach this subject that is so often neglected in the medical curriculum"
Charles was active in the APA and served on its national executive committee and council in 1920-1921. He also was a committee member for revision of the National Formulary for 24 years, from 1906 to 1930. He was a member of the American Chemical Society, The American Association for the Advancement of Science, the Franklin Institute and Corinthian Lodge of the Masons, where he once served as master.
Broad Street, Philadelphia
The Franklin Institute, located on North 20th Street, billed itself as the house of "models of epoch making inventions and maintains a library of scientific literature.... The institution has held [many] exhibitions of American manufactures, most notable being that of 1884 which was the first exhibition in America devoted exclusively to the electrical arts."
In 1921, Charles authored a revised, comprehensive code of ethics for pharmacists in an effort to expand quality standards in the profession. It was entitled "Pharmaceutical Ethics" and printed in the Journal of the American Pharmaceutical Association.
Charles kept an extensive research library in their home and relied heavily upon his accumulated body of knowledge as illustrations for some 64 pages in The Curious Lore. He wrote that "The illustrations in this book are almost entirely from original sources, being photographs of pages of books in the library of the author."
In the 1927 book, The Curious Lore of Drugs and Medicine, he wrote this dedication:
This book is dedicated to the one who has helped me in my work and who has shared in my play, who does not object when I bring old or new books home, and who endures in silence the chaotic appearance of our home during periods when manuscript is in preparation or proof is being read; whose stimulating companionship has made all my work possible -- MY WIFE.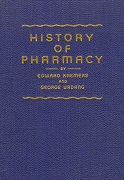 History of Pharmacy
Over the years, Millicent retained a love of her German heritage. One of her specialties was baking cake which was colored yellow using saffron, known as a "common household remedy" among Pennsylvania Germans but also "used as a flavoring and coloring material in cooking." She once presented a sample of her work to Professor Henry Kreamer, following a lecture by Joseph L. Lemberger, Ph.M., of Lebanon County, PA, and was mentioned in a related story in the American Journal of Pharmacy.
Millicent and Charles co-authored "An Interesting Collection of Mortars" in the APA's Journal, and she alone wrote "Apothecary Shops of Colonial Times" in a 1936 edition of the Journal.
Sadly, Charles died in Philadelphia's Jewish Hospital at the age of 66 on Dec. 7, 1937, of pneumonia. His remains were cremated. At his death, his obituary was published in the Druggists Circular and the Southern Pharmaceutical Journal, and more than likely in local newspapers such as the Philadelphia Inquirer. Harold J. LaWall of Haverford, PA signed the death certificate.
Millicent only survived her husband by two years. She spent her final time on Earth at her summer residence in Longport, NJ. She died there on June 25, 1939. An obituary in a pharmaceutical publication said that she "had been a member of the American Pharmaceutical Association since 1911. Among some of her activities were: Assisting Chairman Joseph P. Remington in the revision of the U. S. Pharmacornia VIII, secretary of the Civic Club of Philadelphia on Foods and Home Economies, and also served as vice-chairman, and was director for a number of years of the Pharmaceutical Laboratory, Women's Medical College of Pennsylvania. In recent years Mrs. LaWall assisted Dr. LaWall in his work, and on her own account and as co-author with him, she presented a number of historical articles on pharmacists of early periods, among them one on Charles Marshall of Philadelphia and Apothecary Shops of Colonial Days, and rendered contributory search in connection with Four Thousand Years of Pharmacy, by Charles H. LaWall, and assisted him in other research."
In 2002, Millicent was profiled in the book American Women Pharmacists: Contributions to the Profession, compiled by Metta Lou Henderson.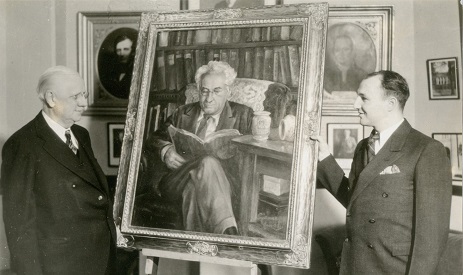 Charles' portrait was presented by artist Leon A. Spielman (right) to Philadelphia College of Pharmacy and Science President Wilmer Krusen.
A portrait of Charles was painted by Leon A. Spielman, an artist who was a graduate of the College of Pharmacy and Science and at the time a practicing pharmacist. The painting was presented to college president Wilmer Krusen on Dec. 5, 1934, and mentioned in an issue of the journal Science.
He also received a biographical profile in the 1940 book History of Pharmacy by Edward Kremers and George Urdang. He was named in the 1996 book Ethical Dimensions of Pharmaceutical Care, edited by Amy M. Haddad and Robert A. Iuerki (The Haworth Press, Inc.); in Quack Medicine, by Eric W. Boyle, and in Pain & Profits: The History of the Headache and Its Remedies in America, by Jan R. McTavish.
Charles Herbert LaWall's Authored Publications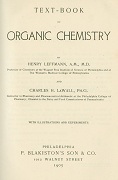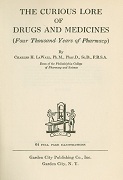 The Text-Book of Organic Chemistry, with Illustrations and Experiments, with co-author Henry Leffmann, A.M., M.D. (Philadelphia: P. Blakiston's Son & Co., 1905)

"The Romance of Medicines," Popular Science Talks: Season Of 1925-1926: Presented By Members of the Faculty of the Philadelphia College of Pharmacy and Science: Volume No. IV.

The Curious Lore of Drugs and Medicines (Four Thousand Years of Pharmacy) (Garden City, NJ: J.B. Lippincott, 1927)

"Pharmaceutical Ethics," Journal of the American Pharmaceutical Association

The Pharmacy and Science of Dickens' Writings, 1929 (Philadelphia College of Pharmacy)

The Dispensatory of the United States of America (J.B. Lippincott, 1926, 1937)

"American Contemporaries: Henry Leffmann, A.M., M.D.," Industrial and Engineering Chemistry (1926)

Tomato Ketchups (1914)

Studies in Carbohydrates (1913)

"Fads and Frauds in Foods and Drugs," American Journal of Pharmacy (March 1937)

"An Interesting Collection of Apothecaries Shelfware," Journal of the American Pharmaceutical Association

"Pharmaceutical Ethics," Journal of the American Pharmaceutical Association
~ Son Francis "Howard" Renshaw ~
Son Francis "Howard" Renshaw (1869- ? ) was born on Oct. 10, 1869.
In infancy, he was baptized on Aug. 1, 1870, by the hand of Rev. J. Lindemuth of the Wesley United Methodist Church of Lehighton.
Nothing more is known, and he may well have been deceased by 1880. His name is inscribed on a large, flat stonegrave marker in Lehighton Cemetery in the burial plot of his parents.
~ Daughter Gabrielle H. "Gay" Renshaw ~
Daughter Gabrielle H. "Gay" Renshaw (1872-1947) was born on Jan. 15, 1872.
She appears to have devoted her life's work to education.
Gay was named in the gossip columns of the "Summit Hill" section of the Philadelphia Inquirer in September 1898, when it was reported that she had "spent several days with her sister, Miss Millicent Renshaw, at Philadelphia." Then in February 1899, the Inquirer noted that she had left Lansford to move to Philadelphia, "where she has accepted a position as teacher in the Institute for the Blind at Overbrook." There, she was an assistant in the literary department.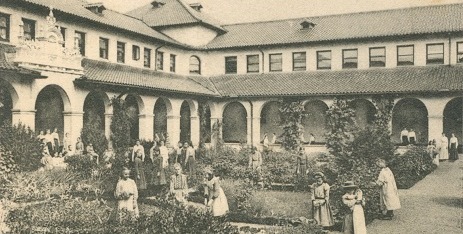 Gay's workplace, Philadelphia's Institute for the Blind at Overbrook
At the age of 38, in 1910, she was unmarried she resided in her widowed mother's home ag 5015 Arch Street in Philadelphia's 44th Ward. That year, she was employed as a public school teacher.
Following her mother's death in 1913, Gay fixed her sights on a move. By 1919, she migrated from her native Pennsylvania to the West Coast, taking a job as an assistant teacher in a private school. She first put down roots in San Rafael, Marin County, living on Glenwood Avenue with fellow teacher Cora C. Myers. The pair purchased a home there in October 1919, as reported in the San Anselmo Herald, and lived together for decades.
They went on to co-found The Cedars, located on the slope of Mount Tamalpais, billed as a "school for the different child." At its launch, reported the San Francisco Examiner, the school was intended "for the child who does not get along well in his classes -- who does not keep step with friends of his own age -- the child who can not take care of himself as his brothers and sisters do... The Cedars, with its acres of park and gardens, is open to a limited number of children whose parents appreciate the importance of teaching by trained specialists."
Gay held the position at the school as vice principal with housemate Cora Myers as principal. It also bore the name at the Home School for Nervous and Backward Children. The staff of the institution lived at the school on Bolinas Avenue in Ross, Marin County. By 1933, Cora was quoted in the Oakland Tribune, saying "The success of the school in training this type of child has made it one of the best known schools of its kind in the country... The enrollment is limited in order to give the children individual care and personal attention."
Upon retirement, Gay and Cora relocated during the decade of the 1930s to Alameda, CA. Their home address in 1940-1944 was 3801 Linwood Avenue, and the census-taker in 1940 recorded Gay as Cora's "partner."
Gay died in Alameda on June 17, 1947. Her estate was valued at $84,910, and in her will, she divided it among friends and her niece Dorothy Renshaw of Bortondale, PA.
~ Son Burton Saxon Renshaw ~
Son Burton Saxon Renshaw (1876- ? ) was born in February 1876 in Summit Hill, Carbon County.
He lived with his parents when he was age 24, in Lansford, Carbon County, and made a living as an electrician.
At the age of 27, residing in Mt. Carmel, Northumberland County, PA, he married 21-year-old Etta May Gilbert (1882- ? ) on April 25, 1903. She was a native of Brookville, Jefferson County, PA, and the daughter of Joseph C. and Ella Gilbert. At the time, Burton was employed as a lineman for an electrical company. In announcing the wedding, the Mount Carmel (PA) Item said that they had been "privately married" and that it was "likely that they will eventually reside in West Virginia."
The couple together bore at least one child, Dorothy Saxon Renshaw.
By 1906, the Renshaws migrated cross-state to Butler, Butler County, PA. There, Burton continued to earn a living as an electrician.
The Renshaws separated on Jan. 18, 1912. Etta moved to a home in Parnassus near Kew Kensington, PA.
Once more, Burton relocated and in 1918 were in Chester, Chester County, PA, at the address of 125 East Fifth Street. His employer at that time was in Eddystone, Delaware County.
Etta filed for divorce in February 1920, citing desertion. The case was publicized in the Pittsburgh Press. She also is known to have lived that year with her daughter in her parents' home in Bloomsburg, Columbia County, PA.
Burton's fate after that is not known.
Daughter Dorothy Saxon Renshaw (1906- ? ) was born on Dec. 8, 1906 in Butler, Butler County, PA. Dr. E.E. Campbell assisted in the birth. After her parents separated and divorced, she lived with her mother and grandparents in 1920 in Bloomsburg, Columbia County, PA In 1947, when she would have been 41 years of age, she inherited a sum of money from the estate of her deceased aunt, Gabrielle H. "Gay" Renshaw. At that time, she dwelled in Bortondale, Delaware County, PA.
Copyright © 2011, 2013-2014, 2017, 2021 Mark A. Miner