Elizabeth (Miner) Heilman
(1812-1890)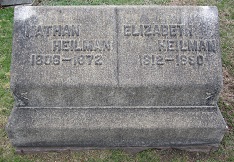 Upper Mauch Chunk Cemetery
Elizabeth (Miner) Heilman was born on Oct. 28, 1812 in Berks County, PA, the daughter of Frederick and Elizabeth Miner III.
At the age of about three months, on Jan. 19, 1813, she was baptized in the Mertz Church in Rockland Township, Berks County. Serving as sponsors that day were her grandparents, Friedrich and Catherine (Nein) Meinert Jr. (also known as "Meinder"). The family name was spelled in the church baptismal records as "Meinter."
She and her parents migrated to the booming, hard-coal producing town of Mauch Chunk, Carbon County, PA when she was a girl.
Elizabeth married Nathan Heilman (1808-1872), a native of New Jersey, on Dec. 2, 1833. Rev. George Frey officiated. Elizabeth was age 21 at the time, and Nathan 25. A brief notice of their wedding was published five days later in the Mauch Chunk Courier, noting that Nathan was a resident at the time of East Penn, Carbon County.

Mauch Chunk Gazette, Dec. 7, 1833
Their nine known children were Abiel W. Heilman (born 1835), Harriet Heilman (1838), Sophia Heilman (1841), William Heilman (1842), Elizabeth Mills Renshaw (1844), Mary "Joanna" Meighan (1846), Edward H. Heilman (June 1850), Mary Heilman (1851) and Charles "Linderman" Heilman (1857). They also may have helped raise a granddaughter, Hattie Meighan, who was in their Mauch Chunk dwelling at the age of three in 1870 and age 13 in 1880..
When the federal census was enumerated in 1850, the Heilmans made their home in Mauch Chunk, Carbon County. The census-taker recorded Nathan's occupation as "carpenter."
In 1870, the census shows Nathan continuing to ply his trade as a house carpenter, with the family living in Mauch Chunk. Daughter Sophia (age 30) worked as a domestic servant, while daughter Mary (age 21) was a sign painter. That year, three-year-old Hattie Heilman lived under their roof, and may have been a granddaughter.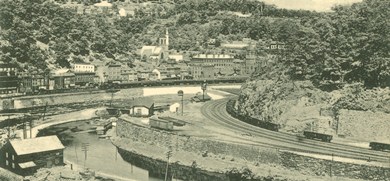 Mauch Chunk, early 1900s, as seen from Hill Road
Nathan died at the age of 64 on May 7, 1872. He was buried in the Upper Mauch Chunk Cemetery. No obituary has been found in the local newspaper, the Mauch Chunk Coal Gazette.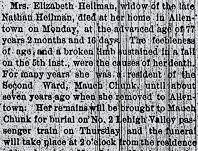 Elizabeth's obituary, Mauch Chunk
Coal Gazette, Jan. 17, 1890
The census of 1880 lists the widowed Elizabeth heading a household of two adult sons (Edward and Charles), an adult daughter (Sophia) and 13-year-old granddaughter Hattie Heilman. The census-taker spelled their name "Hileman."
Elizabeth survived her husband by almost 18 years. Said the Mauch Chunk Coal Gazette, "For many years she was a resident of the Second Ward, Mauch Chunk, until about [1883] when she removed to Allentown." All four sons and a daughter lived in Allentown, with the sons having established their own boiler manufacturing business. At the age of 77, in early January 1890, she fell and suffered a broken arm or leg. Her health declined fast.
She passed away 12 days later, on Jan. 13, 1890, at age 77 years, two months and 16 days. Her remains were returned to Mauch Chunk on the No. 2 Lehigh Valley passenger train, with the funeral held in the Second Ward home of her married daughter, Joanna Meighan. She rests for eternity beside Nathan in the Upper Mauch Chunk Cemetery. In a substantive obituary, the Coal Gazette noted that her maiden name was "Miner" and that the "feebleness of age and a broken limb sustained in a fall ... were the causes of her death."
~ Daughter Sophia J. Heilman ~
Sophia J. Heilman (1840-1918) was born on March 27, 1840 in Mauch Chunk. She never married, but devoted her life to housework.
The federal census of 1870 shows the 30-year-old living in the home of her parents in Mauch Chunk with the occupation of "domestic servant." In 1880 she resided with her widowed mother and had no occupation at all.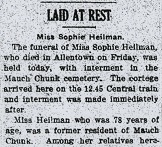 Mauch Chunk Daily News,
April 9, 1918
Circa 1890, the 70-year-old made her home with her married niece, Hattie Reichel and her husband Edward in Allentown, Lehigh County, PA. She remained there for many years, and is shown to be under their roof on Chestnut Street when the census again was taken in 1900, and again in 1910, when their home was on Linden Street. As the Reichels were childless, the arrangement seems to have been convenient for all.
Sophia suffered from dropsy, a term used for buildup of fluids in the skin tissues, caused by problems with heart valves' ability to pump blood. She died in Allentown on April 5, 1918, at the age of 78. Her remains were returned to Mauch Chunk on the 12:45 p.m. Central New Jersey train with a cortege of mourners. "Interment was made immediately after," said the Mauch Chunk Daily News, with burial in Upper Mauch Chunk Cemetery. Her Daily News obituary noted that she "was a former resident of Mauch Chunk" and that "Among her relatives hereabouts are Mrs. Joseph Keenly, a niece, and Mrs. Frank Wintermute, a cousin." Nephew Edward Reichel was the informant for her official Pennsylvania death certificate.
No stone is known to mark her grave today, despite a 2013 search by cousin researcher Eugene Podraza aided by this website's founder.
~ Son Edward H. Heilman ~
Edward H. Heilman (1850-1895) was born in 1850. He was a carpenter circa 1880, when he was age 28 and the census shows him living at home in Mauch Chunk with his widowed mother.
In 1886, he ran the drawing and sketching department of the Union Steam Boiler Works, a large boilermaking operation of his brother Abiel in Allentown, Lehigh County, PA.
Sadly, Edward died at the age of 45 in 1895. The cause of death has not yet been learned. He is buried in the Fairview Cemetery in Allentown.
~ Son Charles "Linderman" Heilman ~
Charles "Linderman" Heilman (1857-1934) was born on Sept. 3, 1857 in Mauch Chunk.
As a young man, he was a blacksmith and resided circa 1880 with his widowed mother in Mauch Chunk. Circa
January 1890, when his mother died, Linderman made his home in Allentown, Lehigh County, as did all three of his brothers and one sister.
Charles was united in holy wedlock with Welsh immigrant Mary E. Parry (1861-1946), the daughter of Henry and Esther (Williams) Parry. They dwelled in Allentown at 216 North Jordan. Charles labored over the years as a "yeoman."
Sadly, stricken with chronic ulcers of the colon and rectal bleeding at the age of 76, Charles died on May 31, 1934. His remains were placed into eternal repose in Grandview Cemetery.
Mary survived her husband by a dozen years. She remained in their home, but stricken with inoperable cancer of the liver, she was admitted to Sacred Heart Hospital in Allentown. She died there at the age of 84 on Aug. 19, 1946. Harry W. Heilman was the informant for her Pennsylvania certificate of death.
Copyright © 2011, 2013, 2015 Eugene F. Podraza and Mark A. Miner