Amelia (Herlinger) Wolfe
(1848-1918)
Amelia (Herlinger) Wolfe was born in April 1848 in Brush Valley, Indiana County, PA, the daughter of Frederick and Anna Mariah (Younkin) Herlinger Sr.
At the age of about 20, in 1868, she entered into marriage with Josiah J. Wolfe (Sept. 1844-1930).
Five children were born to the couple, among them Elizabeth "Eliza" McGuire, Martha B. "Mattie" Wolfe, Frances Susan Henry, Irving Josiah Wolfe and Nettie Inez Wolfe.
Amelia and her husband relocated to Iowa as newlyweds. In 1870, they were in Black Hawk Township, Jefferson County, IA, living as farmers. Josiah's brother James lived under their roof that year.
They were in Iowa in 1869-1873 at the birth of daughters Eliza and Martha -- Nebraska in 1880-1883 when a daughter and son were born -- and by 1888 had migrated to Colorado.
Circa 1880, census records list the Wolfes on a farm in Ayr, Adams County, NE. Josiah's bachelor brother John continued to reside in their household.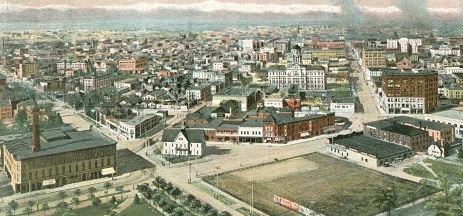 Sprawling Denver, Colorado, home of the Wolfes circa 1900
When the United States Census was made in 1900, the family dwelled in Denver, Arapahoe County, CO. Josiah earned a living that year as a day laborer.
The federal census enumeration of 1910 shows the Wolfes on a farm in Clear Creek, Adams County, CO. Their final home together was in Westminster, Adams County.
Sadly, Amelia died at home in Westminster on Jan. 15, 1918, at the age of 69 years, nine months and nine days. An obituary appeared in her old hometown newspaper, the Indiana Weekly Messenger.
Josiah outlived his wife by a dozen years. He passed away in 1930. They sleep for the ages in Crown Hill Cemetery in Wheat Ridge, Jefferson County, CO.
~ Daughter Elizabeth "Eliza" (Wolfe) McGuire ~
Daughter Elizabeth "Eliza" Wolfe (1869-1947) was born in about 1869 in Fairfield, IA and spent her girlhood in Nebraska.
She entered into marriage with William McGuire ( ? - ? ).
Together they bore one daughter, Ruth E. Mahon.
Their home in 1947 was in Los Angeles at 4121 Halldale.
Elizabeth died at the age of 77 in August 1947. Her requiem mass was held at St. Cecilia Church, with an obituary appearing in the Los Angeles Times. Interment was in Holy Cross.
Daughter Ruth McGuire wed (?) Mahon.
~ Daughter Martha B. "Mattie" (Wolfe) Donnelley ~
Daughter Martha B. "Mattie" Wolfe (1873- ? ) was born in 1873 in Iowa.
Unmarried in 1900, at the age of 27, she lived at home with her parents in Denver.
In about 1902, at the age of 29, she entered into marriage with (?) Donnelley ( ? - ? ), a New York native.
They became the parents of an only son, Charles I. Donnelley.
In about 1904, the couple dwelled in Colorado. By 1910, Martha and her son had relocated to Denver, CO, sharing a home with her married sister Frances Susan Henry.
The 1920 U.S. Census shows Martha and her 17-year-old son in the Wolfe household in Lakewood, Jefferson County, CO.
Then in 1930, Martha resided alone in Lakewood.
By 1935, she migrated to Los Angeles with her son before returning to the Henry home in South Lakewood by 1940.
Son Charles Donnelley (1903- ? ) was born in about 1903 in Colorado. He and his mother were in Los Angeles in 1935, and then migrated to the Denver area to live on the poultry farm of an uncle and aunt. Charles' occupation in 1940 was as a lineman for a light company.
~ Daughter Frances Susan (Wolfe) Henry ~
Daughter Frances Susan Wolfe (1880-1972) was born on March 3, 1880 in Hastings, Adams County, NE. As a newborn she moved with her family to Ayr, Adams County.
She was united in wedlock with New Jersey native Joseph Price Henry (1878-1951). The couple did not reproduce.
In 1910, the Henrys resided in Denver, CO. During the 1910s, they moved to Jefferson County, CO. Joseph earned a living as a wholesale vegetable merchant in Lakewood, CO in 1920.
Circa 1940, the federal census enumeration shows them on a poultry farm in South Lakewood, with Joseph working as a poultry man and Frances as bookkeeper. They provided a home in 1920 and again in 1940 for Frances' sister Martha Donnelley and her son Charles.
Sadly, Joseph died in 1951 and was interred in Crown Hill Cemetery, Wheat Ridge, CO.
Frances survived as a widow for more than 20 years. She moved to Alameda County, CA and died there on Sept. 16, 1972. The remains were transported back to Wheat Ridge for burial.
~ Son Irving Josiah Wolfe ~
Son Irving Josiah Wolfe (1883-1951), also spelled "Woolf," was born on April 22, 1883 in Hastings, Adams County, NE.
He stood 5 feet, 8 inches tall in adulthood and weighed 150 lbs.
When he was 23 years of age, on June 12, 1905, Irving married 21-year-old Elizabeth M. Brown (1883-1973), a native of Scotland and the daughter of Robert and Mary Brown of Denver. The wedding was held in Littleton, CO, by the hand of Rev. H.S. Beavis.
One known son in this family was Joseph R. Wolfe.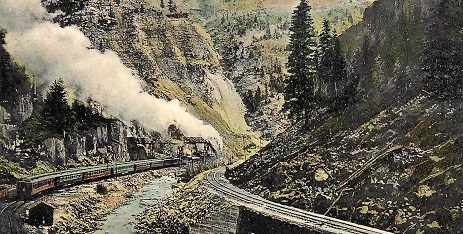 Denver and Rio Grande Railroad in the Eagle River Canyon, CO
Irving was employed in 1903 in Denver as a brakeman with the Colorado and Southern Railway, and then in 1918 as a fireman with the Denver and Rio Grande Railroad. Their home in 1918 was at 748 Mariposa Street, Denver.
By 1942, the pair relocated to Lakewood, Jefferson County, CO, with Irving retired. Their address in 1942 was 1121 Carr Street.
Irving died in 1951. Burial was in Crown Hill Cemetery in Wheat Ridge, CO.
Elizabeth survived for more than two decades. She passed away in 1973.
Son Joseph Robert Wolfe (1905-1993) was born in 1905 in Colorado. On Jan. 19, 1937, at age 31, he wed Margaret Montilda Wiegal (1903-1990). Officiating was Rev. Aaron Schlessman at the nuptials held in Lakewood, CO. Circa 1940, he was employed in a laboratory operated by the State of Colorado, and resided in Denver. Joseph died in Santa Clara, CA on June 25, 1993.
~ Daughter Nettie Inez (Wolfe) Kelso ~
Daughter Nettie Inez Wolfe (1887-1975) was born on Oct. 27, 1887 in Colorado.
Single at age 22, in 1910, she was employed in the capitol as a bookkeeper.
In Septembeer 1912, in Boulder, Nettie married Nebraska native Oren Steven Kelso Sr. (1889-1974). News of the wedding was published in the Fort Collins Express.
Together, they bore two sons, Louis Orth Kelso and Oren Steven Kelso Jr.
In 1920, the Kelsos lived in Westminster, Adams County, CO, with Oren employed as an automobile salesman and Nettie's widowed father living in the household. As of 1930, census records of Westminster show Oren working as Pullman Railroad conductor and Nettie as a grocery store merchant.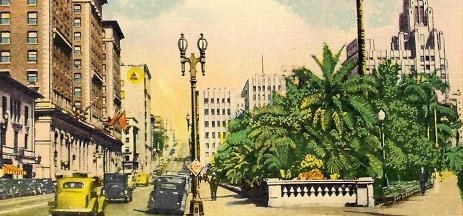 Los Angeles, Nettie Kelso's home in 1948
By the late 1940s, the couple appears to have separated, with Nettie living in Los Angeles in 1948, and Oren relocating to Louisiana. Nettie's residence in 1950 was on the 8th floor of the 700-room Cecil Hotel in Los Angeles, at which time she was employed as a cashier in a retail drug store and her marital status marked as "separated."
When son Louis paid Oren a surprise visit in Louisiana in May 1963, reported the St. Tammany Farmer, it "was the first meeting of father and son in more than 20 years."
Sadly, Oren passed into eternity in Forest Manor Nursing Home in Covington, LA in April 1974. His remains were cremated and then shipped to California.
Nettie only lived for another year and a half. Death swept her away in Alameda County, CA on Sept. 6, 1975.
Son Louis Orth Kelso (1913-1991) was born on Dec. 4, 1913 in Denver. He grew up in Westminster, near Denver, next to the Colorado & Southern Railroad. He recalled later that "I was constantly bothered by the oppressive effects of the depression. My father had lost his job, and my mother had a desperate time making ends meet with a little grocery store she had managed to put together to support the family." He spent his life trying to understand and then change the system. Louis' Wikipedia page calls him "a political economist, corporate and financial lawyer, author, lecturer and merchant banker who is chiefly remembered today as the inventor and pioneer of the employee stock ownership plan (ESOP), invented to enable working people without savings to buy stock in their employer company and pay for it out of its future dividend yield." Louis received a bachelor of science degree in business administration and finance in 1937 and law degree in 1938 from the University of Colorado. For the next four years, he practiced public tax and municipal bond law with a Denver firm, Pershing, Bosworth, Dick & Dawson. His career as an attorney was interrupted by World War II. Louis joined the U.S. Navy and, with an aptitude for intelligence work, was posted to San Francisco and the Panama Canal Zone. He also took part in a top-secret mission in China, behind Japanese lines, and managed the process of counter-espionage data from Latin and Central America. Working tropical hours (a 6 a.m. start and then early afternoon close), he spent part of his days writing his an unpublished book, The Fallacy of Full Employment, which he later reworked into a bestseller under the name The Capitalist Manifesto, co-authored with Mortimer J. Adler. The book focused, he said, on "trying to solve the income distribution problem by relying on only one of the two ways that people participate in production to earn income…. through privately owned capital as through privately owned labor."
When the war ended, Louis chose to enter law academia and taught constitutional law at his alma mater. He then founded his own law firm in San Francisco, named Kelso, Cotton, Seligman & Ray. In the 1940s, his ideas distributing capital more equally started to gain public interest. In 1956, he created a concept for employee stock ownership plan, or "ESOPs" for short, during a major transaction to transfer ownership of a San Francisco newspaper. By 1970, he had built enough of a reputation that the San Francisco Examiner profiled him in a story, "Louis Orth Kelso: Genius of Nut?" Structured as a retirement plan, an ESOP has the power to "motivate employees, increase productivity, improve worker retention, keep jobs local, [and] contribute to business longevity," says the ESOP Association. In a 1990 interview with TV host Bill Moyers, Louis said that "Capital is too fabulous a thing, too vital a thing, too critical a thing to be owned by the few."
Louis was twice-married. He and his first bride Elizabeth "Betty" Hawley (1915-2009) were joined in wedlock in Boulder on Aug. 6, 1938. She was the daughter of Alexander W. Hawley. Together, they produced two daughters, Martha Jennifer "Marty" Brookman and Katie Balestreri. After a divorce, he wed Patricia Hetter ( ? -living). He is known to have traveled to Louisiana in 1963 to visit his parents, "the first meeting of father and son in more than 20 years," reported the St. Tammany (LA) Farmer. Sadly, Louis died of a heart attack in San Francisco's Pacific Medical Center on Feb. 17, 1991. An obituary by the Associated Press said he "invented and became a passionate advocate for stock buyouts that allow employees to own companies they work for... [His] vision of economic democracy was ridiculed by many economists… Regarded by some as an esoteric pension benefit, the ESOP formed a bridge between the opposing philosophies of socialism and capitalism." Today, his legacy lives on through the work of the Kelso Institute and the ESOP Association.. In 2022, the ESOP Association estimated that there were more than 10.5 million employee owners in the nation, working for more than 6,500 companies in industries ranging from manufacturing, science and technology to finance, insurance and real estate.
Granddaughter Martha Jennifer "Marty" Kelso in 1970 was in Aspen, CO, associated with the Institute of Humanistic Studies. She wed (?) Brookman.
Granddaughter Katie Kelso studied at the University of Vienna and the University of Munich. Returning to the United States, she enrolled in Colorado College. She married (?) Balestreri.
Son Oren "Steven" Kelso Jr. (1916-1983) -- also spelled "Stephen" -- was born on March 26, 1916 in Denver. He studied at a prep school in Denver in young manhood and then majored in forestry at the University of California. On Nov. 21, 1948, in nuptials held at St. Paul's Episcopal Church, he was united in matrimony with Marguerite Jane Dennis ( ? - ? ), daughter of James Henry Dennis of Oakland. Rev. Dr. Calvin Barkow officiated. The marriage was announced on the pages of the Oakland Tribune, which said that "A princess gown of white satin brocade was worn by the bride, and with it, a fingertip veil attached to a coronet headdress. She carried white carnations with an orchid center." At the time of the wedding, Marguerite was studying music at the College of the Holy Names. Steven Circa 1950, when the federal census enumeration was made, the couple dwelled in Oakland, CA, with Oren having no occupation and Marguerite employed as a typist and clerk at the Alameda Naval Base. Their home in 1974 is known to have been in Leandro, CA. Oren died on April 10, 1983, in Santa Clara, CA.
Copyright © 2021-2022 Mark A. Miner
Minerd.com extends its gratitude to the late Donna (Younkin) Logan for her research contributions to this biography.