Anna Mariah (Younkin) Herlinger
(1815-1894)
Anna Mariah (Younkin) Herlinger -- also known as "Hannah" -- was born in about 1815 in Lehigh County, PA, the daughter of Henry and Anna Mariah (Overpeck) Younkin Jr.
She entered into marriage with Frederick Herlinger (1811-1890), a native of Northampton County, PA.
The Herlingers' brood of nine offspring included Louisa Grumbling, Isabella Herlinger, Mary Ann Julia Dick, Francis K. "Frank" Herlinger, James K. Herlinger, Amelia Wolfe, William Henry Herlinger, Frederick Herlinger Jr. and Sarah Maria Rugh. Daughter Isabella and son James may have died young.
Circa 1839, the couple established their longtime residence on a farm in Brush Valley Township, Indiana County. Their property was next to farms owned by Anna Mariah's brother Aaron Younkin.

Farms of Fred Herlinger and son Fred (circled) west of Brush Valley, PA, near the farm of Anna Mariah's brother Aaron Younkin, 1871.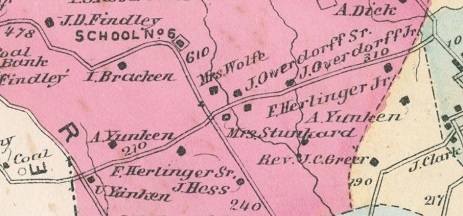 When the federal census enumeration was made, the Herlingers and their five children were residing in Brush Valley. Frederick's occupation was listed as "carpenter."
The 1860 U.S. Census shows Frederick continuing in his carpentry trade, with 19-year-old son Frank also working in the occupation. Also in the household was 15-year-old servant Maria Overdorff and 20-year-old carpenter Joseph Repine.
Frederick's primary occupation in 1870 was farming, working alongside their son William, age 18. Cassy Overdorf, age 44, lived under their roof at that time, earning her keep as a domestic servant.
Deep heartache struck the family in mid-July 1870. A bolt of lightning struck their Brush Valley barn, setting it afire. It "was burned to the ground," said the Indiana Democrat. "The barn had been recently filled with grain and this, together with valuable farming implements, was also destroyed. The loss is total, as there was no insurance on the property."
The Indiana Democrat once said he was "an honorable and industrious citizen, an old time Democrat."
The census of 1880 lists Frederick as a carpenter, with only Annie and daughter Sarah in the home at that time. Living next door was Annie's nephew Uriah Younkin and his wife Louisa (DeArmy) Younkin.
Sadly, Frederick was felled by a stroke of paralysis in mid-June 1890. He "never spoke afterwards," said the Democrat.He lingered for two weeks before death claimed his life, at age 79, on July 2, 1890.
Anna Mariah lived for another four years. Death swept her away into eternity at the age of 79 on June 20, 1894. Interment of the remains was in Fry Cemetery in Brush Valley.
Copyright © 2021-2022 Mark A. Miner
Minerd.com extends its gratitude to the late Donna (Younkin) Logan for her research contributions to this biography.