Frederick Herlinger
(1854-1928)
Frederick "Fred" Herlinger Jr. was born on Oct. 16, 1854 in Brush Valley, Indiana County, PA, the son of Frederick and Anna Mariah (Younkin) Herlinger Sr.
In 1890, when he was 36 years of age, he entered into marriage with Myrtilla Robertson (Jan. 22, 1871-1944). She was a native of Fairmont, Marion County, WV and the daughter of George and Myrtilla (Odell) Robertson. The bride was 16 years younger than the groom.
The couple's two children were Dr. Harry Virgil Herlinger and Clair Cleveland Herlinger. They grieved at the death of son Clair in boyhood in 1902.
Fred moved west at the age of 16 in 1870, and obtained employment with the Chicago, Burlington and Quincy Railroad, also known as the Burlington and Missouri Railroad. In November 1886, he was appointed superintendent of carpenters for the the CB&Q. Said the Indiana (PA) Democrat, "He has ten gangs of carpenters under his management."
After two decades of railroading, Fred returned to his native Indiana County in 1890. There, he continued to ply his trade as a carpenter, working for contractor John S. Hastings, and "active in the building industry at the county seat [of Indiana]," reported the Indiana Weekly Messenger. In May 1899, he completed a 37 ft. by 16 ft. addition to the Clawson House dining room, finishing the job in four days. Said the Indiana Weekly Messenger, "It was speedy work and is a good job." Two months later, in July 1899, he and his partner Robert Kerr received contracts to erect a barn for William Guthrie and a new Lutheran Church parsonage. As the summer wore on, the pair began to erect a home for James S. Blair on Church Street.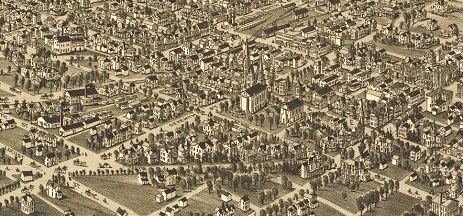 Indiana, Pennsylvania, circa 1900. Library of Congress.
The contracts kept coming, and he built a steady business over many decades in Indiana. The Weekly Messenger said he "was associated in busienss with the Indiana Lumber and Supply Company for a time and was highly successful as a contractor and builder. He had a wide acquaintance throughout the county and was highly esteemed." At some point they also purchased a fruit farm in Brownsville, TX.
Fred was burdened with heart problems for years. While on a train in Texas in October 1928, with Myrtilla and friends Mr. and Mrs. Elmer E. Williams, he was stricken and taken to a hospital in Brownsville. He recovered sufficiently enough to be discharged and brought to the farm. But on Oct. 27, 1928, he dropped dead on the farm at the age of 74. An obituary appeared in the Weekly Messenger. His remains were returned to his Indiana County for burial at Greenwood Cemetery.
Myrtilla outlived her husband by 16 years. She made her final home at 538 Water Street in Indiana.
After suffering a heart attack, Myrtilla was admitted to Indiana Memorial Hospital. She surrendered to death three days later on April 24, 1944.
~ Son Dr. Harry Virgil Herlinger ~
Son Harry Virgil Herlinger, PhD (1891-1945) was born on April 29, 1891 in Brush Valley. In boyhood he suffered from scarlet fever which left him blind and a school dropout in the sixth grade. Fortunately, surgery restored his vision, and he completed high school.
Harry received his undergraduate education at Washington and Jefferson Academy and his Ph.B. degree in 1913 from Grove City College.
He was joined in wedlock with Ouida Wiles (1891-1968).
Together, they bore two sons -- Frederick W. "Fred" Herlinger Sr. and Harry Virgil Herlinger Jr.
Harry Sr. spent his career as an educator. In 1913, he taught at Blairsville High School and in 1916 was tapped to be principal of the Indiana High School. From there he became principal of Latrobe High School in 1919, and two years later he came back as superintendent of Indiana County Schools, at which time 1,813 students were enrolled at all levels. Circa 1928, Harry was hired as school superintendent in Midland, Beaver County, PA and then in 1935 moved to a position as superintendent of schools in Mount Lebanon, a suburb of Pittsburgh. Their residence in Mount Lebanon was 94 Altadena Drive.
He was awarded a master of arts degree at the University of Pittsburgh in 1937. He once held a term as president of the superintendence department of the Pennsylvania State Education Association. In the community, he was president of the Indiana Kiwanis Club (1925) and Midland Rotary Club, was a member of the Indiana Masons lodge, Mount Lebanaon Methodist Episcopal Church and National Education Association. Then for seven more years, from 1937 to 1945, he took night classes at Pitt and in January 1945 received his doctorate in education.
Of his accomplishments, the Pittsburgh Press reported that:
During Dr. Herlinger's tenure, Mt. Lebanon schools enjoyed one of the biggest expansion programs in local school history. Rapid growth of the township, from a small district outpost in 1922 to a large residential center of 22,000 today, resulted in "growing pains" and heavy educational headaches. He was the moving force behind the expansion program, with the climax coming in 1939 with opening of the $776,000 Mellon Junior High School. This is one of the most elaborate and modern schoolhouses in the country, with rado broadcasting, washed-air heating, "seeing eye" electric lighting and concrete flooring throughout the 34 rooms. Dr. Herlinger also had a hand in elementary school building, additions to the senior high school on Cochran road, and construction of spacious athletic fields and gyms.
In September 1945, he made public plans for a new elementary school and upgrades to three other buildings.
But anxiety swept over the family when he was diagnosed with cancer of the spine. He was treated at Pittsburgh's Mercy Hospital but sadly at the age of 53 died there two days before Christmas 1945. An obituary distributed across the state by the Associated Press said he had been "prominent as an educator." He was pictured in a Pittsburgh Press obituary, which said he was "one of the district's best known educators" and that his passing "ended 30 years of brilliant service in district schools, a service highlighted by his success in expanding the Mt. Lebanon school system into one of the most modern in the Tri-State area." School board president A.C. McMillan was quoted thanking Harry for "remarkable leadership, loyalty and example." His body lay in state in the Andrew Mellon Junior High School, with a funeral service conducted by Rev. Lloyd C. Wicke of Mount Lebanon Methodist Church. Interment of the remains was in Greenwood Cemetery, Indiana County.
Ouida outlived her spouse by more than two decades. She passed away in 1958.
Son Frederick W. "Fred" Herlinger Sr. (1916-2007) was born on May 4, 1916 in Brush Valley. He was a 1938 graduate of the University of Pittsburgh and played varsity football for the Panthers under hall of fame coach Jock Sutherland, going undefeated and capturing the 1937 national championship. He was a halfback, wearing uniform no. 67. On Dec. 30, 1938, at the age of 22, Fred was united in matrimony with Bessie Joan Rowe (1919-2011). Their union endured for an extraordinary 68 years. Four children were born in this family -- Eleanor Bisick, Fred W. Herlinger Jr., Harry V. Herlinger and James A. Herlinger. Fred taught and coached at Irwin High School in Westmoreland County, PA before joining the U.S. Armed Forces during World War II. Upon his return home, he was employed as a teacher of chemistry and physics for several school districts. He then became supervising principal at Townville Consolidated School District which had an enrollment of 1,350 students and 56 teachers. In 1960, he was named superintendent of the Richland School District near Johnstown in Cambria County, with 2,500 students and 90 teachers. Also an educator, Bessie taught for more than a quarter of a century, primarily at Rachel Hill Elementary in Richland. The family were members of the Belmont United Methodist Church, and Fred held memberships in the Pennsylvania State Education Association, National Education Association and National Rifle Association. Fred also had a passion for history and the Civil War and for 41 years was part of a reenactor event called the North-South Skirmish Association. He retired in 1974, and in September 1975, the Richland football and soccer stadium was renamed in his honor, Fred W. Herlinger Field. The couple's home in 2007 was in Paint Borough, Somerset County, PA. He died in the Windber Medical Center on Feb. 16, 2007. Pastor Merritt Edner led the funeral, with burial following in Richland Cemetery. Bessie outlived her spouse by four years. As a resident of the Church of the Brethren Home in Richland Township, she died on Oct. 10, 2011.
Granddaughter Eleanor Herlinger married Terry Bisick. Their home in 2007-2011 was in Schellsburg, Bedford County, PA.
Grandson Fred W. Herlinger Jr. wed Lynda Burkett. They dwelled in Tarentum, PA in 2007-2011.
Grandson Harry V. Herlinger was united in wedlock with Gail Manross. They settled in Pittsburgh.
Grandson James A. Herlinger made his home in 2007 in Schellsburg, Bedford County, PA and in 2011 in Richland Township.
Son Dr. Harry Virgil Herlinger Jr. (1924-1981) was born in 1924. He was a pre-medical student at Allegheny College. During World War II, he joined the U.S. Army and was assigned to the 55th Army Ground Forces, with a deployment to the Panama Canal Zone circa 1945. He entered into marriage with Margaret ( ? - ? ). Harry is believed to have died on Nov. 2, 1981.
~ Son Clair Cleveland Herlinger ~
Son Clair Cleveland Herlinger (1893-1902) was born in 1893. Sadly, Clair did not outlive boyhood. He died at the age of about eight on St. Patrick's Day 1902. Burial was in Greenwood Cemetery in Indiana.
Copyright © 2021-2022 Mark A. Miner
Minerd.com extends its gratitude to the late Donna (Younkin) Logan for her research contributions to this biography.