Louisa (Herlinger) Grumbling
(1832-1861)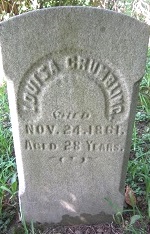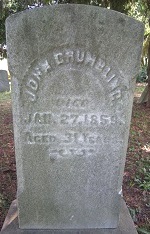 The Grumblings' graves, Brush Valley


Courtesy Brian J. Ensley
Louisa (Herlinger) Grumbling was born in 1832 in Indiana County, PA, the daughter of Frederick and Anna Mariah (Younkin) Herlinger Sr.
Circa 1850 or 1851, at the age of 17 or 18, Louisa was united in holy matrimony with John Grumbling (1828-1859), a neighbor of Brush Valley, Indiana County.
Five children borne by this couple, over the course of their nine-year marriage, were Maria E. Grumbling, William Henry Grumbling, Sarah A. "Sadie" Van Horn, Annie G. Stump and Susan Grumbling.
Sadly, the Grim Reaper cleaved away husband and wife within a two-year period, leaving their brood of offspring as orphans.
John passed first, at age 31, on Jan. 27, 1859. His remains were laid to rest in Fry Cemetery in Brush Valley.
When the federal census enumeration was made in 1860, the widowed Louisa made a home in Brush Valley with four young mouths to feed, ranging in age from two to nine. Her next-door neighbors were her sister and brother-in-law, Mary and George Dick.
Louisa succumbed to the spectre of death at age 28 on Nov. 24, 1861. The cause of her untimely passing is not known.
~ Daughter Maria E. Grumbling ~
Daughter Maria E. Grumbling (1851- ? ) was born in about 1851. She spent her growing-up years in Brush Valley.
After 1860, nothing more about her is known.
~ Son William Henry Grumbling ~
Son William Henry Grumbling (1853-1878) was born in 1853.
He was rendered an orphan at age eight when his mother died in 1861. He is believed to have lived in or near Altoona, PA in young manhood.
In about 1878, a bachelor at age 25, he purchased a farm at Green Spring Run near Shepherdstown, WV, and proposed to move his sisters there to live. His teacher-sister Sadie was planning to visit him during a vacation from work in 1878, "but decided that the time was too short and went to visit friends at Carbondale instead," said the Wilkes-Barre (PA) Times Leader.
But his dream was cut short. On June 21, 1878, his body was found on the Baltimore and Ohio Railroad track several miles west of Green Spring Run. Added the Times Leader, "He was killed by the cars while walking on the railroad on his way to buy some medicine for a member of the family."
Reported the Shepherdstown (WV) Register, "An arm was cut off, and the skull was fractured above the eyes, besides other bruises. His watch and money were found on his person." Another account of the tragedy, in the Altoona Tribune, said that William, "a former citizen of this place, betook himself to West Virginia in search of a home."
He found a locality a few miles distant across the river from Cumberland, Maryland, suited to his tastes, and there erected a dwelling, into which he proposed moving his sisters living in this city. But the other day they received intelligence of his death, which occurred on Sunday last. How he was killed his friends here have not yet been made acquainted. It was a sad blow to them. It was the intention in the first place to bring the remains of the industrious and provident young man here for interment, but the project was abandoned, and they were consigned to the grave where he recently found a home and his death.
~ Daughter Sarah A. "Sadie" (Grumbling) Van Horn ~
Daughter Sarah A. "Sadie" Grumbling (1856-1936) was born in 1856.
After becoming orphaned in 1861, at age five, she was brought into the household of her uncle and aunt, Francis and Maria Herlinger in Brush Valley. Sarah is listed in the Herlinger household in 1870.
She was a 1877 graduate of the Indiana Normal School, a teacher training school, and in March 1878 was named to teach in the high school of Montrose, PA. The Indiana Democrat said in a related story that "Miss G. is a most estimable young lady -- of fine culture and possessed of educational attainments of a high order. The Montrose people have been fortunate in securing the services of Miss Grumbling." But fate intervened again in her life. Reported the Wilkes-Barre Times-Leader on Aug. 30, 1878:
Miss Sadie Grumbling, who made so many friends during her residence in Pittston last year, will not be able to take charge of her school until the beginning of next term owing to the serious illness of her sister at Altoona, Pa. Miss Grumbling had intended accepting an invitation to spend her vacation with her brother in Virginia, but decided that the time was too short and went to visit friends at Carbondale instead. While there she received a telegram announcing the violent death of the brother she had expected to visit at the close of school. He was killed by the cars while walking on the railroad on his way to buy some medicine for a member of the family. Shortly after the death of her brother Miss Grumbling was called to the sick bed of her sister who lies in a very critical condition at present... She has the sympathy of all who know and esteem her, and her return to Pittston will be welcomed by young and old -- pupils and parents.
Back in Pittston by December 1878, she is known to have visited her aunt Mrs. Waterman in Carbondale and then spent Christmas with her Wedeman cousins in Greenfield, PA. She taught at a grammar school in West Pittston until resigning in the spring of 1883. By September 1884, she had secured a teaching position in Altoona's Fourth Ward, and continued work as an educator in Altoona for several years.
On Jan. 11, 1890, at the age of 33, Sarah wed Ethbert Clair Van Horn (Sept. 13, 1859-1923), originally from Havana, OH. The couple did not reproduce.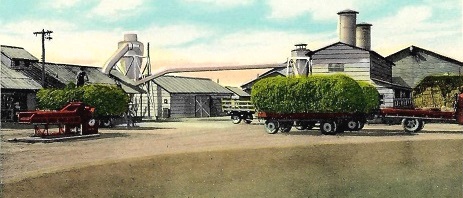 Alfalfa mill, a familiar sight in Lexington, NE, home of the Van Horns
They relocated to Nebraska, where Ethbert earlier had lived in Hastings and Lincoln before relocating to Lexington the year before marriage. The pair stayed in Lexington for good. Of Ethbert's working career, the Lexington (NE) Clipper reported that:
For about a year he had charge of the Old Grand Central Hotel and afterwards became proprietor of the Cornland hotel of this city. For four years he served as deputy postmaster for the city of Lexington. This was during President Cleveland's second administration. Since that time he has been engaged in several forms of business. For ten years he has served as the secretary of the Dawson County Fair Association. To this task he has given much time and effort. For some time he has been one of the county commissioners of Dawson county. For 33 years he has lived in the community and was well known and respected by his friends through the county.
Ethbert also was a member of the local lodge of the Masons. In his final illness, over the span of several months, Ethbert became bedfast. He died at the age of 63 on Aug. 17, 1923. Funeral services were held at the Methodist Church. The remains were transported to Ohio for interment. Sadie outlived her husband by a number of years. In January 1928, she is known to have been back in Indiana County and to have visited her uncle Fred Herlinger. She passed away in Lexington at the age of 78 on Dec. 9, 1936. United Brethren Church pastor Rev. O.T. Williams led the funeral service. Her body was shipped to Monroeville, Huron County, OH to sleep beside her husband's for all time n Riverside Cemetery.
~ Daughter Annie G. (Grumbling) Stump ~
Daughter Annie G. Grumbling (1857-1932) was born on Oct. 17, 1857 in Brush Valley. She was age four when becoming orphaned.
She was joined in wedlock with William M. Stump (July 9, 1851-1927), a native of Allensville, PA and the son of William and Mary (Repasz) Stump.
Their three children were Charles H. Stump, Helen J. Stump and Mildred F. Balthaser.
The couple moved to Altoona, Blair County in about 1877 and stayed for good. William made a living as a furniture merchant. They held a membership in the Christ Second Lutheran Church, and their longtime address was 810 Howard Avenue.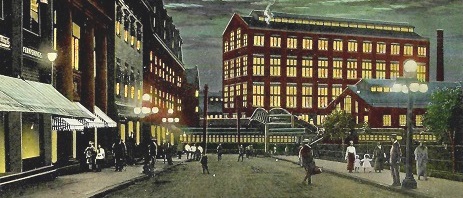 Altoona's 12th Street at night, showing the machine shop and bridge
Sadly, burdened with heart disease and pneumonia, William died at the age of 75 on April 5, 1927.
As a widow, Annie remained in her Howard Avenue residence. Annie was diagnosed in early 1932 with cancer of the gallbladder. It was incurable, and combined with heart disease and buildup of fluid in the lungs, she suffered for eight months before passing away on Sept. 30, 1932, just 17 days shy of her 75th birthday. Her remains were lowered into eternal repose in Oak Ridge Cemetery, Altoona, with Rev. C.H. Hershey officiating the service. The Altoona Tribune printed an obituary.
Son Charles H. Stump (1883-1950) was born on Sept. 6, 1883 in Altoona. He married Jessie Wherry ( ? - ? ). The pair did not reproduce. They made their home at 1809 First Avenue in Altoona in 1927-1950 and then perhaps at times at his parents' residence at 810 Howard Avenue in Altoona. Charles was a manager for Standard Furniture Company for three decades. Later, he became a salesman for Altoona Mattress Company. They belonged to the Christ Second Lutheran Church. As his health declined, from the effects of heart disease, hardening of the arteries and kidney problems, he became a patient in Altoona Hospital. Death carried him away at age 66 on Jan. 12, 1950. Burial was in Oak Ridge Cemetery, Altoona, and the Altoona Tribune printed an obituary.
Daughter Helen J. Stump ( ? - ? ) was born in (?). She was unmarried and residing in Altoona in 1950.
Daughter Mildred F. Stump (1899-1985) was born on Nov. 25, 1899. As a young woman, she was employed by the Pennsylvania Railroad Company and on the staff of the Altoona Mirror newspaper. She then joined the office of the supervisor of expenditures at the Pennsy's Altoona Works. In the summer of 1941, at age 41, she wed widower Edwin B. Balthaser (July 10, 1885- ? ), a native of Mohrsville, PA. Edwin also earned a living with the Pennsy. He brought two stepchildren into the union, Ruth Balthaser and Richard Balthaser. The couple dwelled in 1950 in Altoona. Mildred was a talented singer and performed solos at local weddings. Edwin retired from the Altoona Works on July 1, 1956, having joined the company as a clerk on Sept. 11, 1905 and been promoted to head clerk on July 16, 1951. Mildred died on June 10, 1985. Burial was in Altoona's Oak Ridge Cemetery.
~ Daughter Susan Grumbling ~
Daughter Susan Grumbling (1858- ? ) was born in 1858.
Orphaned at age three, she was taken in by farmers Washington and Isabel Campbell in Brush Valley and is shown in their household in the 1870 census.
Her fate after that is not yet learned.
Copyright © 2021-2022 Mark A. Miner
Minerd.com extends its gratitude to the late Donna (Younkin) Logan for her research contributions to this biography.