Mary Ann Julia (Herlinger) Dick
(1839-1880)
Mary Ann Julia (Herlinger) Dick was born in 1839 in Indiana County, PA, the daughter of Frederick and Anna Mariah (Younkin) Herlinger Sr.
She entered into marriage with George F. Dick (Jan. 24, 1830-1902).
Known offspring produced by this union were Charles G. Dick, Daniel F. Dick, Francis Dick, William H. Dick, Annie Killen, Sarah Sellers and Mary "Florence" Dick
The federal census enumeration of 1860 shows the young family residing on a farm in Brush Valley, Indiana County. By 1870, George had secured employment as a railroad engineer, with the family home now in the city of Altoona, Blair County. The Dicks returned to a life of farming in East Wheatfield Township by 1880.
1871 Atlas of Indiana County
Sadly, Mary Ann passed away in 1880.
As of 1902, George's East Wheatfield farm contained 100 acres.
George died in East Wheatfield in April 1902 at the age of 63, the result of a stroke of paralysis. The Indiana Weekly Messenger said in an obituary that he "was a much respected citizen..." The remains were lowered under the sod of Armagh Cemetery. His last will stipulated that son Charles and William inherit the family farm and then distribute cash from the estate to their three sisters.
~ Son Charles G. Dick ~
Son Charles G. Dick (1859-1914) was born in 1859 in Indiana County, PA. He does not appear to have married.
Circa 1896, he resided in New Castle, PA. In 1902, he and his brother William jointly inherited their father's 100-acre farm.
Charles remained in East Wheatfield for the rest of his life.
Among his memberships were the local lodge of the Odd Fellows and Knights of Pythias.
On the fateful day of June 21, 1914, after beginning to plow a cornfield, he collapsed and died from a massive heart attack. His lifeless body was discovered by his brother. An obituary in the Indiana Gazette reported that Charles "had frequently complained of an ailment of that nature. He was 54 years old and spent practically all of his life in that township."
~ Son Daniel F. Dick ~
Son Daniel F. Dick (1861-1886) was born in 1861.
In his mid-20s, he resided near Armagh, Indiana County.
Grief blanketed the family when he died on Dec. 30, 1886, at the age of 26 years, two months and 18 days. In reporting the death, the Altoona Tribune said that Daniel "had been in failing health for several years."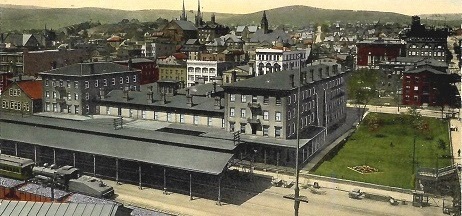 Pennsylvania Railroad station in Altoona, PA, looking west
~ Son Francis H. "Frank" Dick ~
Son Francis H. "Frank" Dick (1862-1896) was born on Sept. 12, 1862 in Brush Valley. He never married.
Frank held a membership in the Morrellville lodge of the Odd Fellows. Of his working career, said the Indiana Progress, "He had been employed for several years by the Cambria Iron Company and when the Johnstown steel works were removed from Moxham to Lorain, O., he went along and took charge of the Speigle cupolas and continued with that company until last February, when he contracted the disease which caused his death."
He suffered a lengthy illness and endured a type of nerve damage known as "paresis."
He was admitted to West Penn Hospital in Pittsburgh where he succumbed to the spectre of death at the age of 34 on July 22, 1896. The Progress said that the deceased "was well known and highly respected by all who knew him. The remains were interred in the Armagh cemetery on Friday and were followed by one of the largest funerals ever witnessed in that neighborhood."
~ Son William H. Dick ~
Son William H. Dick (1864-1937) was born on Sept. 17, 1864 in Brush Valley. He never married.
He was a farmer and then was employed circa 1896 as an engineer on the Baltimore and Ohio Railroad.
Later he moved to Armagh near Johnstown and went to work for the Pennsylvania Department of Highways, remaining there for many years. His final years were spent in Armagh.
Stricken with gangrene of the left leg, which was amputated, added to hardening of the arteries, he died in Lee Hospital on New Year's Eve 1937. Burial was in Armagh, with the funeral conducted by the hand of Rev. H.E. Smith of the Armagh Methodist Episcopal Church. An obituary appeared in the Indiana Gazette.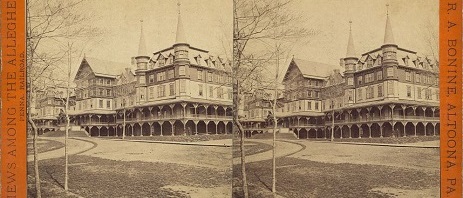 Famed Cresson resort along the Pennsylvania Railroad line.

Library of Congress
~ Daughter Anna Maria (Dick) Killen ~
Daughter Anna Maria "Annie" Dick (1873-1942) was born on Dec. 5, 1873 in Altoona.
In May 1891, she entered into marriage with William Arthur Killen (May 10, 1871-1953), son of Robert and Maria Killen of Armagh, Indiana County.
Together, the couple bore a baker's dozen children, among them Florence Rachel Moyer, Alva Jane Bell Trexler, George Dick Killen, Gertrude Naomi Rosensteel Plowman, William H. Killen, Frank D. Killen, Helen Margaret Klein, Dorothy Jane Gates, Kathleen Ruth "Kay" Tibbott, Vivian Mae Miller Salabes, Jacob Killen, Robert Killen and John E. Killen.
Their home in 1896 was in Seward, Westmoreland County, PA and in 1914-1942 in Cresson, PA, with an address in the early 1940s of 521 Second Street.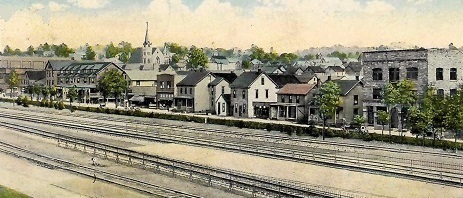 Cresson, PA, adjacent to the Pennsylvania Railroad lines
William earned a living as a painter with the Pennsylvania Railroad and worked for the company for more than four decades. He held a mambership in the Summit lodge of the Masons in Ebensburg and the Williamsport Consistory. He also was involved with the Pennsy's relief association.
At his 61st birthday, on May 10, 1932, the family held a party at their home on Second Street, Altoona, with a related story appearing in the Altoona Tribune.
Having borne chronic heart disease, Anna died four days after her 69th birthday on Dec. 9, 1942 in the Moyer home in Cresson. Burial was in Armagh, PA. An obituary in the Indiana Gazette reported that she was survived by two dozen grandchildren and one great-grandchild.
William lived for another 11 years and married again on Jan. 3, 1945 to Minnie Neikirk. Suffering from hypertension and hardening of the arteries, he was admitted to the Ebensburg Manor convalescent home in Cambria County. There, at the age of 82, after a stay of five months, he surrendered to the angel of death on Sept. 27, 1953. The Altoona Tribune printed an obituary.
Daughter Florence Rachel "Rae" Killen (1892-1985) was born on May 30, 1892 in Seward, Westmoreland County. She married Winfield Day Moyer (Aug. 11, 1890-1957), son of Emanuel Ellsworth "E.E." and Frances Lillian (Sitz) Moyer. Winfield was a mining engineer. They lived in Cresson in 1942, Jamestown, NY in 1954 and back in Cresson in 1957 at 516 Keystone Avenue. Winfield died from hardening of the arteries in Hollidaysburg State Hospital in Blair County, PA on May 28, 1957. Burial was in Union Cemetery in Cresson.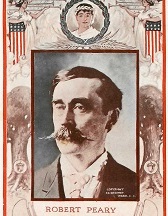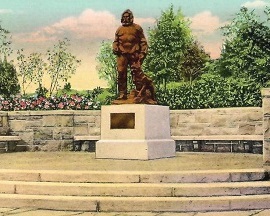 Hometown hero Admiral Robert Peary, explorer of the Arctic who discovered the North Pole in 1909, and his statue in Cresson
Daughter Alva Jane Bell Killen (1895-1988) was born on Aug. 19, 1895 in Seward, Westmoreland County. She wed Joseph Roy Trexler (1893-1974). They settled in Cresson, PA. Joseph served in the U.S. Army's 37th Division, Company A during World War I, attaining the rank of sergeant. In 1931, he served as chief executive of the Penn Cress Ice Cream Company. Joseph died in 1974. Alva passed away on Jan. 22, 1988. She sleeps aside her husband in St. Michael Cemetery in Loretto, Cambria County.
Son George Dick Killen (1896-1973) was born on Nov. 30, 1896. He relocated to Michigan and was in Pontiac, MI 1942-1953. He is known to have been employed for 34 years by the Oakland Motor Car Company, of Pontiac, a division of General Motors, retiring as general supervisor of central stores in 1960. He remained in Pontiac in retirement. He was cut away by the grim reaper on Jan. 24, 1973.
Daughter Gertrude Naomi Killen (1899-1984) was born on Feb. 15, 1899 in Seward, Westmoreland County, PA. Circa 1940, single at the age of 41, she dwelled in Cresson with her parents and was employed as assistant cashier in the First National Bank. She married twice. She first tied the knot with (?) Rosensteel ( ? - ? ). She used that name circa 1966. Her second spouse was Edwin Earl Plowman (July 12, 1898-1952), son of Edward and Mary Jane Plowman. They established a home in Gallitzin, Cambria County, PA, at the address of 917 Quarry Street. Earl made a living for years as a foreman with the Pennsylvania Railroad. Heartache swept over the family when, stricken with an ulcer of the duodenum at age 53, Earl died of a heart attack on Jan. 21, 1952. Gertrude is believed to have died in 1984, with burial at Hebron United Presbyterian Church Cemetery in Pittsburgh.
Son William Harry Killen (1901-1996) was born in 1901. He married Elizabeth ( ? - ? ). One known daughter was Doris Jean Rutledge. They dwelled in Bradford, PA in the early 1940s and 1950s, with William working as manager of a drug company. Their address in 1952 was 20 Lawrence Avenue.
Son Frank "Daniel" Killen (1904-1987) was born in 1904. He was a 1923 graduate of Cresson High School and in young manhood was employed at the Bellwood drug store as an assistant to Dr. Gross. On March 26, 1925, at the Lutheran church in Altoona, he entered into matrimony with Viola Mae Kustaborder ( ? - ? ), daughter of W.C. Kustaborder. Rev. Harry N. Walters officiated, with the wedding announced in the Altoona Tribune. She was a 1923 alumna of Bellwood High School. They resided in Bellwood, PA. Daniel reputedly died in Pinellas County, FL on Aug. 30, 1987. This needs to be confirmed.
Daughter Helen Margaret Killen (1906-1966) was born on June 22, 1906 in Cresson. No physician was in attendance. On March 2, 1929, in Oakland, MD, she was united in wedlock with Albert D. Klein ( ? - ? ), son of Cora Klein. They became the parents of Jack D. Klein, Mary Margaret Fretz and Albert D. Klein Jr. Albert was employed in Altoona as a railroad clerk. In 1930, the Kleins lived with Albert's mother in Altoona. By 1950, they moved to Arlington, VA, with Jack employed as a transfer company superintendent. Their final home together was at 2914 Graham Road in Falls Church, VA. On Oct. 14, 1966, Helen died in Arlington. Her remains were shipped back to Altoona to sleep for the ages in Rose Hill Cemetery.
Daughter Dorothy Jane Killen (1908-1990) was born on Oct. 7, 1908 in Cresson. Dr. F.C. Kress of Lilly, PA assisted in the birth. She entered into marriage with Lawrence "Merle" Gates ( ? - ? ). Two known sons were Lawrence Emery Gates and John P. Gates. They migrated to the District of Columbia and were there in 1935. By 1940, they had relocated across the Potomac River to Arlington, VA, with Merle employed as manager for the Eagle Transfer Company. Dorothy passed away in Alexandria, VA on April 10, 1990.
Daughter Kathleen Ruth "Kay" Killen (1911-2004) was born on March 19, 1911 in Cresson, Cambria County. She was a graduate of Cresson High School and then furthered her education at the Cambria Rowe Business College. She then became employed in the office of Penn Cress Ice Cream Company. On June 4, 1936, she was joined in matrimony with Rowland H. Tibbott Sr. (Dec. 28, 1910-1967). The nuptials were led by Rev. Dr. John R. Thomas at the First Presbyterian Church in Cresson. In reporting on the marriage, the Altoona Tribune said it was "one of the prettiest weddings ever solemnized in Cresson" and that the bride was "a popular member of the local younger social set." Rowland was an alumnus of Ebensburg High School and received his pharmacy degree at the University of Pittsburgh. Their residence in 1942 was in Ebensburg, PA. Sadly, Rowland passed away on Sept. 5, 1967 at the age of 65. Kathleen died at the age of 92, in Ebensburg, on Feb. 27, 2004.
Daughter Vivian Mae Killen (1913-2000) was born on April 1, 1913 in Cresson. Unmarried at the age of 27, she lived at home with her parents in Cresson in 1940 and earned a living as a hospital nurse. She was thrice-wed. Her first spouse was David M. Miller. The Millers were in Biloxi, MS circa 1942. By 1953, she married again to (?) Salabes and dwelled in Washington, DC. By 1966, her third husband was (?) Gilbert ( ? - ? ). Death swept her away in Virginia on Jan. 10, 2000.
Son John Frederick "Jack" Killen (1914-1991) was born in 1914. He joined the U.S. Army Air Forces during World War II and was an aviation cadet at Pensacola, FL in 1942. He lived in New York City in 1953. He died there on April 2, 1991.
Son Robert Jay Killen (1916-1997) was born in 1916. He joined the U.S. Army during World War II. He was deployed to India. After the war's end, on Oct. 15, 1947, hemarried Jane Alice Dietrich ( ? - ? ). The nuptials were conducted in the District of Columbia. As of 1953, they had put down roots in Bethesda, MD. He died in Palm Coast, Flagler County, FL on Jan. 11, 1997.
Son Donald Edwin Killen (1919-2003) was born on Jan. 31, 1919 in Cresson. He joined the U.S. Army during World War II and was posted to Australia in 1942. He wed Mary Louise Inghram (1920- ? ). Two known children in this family were Daphne Lynn Killen and Donald E. Killen Jr. They settled in Waynesburg, Greene County, PA, where Donald was a student in 1950 and made a living as a gasoline service station attendant. Their final residence together was in Waynesburg. Donald passed away on July 2, 2003.
~ Daughter Sarah "Sadie" (Dick) Sellers ~
Daughter Sarah "Sadie" Dick (1877-1966) was born in 1877.
In December 1896, she was joined in wedlock with John Sellers (June 29, 1874-1927), son of English immigrants William and Mary Sellers and a residence of Seward, PA. The marriage was announced in the Indiana Gazette.
Five known sons produced by the couple were William James Sellers, Charles David Sellers, Walter Sellers, Paul Sellers and Raymond Lloyd Sellers.
John earned a living over the years as a laborer for the Shaffer Ice Company. Their home in 1927 was at 180 David Street, Johnstown.
He was burdened with hypertension and, on Feb. 16, 1927, suffered a stroke of apoplexy and died at the age of 52. Interment was in Armagh Cemetery.
Sadie outlived her husband by decades. Her home in 1938 was located on Von Lunen Road and in 1953 at 622 Fronheiser Street, Johnstown. Her final home was in Cuyahoga Falls, OH. She died there at the age of 89 on Aug. 27, 1966. Her remains were transported back to Armagh for interment.
Son William James Sellers (1897-1968)
Son Charles David Sellers (1898-1947)
Son Walter Sellers (1905-1956)
Son Paul Sellers (1911-1973)
Son Raymond Lloyd Sellers (1919-1968)
~ Daughter Mary "Florence" Dick ~
Daughter Mary "Florence" Dick (1879-1953) was born on Sept. 7, 1879 (or 1881).
At the death of her father in 1902, when she was age 23, she was to receive bed, bedding, upholstered furniture and parlot carpet as well as $20 a year as long as she remained single. In fact she never married.
As of 1914-1938, she shared a residence with her brother William. Florence earned a living as a cook for the Penn Way Inn.
Having borne hypertension, she suffered a cerebral hemorrhage and spent the last several weeks of her life in the home of her married sister Sadie at 622 Frankeiser Street in Johnstown. She there on Jan. 19, 1953. Funeral services were conducted in the Armagh Methodist Church, officiated by Rev. R. Dawson Hopkins. Burial was in Armagh Cemetery, with an obituary appearing in the Indiana Gazette.
Copyright © 2021-2022 Mark A. Miner
Minerd.com extends its gratitude to the late Donna (Younkin) Logan for her research contributions to this biography.