Sarah Maria (Herlinger) Rugh
(1858-1940)
Sarah Maria (Herlinger) Rugh was born on Sept. 3, 1858 in Brush Valley, Indiana County, PA, the daughter of Frederick and Anna Mariah (Younkin) Herlinger Sr.
Circa 1882, she was united in matrimony with John H. Rugh (Nov. 1857-1903), son of Mary Rugh.
The pair begat five children, of whom three are known -- Vernie Fowler, Charles Frederick Rugh and William H. Rugh.
Their home was on a farm in Brush Valley.
On the fateful day of Dec. 30, 1903, the 46-year-old John was "found dead with a broken neck, on the road near the Rugh school house," reported the Indiana Democrat. "He had been to Heshbon on business, driving a team and sled, and was returning home when it is supposed his team attempted to turned [sic] around and his efforts to get them back he either fell or was thrown out of the sled." Rev. Joel Hunt conducted the funeral service, with burial in Fry cemetery.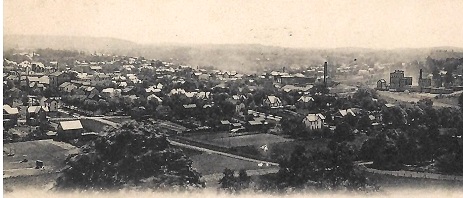 Indiana, PA, looking southwest from Round Top

The widowed Sarah moved with her young children into the city of Indiana. They often made visits to family back in Brush Valley. Her final address was at 541 Washington Street.

Sarah fell at home and fractured her right hip in late October 1939. Already burdened with chronic heart disease and hardening of the arteries, her health declined further. At the age of 81, she died in Indiana on March 30, 1940. Interment was in Greenwood Cemetery.

~ Daughter Vernie M. (Rugh) Fowler ~

Daughter Vernie M. Rugh (1892- ? ) was born on July 14, 1892 in Brush Valley Township. D.H. Tomb was assigned by the county court as her legal guardian.

While on a visit to Cleveland, OH in July 1913, she was stricken with what was believed to be typhoid fever and brought back home to Indiana. During the winter of 1913-1914, she is known to have taught school in Ebensburg, PA for Miss Gallagher. She is known to have graduated in 1914 from Indiana State Normal School.

Circa the spring of 1916, she was a teacher in Beaverdale, PA and that fall led a class of 103 pupils at Emeigh, near Cherry Tree. Joked the Indiana Weekly, "They must be hard up for schools and teachers over there."

On the morning of Sept. 21, 1920, in what the Indiana Gazette called a "quiet, but interesting nuptial event," Vernie entered into marriage with Floyd C. Fowler ( ? - ? ), son of Frank Fowler of South Sixth Street, Indiana. Rev. Chalmers G. Morrow, of the First United Presbyterian Church, led the wedding ceremony, held at his home. At the time, Floyd was considered "one of Indiana's active business men and is a member of the Implement and Machinery firm of Fowler and Fowler," said the Gazette. "The new Mrs. Fowler comes of one of Indiana county's oldest and prominent families. Both [bride and groom] are the proud possessors of a wide friendship, who will wish them the most hearty congratulations."

The couple did not reproduce.

Vernie was a member of the auxiliary of the Richard Watson Post of the American Legion and the 8 et 40 organization. They resided in the 1960s at 541 Washington Street. As she aged, Vernie became a resident of the Mountain View Nursing Home near Hillsdale.

There, at age 75, she died on Feb. 23, 1968. Rev. G. Glenn Stephens led the service, with an obituary appearing in the Gazette. Burial was in Greenwood Cemetery.

~ Son Charles Frederick Rugh ~

Son Charles Frederick Rugh (1895-1949) was born on May 19, 1895 in Brush Valley, Indiana County, PA.

He was a graduate of Indiana High School and the Indiana State Teachers College. He then secured his bachelor's degree at the University of Michigan.

On Aug. 5, 1925, Charles married Florence Thomas ( ? - ? ). The pair did not reproduce.

He spent his early career coaching football in Milwaukee at Riverside High School and in Saginaw, MI at Arthur Hill High School. They made a home in Chicago for a decade.

The Rughs relocated in about 1938 to the Philadelphia suburb of Wynnewood, Montgomery County, PA, putting down roots of their final years together, They made a home in the Wyndon Apartments along Lancaster and Morris Road. There, he was employed as a book sales representative with the American Technical Society of Chicago.

On the notable day of July 16, 1949, while traveling in Fairmont, WV, he was paralyzed by a stroke and admitted to Fairmont General Hospital. Death mercifully carried him away two days later on July 18, 1949. The body was shipped to Wynnewood for a funeral service, conduced by Rev. Dr. Harry Burton Boyd of the First Presbyterian Church. The remains were lowered into the soil of the family burial plot in Greenwood Cemetery, and an obituary appeared in the Indiana Gazette.

~ Son William H. Rugh ~

Son William H. Rugh (1895- ? ) was born in December 1895.

He was in Indiana, PA in 1940, at the time he signed his mother's official Pennsylvania certificate of death, and in 1949 at the death of his brother.

William is known to have resided in Penn Run, Indiana County, PA in 1968.

Copyright © 2021-2022 Mark A. Miner

Minerd.com extends its gratitude to the late Donna (Younkin) Logan for her research contributions to this biography.