Anna (Hoye) Bunting
(1886-1968)
Anna (Hoye) Bunting was born on July 27, 1886 in Dunbar, Fayette County, PA, the daughter of John J.P. and Louisa (Minerd) Hoye Sr.
On Dec. 20, 1913, Anna married Harry Clay Bunting Sr. (Feb. 17, 1884-1964), son of Henry and Phoebe (Wood) Bunting of Dunbar. The wedding took place at Scottdale, Westmoreland County, PA, by the hand of Rev. James E. Hutchinson of the Presbyterian Church. Anna was age 27, and Harry 29, at the time of the nuptials.
They went on to produce four children -- Robert Hoye Bunting, Harry C. Bunting Jr., Redding W. Bunting Sr. and John Paul Bunting.
The Buntings resided for decades at 64 Woodvale Street in Dunbar. Harry worked as a carpenter at the time of marriage and through the 1910s and 1920s. Later, he earned a living as a pattern maker, according to the 1942 book, The Hoyes of Maryland, authored by Capt. Charles E. Hoye.
Said the Connellsville Daily Courier, Harry was an "employe of the Pennsylvania Wire Glass Co. and a self-employed carpenter ... [He] retired in 1948."

Pennsylvania Railroad depot in Dunbar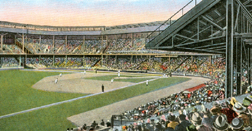 Detroit's Briggs Stadium, where Harry saw
1909 World Series games versus Pittsburgh
Harry was a fan of Major League baseball. In October 1909, when the Pittsburgh Pirates were battling the Detroit Tigers in the World Series -- pitting future hall of famers Honus Wagner against Ty Cobb -- Harry traveled to the Motor City to attend some of the games. In its "Dunbar" section, the Daily Courier reported: "Harry Bunting, who has been attending the Detroit and Pittsburg games at Detroit, returned home Wednesday."
In 1920, one of the Buntings' neighbors on Woodvale Street was a distant cousin, the famed "blacksmith-preacher," Rev. David Ewing Minerd. In 1921, David became the Buntings' brother in law when he married Harry's widowed sister, Rose Ella (Bunting) Hodgkins.
Anna enjoyed visiting her sister Margaret McClain in Smithfield, Fayette County, and hosted Margaret's daughter Bess for a visit of several weeks in August 1935. In 1937, she was an active volunteer with the Home Economics Club and held social meetings in her home. In July 1938, they traveled to Gettysburg to attend the Blue and Gray Reunion.
The Buntings celebrated their golden wedding anniversary on Dec. 20, 1963 with a turkey dinner at their home on Woodvale Street. Said the Daily Courier, "Twenty members of the immediate family attended the anniversary dinner. the couple received many gifts... Two anniversary cakes for the affair were baked by Mrs. Grover Nelson, a niece of the celebrants, and Mrs. John P. Bunting, their daughter in law."
Suffering from senility and a gall bladder infection (choleocystitis), Harry passed away at age 80 on April 5, 1964, just a few days after the death of his brother Joseph Bunting.
In late February 1965, Anna and her daughter in law Evelyn and grandson J.P. Bunting flew to West Palm Beach, FL, to visit Anna's son Redding Bunting. The Daily Courier reported that Anna planned to remain there for "a couple of months."
Anna passed away unexpectedly at home in Dunbar on May 15, 1968. She was age 82. She was laid to rest at the Mount Auburn Cemetery. At the time of her death, she was survived by nine grandchildren.
~ Son Robert H. Bunting ~
Son Robert H. Bunting (1914-1996) was born in 1914.
As an adult, he resided in Addison, IL. Said the Connellsville Daily Courier, he was a "theatre sound engineer for RCA. He was a member of the American Legion Post 146 of Dunbar, Pa., a member of the Elks and a World War II veteran, U.S. Navy."
He married Edith Balzick of Blairsville, PA and had three children -- Dr. Susan L. Bunting, Helen Louise Engle and Robert Clay Bunting.
In December 1949, the Buntings lived in Flint, MI. Later, they moved to the Chicago area. In May 1965, Edith traveled to Dunbar to visit with Robert's aged mother, as reported by the Daily Courier.
Robert passed away in Addison on March 7, 1996.
~ Son Redding W. Bunting Sr. ~
Son Redding W. Bunting Sr. (1917-1996 ) was born in 1917.
He "was a retired contractor," said the Daily Courier. "He was a veteran of World War II, first lieutenant and navigator with the U.S. Air Force."
Redding married and had four children -- Rosemary Copple, Robert M. Bunting, Redding W. Bunting Jr. and Harry Joseph Bunting. They lived in Pittsburgh circa 1920.
Redding passed away at age 78 on Sept. 16, 1966, and is buried at Mt. Auburn Cemetery, Dunbar.

John P. Bunting
~ Son John Paul Bunting ~
Son John Paul Bunting (1925- ? ) was born in about 1925.
He attended Dunbar Township High School and served as a second lieutenant in the U.S. Army during World War II. He entered the service on June 12, 1943.
In 1945, John married Helen Hunter ( ? - ? ), daughter of Grace Hunter of Indian Head, Fayette County. The ceremony took place in Warren, Trumbull County, OH.

They had at least one son, Mark Edward Bunting.
Later, in 1956, John married Evelyn Robbins ( ? - ? ), the granddaughter of a distant step-cousin, Emma (Fuller) Robbins.
In the 1940s and '50s, John was employed with American Oil Company in Uniontown, and Evelyn, a former piano teacher, worked as an IBM operator at the West Penn Power Company in Connellsville.
John is pictured in the book, Young American Patriots, World War II, Pennsylvania, accompanied by a short biographical profile.
Copyright © 2005, 2008, 2012, 2014 Mark A. Miner