Louisa (Minerd) Hoye
(1854-1899)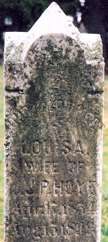 Franklin Cemetery

Louisa (Minerd) Hoye was born on April 17, 1854 in Preston County, WV, the daughter of Burket and Susan (Hartzell) Minerd. Much of what is known of her is from the 1942 book, The Hoyes of Maryland, by Captain Charles E. Hoye.
In about 1874, when Louisa was 20, she married John Jacob Paul Hoye Sr. (1847-1902), a native of either Maryland or West Virginia, and the son of John and Ann Elizabeth "Nancy" (Craver) Hoye.
The Hoyes had five known children -- Arona "Ina" B. Hoye, Margaret "Maggie" McClain, John J.P. Hoye Jr., Anna Bunting and William Harlan Hoye. Sadly, the youngest, William, died in 1888 at the tender age of about two months.
The family first resided in Oakland, Garrett County, MD, where their first two children were born. Oakland is just a short distance over the county line from Louisa's birthplace.
In 1880, when the federal census was taken, Louisa and her two young daughters were residing in the home of her "hopelessly invalid" mother in Oakland. Louisa's occupation was listed as "Washwoman." John's whereabouts at that time are not known, but he may have been away working. About that same year, the Hoyes moved "from Oakland to Dunbar," Fayette County, PA, according to the 1942 book, The Hoyes of Maryland, authored by Capt. Charles E. Hoye.

Book naming the family

Louisa's sister Mary Cole had relocated earlier to Dunbar, and may have helped persuade the Hoyes to join her there. Dunbar was booming as an industrial center, and was famed as the home of Dunbar Furnace.

In 1900, the Hoye and Cole families lived side by side in the town. Dunbar in the late 1800s was filled with many branches of Minerd-Miner-Minor family descendants -- in fact, after Mary was widowed later in life, she married neighbor and distant cousin Isaac F. Minerd.

After arriving in Dunbar, the last three Hoye children were born.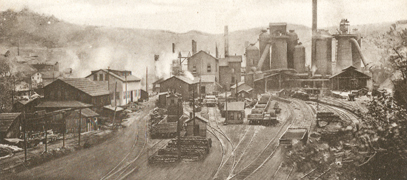 Dunbar Furnace in full operation, belching smoke

Uniontown Genius of Liberty

Sadly, Louisa surrendered to the angel of death in Dunbar on Aug. 15, 1899. The cause of death was a buildup of fluids in her lungs. A brief obituary in the Uniontown Genius of Liberty reported that "Mrs. John J.P. Hoye, aged about 45, died Monday night of dropsy. She leaves a husband and four children." She was buried at Franklin Cemetery in Dunbar. Her grave marker, when photographed in the spring of 2003, was darkened and barely legible.

John outlived his wife by just three years.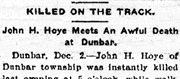 Connellsville Weekly Courier

Tragically, on Dec. 1, 1902, he "died from injuries suffered in a railroad accident," said the Hoyes book. According to headline coverage in the Connellsville Weekly Courier:

Train No. 51 due here from Fairmont at 5:30 in the evening struck and killed John J.P. Hoye a short distance from Dunbar Monday evening. Hoye was placed aboard the train and brought to Connellsville. An ambulance met the train here but Hoye had died in the baggage car between Gibson Junction and the station. Hoye lived at Dunbar and leaves a wife and family of grown children. One son in an engineer at the Dunbar furnace and a daughter is lying low with typhoid fever. He lived on the hill near the Catholic Church.
A number of small boys saw Hoye shortly before he was killed. They say they made an effort to get him off the track, knowing that No. 51 was about due. Hoye was struck near the brick yards, one of the most dangerous places in the county, and a point where more people have been killed than any other. At the point, however, there is no need to walk on either the Pennsylvania or Baltimore & Ohio tracks since there is a public road and a fairly good street on both sides. Hoye's body was taken back to Dunbar Monday evening.

Franklin Cemetery

The funeral was held at the family home. John's "horribly mangled" body was laid to rest beside his wife's remains at Franklin Cemetery. His grave marker, still visible after more than a century, was photographed by the founder of this website in 2003.

On April 9, 2003, the tale of John's tragic fate was re-told in an article in the Connellsville Daily Courier.

No Place Like Dunbar

His story later was republished in the book, There's No Place Like Dunbar! 2002-2004 - Historical Vignettes and Personal Reflections from The Daily Courier's Dunbar Column, authored by Donna R. Myers and Bonnie L. Zurick of the Dunbar (PA) Historical Society. A thumbnail image of the book is seen here.

[Editor's note -- The Hoyes book was published by Captain Hoye at Sang Run, MD, utilizing the press of the Sincell Printing Company, Oakland, MD. He was the first president of the Garrett County Historical Society and a member of the Maryland Historical Society.]