Bailey Dawson Inks
(1860-1940)


Bailey and Mary Jane Inks
Bailey Dawson Inks was born near Farmington, Fayette County, PA on Nov. 23, 1860, the son of Andrew J. and Minerva (Minerd) Inks.
At Cumberland, Allegany County, MD, on Sept. 8, 1890, Bailey married Mary Jane Treacher (1872-1922), an immigrant who had come to the United States from Murray Fields, Newlands, Northumberland, England. He was age 30, and she 18, at the time.
A few weeks after the wedding, the Uniontown Genius of Liberty reported that Bailey "was visiting the home folks Saturday. He is saw-milling west of Uniontown."
The following year, on Jan. 8, 1891, the Genius noted that he "came up from the county Capital Saturday, to spend Sabbath with the home folks" in Farmington.
They had three children – Sylvia "Mae" Campbell Rose, Andrew T. Inks and Clarence R. Inks.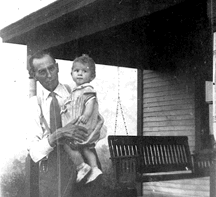 Bailey and a grandchild
The Inkses lived at Dunbar, Fayette County,. PA in the 1890s. Later, they moved to Wilson Avenue in Uniontown.
Bailey worked as a fireman, likely on the railroad. Mary Jane was a was a "well and favorably known ... caterer at the Laurel Club from the time of its establishment in its present quarters until about [1919] when she retired."
When she was 34, Mary Jane and 11-year-old son Clarence traveled to England for a visit. They returned home on the ship Lucania, which sailed from Liverpool, England to Ellis Island, New York, arriving on Sept. 22, 1906, a fact recorded in the American Family Immigration History Center web database.
Mary Jane battled through the years with asthma. On Jan. 9, 1922, during a bout with the illness, she suffered a heart attack, and died. She was buried at Oak Grove Cemetery in Uniontown.
After her death, Bailey moved to Monongahela, PA, residing with daughter Mae at 1302 Fourth Street. Suffering from chronic myocarditis (heart disease) and pneumonia, he died there at the age of 80 on Oct. 21, 1940, and was buried at Oak Grove Cemetery.
The following year, in August 1941, the Fayette County Orphans Court made a decree in the distribution of assets from Mary Jane's estate.
Mae Inks
~ Daughter Sylvia Mae (Inks) Campbell Rose ~
Daughter Sylvia "Mae" Inks (1891-1973) was born on June 17, 1891.
She was "well known ... [and] one of Uniontown's many popular young girls," a newspaper once said.
On Jan. 8, 1914, at age 22 in Uniontown, she married her first husband, 27-year-old George William Campbell (1886-1918), an electrician who had been born in either Philadelphia New York City. He was the son of Thomas William and Sarah (Murphy) Campbell, and at the time resided in Philadelphia. Rev. Charles William Tinsley performed their nuptials.
They made their home in Philadelphia, at 5140 Reno Street, and had three known children, George B. Campbell, Madeline B. Lusk and Betty Collaretti
Mae's world was shattered in November 1918 when her husband was afflicted with a serious case of influenza during the nationwide epidemic of that year. Exhausted by the illness, he died at the age of 31 on Nov. 26, 1918. He was laid to rest in Holy Cross Cemetery in the Philadelphia area. After his burial in Philadelphia, Mae and her children returned to Uniontown to rebuild their lives.
She married Frederick A. Rose ( ? - ? ), a native of Pittsburgh, and settled in Monongahela, Washington County circa 1927. Their longtime address was 1302 Fourth Street. Frederick was a crew dispatcher, while Sylvia was a member of the First United Methodist Church of Monongahela, the Dames of Malta, Rebecca Lodge and Daughters of America.
They had two more children of their own -- Mary Jane Carson and Thomas R. Rose.
Sylvia passed away at the age of 81 on March 3, 1973, in the Monongahela Division of the Mon Valley Hospital. Reported the Valley Independent, she was survived by 19 grandchildren and 13 great-grandchildren.
Son George B. Campbell moved to Stirling Heights, MI. He was there circa 1973.
Daughter Madeline B. Campbell (1915-2004) was born on Dec. 29, 1912 in Philadelphia. She married Frank Ellsworth Lusk Sr. (1911-1997), son of J. Mansell and Nellie (Hought) Lusk of Bentleyville, Washington County. They lived in Monongahela and had five children -- Janet Ryerson, Frank Ellsworth Lusk Jr., James Lusk, William Lusk and Larsha Louttit. Frank was a longtime mechanic employed by Combustion Engineering in East Monongahela. They attended the Methodist Church. Upon retirement, they moved to Arizona and thence in about 1987 relocated to Georgia, settling near their son in Athens, Brooke County. Frank died at the age of 85 in Athens on Aug. 29, 1997. Madeline passed away on Feb. 6, 2004, at a hospice in Athens. The Valley Independent reported that she was survived by 10 grandchildren and four great-grandchildren.
Daughter Betty Campbell (1917-1991) was born on Oct. 16, 1917 in Philadelphia. She wed Carlo Collaretti and had one daughter, Patricia Ann Artis. In the 1970s made their home in Monongahela and were members of the First United Methodist Church of Monongahela. Later, she retired to South Venice, FL, where she made a home on Crane Road. Sadly, Betty outlived her married daughter Patricia Ann Artis. She died at home in South Venice at the age of 74 on Dec. 20, 1991. Her remains were returned to Pennsylvania for interment. Rev. La Mar Carlson, of the First United Methodist Church, officiated at the burial in Monongahela Cemetery.
Daughter Mary Jane Rose (1927- ? ) was born in 1927 in Monongahela. At the age of 18, on March 30, 1945, she wed 22-year-old rural mail carrier James Donald Carson (1923- ? ), son of Joseph Glenn and Mary Jeanette (Nelson) Carson of Monongahela. At the time, she was employed as a telephone operator. In 1973-2004, they lived in Monongahela.
Son Thomas R. Rose made his home in Pittsburgh in 1973.

Andrew Inks
~ Son Andrew T. Inks ~
Son Andrew T. Inks (1893 -1945) was born on March 9, 1893. He was a salesman in early adulthood.
During World War I, he enlisted on his 25th birthday and was a sergeant in the U.S. Army medical department. He was honorably discharged on June 9, 1919.
He married Anna Belle Kramm ( ? - ? ), and lived in McKeesport, near Pittsburgh, PA. He was a member of the Elks Club.
They had at least one daughter, Betty L. Miller.
He was confined to a veteran's hospital in Coatesville, PA, circa 1941.
He died there on March 15, 1945, at the age of 52, and is buried at Versailles Cemetery in McKeesport. [Find-a-Grave]
Daughter Betty L. Inks (1926- ? ) was born on Sept. 14, 1926. On May 22, 1950, at age 23, she wed 22-year-old Ross O. Miller (1928- ? ), the son of Ross E. and Dessie B. (Dom) Miller of Bedford, Bedford County, PA. At the time, she earned a living as a clerk and resided at 310 Shaw Avenue in McKeesport.

Clarence Inks
~ Son Clarence Ray Inks ~
Son Clarence Ray Inks (1895-1934) was born on Dec. 18, 1894 or Jan. 18, 1895 in Uniontown. He served in World War I, and lived in Uniontown for the remainder of his life.
He apparently never married. Clarence was an automobile mechanic and for a dozen years worked for Standard Garage. In about 1932, he changed employment, going to work for Charles E. Collier Auto Repair Shop on East Church Street in Uniontown. He also was a member of American Legion Post No. 51.
Also in February 1932, while a passenger in a vehicle driven by Arthur Hutchinson, Clarence was injured and his friend killed in a skidding collision with a West Penn Railway trolley on North Beeson Avenue. A coroner's jury ruled that no one was at fault.
Circa 1934, he worked in automobile repair for Standard Auto Company.
His tragic suicide in 1934 made front page news in local newspapers. During the late 1920s and early 1930s, Clarence had roomed for seven years with Daniel and Eleanor "Nora" Cooper in the Strickler-Hess building on Uniontown's West Main Street. On the evening of Oct. 13, 1934, visibly intoxicated, Clarence got into an argument with his landlords. He pulled out a .32 caliber Smith & Wesson revolver and threatened to shoot. Mrs. Cooper retorted, "You don't have the guts." He pointed the gun at her spine and fired a mortal shot. "My God, Clarence, what are you doing, have you gone crazy?" yelled the husband. "That is for you!" Clarence replied as he fired at Daniel but missed. Clarence then said, "and this is for me," placed the gun at his own temple and fired. He was rushed to the Uniontown Hospital but died without regaining consciousness.
He is buried in the soldiers' plot at Sylvan Heights Cemetery, with the American Legion conducting the funeral. In the Uniontown Morning Herald, his grieving father, sister and brother published a card of thanks reading: "We wish to thank the American Legion, the Elks, Rev. E.C. Pires and friends for their floral tributes and other kindnesses in our recent bereavement...."
Copyright © 2001-2002, 2006, 2014, 2020 Mark A. Miner