Minerva and Andrew

Minerva (Minerd) Inks was born in 1837 in Wharton Township, Fayette County, PA, the eldest of 11 children of James and Sarah (Walters) Minerd Sr.
Minerva was joined in wedlock with Andrew Jackson Inks (1832-1913).
Together, the pair bore 10 known children -- Arminda "Minnie" Johnson, Bailey Dawson Inks, Emma Williams, Harriet Inks, Calvin L. Inks, Albert W. Inks, Sarah Chisnell, Tamzon Grimm, John H. Inks and Bertha Wilson.
The Inks family lived at Farmington and Fairchance in Fayette County. In 1862, Minerva joined the Mt. Washington Church at Chalk Hill, near Uniontown, PA.
Andrew was a farmer for many years. He is known to have been in charge of the farm of the H.C. Frick Coke Company at Fairchance. In 1881, he was elected constable of North Union Township, Fayette County.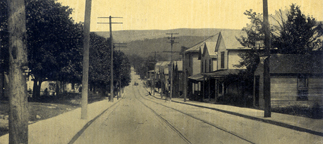 An early view of Fairchance's Church Street. Note the mountains in the background.
Inks offspring and spouses, 1906 - enlarge

In 1890, the Inkses are thought to have moved to Lebanon, SD. The Uniontown Genius of Liberty reported that Andrew "arrived safely with his family and goods at his destination. [He] says, that he never before traveled with as good and kind treatment as he received clear through to his destination on the B. & O. railroad and he advises all persons traveling West to go by the B. & O. Mr. Inks in concluding says that he and his family are pleased with their new home." Their stay apparently was not long, perhaps a year, and they returned to Fayette County.

A group photograph was taken of the Inks clan in early November 1906, location unknown. The image shows Minerva and Andrew (in middle row, 4th and 5th from right) with their adult children and young grandchildren. To view a larger version, along with specific identities, click here.

In 1911, Minerva and Andrew endured the death of married daughter Tamzon, who had heart trouble and who left behind a husband and two young children.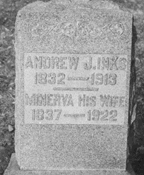 Hopwood Cemetery

On Sept. 28, 1913, Andrew died at home, "one of the oldest and most respected residents of Fairchance." Age 81, he had been ill for several months.

Exactly nine years later, on Sept. 28, 1922, Minerva died after a fall at the home of daughter Bertha Wilson in Greensburg, PA, where she had gone to visit. The Uniontown Morning-Herald said in an obituary that Minerva was "widely known."

Andrew and Minerva are buried together, next to their unmarried daughter Harriet, at Hopwood Cemetery near Uniontown, PA.

Rita Ramirez graciously has contributed much valuable material about the Inks branch of the family.

Copyright © 2000, 2002, 2004, 2022 Mark A. Miner