Sarah (Inks) Chisnell
(1876-1961)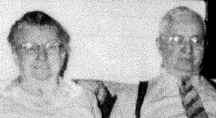 Sarah and Edward Chisnell
Sarah (Inks) Chisnell was born in March 1876 near Farmington, Fayette County, PA, the daughter of Andrew J. and Minerva (Minerd) Inks.
On July 6, 1898, at Connellsville, Fayette County, Sarah married Edward George Chisnell (1879-1960). He was a native of Pittsburgh, and the son of David and Elizabeth "Bessie" (Thornton) Chisnell. She was age 22 at the time, and he was 19.
The Chisnells together produced a brood of six children -- Ruth Kime, David D. Chisnell, Howard Chisnell, Walter D. Chisnell, Elmer C. Chisnell and Ralph E. Chisnell.
Edward was a laborer, and Sarah, like her sisters, was a dressmaker. They moved to New Kensington, Westmoreland County, PA, where circa 1918 he worked for Ford Motor Company in Glassmere.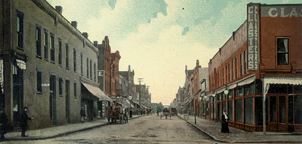 New Kensington's Fourth Avenue, from Tenth Street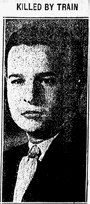 Howard Chisnell
The Valley Daily News of Tarentum said that "Prior to 1930 he purchased a garage in Penn Hills and moved to that area" in about 1940. The Chisnells resided on Sandy Creek Road and by 1960 at 5 Veronia Road in Penn Hills. He retired from the garage in about 1956.
In 1945, Sarah's unmarried sister Harriet, who was residing in their home, died there.
After graduating from high school, son Howard (seen here) moved to Buffalo, NY to find work. Tragically, the following year, while riding his motorcycle near some railroad tracks, Howard was struck and killed by a moving train. He was only 19. The funeral was held in New Kensington.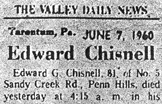 Obituary, 1960
Stricken with leukemia, Edward suffered for six months and succumbed at the age of 80 on June 6, 1960 in their home.
Sarah passed away at home on Oct. 16, 1961, at age 85, having been burdened with hardeling of the arteries and heart disease.
They are buried at Plum Creek Cemetery in Plum Borough, Allegheny County.
~ Son David Chisnell ~
Son David Chisnell lived in New Kensington, PA.
~ Son Walter Chisnell ~
Son Walter Chisnell resided at 115 Crawford Street in Homestead Park (Munhall), PA, near Pittsburgh, in 1961. He passed away in 1973 in Sarasota, FL.
~ Son Elmer Chisnell ~
Son Elmer Chisnell lived in Buffalo, NY circa 1960.
~ Son Ralph Chisnell ~
Son Ralph Chisnell resided in Jeanette, Westmoreland County, PA.
~ Daughter Ruth (Chisnell) Kime ~
Daughter Ruth Chisnell married Stanley S. Kime and lived in both Penn Hills, near Pittsburgh, and also Rural Valley, PA.
She died in 1966.
Copyright © 2001-2004, 2017 Mark A. Miner