Tamzon (Inks) Grimm
(1871-1911)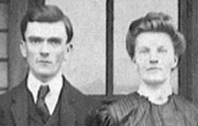 Lewis and Tamzon Grimm

Tamzon (Inks) Grimm was born on Feb. 4, 1871 or Sept. 18, 1879 near Farmington, Fayette County, PA, the daughter of Andrew J. and Minerva (Minerd) Inks.

Her young life as a wife and mother was cut short by heart disease.
From what little we know of Tamzon, she seems to have enjoyed her family relationships. An April 1900 article in the Connellsville Courier reports that "she visited her cousin, Mrs. Gertrude Ulery, for a few days last week."
On Dec. 28, 1904, Tamzon was united in the bonds of holy matrimony with 28-year-old Lewis C. Grimm (Aug. 7, 1876-1968), a native of New Philadelphia, OH, and a son of Hiram and Hattie (Deffenbaucher) Grimm.
Lewis' family, said a local history, "came to make their home in Fairchance in the late 1800's from Bruceton, W.Va."
Together, the Grimms bore two children -- Ralph C. Grimm and Mary Tamzon Grimm, neither of whom survived to adulthood.
Tamzon and Lewis began their married life in Fairchance, where he labored as a carpenter for the Fairchance Lumber Company. She was a member of the Fairchance Presbyterian Church.
She suffered for the last 21 months of her life with organic heart disease.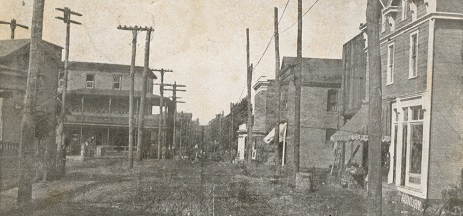 Fairchance's unpaved Church Street, looking west from Main Street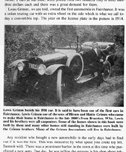 Fairchance history book citing Lewis

Tragically, on April 16, 1911, at the age of 40, Tamzon died "of heart trouble." Her obituary in the Uniontown Daily News Standard said she "had been sick a long time and had suffered long and patiently." Her remains were lowered into the soil of Maple Grove Cemetery in Fairchance.

Lewis survived his bride by 57 years. His heartache continued on Oct. 28, 1913, when seven-year-old son Ralph died after becoming afflicted with typhoid fever and meningitis. Two years later, in 1915, overwhelming sadness struck yet again when six-year-old daughter Mary died, of tubercular meningitis, just three days after Christmas. Both children were laid to rest at Maple Grove.

Lewis is pictured prominently in the 1989 book, Fairchance Through The Years. Seen here, he is shown standing beside his vintage 1914 automobile. Said the book:

Louis [sic] Grimm, we are told, owned the first automobile in Fairchance. It was a sedan touring car with an extra wheel on the side which is what we call today a convertible top. The year on the license plate is 1914.
...Lewis and his brothers were all carpenters. Some of the homes shown in this book were built by them and many other homes still standing in Fairchance were built by the Grimm brothers. Many of the Grimm descendants still live in Fairchance.

Mountain View Memorial Park

Lewis lived on for more than a half-century. He married again, to Gertrude Rapp ( ? - ? ).

The second marriage resulted in four more children – Hazel Grimm, Dorothy Schneider, Eleanor VanKirk and Inez Mincer.

The family dwelled in Fairchance, with Lewis continuing his life's work as a carpenter.


On Nov. 11, 1968, at age 92, burdened with "azotemia" (buildup of waste in the body), Lewis passed away in Uniontown Hospital. He was buried at Mountain View Memorial Park.

Lewis's daughter from the second marriage, Hazel K. Grimm (1916-2008) never married. She was a bookkeeper for the former Montgomery Ward Store in Uniontown before her retirement," said the Uniontown Herald Standard. She was a member of the First Presbyterian Church of Fairchance and a volunteer for the Youth for Christ Outreach in Fairchance for 11 years. She died at the age of 92 on Nov. 24, 2008, with burial at Mountain View Memorial Park in Brownfield, Fayette County.

Copyright © 2001-2003, 2006, 2020 Mark A. Miner