William Jacob Long was born on July 3, 1867 at Normalville, Fayette County, PA, the son of George and Elizabeth (Minerd) Long.
When Will was age four, his father died. Will became the legal ward of his grandparents, Jacob and Rachel (Ansell) Minerd III of Normalville. They would care and provide for Will for many loving years.
On May 29, 1890, the 23-year-old Will married 18-year-old Mary McCoy (1873-1909). She was a native of Normalville and the daughter of Alex H. and Susan (Barnes) McCoy. Sources differ on whether their marriage took place in Greensburg, Westmoreland County, PA, or in Uniontown, Fayette County, PA.
They had two children – Homer William Long and Katherine V. McClain.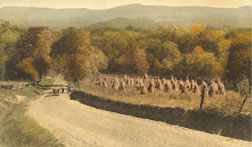 Scullton Road in Normalville
In March 1895, Will moved from Normalville to nearby Connellsville, Fayette County, to begin working as a teamster for Calhoun & Company. He and Mary must have furnished a gracious household, and are known to have hosted Thanksgiving dinner for friends in 1897. The Longs often spent their weekends visiting family in the Normalville mountains. They belonged to the Normalville Methodist Church.
The Scullton Road in Normalville, framed against the picturesque backdrop of the "Little Alps of America," is seen at right.
Will was close to his grandfather, and in July 1895 they cut wheat together on the family farm in Normalville. The Connellsville Keystone Courier reported that "This is the first cut in this section." At about that time, the aged grandfather moved in with the Longs in Connellsville.
Over the years, Will and Mary kept a family album filled with tintypes, cartes de visite and cardboard backed photographs. One of the photos, showing an unidentified baby, was taken at the studio of Will's second cousin, Charles H. Rose, of Normalville. All of the images may be seen on a special page of this website -- "William Jacob Long's Photo Album."
Heartache rocked the family when, on Sept. 21, 1909, Mary passed away at the young age of 37, after suffering for three weeks with a pulmonary abscess. She was buried at Hill Grove Cemetery in Connellsville. She left her grieving husband and two children aged 17 and 11.
The following year, when the federal census was taken in 1910, Will, Homer and Katie made their home together on Tenth Street in Connellsville. One of their neighbors, living several houses away, was the family of Calvin and Nevada (Minerd) Inks, who both were distant cousins of Will's.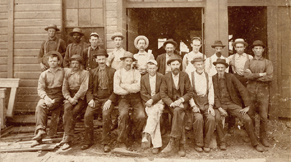 Image thought to show Will among fellow employees of the Connellsville Planing Mill
Will later worked for the Connellsville Planing Mill Company in Connellsville, "remaining with this concern until 1909 when he secured a position as a lumber inspector for the West Penn Power Company," said the Courier. "He continued with the West Penn until his retirement about [1936]."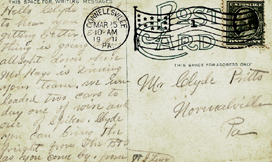 Will's 1911 postcard to nephew Clyde Pritts
Will sent a penny postcard on March 25, 1911 to his nephew Clyde Pritts in Normalville. The card today is preserved in the Minerd-Minard-Miner-Minor Archives. In the card, Will wrote:
Glad to hear you are all getting better. Everything is going along allright down here. Mr. Hays is driveing your team. We unloaded two cars to day, one of wire and one of spikes. Clyde you can bring the freight from the B&O as you come by.
His duties as an inspector must have required extensive travel, including to the state capitol in Harrisburg. Postcards written by his daughter in 1915-1916 detail the extensive time he spent away from home, and the early hours of the morning at which he would depart. The cards are spelled out in detail below.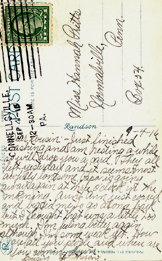 Katherine's 1915 card to
cousin Hannah Pritts
Daughter Katherine enjoyed visiting with her Pritts and Kooser relatives, and often sent penny postcards to her first cousin, Hannah (Pritts) Prinkey, who lived in Normalville. A number of these cards, from 1915-1917, are preserved in the Minerd-Minard-Miner-Minor Archives.
One of Katherine's cards is dated Sept. 4, 1915, is seen here, and is preserved in the family archives. In the note, she wrote to Hannah:
Just finished washing and am resting a while so will drop you a card. They all left yesterday and it seems most awfully lonesome. Papa is going away again at three o'clock in the morning. Aunt Ann just coaxed and begged me to go along back but I thought that was a little too much. I'm feeling better again although I'm some weak yet. How are all you people and when are you coming down. Answer real soon before you forget I wrote.
Katherine sent another postcard to Hannah on Sept. 9, 1915, asking:
When are you coming down? I was going to try and see you about Tues. or Wed. but Papa persuaded me to wait till after circus day. I had a letter from Sadie to-day. She is trying to hold me to my promise to go out there Xmas. Would like well enough to but guess I can't. Answer real soon and come down whenever you can.
In another card written nine days later, dated Sept. 18, 1916, Katherine penned:
As it's Sunday and Papa is working, I have little to do so will answer your card. It's rather chilly here this morning, suppose it will snow sometime this winter. How is everybody in the mt. getting along? Tell Mrs. Steele and Mrs. Marshall I said "Hello." Has Mrs. Marshall ever baked that cake? Tell her to save my piece until I come up again. It won't be longer than next summer I don't think. "Listen, well listen."
Connellsville's Pittsburgh Street, looking south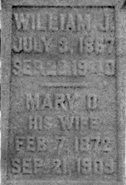 When cousin Hannah married Marshall E. Prinkey in the fall of 1916, Katherine sent a congratulatory postcard, saying:
You pulled some surprise, didn't you? Well, congratulations, anyhow. Think I'll be compelled to do the same thing soon, Dad's away so much. He got home Tuesday night and left this A.M. at 3:50, and goes to Harrisburg Mon. Don't forget to write since you are married.
As he aged, Will's health began to fail. He suffered a coronary embolism in 1935. The Courier said he was "ill for a number of years and had been bedfast practically the last 10 months except for a few occasions in the summer when he was able to sit in a chair." His home circa 1940 was at 411 Jefferson in Connellsville.
After a fourth coronary embolism, suffered in June 1940, he died at age 73 on Sept. 22, 1940, at the home of his married daughter Katherine. He had been alone as a widower for 31 years. His remains were laid to rest beside his wife at Hill Grove Cemetery.
~ Son Homer William Long ~

Homer W. Long
Son Homer William Long (1892-1969) was born on April 1, 1892 at Normalville, Fayette County. At an early age, he began the habit of life as a "hobo," and continued throughout his life, jumping onto moving trains and riding them as far as he could, once to such distant destinations as Florida.
As an adult, he was tall with medium build. He had grey eyes and light hair.
At the age of 16, in March 1908, Homer and friend Mike Brady of Connellsville hopped onto a train and rode it as far as New Castle, Lawrence County, PA, before being caught. The Connellsville Daily Courier reported that the two had "been sentenced to spend five days in the coop at that place." Homer's parents sent him a railroad ticket so he could return home, but the Courier said that "Brady will have to get back the best way he can. Unless they do better it is likely that they will be sent to some reform institution."

Then in July 1913, at the age of 21, he and friend Allison Ryan, alias Oliver Brennan, were arrested for assaulting and and attempting to rob J.H. Strawn, owner of the Bronx Poll Room on North Pittsburgh Street in Connellsville. He was un-employed from railroad work from 1920 to 1922, and in June 1922 was arrested as one of three men on charges of assaulting an unmarried Connellsville woman near the West Yough Transfer bridge. Their trial in September 1922 was front page news in the Courier.
He was twice married. He and his first wife and step-son made their home circa 1918 at 1005 Grant in McKeesport, near Pittsburgh. There, he was employed as a yard brakeman by the Pittsburgh & Lake Erie Railroad at its McKeesport yards. That year, in June 1918, he registered for the military draft during World War I.
Homer once was said to have been caught, chained by the legs, and forced to work at hard labor. The federal census of 1930 shows him as an inmate at New Western Penitentiary at Rock View in Benner Township, Centre County, PA. Homer was age 38 at the time, and marked as "divorced," and was employed in the prison laundry.

Pittsburgh & Lake Erie logo
He moved to Monessen, Westmoreland County, PA in 1937, and remained there for 32 years. He was employed by the Monessen Southwestern Railway for many decades, retiring in 1960. He was a member of the Brotherhood of Railroad Trainmen, an early union, and belonged to the Connellsville Aerie, Fraternal Order of Eagles.
His second wife was Ruth Osterout ( ? -1964). Ruth died in September 1964.
Homer passed away at the age of 67 on Nov. 17, 1969, at the Charleroi-Monessen Hospital.

Katherine McClain
~ Daughter Katherine (Long) McClain ~
Daughter Katherine Long (1898-1980) was born in 1898.
She married Percy James "Pete" McClain (1891-1950), the son of Perry J. McClain of Dunbar Township. He was of medium height and stout build, with black eyes and black hair.
They resided on 411 North Jefferson Street in Connellsville, and had no known children.
Percy was a longtime employee with the Baltimore & Ohio Railroad, and a member of the Brotherhood of Locomotive Trainmen, an early union. He was a veteran of World War I.
Katherine was a member of the Wesley United Methodist Church in Connellsville.
Percy died at age 58 on Feb. 12, 1950, having "been ill for quite some time," the Daily Courier reported.
Katherine lived for three decades as a widow. She died at the age of 82 on Dec. 16, 1980, and was buried with her husband at Green Ridge Memorial Park in Connellsville.
Copyright © 2001-2002, 2006-2007, 2012-2013 Mark A. Miner
Many thanks to Harry J. Ansell for sharing his research.